Chief Executive John Lee says he stressed the 'Hong Kong story' at summit of members of Asia-Pacific Economic Cooperation in Bangkok.
World leaders are now aware of Hong Kong's return to the international stage, the city's leader has said on his "fruitful" trip to a summit of Asia-Pacific Economic Cooperation (Apec) members in Thailand, as he vowed to attend the next one hosted by the United States, which has slapped him with sanctions.

Chief Executive John Lee Ka-chiu on Saturday described his first overseas trip as leader as a success, but stopped short of saying whether he managed to convince his Western counterparts, perceived to be the city's biggest critics, with the "Hong Kong story".

Lee said he pledged to world leaders that Hong Kong would be more "tolerating and diverse" as it increasingly integrated with the rest of the world.

"Our first stop to tell the Hong Kong story has borne good fruits," he said.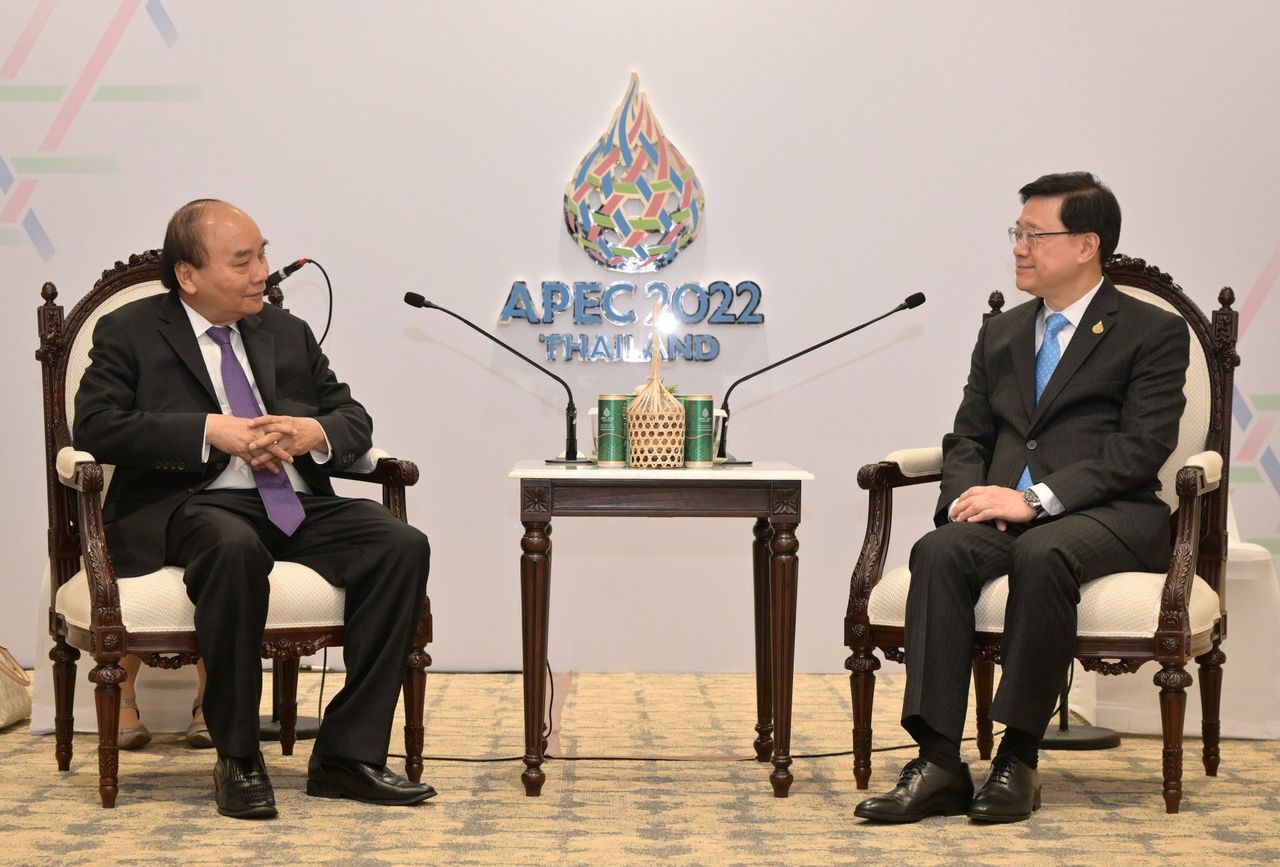 Vietnamese President Nguyen Xuan Phuc (left) and Hong Kong Chief Executive John Lee meet on the Apec sidelines.
Lee also revealed he had exchanged brief comments with Chinese President Xi Jinping, who offered him encouragement.
After the Apec summit came to a close in the afternoon, Lee hosted influential Thai figures at a dinner, where he delivered the same message about the city's latest direction.
"Hong Kong is on stage again and this is just the beginning," he told guests, which included businessmen, chamber heads, government officials and politicians.
Lee began his four-day trip to Bangkok on Thursday, in what he has viewed as a make-or-break mission to relaunch Hong Kong following nearly three years of strict
Covid
-19 rules and scepticism over the city's future following the implementation of the Beijing-imposed national security law.
He spent the first three days attending discussions with world leaders and was due to meet other influential local business leaders on Sunday.
Lee said he had "told a good Hong Kong story" and had "taken various opportunities to tell world leaders that Hong Kong is vibrant and energised, while returning to the world stage again".
He pledged to them that his administration would turn Hong Kong into a centre for innovation and culture, where East met West, while consolidating its success as an international financial hub.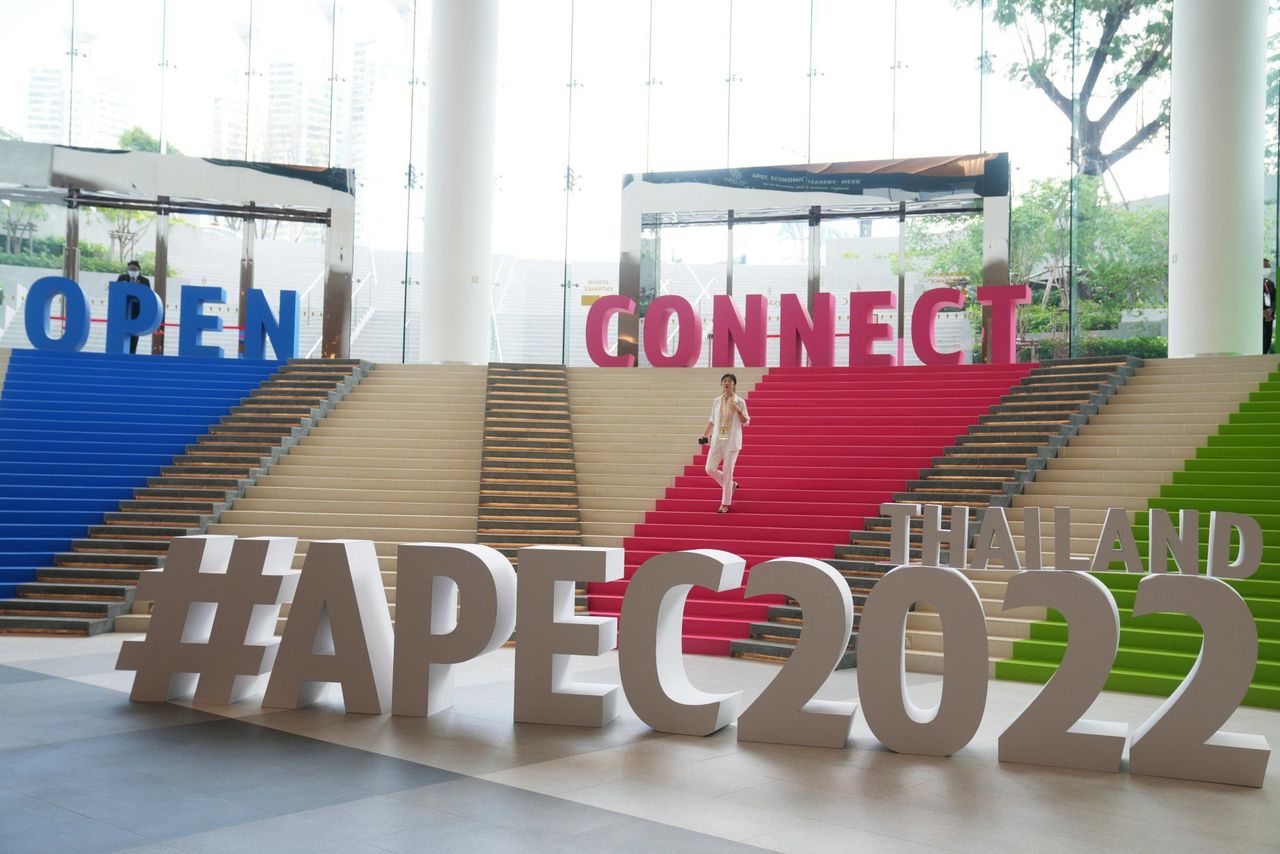 World leaders are wrapping up talks at the Queen Sirikit Convention Centre in Bangkok, Thailand.

But when asked whether he had approached Western member states, such as the United States, Canada and Australia, Lee did not answer directly, only saying "they were in support of his idea" without elaborating on the countries involved.

Lee met Vietnamese President Nguyen Xuan Phuc earlier on Saturday, after previously speaking with Singaporean Prime Minister Lee Hsien Loong, Indonesian President Joko Widodo and Thai Prime Minister Prayut Chan-o-Cha.

Phuc recognised his country's "very promising" trade ties with Hong Kong, amounting to US$25 billion (HK$196 billion).

"Hong Kong is a top trading partner of Vietnam and you are no second to any other Asean country," he told Lee, referring to the Association of Southeast Asian Nations. "I think we can discuss many measures in order to strengthen the sound and long-standing ties between Vietnam and Hong Kong."

In return, Lee acknowledged the close relations and later mentioned a coming visit to the Southeast Asian country.

"Next year, the secretary for financial services and the treasury will visit Vietnam to update the Vietnamese business community on opportunities in Hong Kong and the Greater Bay Area," Lee said in a social media post.

The bay area initiative is Beijing's ambitious plan to turn Hong Kong and Macau, along with nine other southern Chinese cities, into an innovation powerhouse rivalling Silicon Valley.

Lee was sanctioned by America in 2020 while he was the security minister over his role in the enforcement of the national security law.

Asked whether he would attend the next Apec meeting, to be hosted in San Francisco next year, he said: "Of course we will attend and support Apec's meetings and activities as a member."

"This is unquestionable," he added.

Lee said that when he reported Hong Kong's latest situation to Xi, the leader expressed his care for the city.

"He also supported me in my work in various areas," he said, adding he saw Xi off at the airport.

At the dinner he hosted along with his 20 delegates, Lee was seated between Soopakij Chearavanont, chairman of Charoen Pokphand, Thailand's largest private company, and the country's deputy education minister Kalaya Sophonpanich.

Also attending were Thai-Chinese Chamber of Commerce president Narongsak Putthapornmongkol and executive director of Bangkok Bank Pichet Durongkaveroj.

Lee told them the city had the advantage of connecting China and the West and was celebrated as a free economy. He also touted its opportunities in trading yuan-denominated securities.

The city leader will spend the final day of his trip visiting the CP Group, one of Thailand's largest private companies, as well as another local firm, before flying back to Hong Kong.