Targeted or too vague? John Lee Ka-chiu, the sole candidate for Hong Kong's top job, has finally unveiled his manifesto, vowing to lead the city into a new chapter after years of political and social turbulence.

There has not been much excitement over this one-man election campaign so far, with perhaps the only dramatic turn being that of Google abruptly banning Lee's YouTube channel, citing compliance with Washington's sanctions against him.

Lee accused the US of "bullying" with its "blatant inference" in Hong Kong affairs, but brushed off any impact on his campaign. He is right in this regard – nothing will change the reality that he has Beijing's blessing to take over as the city's next chief executive.

However, the episode has revealed an unspoken, inconvenient truth to foreign governments and international investors with strong Hong Kong connections – not necessarily all about legal risks, but practicality.

Under the city's mini-constitution, the Basic Law, Beijing is responsible for Hong Kong's foreign affairs. But the duties of the chief executive include meeting foreign envoys, reaching out to the international community to promote the city, and engaging with investors from overseas.

Ever since the return of Hong Kong's sovereignty to China in 1997, all the city's previous leaders, starting with Tung Chee-hwa, made it a must to visit the US, besides touring European, Asian and other countries. That was until incumbent Chief Executive Carrie Lam Cheng Yuet-ngor was put on a sanctions list along with Lee and other officials two years ago by Washington, while international travel was also disrupted by the Covid-19 pandemic.

While there is neither any plan for Lee to visit the US for now nor any sign that Washington will accept him, the fact that Beijing sees no downside in picking him for the top job in terms of his ability to travel overseas is telling enough. The takeaway here is that the change of Hong Kong's leadership cannot be subject to direct or indirect factors concerning the US, and instead, Beijing may have laid down a test for those who have to deal with Lee.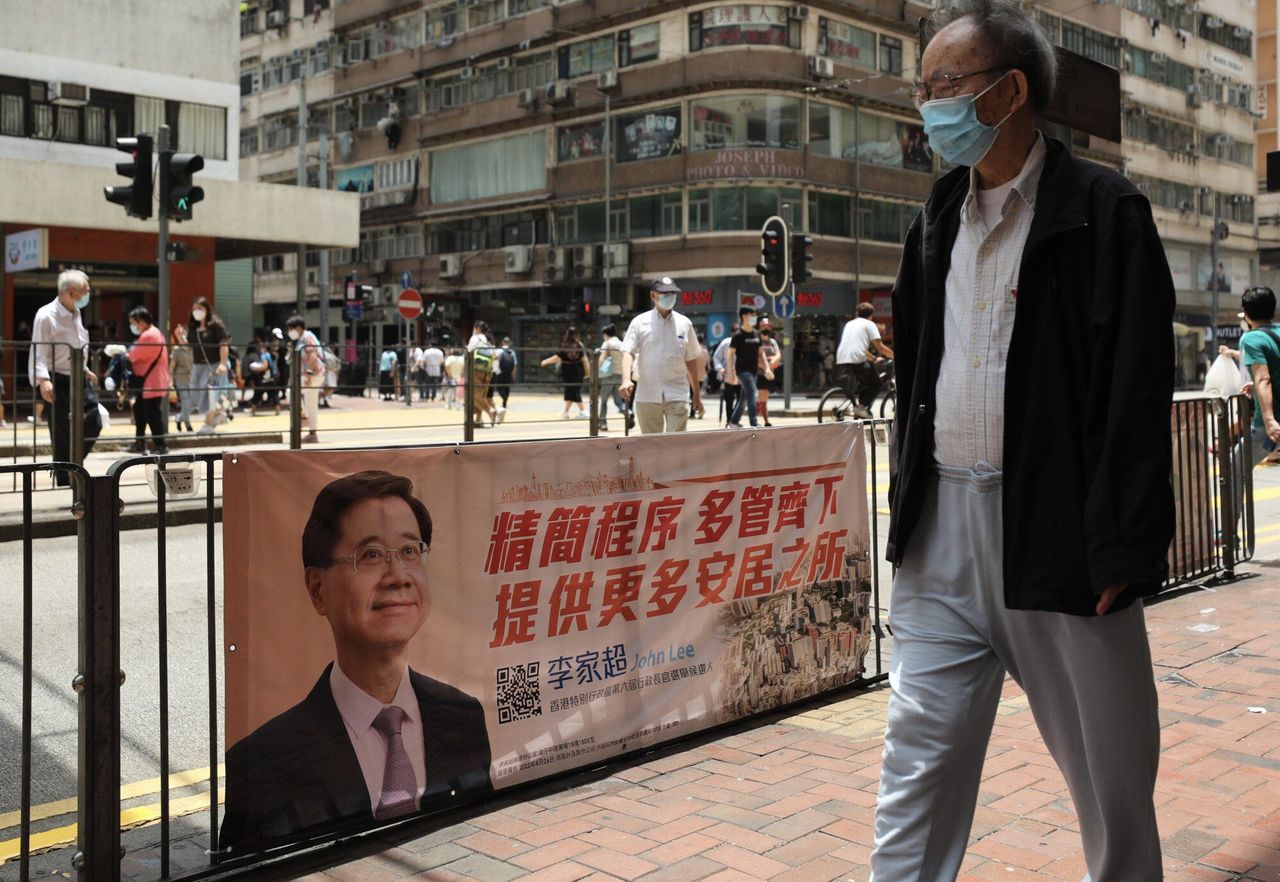 Chief executive candidate John Lee's campaign poster seen in North Point.

The former career policeman-turned-top bureaucrat pledged to maintain Hong Kong's status as an international financial centre and put the economy ahead of pushing for universal suffrage. That is not quite music to the ears for people who want to see greater democracy, but Lee knows what his "deliverable" priorities are. He earlier stopped short of stating whether he would take any retaliatory action against Google after coming into office.

With or without support, Lee will lead Hong Kong for the next five years, and has to represent Hong Kong on the international stage and make necessary overseas trips when the pandemic further subsides.

Hong Kong is also home to many foreign chambers of commerce and has signed free-trade pacts with quite a few countries, some of which are US allies and some reluctant to take sides between Beijing and Washington.

On the other hand, it has been common practice for major Hong Kong-based international chambers and companies to have exchanges with the city's policymakers, especially the chief executive. Will there be any embarrassment or real concerns under the US sanction restrictions if Lee invites them for business and investment initiatives? How will Western diplomats, including the ones sent by Washington, interact with Lee and to what extent?

The complexity of having a sanctioned official lead an international city like Hong Kong primarily lies in China-US geopolitical wrestling, but the two major world powers can still maintain various dialogue channels.

At the end of the day, what is really needed is political wisdom to avoid unnecessary diplomatic spats and embarrassing business disputes over Hong Kong.