Restaurant takings in Hong Kong surged as much as 40 per cent this week over the previous one amid the loosening of social-distancing measures, but response to the government's Covid-19 risk-exposure app has remained lukewarm.

Food lovers enjoyed their first weekend dinner in restaurants with their families and friends in more than two months on Saturday, while many others flocked to cinemas, gyms, and beauty and massage parlours that had remained closed amid the fourth wave of coronavirus infections.

Thai restaurant boss Sae Ngow Vasunt said his earnings still stood at around 70 per cent of the pre-pandemic figures, even though they were up by almost 40 per cent from last week.

From Thursday, eateries were allowed to run dine-in services until 10pm, while the number of guests to a table was also raised from two to four.

"But we still can't see many customers coming back," Sae Ngow said.

The city relaxed some of the tough social-distancing measures that were imposed when the most recent outbreak hit Hong Kong in late November.

But operators of restaurants and other public venues have been asked to comply with some rules, such as requiring patrons to scan the Leave Home Safe app, or leave their personal details for better contact tracing in case of an infection.

Vasunt said on Thursday night, only 3 to 4 per cent of customers used the app, while the rest left their personal details.

"They feel it's [using the app] relatively inconvenient. The main reason is they have privacy concerns," he said.

Ray Chui Man-wai, the chairman of the Institute of Dining Art, said shopping centres had a significant surge in footfall, with many thronging Chinese restaurants, hotpot outlets, and Japanese branches.

Chui, who owns more than 30 local-style cafes or bing sutt across the city, said he had witnessed a 10 per cent increase in revenues at his chain of shops this week compared to last week.

He expected takings on Saturday night to jump about 10 to 20 per cent from the same day last week because their operating capacity was still capped at 50 per cent.

Chui said the new rules implemented for better contact tracing had put frontline staff under pressure, as there had been confusion over whether customers buying takeaway food should scan the app or leave their contact details as well.

"Some customers ordering these meals just left, saying it was too troublesome," he said. "Many others were also reluctant to leave their full names."

The Food and Environmental Hygiene Department on Friday clarified that those ordering takeaway were exempt from the rule if they wore a mask and stayed on the premises for only a brief period.

Edwin Kam, general manager at a Shanghai restaurant chain that runs six outlets, said his booking numbers on Saturday had been quite good, with recent revenues at one of his branches surging around 30 per cent compared to the same period last week.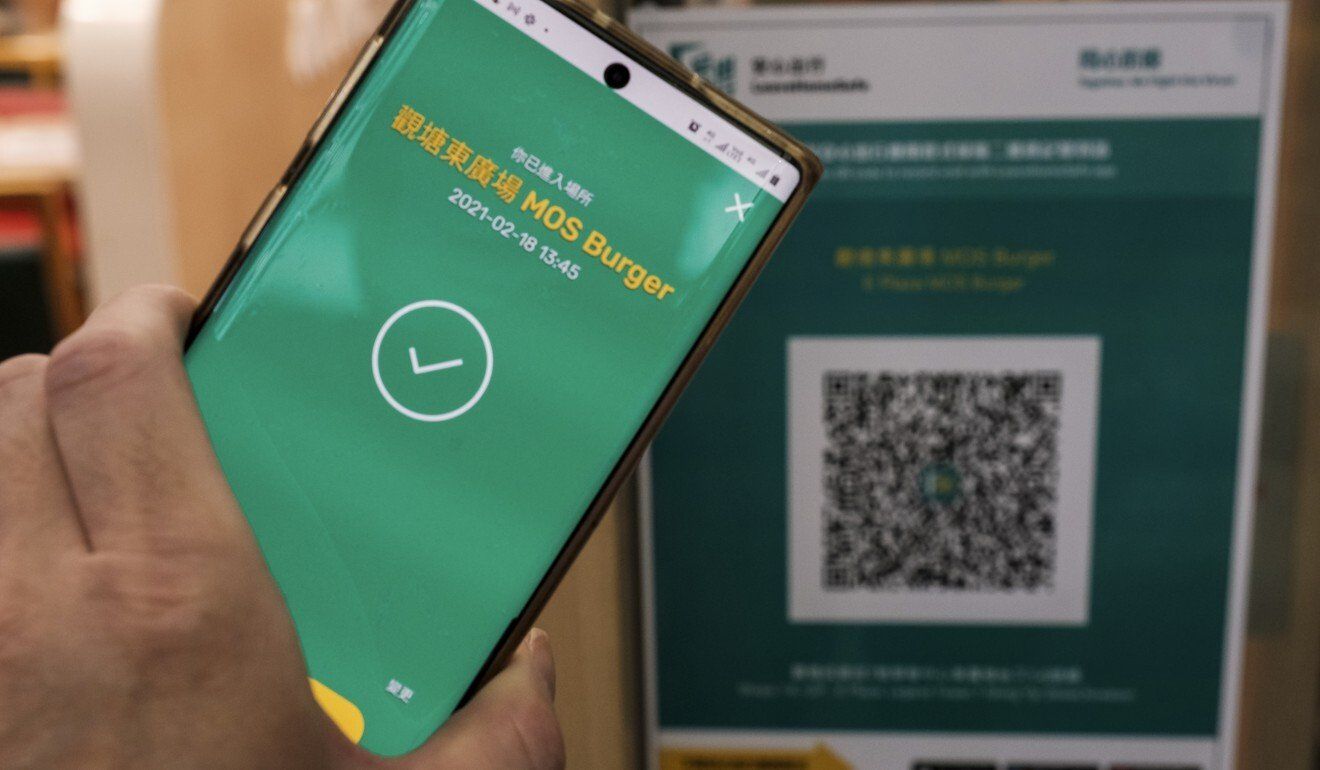 A customer uses the Leave Home Safe app in Kwun Tong.

"This weekend is certainly busy. But it's not definite [that our businesses have recovered]," he said. "As the restrictions lasted so long, people must feel more motivated to dine out."

He added he would have to wait and see if his business really recovered, because it could just be a short-term rebound.

While customers were seen dining out at Causeway Bay in groups of two to four, there were hardly any queues outside most restaurants.

John, a 60-year-old who frequents restaurants at Fashion Walk, said fewer people were dining out on Saturday compared to the days before the pandemic.

"It's nice to see people out and enjoying themselves," he said. "[But] we expected more people today, given it's a Saturday."

He said he had decided to use the contact-tracing app despite privacy concerns.

Simon Wong Ka-wo, president of the Hong Kong Federation of Restaurants and Related Trades, said eateries running dine-in services in the evening had registered about 40 per cent surge in takings. He also said businesses were robust this weekend in both core shopping districts and residential areas, such as Yuen Long.

He said initially more customers were registering their contact details manually, but the number of app users had picked up over the past few days.

On Friday evening, police arrested a 21-year-old man at his home on suspicion of assaulting a McDonald's worker at the fast-food chain's Choi Wan Estate branch in Ngau Chi Wan the previous morning.

Inspector Ho Cheung-fai said the suspect threw his smartphone at the employee soon after he was asked to download the contact-tracing app.

"It all happened very quickly. The staff had only spoken to the suspect briefly. The suspect walked away and [the alleged crime] happened," Ho said, adding the man had been released on bail.

Officers seized the smartphone and the clothes the man wore at the time of the incident.

In two separate operations, officers fined a total of 47 customers HK$5,000 (US$644) each for dining in after 10pm, and charged three people in charge of eateries.

Inspecting restaurants and bars in Tsim Sha Tsui shortly after 10pm, officers found two premises, on Hau Fook Street and Kimberley Road, still providing dining services.

A total of 32 customers were fined HK$5,000 each for breaking social-distancing rules while the two restaurant staff, aged 41 and 29, were charged.

In another operation in Kwun Tong on the same night, officers found 15 customers in a party room in an industrial building on Lei Yun Mun Road. A 22-year-old person in charge of the premises was charged.