Amber warnings of heavy snow that could cause severe disruption to transport and utilities cover much of northern Scotland on Saturday.

They are also in place in parts of south-east England where Storm Darcy could bring winds and snow on Sunday.

The Met Office has extended alerts for snow and ice across the eastern length of Britain until Wednesday.

Up to 20-30cm (8-12in) of snow is expected in high areas of Scotland.

Public Health England's Dr Owen Landeg said it was "crucial" people looked out for those who may be vulnerable during the cold snap.

"Cold weather isn't just uncomfortable, it can have a serious impact on health," he said.

Dr Landeg called on the public to make sure those at-risk have enough food and drink to stay warm and well.

It comes as some communities in Scotland were at risk of being "cut off for several days", according to the Met Office.
Parts of south-east England and East Anglia could see between five and 10cm of snow on Sunday - with up to 20cm in some places, the BBC Weather Centre said.

It added that high winds would make it feel colder than it is out and about and could cause the snow to drift.

The conditions are caused by cold air spreading east from the Arctic Circle, tracking across the relatively mild North Sea to form showers that bring snow and a significant wind chill.


In Scotland, parts of which have seen heavy snow and ice since the end of last year, road clearing will be prioritised around Covid vaccination centres, Deputy First Minister John Swinney said.

He said it was possible weather conditions would create challenges for the vaccination programme over the next couple of days.

On Friday, about 20 vehicles were stranded in snow at Loch Droma, north west of Inverness, and emergency services have been assisting a rescue operation, Highland Council said.

Road management organisation Bear Scotland said the vehicles became stranded in two-metre snow drifts.

Network Rail said services have been disrupted on the Highland Mainline despite plough trains being used to clear snow.

The latest amber warning applies to Central, Tayside and Fife, Grampian, Highlands and Eilean Siar, and Strathclyde until 12:00 GMT on Saturday, the Met Office said.

An amber warning is also in place in parts of East Anglia and south eastern England, including areas of Suffolk, Essex and Kent, between 04:00 and 23:59 on Sunday.

There is a yellow warning for ice across south-west England, Wales, and the West Midlands throughout Saturday.

Yellow warnings are also in place across the eastern length of Scotland and England, including Yorkshire, the East of England, East Anglia and the South East between 00:00 on Monday and 12:00 on Wednesday.

Aside from icy conditions, there were 36 flood warnings in place on Friday afternoon across parts of England, along the River Severn and the River Thames, according to the Environment Agency.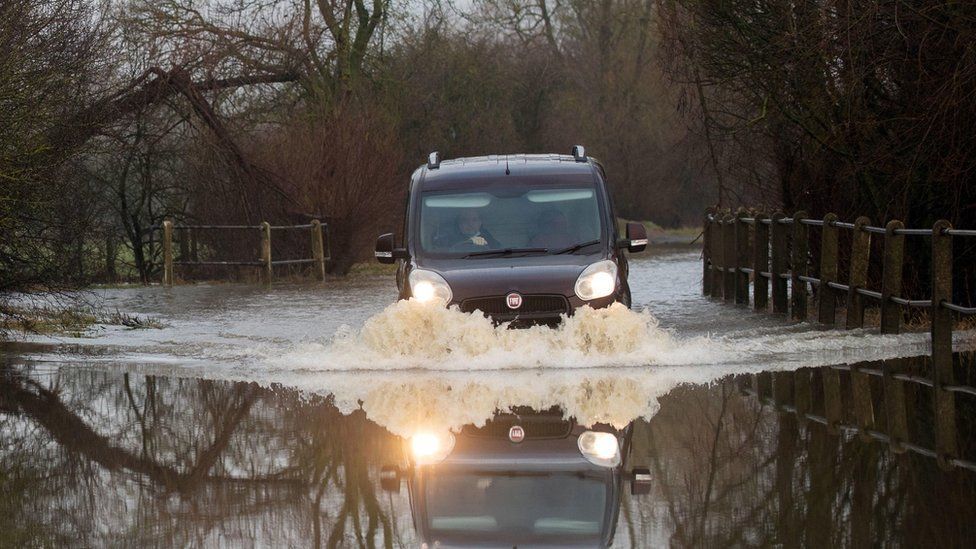 In Berkshire, parts of Cookham were left submerged after heavy rain caused flooding at Widbrook Common.

Residents living by the Jubilee River previously expressed concern over the efficacy of the local flood relief system and fear that prolonged wet weather could lead to a repeat of 2014, which saw properties flooded twice in the space of two months.

Drivers, meanwhile, are advised to make sure their vehicle is ready for the cold weather amid predictions of an increase in breakdowns.

RAC spokesman Ben Aldous said: "This means checking oil, coolant and screen wash levels, as well ensuring the tyres have plenty of tread and are inflated properly.

"Large amounts of snow on vehicles should be cleared before setting off to avoid it falling on to other road users. And never attempt to use the windscreen wipers to clear an icy or snowy windscreen - you risk damaging not only the wipers but the linkages too, which could be a more costly repair."