Just when there seemed to be a glimpse of light at the end of the tunnel in Hong Kong's year-long fight against the Covid-19 pandemic, the shadow of uncertainty has returned.

The government expanded vaccine access to a wider population by lowering the eligibility age threshold from 30 to 16 years and was mulling a further relaxation of social-distancing rules, but the confirmation of the city's first local case with the N501Y mutant strain over the weekend has raised a warning flag.

It could put the government's travel bubble plan with Singapore, to be relaunched in mid-May after being suspended last November, up in the air again.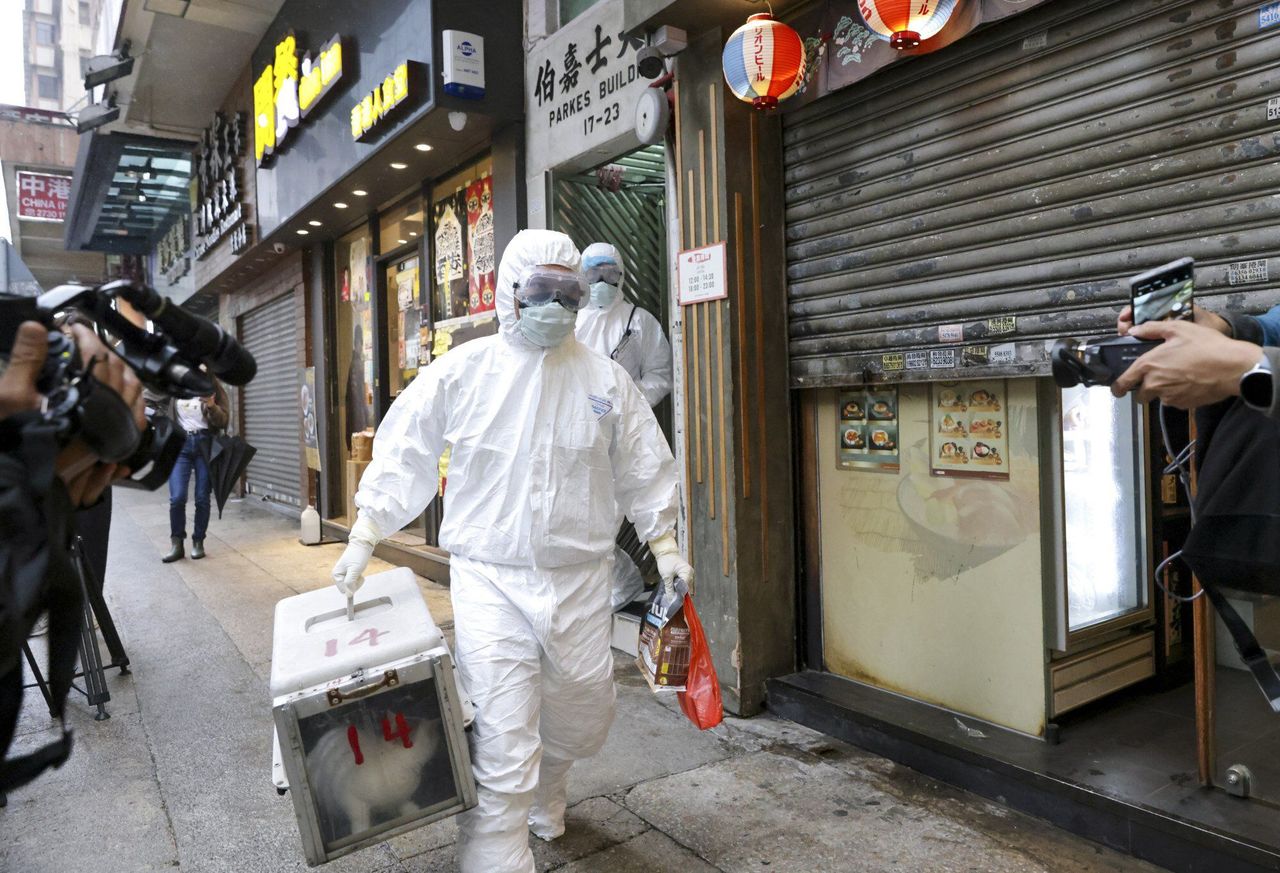 Agricultural, Fisheries and Conservation Department officers take away a cat from a Jordan building where the first person to test positive in the community for a mutant coronavirus strain had stayed.

And a bigger issue is the likelihood of further delays to plans for resuming normal exchanges between Hong Kong and mainland China – the border shutdown since last March has profoundly affected economic activity and travel between the two sides.

To be fair, Hong Kong can confidently claim to be a low-risk destination compared with the likes of the United States and some other countries in Europe and Asia. But ironically, it remains on the mainland's list of high-risk places since the city has yet to reach a state of "zero" local infections, the key precondition set by the mainland before quarantine-free, cross-boundary activities can resume.

The stringent requirement puts the Hong Kong government in a difficult position, too – and the change of tone from Chief Executive Carrie Lam Cheng Yuet-ngor is telling enough.

The city so far has failed to convince the mainland side to consider reciprocal, quarantine-free travel if local infections can be brought down to a "very low" level. Lam, who once tried to seek help from Beijing, has now made it clear that she will not push for a border reopening by ignoring mainland people's feelings.

So she decided recently that, for the sake of local business and tourism, her administration would consider allowing mainlanders meeting necessary health requirements to be exempted from quarantine when visiting the city, besides giving Hongkongers living and studying up north this preferential treatment.

The underlying message is clear: Hong Kong has to be more practical and resume normal cross-border economic activities, besides travel-bubble talks
with other destinations, including Singapore – discussions with Thailand are apparently going nowhere with the country's new coronavirus spike.

The mainland economy has steadily picked up under massive, top-down anti-pandemic measures. The impressive 18.3 per cent first-quarter growth for 2021 made international headlines last week, although it was a year-on-year figure compared with a very low base for 2020.

An explosive travel surge is expected during the coming May Day "golden week" on the mainland, with official figures showing massive overbooking for air and train tickets. Hong Kong, unavoidably, has to miss this round. Authorities now have to aim for the next chance during the long National Day holiday in October.

But if Hong Kong continues to be considered a high-risk destination for mainlanders visiting the city, and they will still have to go through quarantine upon returning home, the government's plans will be put to the test, with the new mutant variant case adding to the uncertainty.

What is happening around the world is not encouraging either. On Saturday, the global Covid-19 death toll surpassed 3 million, while appetite for the worldwide vaccination roll-out, including in Hong Kong, has seen a drop due to concerns about various side-effects.

It is too early to say if a resurgence of local infections is on the way. Understandably, it is pretty much mission impossible for Hong Kong to achieve complete "zero infection", but zero local untraceable cases should remain an achievable goal by also enforcing more stringent controls on arrivals to prevent a surge of imported cases.

Without that, the ultimate purpose of expanding the vaccination drive will be defeated, making any economic-recovery initiative just empty talk.