An amber snow warning - meaning travel issues and power cuts are likely - has been issued for the east and south-east of England early on Sunday.

Snow and ice warnings were also in place for much of England, Scotland and eastern Wales from Saturday.

Met Office weather expert Steven Keates said there would be "many similarities" with the Beast from the East in 2018.

It is due to a combination of cold air from Scandinavia and Russia plus Storm Darcy bringing winds and snow, he said.

Asked whether he thought it was fair to call it the Beast from the East Two, the meteorologist said: "I think so. The air mass is not quite as cold as it was then, so it's not quite as extreme, but nonetheless this is probably the coldest weather we'll see across the UK as a whole since then.

"And if you're stepping outside at all through the next few days, it really is going to feel cold. Temperatures [will be] barely above freezing on a thermometer, and when you factor in a strong easterly wind, you'll be feeling many degrees below freezing."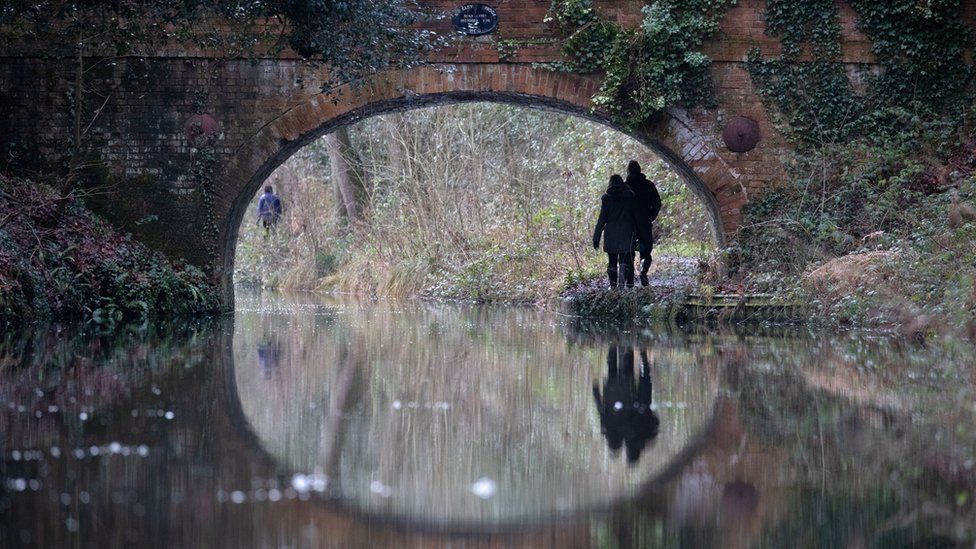 Parts of Scotland have already seen heavy snowfall in the past few days, with up to 50cm in some places - but Scotland's amber warning for snow has now expired.

BBC Scotland Weather said further snow showers were expected across central, southern and eastern Scotland overnight into Sunday, which could bring up to 5cm more snow at low levels and up to 20cm on higher ground - where drifting is likely due to the strong winds.

One amber warning is now in place for London, the south-east and the east of England, which runs from 04:00 GMT on Sunday until 09:00 on Monday.

Those areas could see between five and 10cm of snow on Sunday - with up to 20cm in some places, the BBC Weather Centre said.

Yellow warnings - which mean there could be travel disruption and a slight chance of power cuts or communities being cut off - are also in place for:

*  Snow and ice in the East and West Midlands, London and the South East, North West, South West and Wales from 21:00 on Saturday until 10:00 on Sunday

*  Snow in the East of England and London and the South East from 23:00 on Saturday until 06:00 on Monday

*  Snow and ice along the entire eastern length of Britain until Wednesday.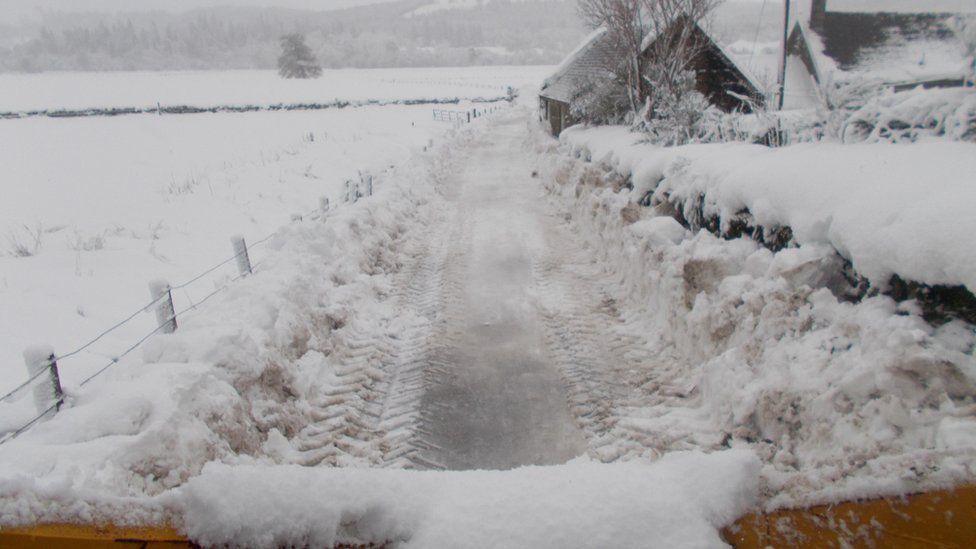 Met Office forecasters have warned of "significant disruptive snowfall" and gale force winds in the south-east of England, saying up to 30cm of snow is possible in the Downs of Kent and the North Downs.

Meteorologist Sarah Kent said: "It is a small chance but the threat is there, up to a foot of snow potentially combined with extremely strong easterly winds. Even inland in that area, gusting could be 45mph and higher than that on the coasts.

"This could lead to significant drifting of any lying snow and obviously blizzards for the snow coming past you for anyone who is attempting to travel.

"Sadly there will be people who have to make journeys for the emergency services and there are still lorries that have to go to the ports. It is going to be really disruptive.

"With that sort of snowfall, you would expect some roads to be closed or blocked by the drifting snow, and long delays or some cancellations of public transport."

Public Health England's Dr Owen Landeg said it was "crucial" people looked out for those who may be vulnerable during the cold snap.

He called on the public to make sure those at-risk have enough food and drink to stay warm and well.

The conditions are caused by cold air spreading east from the Arctic Circle, tracking across the relatively mild North Sea to form showers that bring snow and a significant wind chill.

Storm Darcy, which was named by the Netherlands, is bringing an area of low pressure, adding moisture to the cold air to help form the snow.


In Scotland, parts of which have seen heavy snow and ice since the end of last year, road clearing will be prioritised around Covid vaccination centres, Deputy First Minister John Swinney said.

He said it was possible weather conditions would create challenges for the vaccination programme over the next couple of days.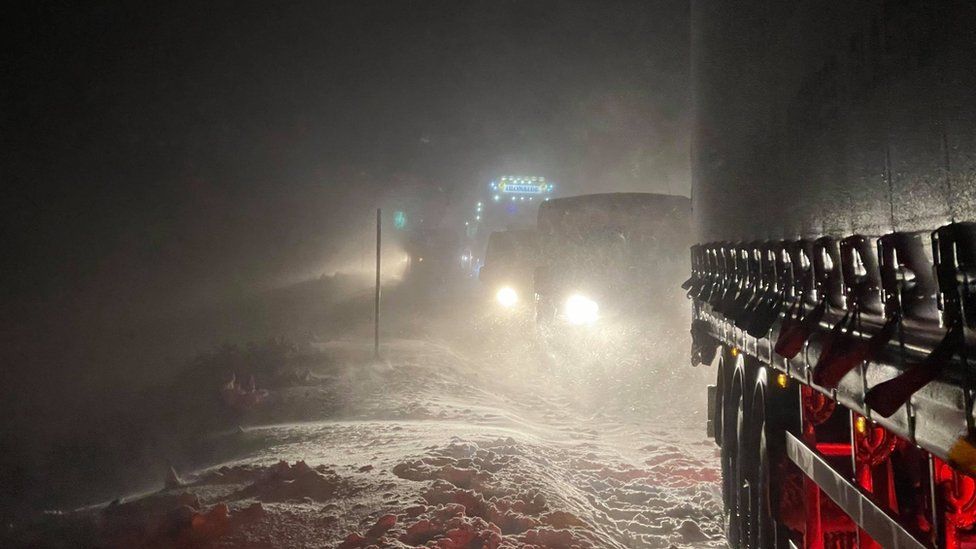 On Friday, about 20 vehicles were stranded in snow at Loch Droma, north west of Inverness, and emergency services have been assisting a rescue operation, Highland Council said.

The vehicles became stranded in two-metre snow drifts, said road management organisation Bear Scotland.

Network Rail said services have been disrupted on the Highland Mainline despite plough trains being used to clear snow.

Aside from icy conditions, there were 41 flood warnings in place as of Saturday lunchtime across parts of England, along the River Severn and the River Thames, according to the Environment Agency.

In Berkshire, parts of Cookham were left submerged after heavy rain caused flooding at Widbrook Common.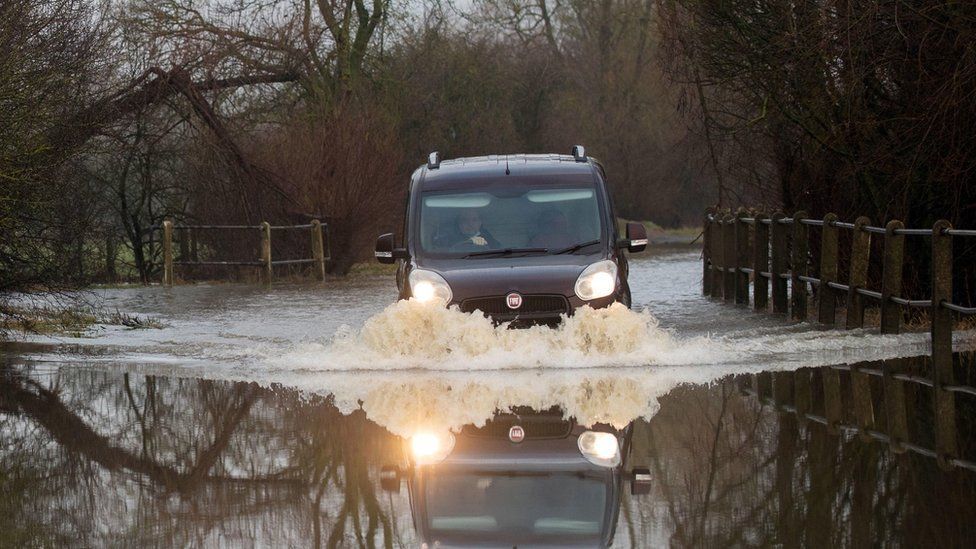 Drivers, meanwhile, are advised to make sure their vehicle is ready for the cold weather amid predictions of an increase in breakdowns.

RAC spokesman Ben Aldous said: "This means checking oil, coolant and screen wash levels, as well as ensuring the tyres have plenty of tread and are inflated properly.

"Large amounts of snow on vehicles should be cleared before setting off to avoid it falling on to other road users. And never attempt to use the windscreen wipers to clear an icy or snowy windscreen - you risk damaging not only the wipers but the linkages too, which could be a more costly repair."