Tourism industry leaders have urged Hong Kong residents to get vaccinated for Covid-19 to help resume travel as arrivals to the city plunged nearly 100 per cent year on year in the first four months of 2021.

The Hong Kong Tourism Board, airlines and travel agents made the appeal on Tuesday with the city's inoculation rate remaining under 16 per cent, far below the target of 70 per cent needed to achieve herd immunity.

With the tourism sector remaining in the doldrums, the board revealed that arrivals were down 99.4 per cent year on year to 22,244 during the four-month period.

Though arrivals were 38.3 per cent higher at 5,706 in April year on year, that was still a far cry from the daily average of 200,000 in the first half of 2019, before the city was rocked by anti-government protests, and ahead of the Covid-19 pandemic striking.

Tourism board executive director Dane Cheng Ting-yat said countries were specifically looking at vaccination rates and Covid-19 test results in deciding to allow quarantine-free travel.

"The pace of Hong Kong's tourism recovery is heavily determined by the [development] of the pandemic and vaccination rates around the world," he said at an annual conference with stakeholders.

"It is important to keep ourselves and our communities safe, and getting vaccinated will be the key."

Hong Kong's vaccination drive, which started in late February, has been slow, with just 15.7 per cent of the population vaccinated with one dose and 10.7 per cent inoculated with two shots as of Monday.

Earlier on Tuesday, Chief Executive Carrie Lam Cheng Yuet-ngor reiterated Hongkongers should get vaccinated as inoculation was the most effective method to prevent the spread of the virus.

"I do confess we could do much better in terms of vaccination," Lam said before her weekly Executive Council meeting. She emphasised the city had more than enough vaccine supplies along a wide network of community inoculation centres administering the shots.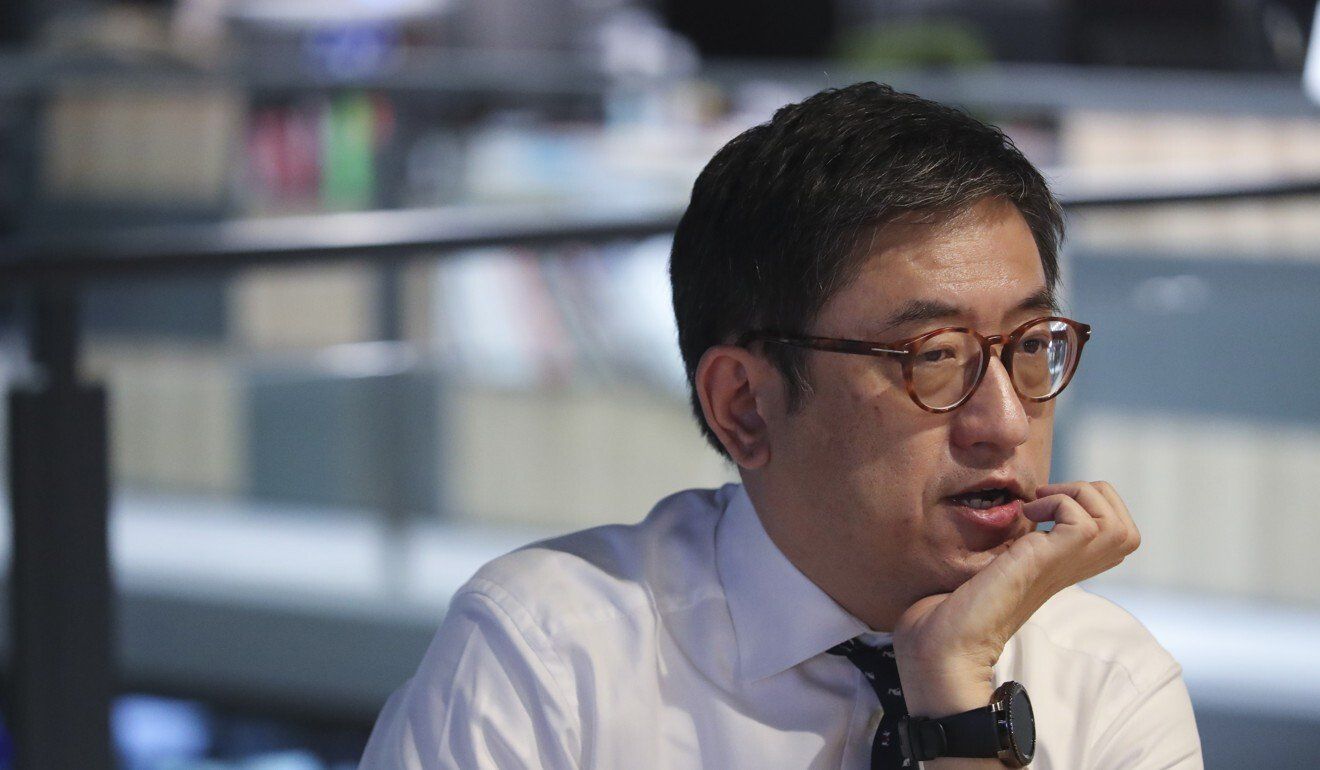 Hong Kong Tourism Board executive director Dane Cheng.

She added the city would press ahead with a "Come2HK" scheme to allow mainland Chinese visitors who test negative for the virus to visit Hong Kong without having to be quarantined from later this month.

"The epidemic situation is very stable in Hong Kong, while on the mainland, aside from infections in specific areas, the situation is also stable, so both [sides] have the conditions to relax cross-border arrangements," Lam said.

At the tourism board conference, Simon Large, a director at Cathay Pacific Airways, said reaching herd immunity would pave the way for travel to resume in a safe and healthy manner.

"If we want travel to restart again, on any scale, we need to encourage people to get vaccinated," he said.

Large estimated more than 80 per cent of the carrier's pilots and nearly 50 per cent of cabin crew had been vaccinated.

Dr Jennifer Cronin, president of hospitality firm Wharf Hotels, also agreed vaccinations should be seen as "a greater good to society" to help businesses get back to normality. Cronin estimated about 55 per cent of employees at the group's four hotels in the city had been vaccinated.

The resumption of cross-border travel with the mainland is badly needed to boost Hong Kong's battered tourism sector.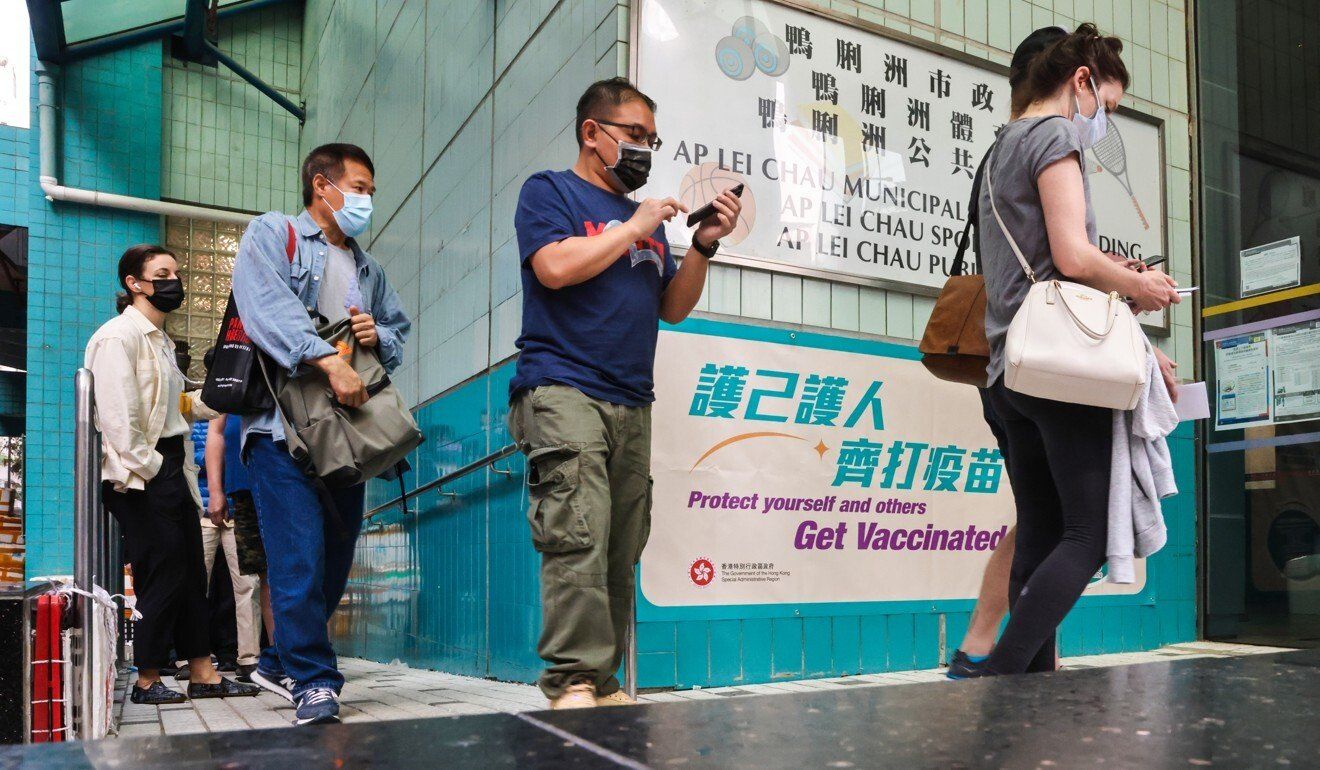 People queue to get inoculated at the community vaccination centre in Ap Li Chau Sports Centre.

All but three of the city's border checkpoints have been closed since February last year, while a much-awaited air travel bubble with Singapore has been postponed for a second time amid a surge in infections in the city state.

Separately, Dr Ho Pak-leung, a microbiologist from the University of Hong Kong, said the recent surge in Covid-19 cases in Singapore was a telling example that putting on masks and social distancing would only work in the short term.

"In the long run, there is only one way which will work, and that is to get vaccinated. Is there a plan B? I don't think there is a plan B," he said.

He said the inoculation rate in Hong Kong remained low compared with cities on the mainland such as Beijing, Shanghai and Tianjin, where it ranged between 40 and 70 per cent.