A top Philippine official has slammed Hong Kong's push for mandatory Covid-19 vaccination for all domestic workers as a move that "smacks of discrimination", as long lines formed at screening centres around the city set up to serve helpers obeying compulsory testing orders.

Foreign affairs secretary Teodoro Locsin Jnr made the comments on social media, echoing a call from the country's consulate in Hong Kong.

On Sunday, Hong Kong Chief Secretary Matthew Cheung Kin-chung said the jabs requirement for helpers was still being studied, and insisted the inoculation drive remained vital for the city to recover from the pandemic.

His blog post came as the city confirmed two Covid-19 cases, both imported, taking the overall tally to 11,784, with 210 related deaths.

No new cases have so far been detected among domestic workers or Tung Chung residents who were issued with compulsory testing notices after targeted groups rushed to get screened over the weekend.

Some 113,000 tests were done across the city on Saturday, including 52,000 from domestic helpers. More than 54,000 test samples were collected as of 6pm on Sunday.

The Department of Health also announced it would ban passenger flights operated by Turkish Airlines from Istanbul from Monday to May 16 after it carried three infected passengers on April 27.

Philippine Consul General Raly Tejada on Saturday told the Post Hong Kong should not force its 370,000 helpers to get vaccinated, arguing that if the new rules applied to them, then all non-resident foreign workers should be made to follow suit.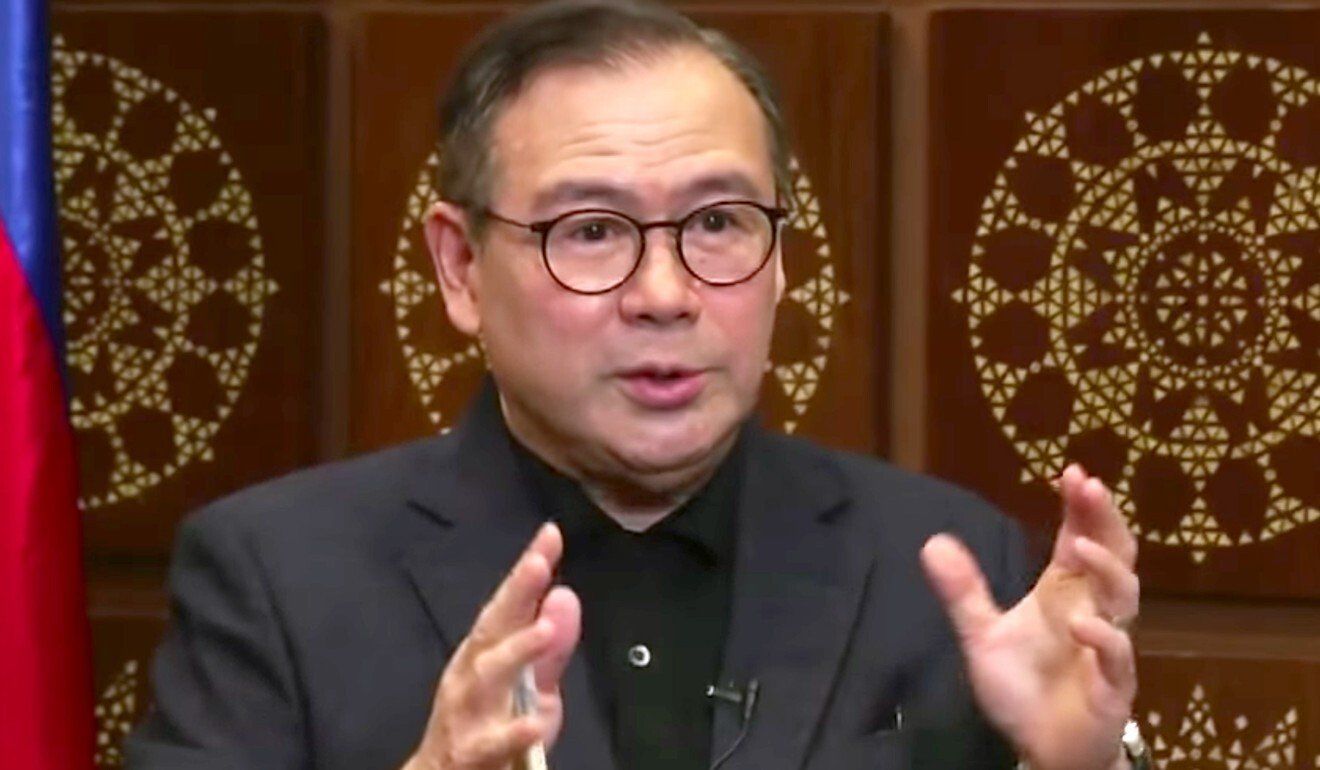 Philippine foreign affairs secretary Teodoro Locsin Jnr.

"If vaccination becomes a provision to work in Hong Kong, then its application should be non-discriminatory and therefore must not only include [foreign domestic workers], but other non-resident workers who are similarly situated so that there is no feeling of being singled out," Tejada said.

Locsin then took to Twitter to throw his weight behind the remarks: "He's got a point; it smacks of discrimination even though we'd all like to be treated that way in the Philippines where we lack vaccines."

Hong Kong authorities on Friday announced plans to require all domestic workers to get vaccinated before contract renewals. Those applying for work visas from overseas will also need to get vaccinated first, with details to be made public later.

The government has also ordered all helpers to get tested before May 9, after two domestic workers were found to be infected with mutated strains.

Rights activists also blasted the vaccination drive for helpers, saying the government had stigmatised the group and created a perception its members were carriers of the coronavirus.

Eman Villanueva, a spokesman for the Asian Migrants Coordinating Body, agreed with the consul general's stance that the push was discriminatory, and that vaccination should not be the basis for renewing helpers' work contracts.

"On the issue of vaccination, we're on the same page," he said, adding his group welcomed the consul's remarks.

He also said the order for all domestic workers to undergo mandatory testing by May 9 was unnecessary and further scapegoated the community.

The move insinuated that a helper had carried the mutated strain into the city, Villanueva said, even though local health officials had admitted they did not know exactly how the variant arrived.

"The discrimination behind the [measure] was so obvious even locals see through it," he added, noting some employers had also told him they felt the order was unfair and represented a double standard.

A genetic sequencing study by Polytechnic University found that the 39-year-old domestic helper who was the city's first untraceable local case involving a mutated strain, as well as the 10-month-old baby under her care, were both carrying versions of the virus with the same genome as the one found two weeks ago in a man who had recently returned from Dubai.

The 29-year-old engineer was the city's first-ever local case involving a mutated strain.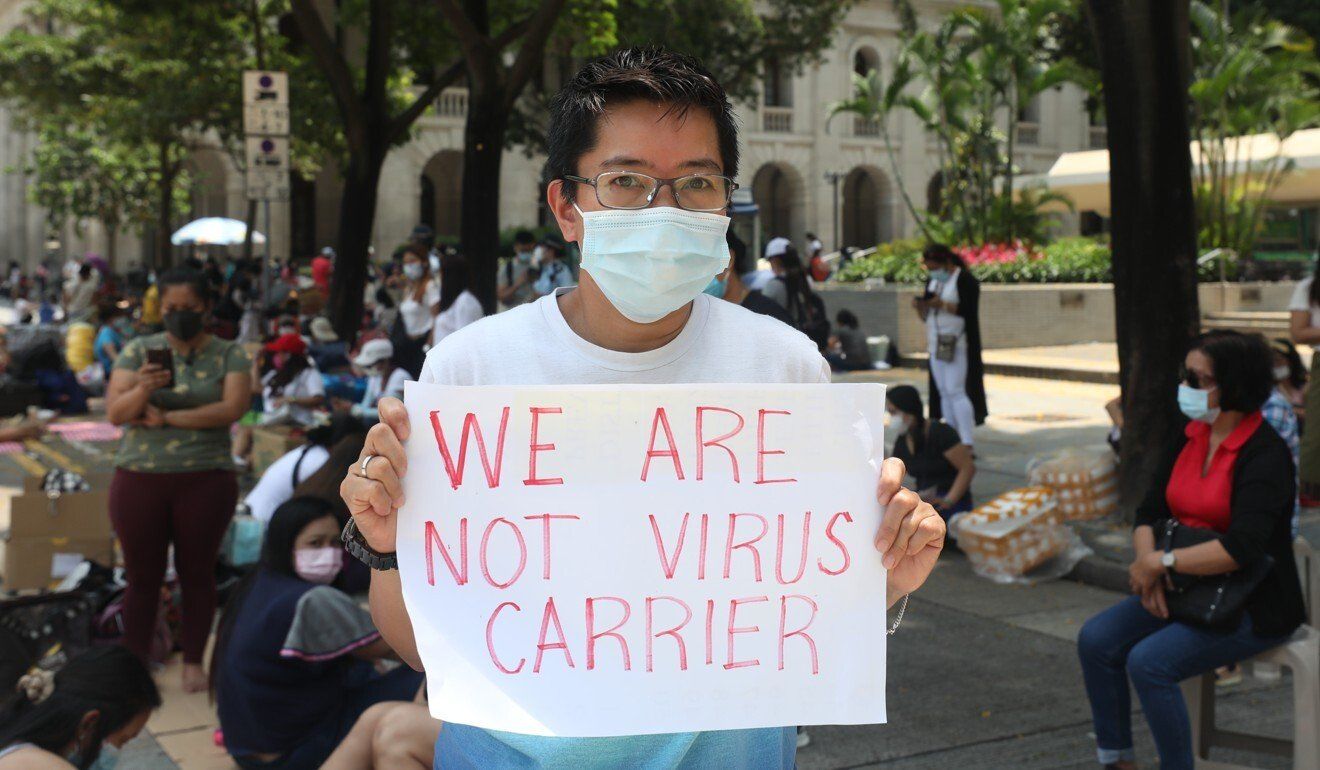 Advocates for domestic workers in Hong Kong have argued that the government has been discriminatory.

The domestic helper's infection prompted authorities to evacuate 1,027 residents from Block 11 of Caribbean Coast in Tung Chung, where the worker lived with her employers.

A government spokesman said there were huge challenges in arranging for residents to undergo 21 days of mandatory quarantine at government facilities as it was the largest evacuation operation during the pandemic. The spokesman said the evacuation was imperative as variants of concern were detected in the building.

Cheung on Sunday defended the mandatory screening order for the domestic workers, saying such measures would protect not only helpers, but also their employers, families and friends.

"Through testing, we can identify the source of the variant infections as soon as possible and effectively break the transmission chain," he said.

"The mandatory testing arrangements are the same for other high-risk groups, such as care-home workers, and do not involve any discrimination against a particular race or identity."

Cheung added the labour and immigration departments were looking into the details of requiring domestic workers to get vaccinated before renewing their contracts.

On Sunday morning, long queues began forming hours before dedicated testing stations for foreign domestic workers opened.

At Chater Road in Central, where many domestic workers gather on their day off, the line to get tested snaked for some 300 metres from Chater House to Ice House Street.

One Filipino domestic worker, who was first in line, told a television station: "We saw there were so many people, that's why we went home [on Saturday].

Then we decided to come back early. We woke up at 4am, and then at 5am we are here already."

An Indonesian helper told the same programme she had to sacrifice her day off to get tested, as she could not spend hours away from her work during the week to wait in line.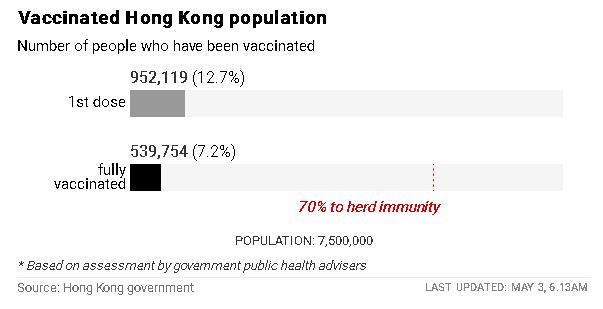 Secretary for Food and Health Sophia Chan Siu-chee said on her official Facebook page on Sunday: "We understand the large number of foreign domestic helpers in Hong Kong will pose challenges to the city's testing capabilities in the short term."

A day earlier, Chan had backed the compulsory testing and vaccine requirements for helpers, saying stringent measures to protect the health of the city's residents were "really something we have to proceed with".

As of Sunday, more than 952,000 people, or 12.7 per cent of the city's population, had received their first dose of a coronavirus vaccine
. Of those, nearly 540,000 had also received their second.

Separately, the Department of Health disclosed on Sunday that a chronically ill 57-year-old man had died six days after receiving his first shot of the Sinovac vaccine, though there was no clinical evidence so far to suggest that his death was caused by the jab. The case will be assessed by the coroner and a local expert committee on adverse effects of vaccines.

The man, who got his first vaccine dose on April 26, was obese and had a history of hypertension and chronic obstructive pulmonary disease. He was found unconscious on the street at around midnight on Saturday and died early on Sunday at Pok Oi Hospital in Yuen Long.