The lads are ensconced in their digs, the WAGs are en route, and the M&S jackets have been freshly pressed. Amy Francombe on the squad's World Cup mission control
It's one of the most controversial World Cups in history, with host country Qatar plagued by human-rights concerns and ill-treatment of LGBTQ+ people ahead of the tournament.

Still, this week the England squad arrived in Qatar ahead of Sunday's official kick-off, on a "Rain Bow" Virgin Atlantic A350 Airbus. Featuring a motif of Oscar — the airline's LGBTQ+ Union Jack-trailing flying icon – the Gay Pride jet was proposed by FA chiefs as a defiant gesture against the country's draconian ban of homosexuality under Sharia law (even though the airline has scrapped gender-neutral uniforms on flights to Qatar).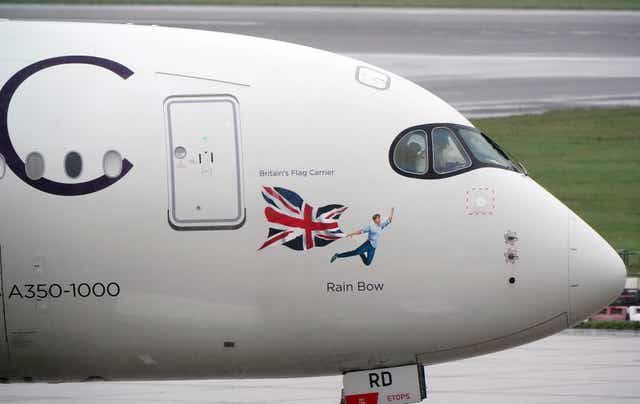 Even though Fifa president Gianni Infantino has urged the 32 nations to "let football take centre stage" and to "not allow football to be dragged into every ideological or political battle that exists", England manager Gareth Southgate said last week it was "highly unlikely" his squad would comply with this instruction. "We stand for inclusivity, and we're very, very strong on that," said Southgate. "We think that's important in terms of all our supporters and we understand the challenges that this tournament brings within that."
As the 26-strong team gears up for its first match against Iran on November 21, we go inside the slick operation of hosting the England World Cup squad.
Inside the £110-a-night hotel housing the squad

The team has booked all 101 rooms at the five-star Souq Al Wakra Hotel, which describes itself as "an elegant seaside stay".

The relatively modest beach resort (the American squad is staying in the lavish Pearl at Marsa Malaz Kempinski, on Pearl-Qatar Island, where royal suites cost £15,000 a night), was chosen because it's a short drive to eight of the 10 tournament stadiums.

Of course, it also helps that the hotel features a pool, an on-site spa, five restaurants, and a traditional Qatari tented area. Moreover, an additional 60 staff members have been hired to ensure the players get VIP treatment. The player bedrooms have reportedly been decorated with personalised family photos for each of the players, while communal areas will be emblazoned with inspiring pictures of England's greatest sporting victories, including the 1966 triumph.

It's all aimed to create a home-from-home atmosphere as a counterbalance to Southgate's strict Covid rules. Last month, the manager issued a warning to players and their families saying that they may be asked not to see each other during the tournament due to Covid fears. According to Qatar government policy, any player who tests positive will have to be isolated for five days and wear a mask for a further five, and would not be able to train with their teammates.

"There is that decision about how much risk do you want to take? If you lose a player or two players, for them that may be their only opportunity to play at the World Cup," Southgate said of Covid fears.

"I'm sure their families will realise that as well. It is a decision that we're talking with the senior players about, and they're realising how complicated that is."

It's also why the England squad won't be moving to other hotels during the tournament, as they usually would. Luckily, Souq Al Wakra manager Zoheb Khan has shared his plans to ensure the players are well looked after: "Our aim is to create a home from home, where the players will wake up to the sound of birdsong and relax fully between games. Every comfort will be offered and we are looking forward to welcoming the team. And, hopefully, they will be with us all the way to the final." Rather than birdsong, the team is more likely to be woken by the 4.29am call to prayer from the mosque next door.

The £1 billion WAG cruiser

With millions of fans predicted to travel to Qatar to watch the games, hotels are understandably in high demand. As a result, the fancy MSC World Europa luxury cruise ship will dock off the coast of Doha to house an overspill of fans and even some player family members.

Air hostess Georgina Irwin, 26, who is engaged to goalkeeper Aaron Ramsdale, 24, Phil Foden's girlfriend Rebecca Cooke, 22, Jack Grealish's girlfriend Sasha Attwood, 27, and Harry Maguire's wife Fern, 27, will also live aboard the vessel. Pegged as an "ultramodern urban metropolis" by its owners, the outrageously big 205,700-tonne ship houses a waterpark (complete with a virtual-reality slide — whatever that means), a roller disco, a spa, bumper cars, 5D cinemas, six pools, 2,633 cabins, and a seven-metre, 11-deck high helter-skelter named the Venom Drop.

But it's likely that the WAGs will be staying in the "ship within a ship" space called the Yacht Club. Anchored around a sparkling glass staircase encrusted with thousands of Swarovski crystals, the exclusive area boasts 152 suites that enjoy a two-deck private sun terrace, pool, restaurant, and 2-hour butler service. The most luxurious suite in this area is the MSC Club Owner's Suite, which includes a large balcony, a private whirlpool bath, panoramic floor-to-ceiling windows, and a separate dining and living-room area.

As the ship is technically docked outside of Doha, it will be allowed to serve alcohol, meaning the WAGs will have the chance to venture to one of the 13 restaurants or 33 bars and cafés onboard — from the Asian-inspired Kaito Teppanyaki Grill and Sushi Bar, to the Mediterranean fish restaurant La Pescaderia, as well as the American-style steakhouse Butcher's Cut. Date night is strictly off limits — with Southgate's ban on players stepping foot on the cruiser.

With cruise lines increasingly attempting to reduce their significant carbon football, the MSC World Europa has undergone several green innovations, including a hydroponic garden in which plants are being grown without soil. From this, Swedish Michelin-starred chef Niklas Ekstedt will create dishes that are prepared in the open kitchen of his eponymous restaurant.

The key WAGs to watch

Many of the squad's family members are expected to make the 6,500-mile round trip. "A group of WAGs became very close at Fern and Megan's weddings in the summer," an England source has been quoted as saying of Harry Maguire's wedding to Fern Hawkins and Jordan Pickford's wedding to Megan Davis in July. "They are going to stay together in close-knit groups to avoid any problems when they go out."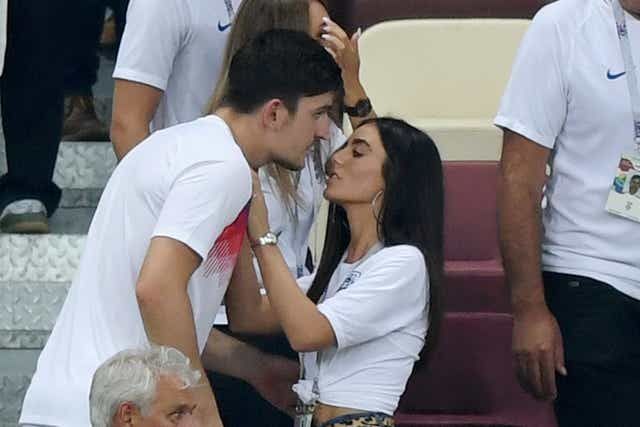 Fern Hawkins will be unable to comfort Harry Maguire on the streets of Doha

The players and their partners have been warned that they are "not above the law" and have been briefed on the many dos and don'ts when visiting the country — such as no drinking alcohol, no public displays of affection like kissing or holding hands, no taking selfies outside government buildings, no swearing, and dressing modestly in public.

According to a former WAG who attended the 2018 World cup in Russia, the women have set up a Whatsapp group to discuss their fears over the strict restrictions in Qatar.

"There are coronavirus rules they have to follow as well as the fact that holding hands and kissing in Qatar is forbidden. The women don't know what to make of it all. One asked me the other night if she could be arrested for posing in her bikini on Instagram," she has reportedly said. "Many of the girls also have young babies and children, so we don't think there will be as big a turnout as in recent years."

Still, around 80 per cent of the players expect to take their wives and girlfriends, according to the insider. As well as the cruise liner, some have managed to bag suites in hotels on the mainland, while some will also stay in Dubai.

Despite not attending the World Cup in 2018, Harry Kane's wife Katie Goodland flew to Doha earlier this year to check out hotels. She also stated that she would be bringing son Jacob, six, and daughter Esme Rose, three.

"It is a once-in-a-lifetime thing. Jacob is obsessed with his daddy and football - all he talks about is football. It will be a great experience, but hard work!"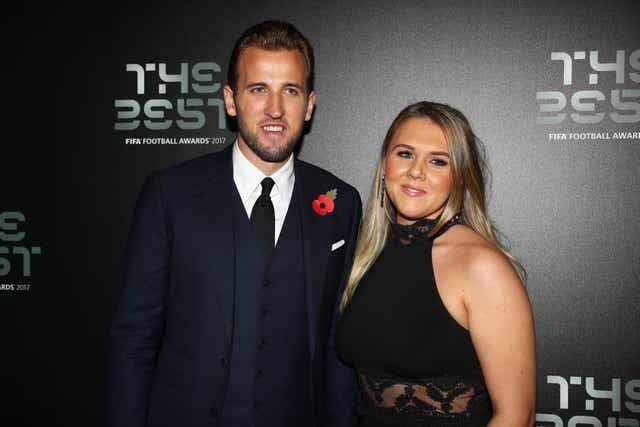 Harry Kane and Katie Goodland are bringing their young family

The girlfriend of £100m Manchester City star Jack Grealish, Sasha Attwood, will also reportedly be there. The model is said to become a multi-millionaire in her own right after signing a deal with L'Oreal earlier this year.

Meanwhile, Man Utd star Harry Maguire will be backed by eight of his nearest and dearest, including wife Fern, 28, their two children, his parents, two brothers, and sister. While Raheem Stirling and Marcus Rashford will be bringing their fiancées, Paige Milian and Lucia Loi respectively.

The ultra-luxe (and ultra-hot) training grounds

The England squad has been seen performing stretches outside the Souq Al Wakra hotel in the Doha sunshine as part of their recovery session. With temperature highs of 35°C, the players will have to acclimatise to the searing heat before getting stuck into proper training. With only five days before their first match, the boys will begin their training at the 12,00-seater Saoud bin Abdulrahman Stadium, which is a six-minute drive from their hotel. It's thought the team will train at nearby 40,00-seat Al-Janoub stadium, too, built especially for the World Cup.

Unlike previous tournaments, nations will train at their allocated base camps on the eve of matches as opposed to on the pitch of the host venue. Between sessions in the desert sun, the squad will also be able to enjoy inflatable football darts, a pool table, and games consoles in their training complex. Whether the unicorns — which first made an appearance at the Russian World Cup when viral pictures came out of the England squad racing the inflatable toys in a pool during training — will make a return has yet to be confirmed.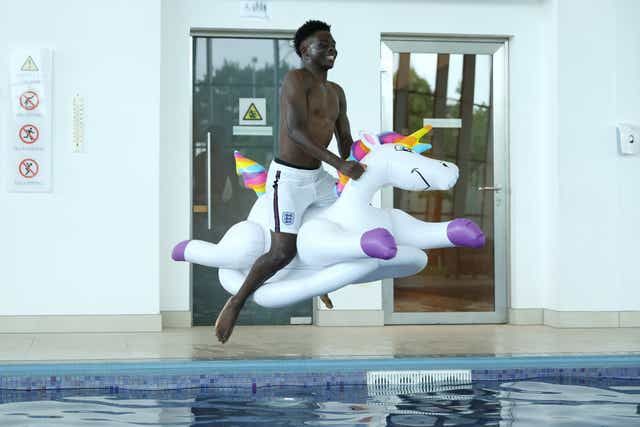 Bukayo Saka, of England, jumps into the swimming pool on an inflatable unicorn at St George's Park in 2021
Qatar's jam-packed event calendar during the tournament

It's likely that the players will be under hotel arrest — at least for the first few matches, which means they'll probably miss out on the wide array of activities that Qatar's government has specially programmed for the games. Most notably Beach 974, one of a number of new beaches due to open in Qatar ahead of the World Cup. The 1.5 kilometre strip of sand can accommodate up to 5,000 people and, throughout the tournament, there will be live music and other activities for fans to enjoy.

The main Fifa Fan Festival, which expects to attract more than a million fans, will be located at Al Bidda Park, and will be the place to catch all the action (outside of the stadiums, that is). A second fan zone that can host up to 3,500 fans at a time has also been set up on the Lusail Marina Promenade, complete with an outdoor skating rink.

Elsewhere in Doha, the Arcadia Spectacular dance-music festival will be held near Ras Bu Fontas metro station, hosting up to 15,000 fans daily. While over on Qetaifan Island North, music fans will be able to catch live concerts at the Qetai-Fan Beach Fest Powered by Unit-Y.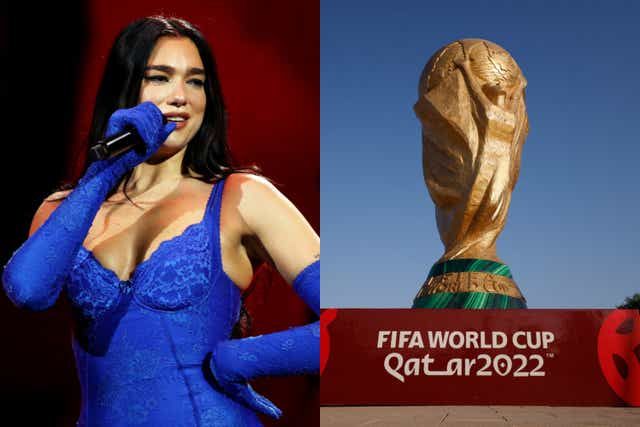 Dua Lipa will not be performing in Qatar despite speculation

Booking celebrities to perform at the tournament has proven difficult. Londoner Dua Lipa confirmed she would not be performing in Qatar, after a "lot of speculation".

"I look forward to visiting Qatar when it has fulfilled all the human-rights pledges it made when it won the right to host the World Cup," she added. She joins the likes of Rod Stewart, who confirmed he turned down more than $1m to play a gig in the country and even said Iran should not be allowed to take part after supplying arms to Russia. Still, BTS, Trinidad Cordona, Davido, and Aisha have confirmed they will be performing at one of the many festivals being hosted.