Fancy dress order of the day as fans celebrate rugby and the loosening of Covid-19 restrictions.
Spectators pulled out all the stops and donned fancy dresses to bring a party atmosphere to the last day of the Hong Kong Sevens rugby tournament on Sunday.

Gaga Ho, 30, and nine friends, in the traditionally raucous south stand of the Hong Kong Stadium, dressed up as fast food chain McDonald's mascot Ronald McDonald for the day.

"We also like eating McDonald's and we also wanted to show that 'we're lovin' it'," she added in a reference to a famous slogan used by the chain.

The Hong Kong resident, a first-time attendee at the tournament, said the crowd was smaller than she had anticipated, but that she was still delighted to be there.

"We locals are really supportive of the event, especially with the presence of the Hong Kong team, so we are very happy," she added.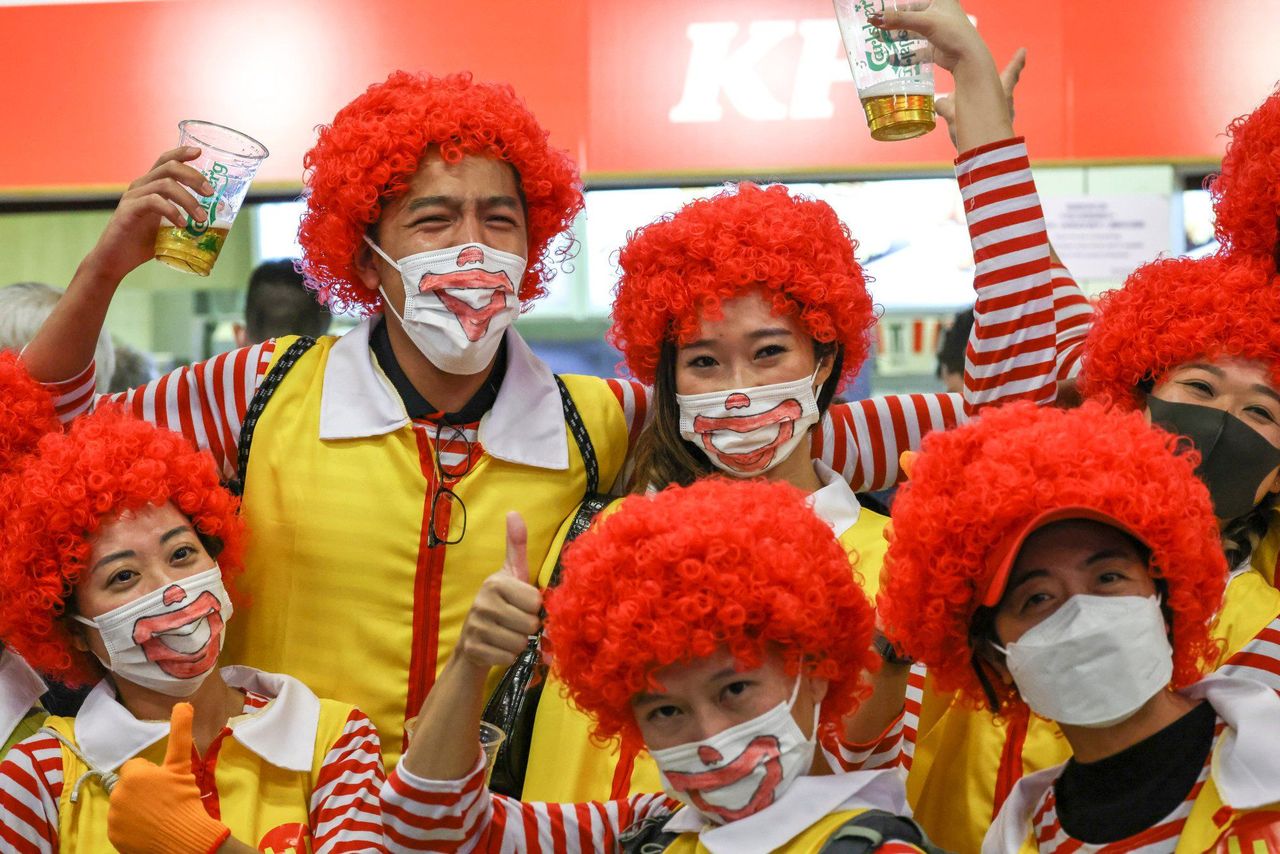 Clowning around – a group of friends dresses up as McDonald's burger chain mascot Ronald McDonald for the Hong Kong Sevens rugby tournament's final day.

Kong Hau-yi, also in the south stand, dressed up as a Power Ranger along with friend Lilian Lai, 27.

"I wanted something to cover my face so I can act as crazy as I can," Kong, also 27, said.

Kong said she had been at the Sevens before – in 2009 as a schoolgirl and in 2019 as a staff member, but it was her first time as an adult spectator.

She explained she and her friend decided to dress up because it was the first-large scale event they could attend since the Covid-19 pandemic hit the city in 2020.


"Because of Covid, we have been closed for so long and there is nothing fun to do, so this is the first big event where we can actually shout without a mask and be together with so many people," Kong said.

The government relaxed its pandemic curbs last Thursday to allow restaurants and pubs to set their own hours and allowed people to remove masks for photos at events, catering and sports premises, as well as in entertainment and religious venues.

Kong said the opportunity to cheer on the teams without wearing a mask made the event even more special.

"I can feel that everyone is 100 per cent into the game," she added.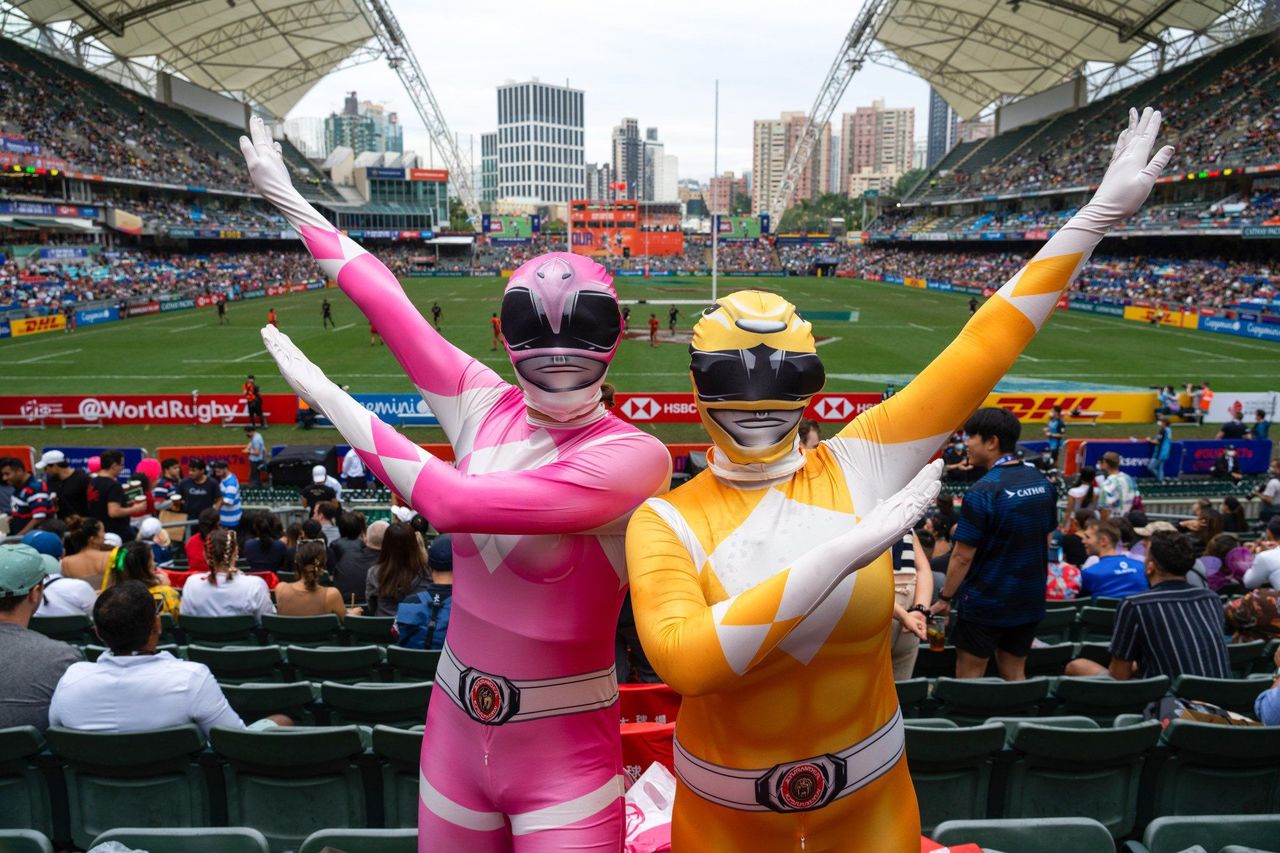 Power Rangers costumes on show at the Hong Kong Sevens rugby.

Other spectators included Hong Kong permanent resident Todd Handcock, who gave his costume a flavour of his native Canada.

The 55-year-old and his 22-year-old son dressed up as red gorillas decorated with the country's red and white maple leaf flag to cheer on his homeland's squad.

"It's unique – there are not many red apes out there and we are pretty identifiable as Canadians," Handcock said.

"We bleed maple syrup and we're always just big supporters of the Canadian team everywhere we go."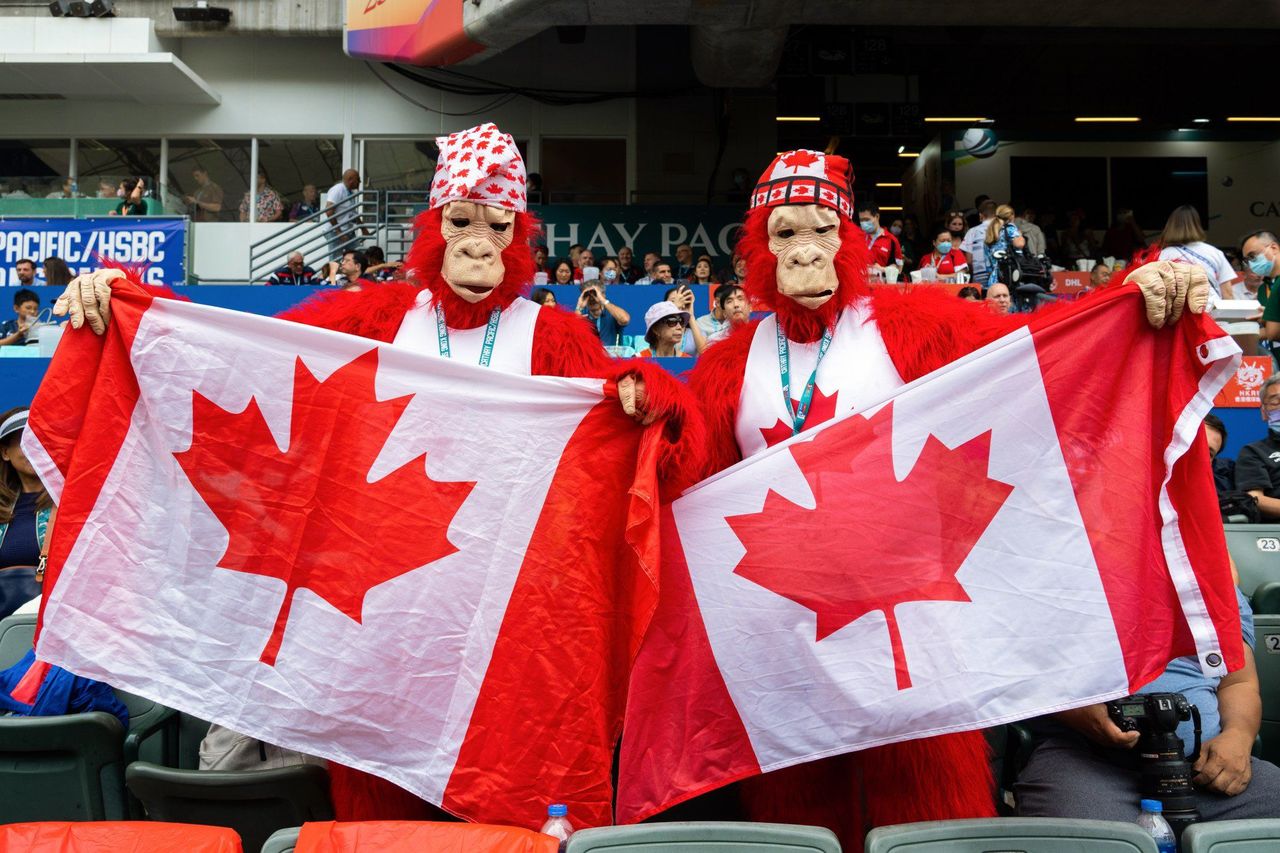 Maple Leaf Forever: A Canadian father and son show their team allegiance at the Hong Kong Stadium.

Handcock, who works as the Asia-Pacific president for an international company, has attended the Hong Kong Sevens since 2000.

"There's no doubt it is quieter. We don't have the international tourists that have come in for the Sevens in the past, but the Hong Kong crowd is actively supporting the event, so it's exciting," he said.

The showcase sports event also counted senior government figures among its supporters, with Chief Executive John Lee Ka-chiu, Finance Secretary Paul Chan Mo-po, Chief Secretary Eric Chan Kwok-ki, Secretary for Security Chris Tang Ping-keung and Secretary for Housing Winnie Ho Wing-yin all making an appearance.

Lee arrived at around 6.45pm and headed to the corporate box, but did not take questions from the media.

He was spotted talking to rugby officials without masks and appeared to be in a relaxed mood.

He also enjoyed a drink with the officials alongside Chan, who earlier recovered from Covid-19, and sang and swayed along to a live music performance.

Lee and Chan left around 7.35pm, with Lee getting into a black BMW and waving to the media after a send-off from a rugby official.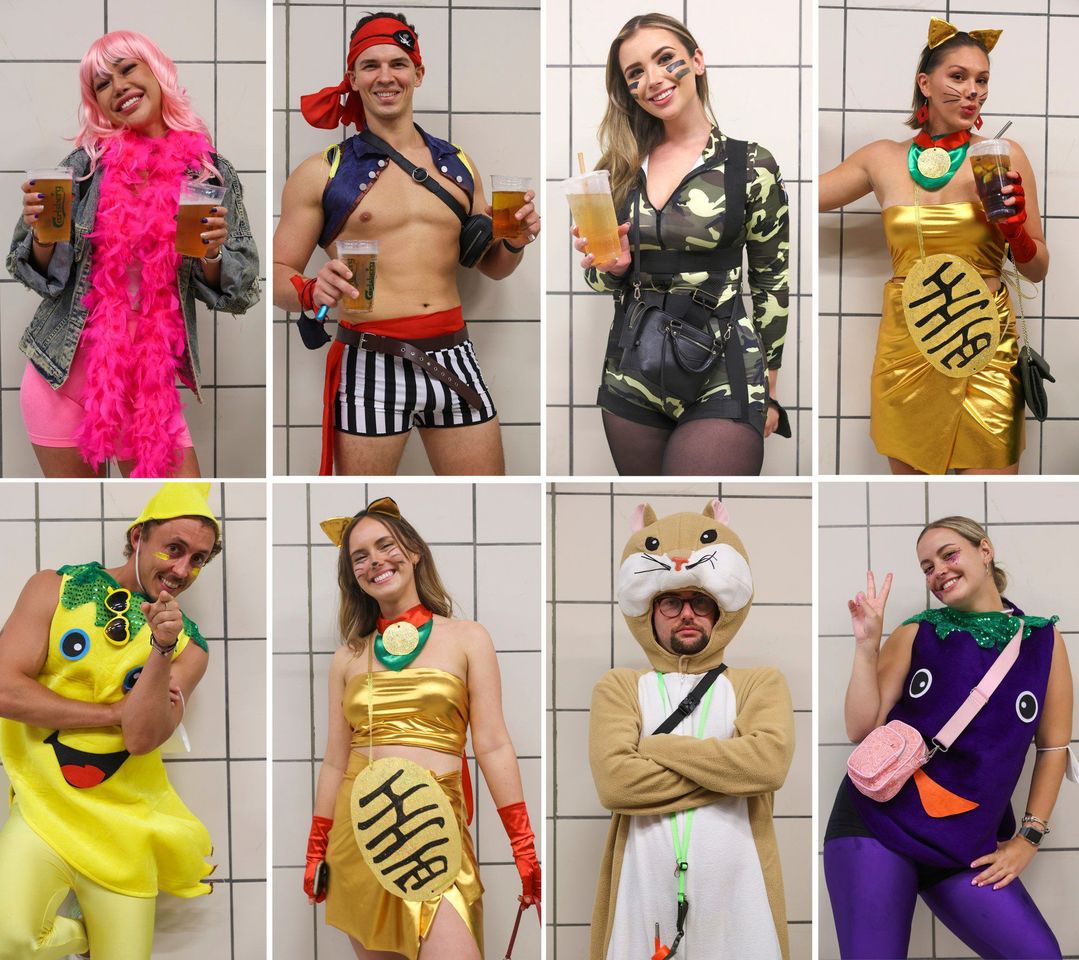 Some of the fancy dress on show at the three-day Hong Kong Sevens festival of rugby.

Tang, sporting a temporary tattoo of the Hong Kong flag on his right hand and no mask, was earlier spotted taking selfies with spectators.

But others booed as he waved to the crowds in the south stand and some shouted "wear a mask".

Ho, who was spotted having her picture taken, said she was happy to enjoy the "really good" atmosphere.

"I want to thank the Hong Kong Rugby Union for organising such a good event for Hong Kong residents and I hope everyone can have fun," she said.