The unprecedented impact of the pandemic on London's hospitals emerged today, amid dire warnings that the capital is less than a fortnight from being completely overwhelmed.

Many London hospitals have spent the festive period without a spare bed, with six of the 18 acute trusts effectively full last week.

New figures this morning revealed that the hardest-hit trusts had only two or three unoccupied beds on Sunday – with six hospitals having every available critical care bed in use.

This has forced hospitals to cancel non-emergency care, including some cancer surgery. Cardiac surgery is also being postponed.
It came as:
* Almost 900 patients were stuck in an ambulance outside London A&Es for more than an hour last week due because hospitals were too busy to accept them.

* A leaked briefing said London had only 46 spare intensive care beds and was facing a total shortfall of 1,900 beds by the middle of the month.

* Trust leaders warned that the NHS would soon not be able to treat all covid patients.

Analysis of NHS England data by the Standard found that on December 29 the Whittington hospital had no spare beds, North Middlesex had two, Hillingdon had four, as did the Lewisham and Greenwich trust, Homerton had five and Kingston had six.

There were only 10 spare beds in Croydon and 14 at the Royal Free's hospitals in Hampstead and Barnet.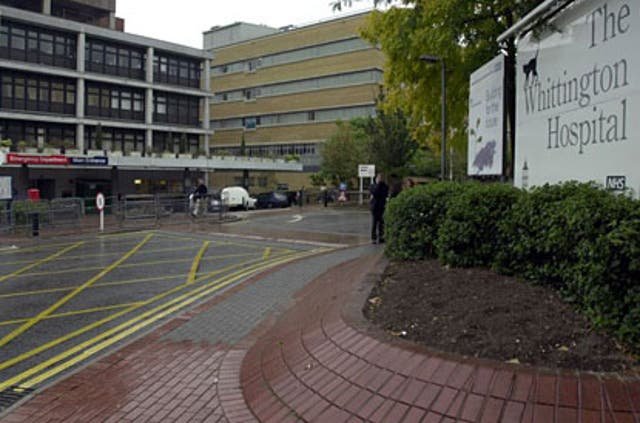 Whittington hospital: had two spare beds on Sunday

Pressures at North Middlesex, in Edmonton, were so acute that almost two-thirds of its general and acute beds – 253 out of 399 – were filled with covid patients.

Updated data published this morning revealed that, by Sunday, the Whittington, in Archway, had two spare beds out of 218, while Croydon had three spare of 441.

There were only 11 spare beds at North Middlesex, 12 at Kingston and 15 at Lewisham and Greenwich, which runs Lewisham hospital and Queen Elizabeth in Woolwich.

But there was not a single spare critical care bed on Sunday at the Homerton, Kingston, Hillingdon, Whittington, North Middlesex or at London North West healthcare, which runs Northwick Park and Ealing hospitals.

Homerton hospital chief executive Tracey Fletcher tweeted that it was treating 200 covid patients - almost double the number a week earlier.

Sources said hospitals were rushing to open "surge" capacity and were continuing to admit patients while cancelling planned operations.

They said it was becoming harder to transfer patients to other hospitals with remaining capacity or to community trusts with "step down" beds or elderly care facilities, but denied that patients were having to be treated in corridors.

Paramedics have been unable to offload patients for up to six hours, it has been reported.

One nurse at the Whittington said earlier this week that patients were waiting up to three hours in ambulances.

She said: "Some are in corridors, being looked after in makeshift areas, makeshift wards have been created for covid patients, and ICUs are running out of space."

A regional approach has been adopted, with the capital divided into five sectors, of which North Central and North East have been under the greatest pressure. North Middlesex has had to transfer some patients to the specialist Royal National Orthopaedic Hospital in Stanmore.
A further indication of the scale of the pressure on hospitals emerged today with data showing that 872 patients waited more than an hour outside A&Es in London between December 28 and Sunday, January 3, before they could be offloaded.

This was up from 500 who waited more than 60 minutes in the previous week that included Christmas day.

LAS says it is suffering a second successive week of unprecedented demand, amid reports of people waiting up to 10 hours for a crew after calling 999.

At peak times, there can be up to 600 incidents to which there are no ambulances available to be dispatched, it has been reported.

LAS chief operating officer Khadir Meer tweeted: "Last week was the busiest in our history. This week appears to be no quieter. Please only call 999 in an emergency."

The service had prepared for up to 6,000 calls a day but has been deluged with 7,500 to 8,000 calls for help.

This indicates that scale of pressure on A&E departments and the difficulty of admitting patients to a ward due to the logjam within the wider hospital.

A presentation to hospital medical directors yesterday by Dr Vin Diwakar, NHS London's top doctor, warned that the capital was set to have a shortfall of 1,500 general and acute beds and 400 intensive care beds by January 19, according to a leak to Health Service Journal.

The NHS England presentation, seen by the HSJ, showed that even if the number of covid patients grew at the lowest rate considered likely, and measures to manage demand and increase capacity, including opening the capital's Nightingale hospital, were successful, the NHS in London would be short of nearly 2,000 general and acute and intensive care beds.

Chris Hopson, of NHS Providers, told the Today programme, that problems were "really escalating very quickly" across the country.

He said: "We are now at the point where unless we can access this capacity, we are not going to be able to treat the patients that we need to treat in the NHS."

A spokesperson for Whittington Health NHS Trust said: "Like the whole NHS, Whittington Health is currently experiencing pressure as a result of a rapid increase in Covid-positive patients.

"However, the safety of our patients remains our top priority and our staff are working tirelessly to ensure that we can continue to provide safe, effective and compassionate care to those who require it."