Singapore's government on Friday said it was watching Hong Kong's virus situation closely ahead of the launch of the long-awaited travel bubble scheme
on Sunday, noting that the city's Secretary for Food and Health Sophia Chan Siu-chee had described the situation as "severe".

"We are working closely with the Singapore Ministry of Health to gather the facts, and will update the public shortly. The Singapore and Hong Kong governments are in close contact on the situation," the Civil Aviation Authority of Singapore said in a statement.

This Week in Asia understands that the first flight on Sunday will go ahead as planned.

But the number of untraceable cases in Hong Kong – nine of 21 locally-transmitted infections on Friday – has cast a shadow on the prospects of its quarantine-free travel arrangement with Singapore, that hinges on there being an average daily number of five or fewer untraceable Covid-19 cases over a seven-day period. If the average in either city goes above five, the arrangement will be suspended for two weeks.

Over the past seven days, including Friday, Hong Kong has had 15 untraceable cases, making the daily average 2.14. This number is expected to rise on Saturday as the preliminary cases – numbering more than 40 as of Friday, with many thought to be untraceable – are confirmed. The city's official tally now stands at 5,517 cases, with 108 related deaths.

In comparison, Singapore– where almost 94 per cent of its 58,143 cases are linked to foreign-worker dormitories – on Friday reported zero infections within the rest of the community for the 10th straight day.

Singapore's Transport Minister Ong Ye Kung, whom This Week in Asia interviewed on Friday morning before Hong Kong reported its surge in infections, said there was currently no need for an on-arrival test for visitors from the city, but added he would not rule out instituting one in future.

He said the decision to require Hong Kong visitors to take only one test – within 72 hours before they board their flight – was based on expert medical advice, given that the city's virus incidence rate was "very low" at under 0.5 infections per 100,000 people. Also, with pre-departure tests filtering out potentially infected people, "mathematically, an on-arrival test is not necessary," Ong said.

He acknowledged the online chatter alleging Singapore had not negotiated its side of the agreement well, as Hong Kong requires two tests for visitors – once before they depart Singapore and another upon arrival at Hong Kong International Airport.

A near deserted Hong Kong Airport.

"I saw some of these narratives online," Ong said. "That they say we're not so good at negotiation … it doesn't work like that.

"Our interests are all protected and beyond that we have flexibility and autonomy to do additional things, so long as we don't compromise the key thing – which is testing to replace the stay-home notice, and no restriction on types of travellers."

The world's first leisure travel bubble is set to begin on Sunday morning with a daily maximum of 200 travellers from each city. The quota will double to 400 from December 7.

Travellers will end up spending about HK$1,890 (US$243) for the three virus tests and must follow social distancing and mask-wearing restrictions in both cities, and use a contact-tracing app on their mobile devices while in Singapore.

The city state, which has seen its status as an aviation hub and tourism sector decimated by border closures, is banking on the success of the travel bubble as an example of how countries can begin opening up safely – even if a full revival of air travel, dependent on mass acceptance of a viable vaccine, is years away.

"It is a trailblazer," said Ong, adding that Singapore had received several queries from other governments on how the travel arrangement would work.

"It is critical that this one is done well for both Hong Kong and Singapore. For us as an aviation hub, a small country, we have to try to demonstrate that it is possible that we can dissolve these trade-offs [between health and opening up borders].

"If you pick your partners right, implement the right measures, you can achieve opening up of borders and safe communities and societies at the same time."

Singapore-based infectious diseases expert Leong Hoe Nam agreed with the minister, saying he was not as worried about Hong Kong "sending cases over".

"But I am fearful of bubbles with other countries that do not have a robust testing and contact-tracing team," he said.

Hsu Li Yang, programme leader for infectious diseases at the National University of Singapore's Saw Swee Hock School of Public Health, said it was important that economies with travel bubble arrangements were transparent about their situations and how they would respond to change.

"We saw this at work over the past few days with the small spike of untraceable cases in Hong Kong," he said.

On Friday, as Hong Kong's Food and Health Secretary acknowledged that experts had pronounced a fourth wave of infections "inevitable", she urged residents to stop "unnecessary" gatherings and wear masks at all times. She warned that the government could further tighten social distancing restrictions.

Ong, when asked about other countries that Singapore could have travel bubbles with, said candidates included places to which the island nation had already opened up unilaterally, such as New Zealand, Australia, Brunei, Vietnam and mainland China. About 1,400 visitors from these countries have entered the city state in recent weeks without having to serve quarantine.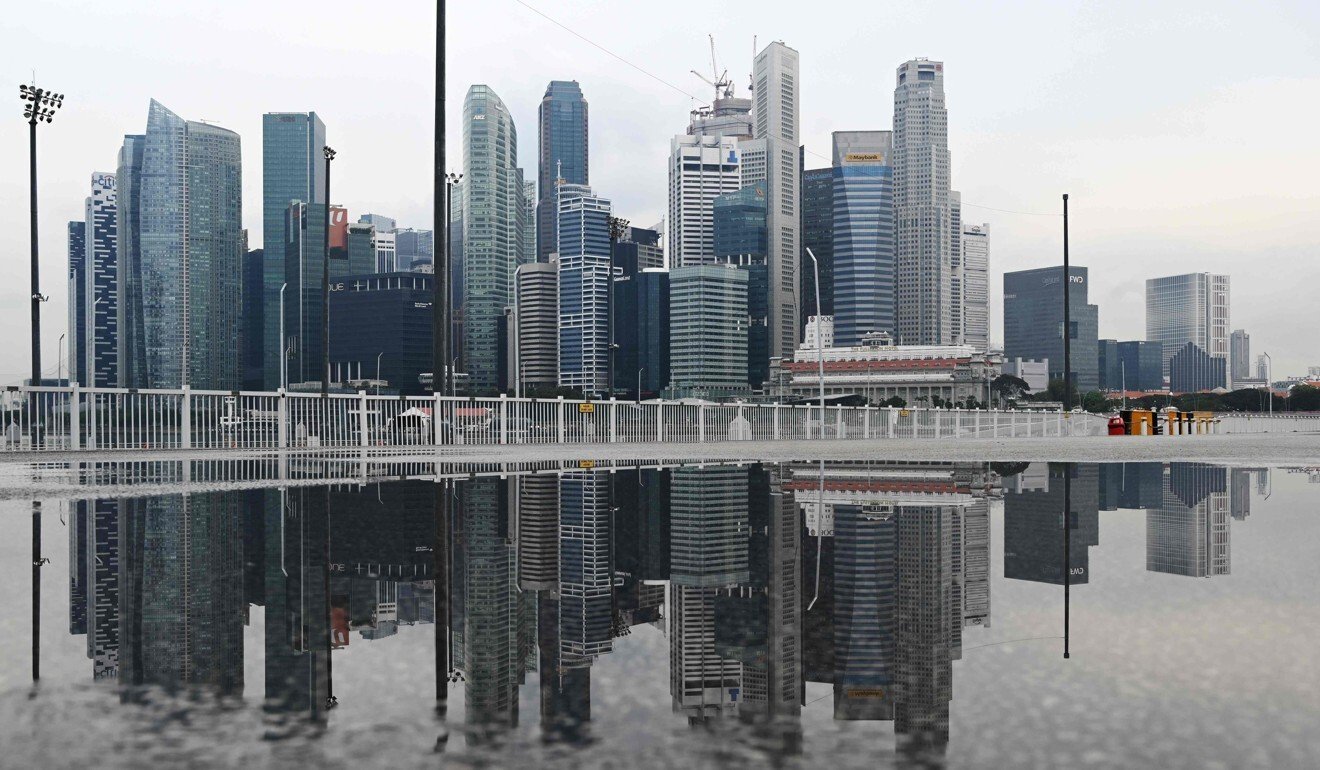 The Singapore skyline is reflected in a pool of rain water at Marina bay.


The latest available official figures – from November 6, when the number of visitors was at 800 – showed that none of the travellers had tested positive for Covid-19 while in Singapore.

The minister was doubtful there would be a travel bubble among the 10 countries of the Association of Southeast Asian Nations (Asean), pointing to how even the European Union was not able to do that despite their "closer union".

But he hoped there would be more reciprocal green-lane arrangements between Asean member states that had controlled the situation well and could at some point progress towards travel bubbles.

Singapore currently has green-lane arrangements with seven economies for business and official travel, but the number of these travellers was "not huge" because they needed a sponsor and to adhere to a controlled itinerary with the possibility of quarantine when they returned home.

Still, Ong said it was necessary to allow some movements so businesses could run "in this paralysed state of the world".

"You can't stand still, especially an aviation hub like us, like Hong Kong and other places," he said. "You do need to put your chess pieces in place, and be ready for the time when air travel recovers, so you're there to receive it and be able to revive quicker than other hubs and competitors around the world."