A multinational giant offering "cruises to nowhere" from Hong Kong on one of its largest liners has been ordered to suspend its services for 21 days after a crew member tested as a repositive Covid-19 case, marking its third brush with bad luck since the scheme began.

Royal Caribbean International, one of two firms offering the service in Hong Kong, has been told by health officials to suspend cruises on its Spectrum of the Seas ship until November 11 as a precaution.

The suspension came despite the rest of the ship's 1,250 crew members having tested negative twice as of Saturday morning. The company said it would also cover the cost of the HK$240 (US$31) shelled out by would-be passengers for their mandatory coronavirus tests.

A sailing of the ship was abruptly halted on Thursday just as passengers were boarding, after one of its fully vaccinated crew members tested positive for Covid-19.

Health officials on Friday night said a sample collected from the 40-year-old crew member "tested indeterminate" at a private lab the previous day, while a test conducted by a Department of Health lab returned a positive result, but with very low viral load.

The patient was asymptomatic and tested negative upon admission to hospital on Thursday. He also tested positive for virus antibodies.

Authorities said the case was compatible with a repositive case based on epidemiological and laboratory findings.

The crew member's close contacts were quarantined, while those who had been on the ship between September 30 and Thursday for more than two hours were required to undergo mandatory screening by Saturday.

The next sailing of the cruise ship was planned for Sunday.

Passengers on the ship's two previous sailings – on October 14 and 17 – are covered by the order.

Spectrum of the Seas started sailing from Hong Kong on October 14 after two postponements, while Dream Cruises' liner, Genting Dream, began operating from July 30.

On Saturday morning, Royal Caribbean confirmed in a statement that its Sunday cruise had been cancelled, adding: "The Department of Health continues to acknowledge the preliminary positive test result and has advised a suspension of operations for a minimum of 21 days."

All passengers must test negative 48 hours before boarding.

Tourism sector lawmaker Yiu Si-wing said health authorities were being "excessively cautious" over the case, which made it difficult for already struggling cruise companies to operate out of Hong Kong.

"Health authorities need to consider whether they're being too strict and rigid with their rules on cruises to nowhere," he said.

Rival operator Genting Cruise Lines told the Post there would be "no changes" to its Dream Cruise sailings, which would "proceed as scheduled". Its latest voyage departed at about 8.30pm on Friday from the Kai Tak terminal.

Hong Kong started allowing companies to operate cruises to nowhere from July, with the ships remaining at sea and not stopping at other destinations for health reasons.

Some 1,200 passengers were held at the Kai Tak Cruise Terminal on Thursday. The cruise line arranged for them to leave the terminal that night with a HK$100 transport subsidy and offered them a full refund for the cost of the cruise.

Frederick Yip, executive director of travel agency Goldjoy Group, said he had received more than 100 inquiries on whether Sunday's cruise would be affected.

Some passengers had asked to have their entire bookings refunded, he said, or to wanted their tickets transferred to a later date.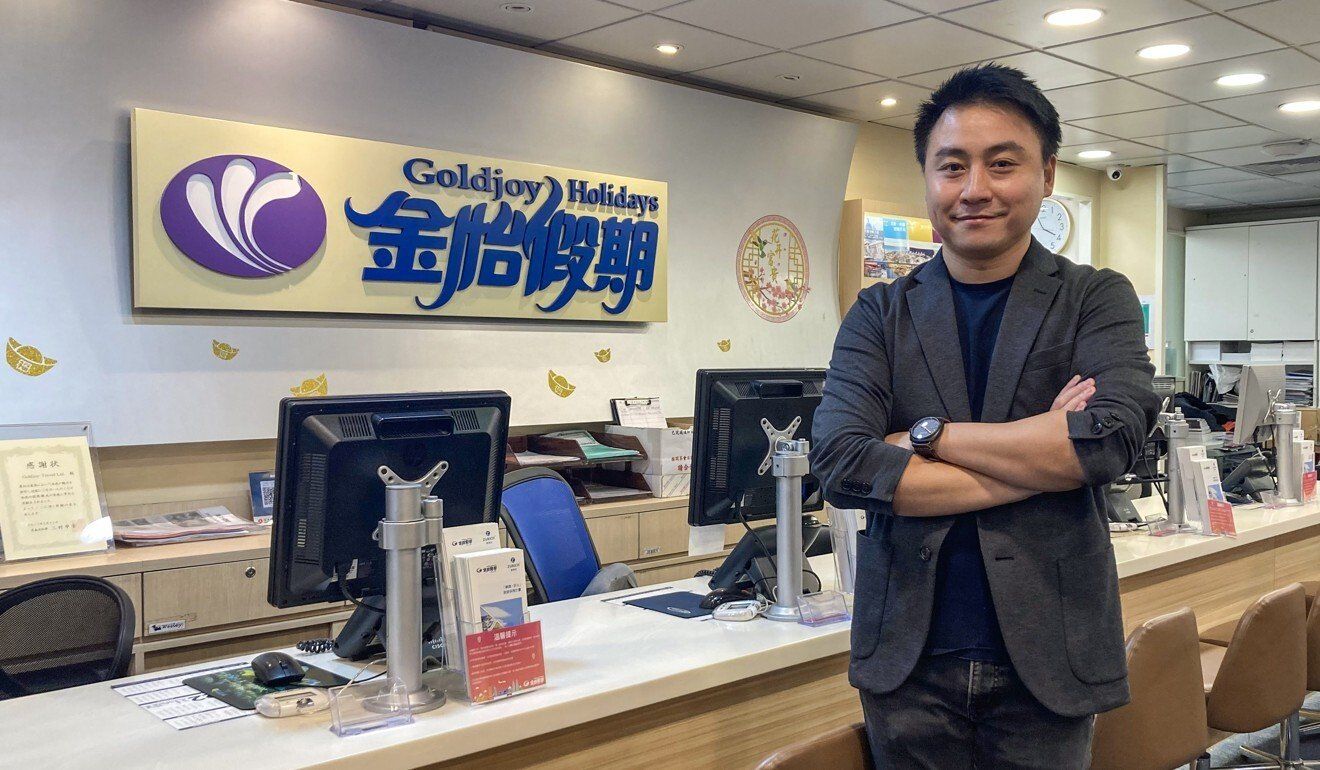 Frederick Yip, executive director of Goldjoy Group.

Yip said Royal Caribbean's policy was that customers had "the right to receive a full future cruise credit for any sailings later in the year or even next year" if they made the request 48 hours before the scheduled departure.

Dr Ho Pak-leung, an infectious disease expert from the University of Hong Kong, said officials should not worry about someone who tested repositive and had already been fully vaccinated being near colleagues and passengers.

"So far, we've seen that people who tested as a repositive case in Hong Kong did not infect their family members or close contacts," he said.