Fears that Hong Kong was falling behind in the race to contain the spread of Omicron grew on Sunday as another local untraceable case emerged and health workers investigated possible vertical transmission of Covid-19 at a residential building.

The worsening health emergency is rapidly turning into a political crisis for city leader Carrie Lam Cheng Yuet-ngor. Calls have been mounting for the government to hold accountable dozens of officials who attended a birthday bash along with a confirmed infected person and where social-distancing rules might have been broken last week, leading to dozens of ministers and lawmakers being ordered into quarantine.

Lam is also being urged to take action against the management of Hong Kong's flagship carrier, Cathay Pacific, which has been accused of lax oversight of aircrew members who flouted home isolation rules and visited bars and restaurants while infected with the highly transmissible variant.

The Omicron wave is threatening to overrun the city just as families, already exhausted by following some of the most restrictive pandemic-control measures in the world, prepare to celebrate the Lunar New Year festival at the start of February. The rising number of cases also comes as campaigning for the chief executive race is about to begin, and while Lam has not said whether she will seek re-election, neither has any other candidate stepped forward yet.

The local unlinked case, which is still classified as preliminary-positive, involved a part-time saleswoman at the busy Sogo department store in the retail heart of downtown Causeway Bay, while the suspected transmission at the Tai Po block appeared to have occurred via an altered waste water pipe. During the previous wave, vertical transmission was blamed for spreading the virus among neighbours at several buildings.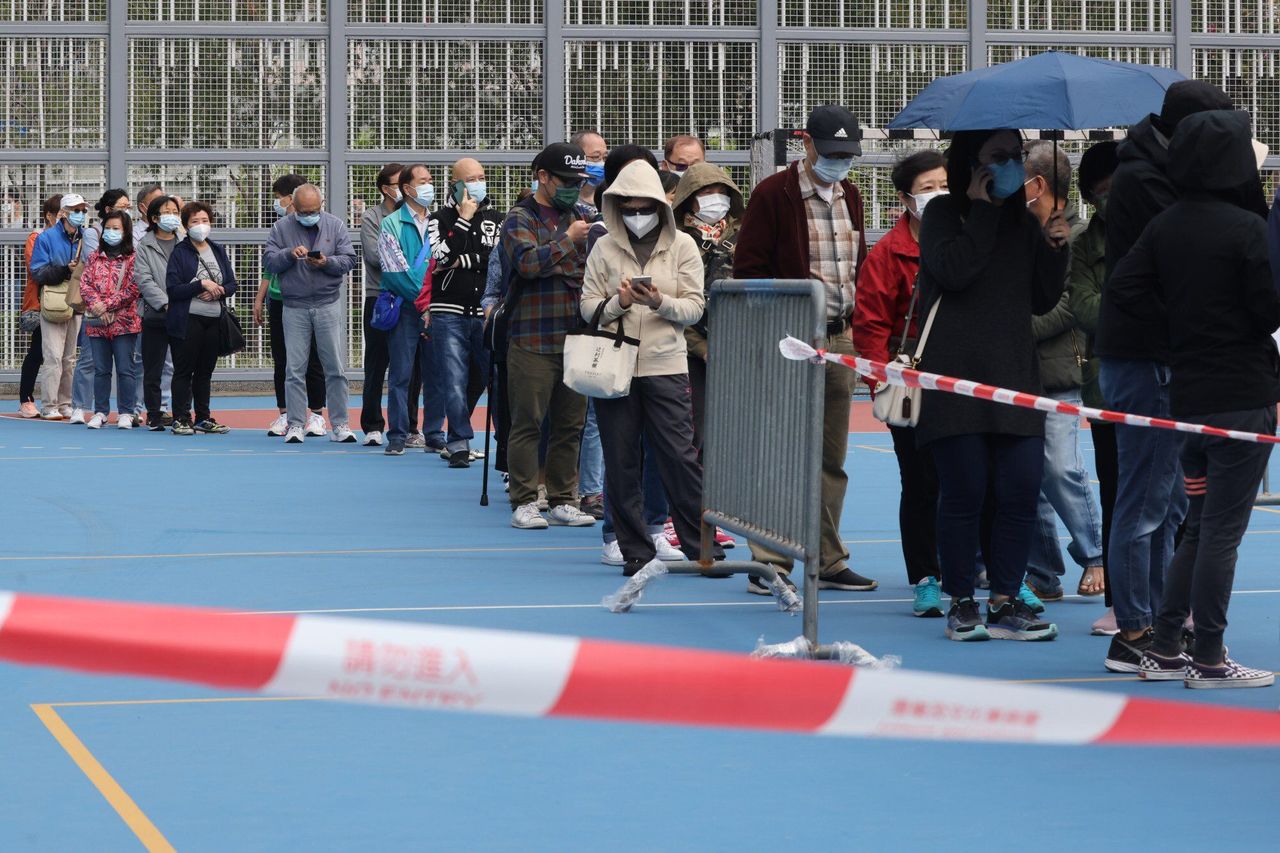 Residents undergo testing at Victoria Park in Causeway Bay on Sunday.

The local untraceable case is the second of the emerging fifth wave of the pandemic after a 58-year-old supermarket worker who criss-crossed the city while infected was identified on Saturday.

Genome sequencing showed the goods handler's case was linked to a 28-year-old Cathay Pacific flight attendant who returned to the city on December 27 carrying Omicron, according to Dr Chuang Shuk-kwan, head of the Centre for Health Protection's communicable disease branch.

The airline employee's mother, who was later confirmed as infected, is at the centre of Hong Kong's current cluster of infections.

"We indeed have found at least one more untraceable case at the moment, so we are worried that there are silent transmission chains in the community," Chuang said. "I think the public has to keep social-distancing measures at least for the coming one to two weeks."

The city on Sunday confirmed 33 coronavirus cases, 27 of which involved arrivals. Among the six remaining cases, five were linked to imported infections, while one was classified as possibly import-related. Another 20 preliminary-positive cases were identified.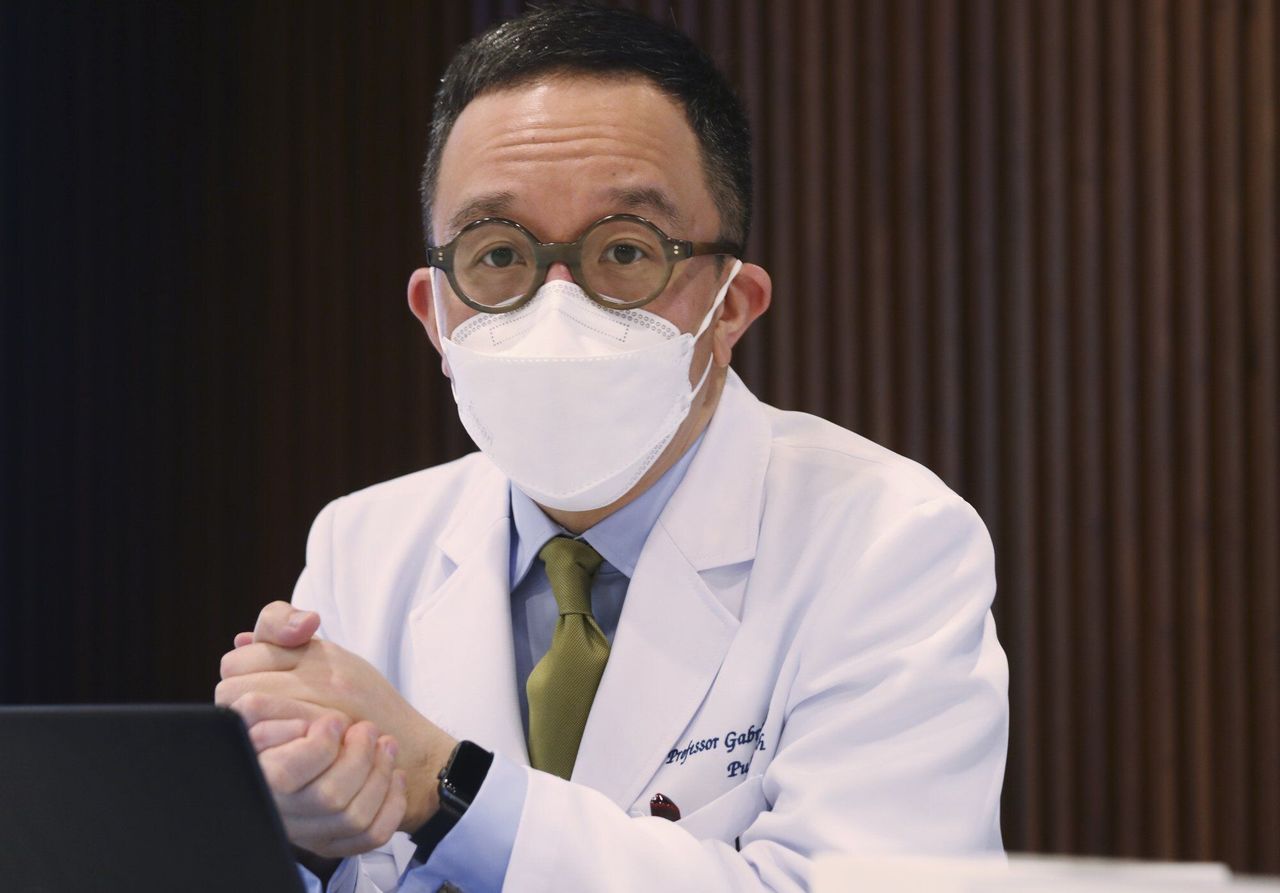 Professor Gabriel Leung from HKU.

Authorities also said another guest at a birthday party attended by ministers and lawmakers was suspected to be carrying the coronavirus and the building where she lives, Harbour Green Tower 2 in Tai Kok Tsui, was locked down while residents underwent screening.

But her case did not affect the quarantine order for roughly 100 other party-goers, including home affairs chief Caspar Tsui Ying-wai, who apologised a second time for attending, and immigration director Au Ka-wang. Eleven senior officials, including legislators, released from the government's isolation facility at Penny's Bay will be required to remain at home until they have completed multiple tests.

Revealing additional information about the latest unlinked case, health officials said the part-time saleswoman, 20, last worked at Sogo on December 28, but she also had a pharmacy job at On Ting Estate in Tuen Mun. She lives with her family at the Aegean Coast residential complex in Tuen Mun, which was placed under lockdown while residents were tested.

Health authorities also locked down the Mei Sun Building on Kau Hui Chik Street in Tai Po where the vertical transmission was suspected. A domestic helper living in flat 5D was confirmed as infected on Friday, while a 66-year-old woman living in flat 10D was among the latest suspected cases.

After inspecting the building in the afternoon, leading microbiologist Professor Yuen Kwok-yung said he believed vertical transmission had occurred between the two flats and recommended that residents of 19 units facing that direction, from the 6th to 24th floor, be quarantined.

Officers from the environmental protection and buildings department found that inside flat 10D waste water pipes in an en suite room had been altered, leading them to suspect the virus discharged from unit 5D might have travelled upwards to 10D.

"We are pretty certain [vertical transmission between floors] should be the most likely cause of the spread," Yuen said.

During Hong Kong's fourth wave of infections, at least four residential buildings were affected by a similar transmission route, which triggered evacuations and the quarantine of residents.

The latest coronavirus crisis has prompted pro-establishment legislators to call for the government to follow mainland China's approach of ordering citywide screenings. But Dr Leung Chi-chiu, a respiratory medicine specialist, said large-scale testing during an Omicron outbreak would be logistically unfeasible.

"We need at least three days to finish citywide testing. Meanwhile, we have to ask 7.5 million citizens to stay at home. The economy will collapse before the virus is dead," he said.

Professor Gabriel Leung, dean of the University of Hong Kong's faculty of medicine, said the coming 10 days would be a "dangerous period", while also urging Cathay Pacific to plug "loopholes" in its flights for returning aircrew.

"If there are more cases of unknown origin, authorities really need to consider whether more social-distancing measures are needed, such as allowing schools to start the Lunar New Year break earlier and [encouraging] a larger scale of working from home," he said in a televised interview, before the latest case figures were revealed.

Leung said that Cathay had allowed crew members to return to the city through cargo flights instead of passenger ones to exempt them from quarantine, arguing that the airline must be aware of the loophole and plug such lapses to fulfil its social responsibility.

"If the airline does not know [about the loophole], it is impossible those aircrew [could have boarded] the plane … There is no other explanation," he said.

While critics have questioned whether Hong Kong's zero-Covid stance is viable given the more transmissible Omicron variant had already infiltrated the city's defences, Leung said authorities should "absolutely not" consider coexistence with the virus, as many, including children, had yet to be vaccinated.

He also took aim at vaccine makers and distributors, saying that their delay in extending jabs to children was "irresponsible".

"They have not applied for lowering the age limit … I think these pharmaceutical companies are extremely irresponsible, and I hope they will not only make money but also think of us," he said.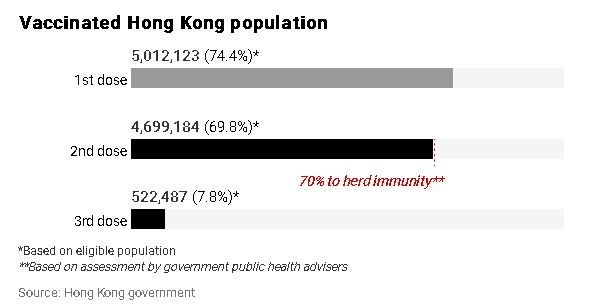 Currently, children as young as three in Hong Kong have access to the Chinese-made Sinovac jab, with priority for those aged 12 to 17. The German-produced BioNTech vaccines are only available to children aged 12 and above.

Leung also urged authorities to increase the capacity of community vaccination centres, highlighting that Gleneagles Hospital had doubled its vaccination quota from 300 to 600 per day. As of Sunday, 5 million residents out of 7.5 million eligible for vaccination had received at least one dose.

Meanwhile, the government has also imposed flight bans to two airlines until January 22, namely Singapore Airlines from San Francisco after 8 passengers had tested positive upon arrival, aAll Nippon Airways from Tokyo after 6 people tested positive.

The city's confirmed Covid-19 case tally stood at 12,935, with 213 related deaths.