Scottish Secretary Alister Jack has urged the Scottish government to rethink its flagship recycling policy.
The UK minister said the Deposit Return Scheme should be "paused" after business leaders raised concerns over the costs involved in setting it up.

The initiative is designed to boost recycling via a 20p deposit on single-use drinks bottles and cans.

Circular Economy Minister Lorna Slater insisted it "will be successful" and would launch in August as planned.

But industry critics fear it will disrupt trade, raise prices and reduce choice.

Mr Jack said the Scottish government should consider waiting for a unified approach with the rest of the UK.

Speaking to the Scottish Mail on Sunday, he said a UK-wide scheme - due to launch in 2025 - would maximise environmental benefits and minimise disruption to the drinks industry.

"The introduction of a Deposit Return Scheme is a challenging and complex piece of work," he said.

"The last thing we want to do is rush into this and cause unnecessary difficulties for businesses in Scotland, particularly when many are still recovering from the effects of the Covid pandemic and are having to deal with increased costs due to the war in Ukraine."

The UK government scheme is set to launch in collaboration with the Welsh government and the Department of Agriculture, Environment and Rural Affairs in Northern Ireland.
Mr Jack added: "It is not too late to think again and so I am calling on the Scottish government to pause its scheme and work with us to design a system that works for the whole UK."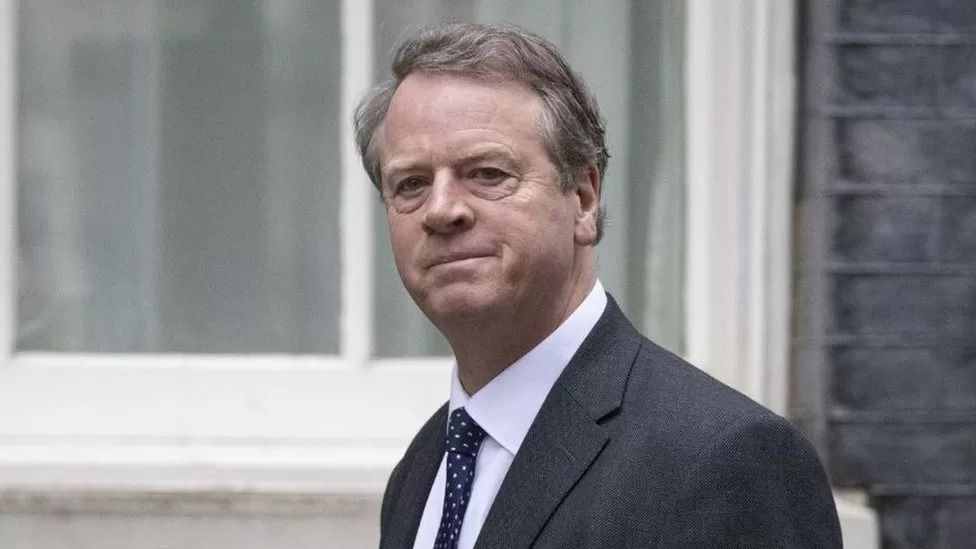 Scottish Secretary Alister Jack said the Deposit Return Scheme should be "paused"
Scotland would be the first UK nation to introduce deposit return scheme if it goes ahead in the summer.
The Scottish government originally outlined plans in 2017, saying it represented "a step change in our level of ambition" for recycling.
It was pushed back to July 2022, with the government blaming the
Covid
pandemic, then delayed again until August this year.
Lorna Slater previously told MSPs that a number of issues were holding up the system, including Brexit.
Drinks industry critics fear the scheme could create a trade barrier between Scotland and England, as it would require firms to charge higher prices north of the border.
Jamie Delap, who runs family-owned Scottish brewer Fyne Ales, said the deadline for businesses to sign up was the end of this month, but many details of the scheme were still unknown.
'Reckless going ahead'

He told BBC Scotland: "Either we sign up to a three-year legal agreement with unknown unquantifiable costs, or we don't sign up and face the possibility of not being able to sell in Scotland.

"Some smaller brewers might have to increase costs up to 50%, a larger producer might increase 25%, or even more.

"I can see Scottish brewers going out of business and people outside Scotland refusing to sell here."

Earlier this week, SNP MSP Fergus Ewing, former Scottish government rural affairs minister, also called for the scheme to be paused.

He told BBC Scotland's The Sunday Show: "The government's own review has said this cannot work. This means it is reckless going ahead.

"Surely the permanent secretary and others in St Andrews house should get out of those offices, go and speak to industry and sort it out before this disaster becomes a catastrophe."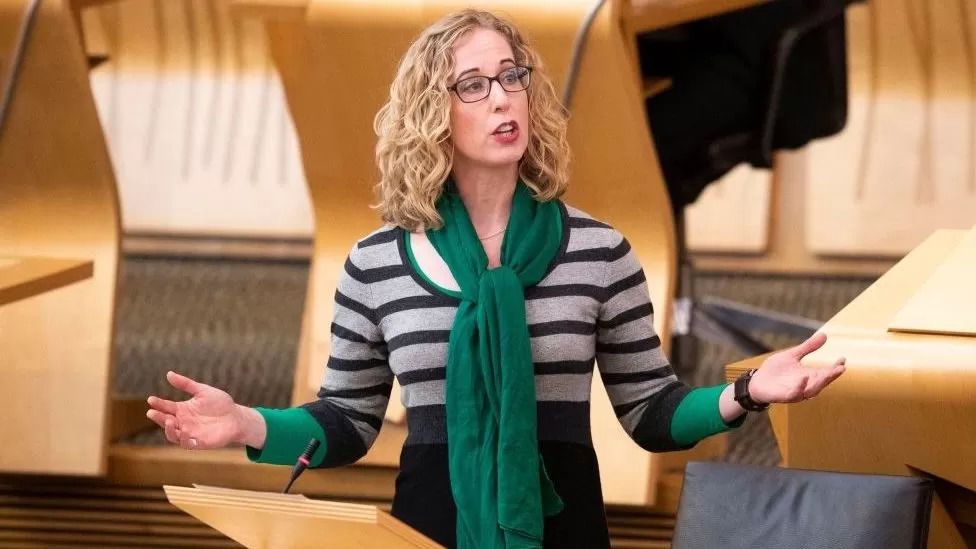 Lorna Slater said she had met with industry leaders about their concerns

In December the Scottish government review of the scheme found many issues were "yet to be resolved" and said a "fully functioning scheme can not be in operation by August".

Mr Ewing has called for an independent review and a summit between Lorna Slater, the first minister, business leaders and the scheme's administrators.

But Ms Slater insisted the August launch date would stand and said she had been spoken to industry leaders about their concerns.

She told BBC Scotland: "I know there are still some outstanding concerns, particularly from small producers.

"I met with them urgently on Friday to go through those concerns, and start working on practical solutions so that all businesses in Scotland can fully participate in the scheme this August.

"We have already given industry one additional year to help them recover from Covid and get ready for the scheme and we have been working very closely with them to reduce costs and make it simpler to participate."

The Scottish Liberal Democrats have also warned against the scheme's current timescale.

Climate emergency spokesperson Liam McArthur MSP said: "We have repeatedly urged the Scottish government to listen and learn from successful schemes elsewhere in Europe, but key questions remain unanswered.

"It is time ministers hit pause to avoid playing havoc with business, harming public confidence and undermining the well-intentioned case for the Deposit Return Scheme itself."

Scottish Conservative MSP Maurice Golden added: "This deadline is absurd, unfair and insane.

"Nicola Sturgeon must step and ditch this deadline, while her government listens properly to the dire warnings of traders."

Scottish Labour net zero spokesperson Colin Smyth said: "Scottish Labour supports the principle of such a scheme but the current proposals are so flawed they look set to devastate business while also failing to deliver against the original ambition."

The scheme is being run by Circularity Scotland, Zero waste Scotland helped design it and advised on its implementation, while environment agency Sepa is the scheme's regulator.