Some fully vaccinated Hong Kong residents now in mandatory quarantine for three weeks after a mutated coronavirus variant was discovered in their housing block are questioning why they have not been exempted from the measure after testing negative.

Residents of Caribbean Coast in Tung Chung who spoke to the Post also suggested that home quarantine would have been preferable, while others expressed dismay over the arrangements at the government's facility in Penny's Bay.

Hong Kong Chief Executive Carrie Lam Cheng Yuet-ngor on Tuesday told reporters the city was investigating whether those with two jabs might be subjected to shorter isolation periods in cases involving the new strains.

In the city's biggest such quarantine operation to date, 1,027 occupants of Tower 11 of the development's Carmel Cove estate were evacuated on Thursday night after a 39-year-old domestic helper living in the building tested positive for the N501Y and E484K mutations. A 10-month-old baby she took care of was also confirmed to have tested positive.

Both mutations were found in more infectious strains first identified in South Africa and Brazil, and experts suggested there could be transmission links between the helper and a 29-year-old man visiting from Dubai who was the first variant case detected in the city.

But some of those swept up in the precautionary operation are now questioning why their fully vaccinated status made no difference in determining if isolation was necessary.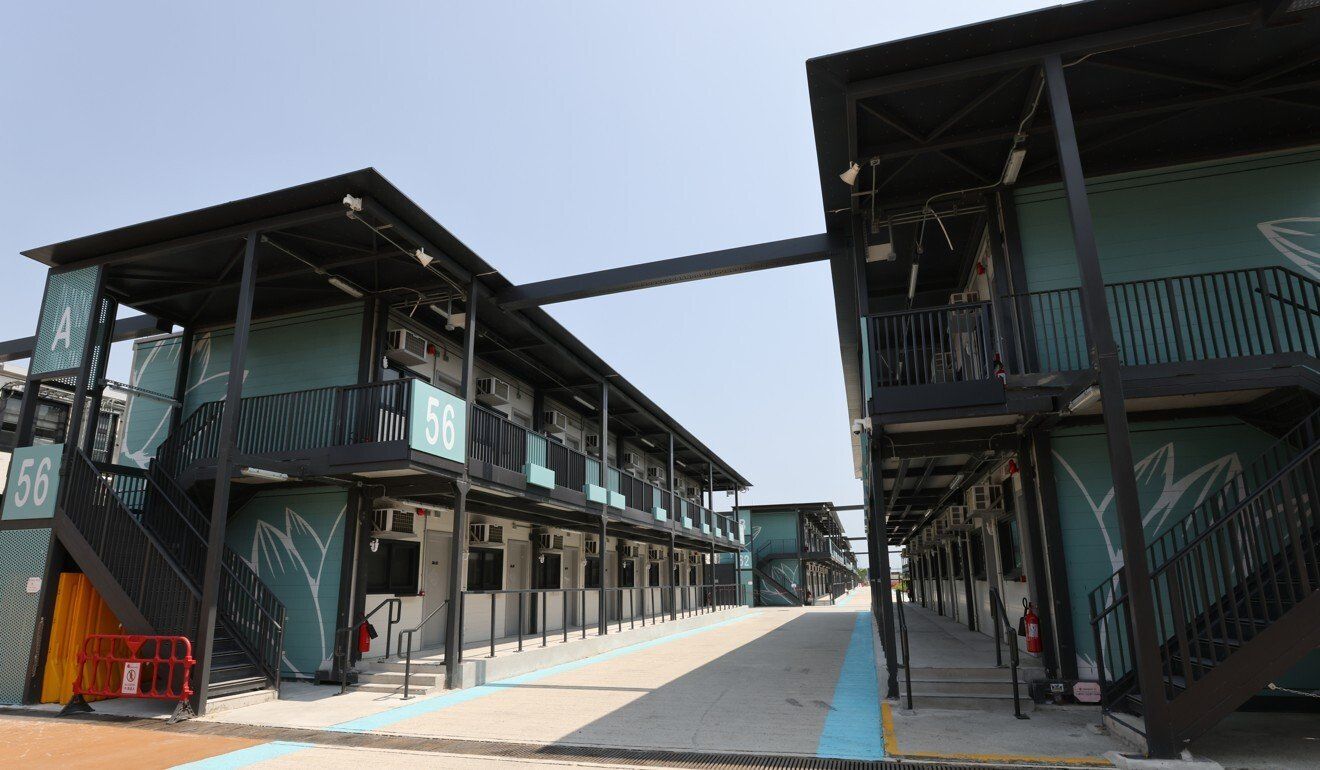 The government's quarantine centre at Penny's Bay.

"Why am I being vaccinated if I still have to be quarantined?" a Caribbean Coast resident now staying at the government's Penny's Bay centre asked on Monday.

The resident, an airline pilot in his late 30s, said he was upset after being told by authorities last week that the involvement of a mutated strain meant he had to quarantine despite having taken both doses of the mainland-produced Sinovac vaccine nearly a month ago.

The resident, who asked to remain anonymous, said some of his flying schedules would be affected by the quarantine period, potentially hurting his income. Like other residents, he will be required to stay at the facility until May 20.

"I used to be one of the guys telling people to go get vaccinated. But now if you ask me, after what has happened, I wouldn't tell them to take it or not to take it. I just won't care any more, because there doesn't seem to be any difference [in how you are treated]," he said.

The Department of Health on Sunday said government health advisers had discussed the possibility of exempting close contacts of confirmed cases from quarantine, but decided to stick with existing practice due to limited data and concerns about emerging variants.

But another resident, who was also sent to Penny's Bay with his wife and two young children despite being vaccinated, questioned why they were even considered "close contacts" given they had never come into direct contact with the patients who tested positive.

"We were one of the first to get vaccinated, and here we are, 21 days in quarantine. We have already tested negative twice as well in the last two days," he said. Also a pilot, he received both doses of the BioNTech vaccine in early April as a member of a priority group.

The resident also expressed unhappiness with some of the arrangements at the quarantine centre, saying he had first been told his family of four would be allocated either two adjacent rooms with a joining door, or one large room, but were later told they would be separated.

Eventually, after negotiations, they were allocated a smaller room but allowed to stay together, he said.

"It's a bit of an overreaction to bring us here. We probably could have – and it would have been safer – to quarantine at home," he added, saying the process of transferring hundreds of residents on buses to quarantine facilities could also involve transmission risks.

The University of Hong Kong's Professor Ivan Hung Fan-ngai, co-convenor of an expert committee on vaccine side effects, said he believed shortening the quarantine period for fully inoculated persons could act as an incentive for people to get jabbed.

"Even for those who have come into contact with an infected person, their quarantine period could possibly be shortened to seven days, or they could be allowed to undergo home quarantine instead," he said.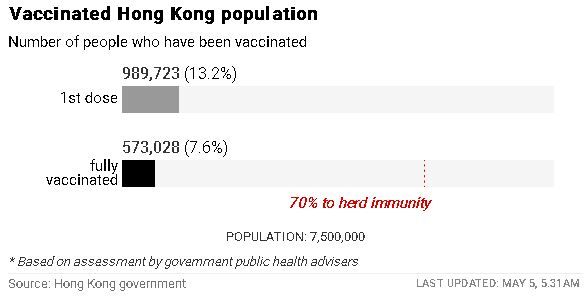 But respiratory medicine specialist Dr Leung Chi-chiu suggested that shortening the quarantine period for the fully jabbed could run counter to the aim of stopping mutant strains from spreading into the community.

"The major reason for [the quarantine period] was to achieve a zero infection rate, but so far, none of the vaccines can protect against virus transmission 100 per cent," he said.

Leung also poured cold water on the idea of home quarantine, saying it would be too difficult to ensure effective isolation and guarantee no contact between households.

Health experts had previously said both vaccines available in the city – the mainland-produced Sinovac jab and the BioNTech version from Germany – were less effective against the South African variant, though the BioNTech jab had more success in fighting the Brazil variant.

But according to updates issued by the World Health Organization last week, the neutralising effects of both the Sinovac and BioNTech vaccines, which defend cells from infections, were largely unaffected by the three new variants of concern.

In a reply to the Post, the health department referred to a statement issued on Sunday, which explained that a 21-day compulsory quarantine for residents was "essential" to stop the potential risks of the mutant strain spreading into the community.

The statement added that in some previous cases involving inbound travellers, infection with the new variants was only detected towards the end of their three-week compulsory quarantine, following a prolonged incubation period.

As of Monday, about 1,529,500 doses of Covid-19 vaccines have been administered in Hong Kong, according to health officials. Some 971,900 people, or around 12.9 per cent of the city's population, have had their first dose, while 557,600 people, or 7.4 per cent of the city's population, have taken their second dose.