Notes Charles Spencer says he made at the time of a meeting he held with Martin Bashir suggest the Panorama reporter made a number of false and defamatory claims about senior royals.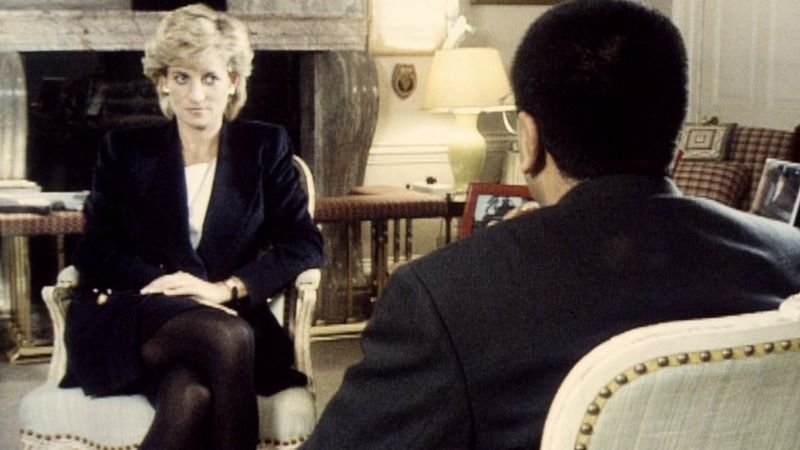 The BBC has promised an inquiry if new evidence is presented.

Bashir, 57, is seriously unwell and is unable to respond to the allegations.

This week, Earl Spencer called for a BBC inquiry over faked bank statements he says helped secure his sister's interview with Panorama.

Almost 23 million people tuned in to watch the programme.

In it, the princess famously said "there were three of us in this marriage", referring to the Prince of Wales's relationship with Camilla Parker-Bowles.

At the time, Princess Diana was separated from Prince Charles but not yet divorced.

The BBC's royal correspondent, Jonny Dymond, said the notes Earl Spencer says he made with Bashir two months before the interview, reported by the Daily Mail, are "astonishing".

They appear to record Bashir "spinning lie after lie about members of the Royal Family, and its staff, in an attempt, Earl Spencer says, to win his trust and that of his sister, Diana" our correspondent said.

These claims, described by the Mail as "preposterous lies", include that Diana's private correspondence was being opened, her car tracked and phones tapped.

It was also claimed that her bodyguard was plotting against her and close friends were betraying her by leaking stories to the press.

Robust inquiry'

This week, Earl Spencer said he never would have introduced Bashir to his sister were it not for him seeing the faked bank statements.

The faked statements wrongly purported to show that two senior courtiers were being paid by the security services for information on his sister, the Daily Mail said.

Earl Spencer has yet to supply the BBC with any of the material he has this week given to a newspaper.

The BBC has apologised for the faked statements, but has insisted they played "no part in her decision to take part in the interview".

The corporation has promised what it calls a "robust inquiry" with "appropriate independence".

A source at the BBC said the "appropriate independence" referred to "means an independent investigation".

The BBC has said an investigation has been "hampered at the moment" by the fact that Bashir was "seriously unwell".

Bashir, currently BBC News religion editor, has been unwell with Covid-19 complications, the BBC said last month.

The Princess of Wales died on 31 August 1997, aged 36, in a car crash in a Paris underpass.