Teaching unions have told primary school staff it is unsafe to return to work, and called for remote learning.

Head teachers have begun legal action to force ministers to reveal data behind the decision for some schools to reopen on Monday.

The government said decisions are based on new infections and NHS pressure.

Labour has accused the government of "creating chaos" for parents.

Most primary schools in England are expected to open on Monday while secondary schools will reopen on a staggered basis, with exam year pupils returning on 11 January and others returning a week later.

On Friday, Education Secretary Gavin Williamson announced that all of London's primaries would remain shut on Monday - reversing a decision to keep only schools in certain boroughs closed.

He said the closures were a last resort in the face of a fast-moving situation.

Elsewhere, Brighton and Hove Council has advised primary schools to switch to remote learning next week.

Meanwhile, president of the Royal College of Physicians, Prof Andrew Goddard, told the BBC the new highly infectious strain of coronavirus was spreading across the country, adding: "All hospitals that haven't had the big pressures that they've had in the South East, London and south Wales should expect that it's going to come their way."

The National Education Union (NEU), which is the UK's largest education union and has more than 450,000 members, said all primary and secondary schools should remain closed for a further two weeks after the school holiday.

It is advising members against working in school.

The National Association of Head Teachers (NAHT) called for all schools to move to home learning for a "brief and determined period for most children", and said it would issue guidance to head teachers recommending they take no action against staff who refused to return to work if they felt unsafe.

And in a letter to the education secretary, the NASUWT called for an "immediate nationwide move to remote education" as the "only sensible and credible option" to minimise risk, while the GMB, which represents support staff, called on Mr Williamson to apply "common sense".

Geoff Barton, general secretary of the Association of School and College Leaders (ASCL), said the government's plans for the start of the spring term were "untenable", adding that face-to-face teaching should be restricted to only vulnerable children and those of key workers until at least January 18.

The ASCL and the NAHT have started legal action to get the Department for Education to share any information showing "why they think it is safe to reopen schools on Monday, given the higher transmissibility of the new Covid-19 variant".

Dr Mary Bousted, joint head of the NEU, said that if the government did not "take the right steps" it would be informing its members of their "legal right to refuse to work in unsafe conditions".

Elsewhere, the Independent Schools Council (ISC), which represents more than 1,300 independent schools in the UK, said it was seeking "urgent clarification" from the government over its plans.

Julie Robinson, ISC chief executive, said: "All schools put safety first and are concerned for their communities. Independent schools share the concerns expressed by the unions today."

Dr Mike Tildesley, a University of Warwick epidemiologist who advises the government as part of the Scientific Advisory Group for Emergencies (Sage), said that while there was a rise in cases in secondary school age groups, there was not strong evidence of transmission in the school environment.



The U-turn on London's primary schools has given momentum to calls for a bigger revision of the government's plans for the new term.

A term, which of course, starts in less than 48 hours' time.

There has certainly been a dramatic ratcheting up of pressure by teaching unions.

The advice from the NEU to its members - that they are not safe in the classroom - puts teachers on a collision course with the government, which insists they are.

The latest published advice from government scientists doesn't entirely come down on either side.

All of which leaves children and their parents caught in the middle.

The Department for Education has pulled quite a few about-turns in this pandemic.

The question facing ministers this weekend is this - is another one now practically inevitable (and, politically, best done swiftly)?

Or do they, as has been indicated, stand by their commitment to keeping schools open come what may - and try to reassure instead.

Sian Elliott, of the Trades Union Congress, said the last-minute announcements were "wreaking havoc" for working parents, leaving many "in an impossible position, scrambling to hold onto their jobs and care for their children".

Ms Elliott said parents affected by school closures should be offered paid parental leave or furlough.

'Mental health suffered'

Charlotte Clarke, who lives in East Sussex, wants schools to remain open and said it was "physically impossible" for her to work from home as a solicitor and teach her son in Year 6 and daughter in Year 1.

"In the first lockdown my mental health, and my children's mental health, suffered. My daughter, who was in foundation at the time, stopped eating and sleeping," she said.

"I could not work and care for them and teach them at the same time."

Mr Williamson said in mid-December that all primary school pupils in England would return as normal in January, while the return of secondary schools and colleges would be gradual to give them time to set up mass testing programmes.

But on Wednesday, the education secretary delayed the start of term for all secondary schools, as well as some primary schools in Covid hotspots in south-east England, including parts of London.

Two days later, after pressure from local authorities, he expanded the primary school closures to the whole of London.

It means more than one million primary school pupils will now learn from home for at least the first two weeks of term.

Vulnerable pupils and the children of key workers will continue to attend school, the government said, adding that early years care, alternative provision and special schools will remain open.

Shadow education secretary Kate Green criticised the timing of the announcement, saying it was "yet another government U-turn creating chaos for parents just two days before the start of term".

Dave Lee-Allan, head teacher of Stowmarket High School in Suffolk, said "it should be left to the head teachers on the ground to make the right call", adding he was frustrated that while keeping children in school was said to be a priority and teachers were considered key workers, they did not qualify for early access to the vaccine.

Mr Williamson said the London-wide closures were a "last resort and a temporary solution" to help tackle the particularly high infection rates in the capital, adding the government would "reopen classrooms as soon as we possibly can".

Mayor of London Sadiq Khan said closing all schools in London - which has the highest rate of coronavirus infections - was "the right decision" but added that the original plan to only keep some closed had caused immense confusion.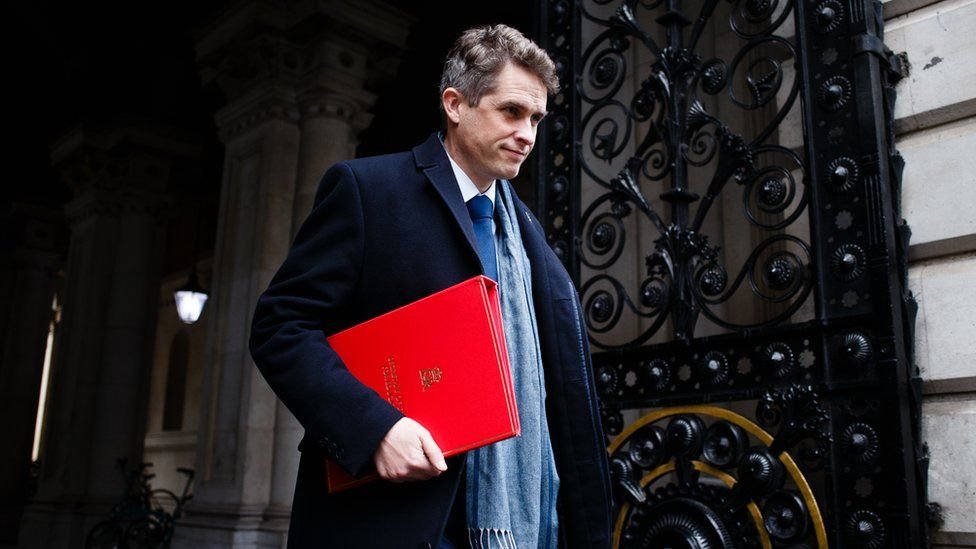 A Department for Education spokesperson said: "Children's education has consistently been a national priority, which is why we want classrooms to reopen wherever possible in the new term.

"Schools will continue to implement appropriate safety measures to help mitigate the risk of transmission.

"As we've said, we will move to remote education as a last resort, with involvement of public health officials, in areas where infection and pressures on the NHS are highest."

Three of the worst-hit English local authorities in tier four have not been told to delay the opening of primaries.

Rushmoor (817 cases per 100,000 people in the week to 28 December), Slough (777) and Spelthorne (721) are all in the south-east of England.

In Rushmoor where cases have increased by 54% week-on-week, the case rate is higher than 26 local authorities where primary schools will remain shut on 4 January.

What is happening with schools in January?

Secondary schools in England will stagger their return with pupils taking exams in 2021 starting on 11 January, and other year groups returning in person on 18 January. Most primary schools in England will return on 4 January, but in London and some surrounding areas they will not open for most pupils until 18 January.

In Wales, local councils have been told they can be "flexible" with when they open - with many schools aiming to return for face-to-face lessons from 11 January.

In Northern Ireland, primary school pupils will be taught online until 11 January. In secondary schools, years 8 to 11 will be taught online throughout January. Years 12 to 14 will return to school after the first week of January.

In Scotland, the Christmas holidays have been extended to 11 January, and the following week will be online learning only. A full return to face-to-face learning is planned for 18 January.
Tap or click to see how many cases per 100,000 in the latest week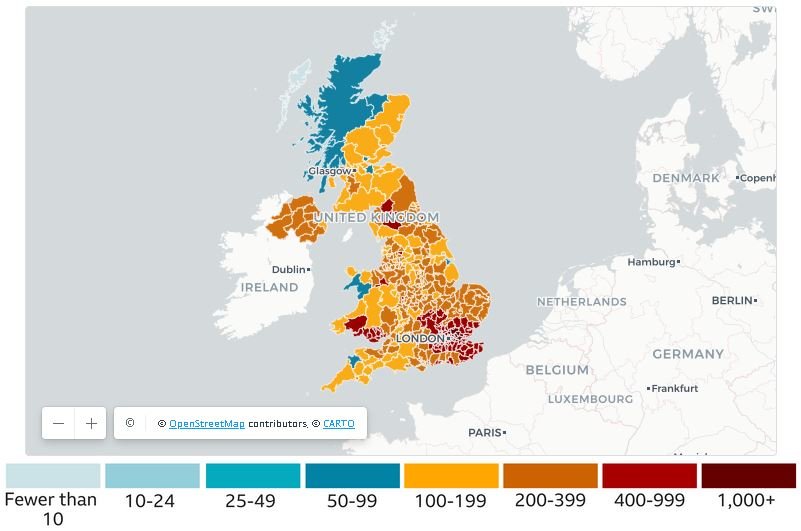 National public health bodies. Map made with Carto