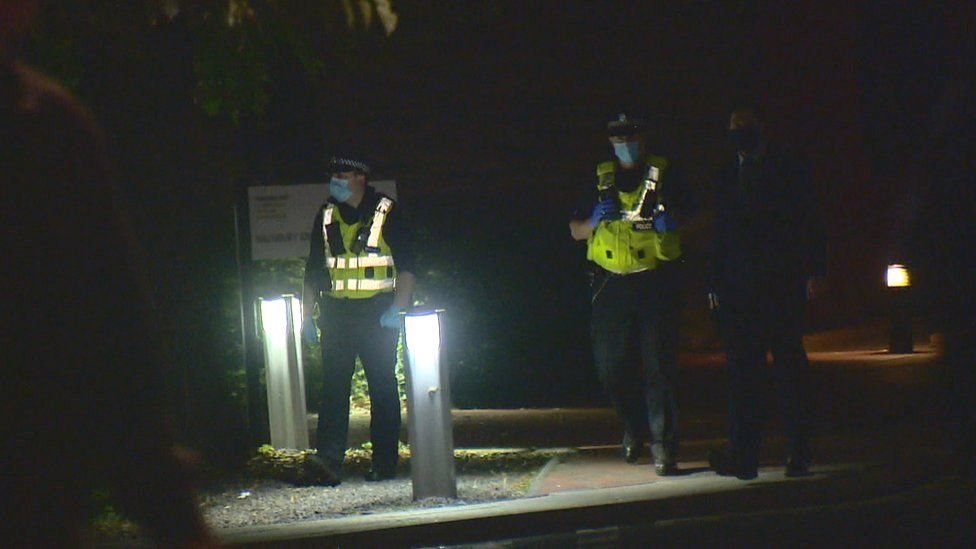 The call logs, which have been obtained by BBC Scotland, also show that a number of people have been handed multiple fines.

On 28 August the police were given the power to break up house parties contravening social gathering rules.

Since that date, officers have been called out nearly 5,000 times.

Police break up hundreds of parties every week

First Minister Nicola Sturgeon made it clear that giving Police Scotland enhanced powers was necessary to ensure socialising continued in a safe and responsible manner.

The data, received through a Freedom of Information request, listed incidents which included:

* a party of 10 people found at a Glasgow address, where the householder had previously been issued with two fixed penalty notices (FPNs)

* in the north east six people were warned after being found at two different parties in the same evening

* officers attended a Glasgow address following a report of a noisy party. Fines were issued to five people - four of whom had previously received Covid-related fines

* in Ayrshire people attempted to jump out of the windows of a property when police arrived. This was the second time officers had attended the address having previously issued a fine to the householder

* and police went to a Renfrewshire address where they gave fines to two party-goers who had previously been issued with a warning

At the mid-November point, 68% of house parties had taken place in council areas under tier three restrictions, and 28% in tier two areas.

Police Scotland declined to comment on whether such incidents suggested fixed penalty notices had failed to be a sufficient deterrent.

'Spreading the virus'

Deputy Chief Constable Malcolm Graham said: "Where officers encounter wilful and persistent breaches they will act decisively to enforce the law - this includes consideration of serious charges including culpable and reckless conduct.

"The chief constable has repeatedly underlined that house parties and relatively small gatherings can have a significant influence on spreading the virus and are not permitted."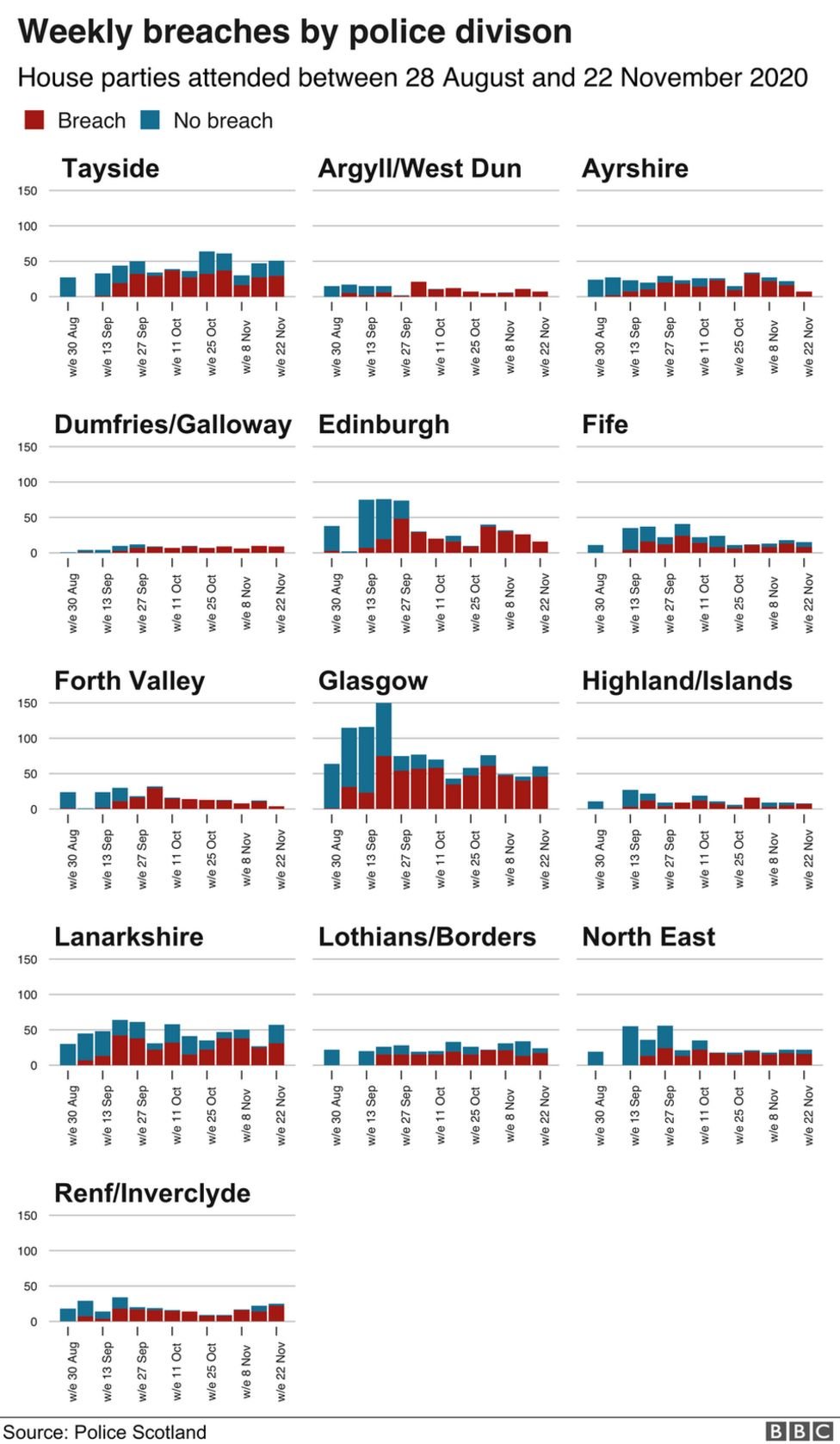 Police data showed that officers had been alerted to 4,879 gatherings between 28 August and 22 November.

In the first part of November police attended about 300 incidents each week with 227 of them deemed to have breached restrictions.

However, the force has suggested the number is likely to be greater as it only counted formal call-outs and not incidents on patrol.

So far, more than 2,000 fines have been issued and 279 arrests have been made.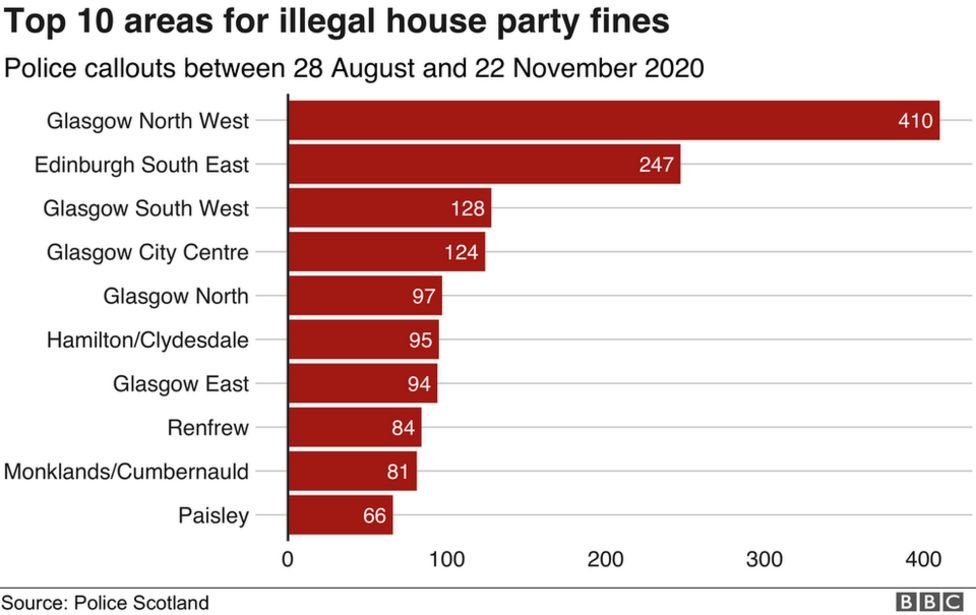 The information also revealed that the proportion of parties breaching restrictions is increasing in areas like Edinburgh, Glasgow and Tayside.

Police Scotland said "it will continue to explain the rules to the public and encourage people to take personal responsibility and do the right thing".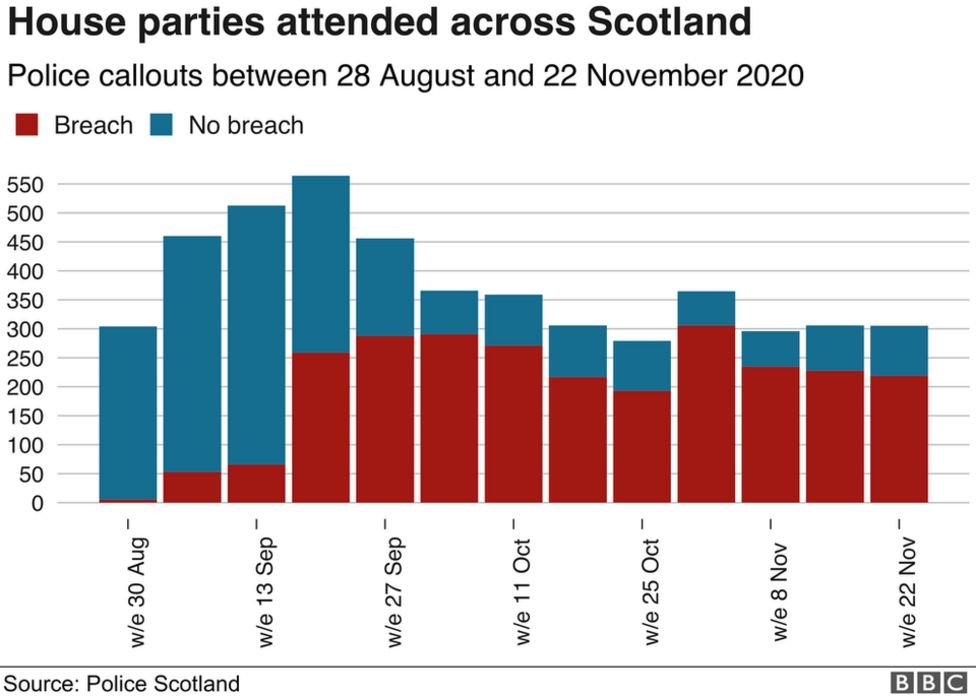 In the week covering Halloween and Bonfire Night, 84% of the 365 parties that took place were in breach of coronavirus restrictions.

The incidents included:

* officers attending a Glasgow party where they found three people who had been tested for Covid-19 earlier that day - but had not yet received their results

* in Tayside a fight broke out when police attended a house party with 60 "intoxicated" people

* police were tipped off about a party in Glasgow with 200 people present and loud music playing. Officers said none of them were wearing face masks or socially distancing. More than 60 fines were issued

* and more than 20 people attended a Dundee party, with many of them escaping through the back garden when police arrived

A Scottish government spokesman said: "Ministers have been consistently clear that we want to see these laws work through high levels of public compliance, rather than relying on enforcement."

Social media advertising

There has also been concerns that large-scale parties are being promoted on social media platforms.

Police document highlights included:

* Forth Valley police being alerted to an on-going party outside Bonnybridge which had been advertised on social media. On arriving, officers found a 48-seater bus, numerous cars outside and more than 100 party-goers

* and the police were called to an Edinburgh party where the location was disclosed 24 hours before the event.


'I won't be paying fines just for meeting my friends'

"Kate" has been issued four fines totalling £1,240 for attending illegal house parties across Glasgow.

But she insists she won't be paying "just for meeting my friends through a lockdown with rules that don't make sense anyway".

Her most recent fine was for £940.

"That's the one I'm most annoyed about as the police officers were awful to everyone in the party," she says. "They were trying to make us feel scared."

Despite Police Scotland's insistence on warning first and fining later, Kate says when officers arrived "they just started giving out the fines even though we would have been happy to leave."

She says she has been fined for going to small gatherings, as well as house parties with up to 60 people.

"But that's the fault of the people renting out the flats and houses for allowing us to go in the first place," she says.

She's also not worried about transmitting or contracting coronavirus at the events.

"I've been to multiple parties and not one person I know has had it from the parties".