Here's how Boris Johnson genuinely prepares for a TV interview: after being primped and combed in the green room, the PM never fails to rub his hands through his hair while strolling up to the cameras, ending up with his trademark tousled bonce.

A month into lockdown, Johnson is at peak chaos aloft. At Prime Minister's Questions his locks lifted vertical, as if he had a Van DerGraaf generator sneakily concealed in the Dispatch Box.

Sir Keir Starmer was perfectly arranged, as always. And Labour's leader came out with two interesting lines that we can expect to hear more of in coming months.

First he painted Labour as the party of business. "We on these benches would rather listen to business," he intoned. Now this was all very nostalgic, a cosy echo of John Smith and Mo Mowlam's "prawn cocktail offensive"to the City, and allowed Starmer to remind voters that Boris Johnson infamously once bellowed "f*** business!" during a discussion about Brexit.

The Prime Minister resisted a four-letter expletive this time, but he smacked the ball back with a jibe that 14 months ago Starmer had stood on "a manifesto to destroy capitalism".

Jeremy Corbyn's shadow still hangs over his successor, no matter how hard he tries to move on.

More mischievously, Starmer took out a giant-sized stirring spoon and claimed Johnson couldn't spend cash on struggling firms or families without permission from Rishi Sunak.

"Businesses simply can't wait until the March Budget," he goaded. On stopping household evictions he scratched: "The Prime Minister doesn't need to check with the Chancellor."

This was all calculated to open up tensions over spending between 10 and 11 Downing Street. And I can confirm that these are simmering away beneath the surface: walk within a mile of Great George Street and you'll overhear Treasury officials grumbling that this PM is a tad too fond of popular bailouts and ought to give more support to a Chancellor carrying the worst fiscal headache since World War II.

It was also designed to fuel personal rivalries between Johnson, who has yet to convince all Tory MPs he is the best leader for the 2024 election, and his young rival.

But what of Labour's own fiscal tensions? After all, an essential ingredient of Labour's best election victory was "Iron Chancellor" Brown publicly waving his blue pencil over the shadow cabinet's spending ambitions.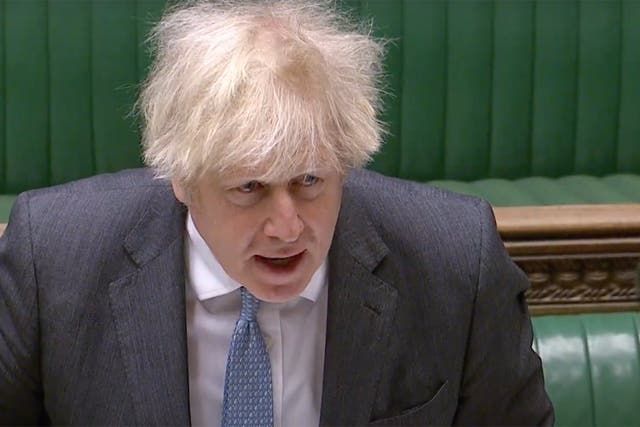 Would Starmer feel "no need to check with the Chancellor" if he becomes PM? If I was Anneliese Dodds, I'd be having a quiet word with Sir Keir.

The session started with Starmer praising the vaccination rollout as a "truly amazing achievement". He then asked if business rate relief will be extended beyond March.

Johnson gloated: "I'm glad to hear him joining the praise of the vaccine rollout." But on rates relief he deadballed, saying: "He should wait until the Budget for the Chancellor to explain exactly what we are going to do."

Starmer jibed: "The trouble is that businesses don't work as slowly as the Prime Minister, they need an answer now."

Johnson completely ignored a question whether the furlough scheme will be extended beyond April — in truth, the PM didn't really answer any of Starmer's questions — and instead challenged Labour to support the lockdown "road map" that won't even be seen until February 22.

Luckily, Starmer was armed with some good lines; he must have prepped hard after his awful gaffe last week, when he denied saying the UK should stay in the EU medicines regulator.

When Johnson kept on saying the Government was "wrapping our arms around business", Sir Keir cracked back: "We all know what the Prime Minister once said he wanted to do to business!"

Johnson managed to reply: "What I hope very much is … that he not only has a Damascene conversion to the importance of business but a Damascene conversion to supporting all the Government's policies." The weary old line about Starmer "sniping from the sidelines" was forced to make make another appearance.'

Starmer snorted: "I'm not going to take lectures from aman who wrote two versions of every column he ever wrote as a journalist, proposed Donald Trump for a Nobel Peace Prize and gave Dominic Cummings a pay rise."

A brief fact check is in order: Johnson didn't really propose Trump for a Nobel prize, but he did say the ex-president would deserve one "as much as Barack Obama" if he made peace with North Korea.

And to our knowledge, he only wrote two versions of his column once (albeit the extremely important column "for and against"Brexit). So, for all his harping on about "truth", Sir Keir values a good joke more than strict factual accuracy, for which sketch writers are duly grateful.

The Prime Minister closed with a dig at Charlie Falconer for saying Covid was a "gift that keeps giving", and another at Starmer for "supporting business in his latest stunt of bandwagoneering, not a policy for which he was famous before".

Then the PM strolled off, barely out of breath. If Sir Keir hopes to use PMQs as anything more than a social media opportunity, he needs to think of some new lines of attack.