Yung and her family went to get checked for the coronavirus on Monday morning after learning that their block of flats in Yau Tsim Mong district – which has been hit by an escalating Covid-19 outbreak – was subject to mandatory testing.

But, like some of her neighbours on Nanking Street, this was not the first test she had taken. Indeed, starting long before the government's testing order, she and her family had taken several, motivated by concerns over what they saw as the heightened infection risks inherent to living in one of the oldest neighbourhoods in Hong Kong.

The 49-year-old former restaurant worker, who lost her job a few months ago, lives in Vico Mansion in Yau Tsim Mong, one of more than 30 residential buildings in the district whose residents are now being ordered to undergo mandatory Covid-19 tests.

Asking to be identified by only her surname, Yung said she and her two sons, aged 17 and 16, had moved into the 50-year-old building about a year ago. The building, she said, had long been plagued by hygiene problems, with dirty, cluttered corridors, and its unlocked main door making it accessible to anyone.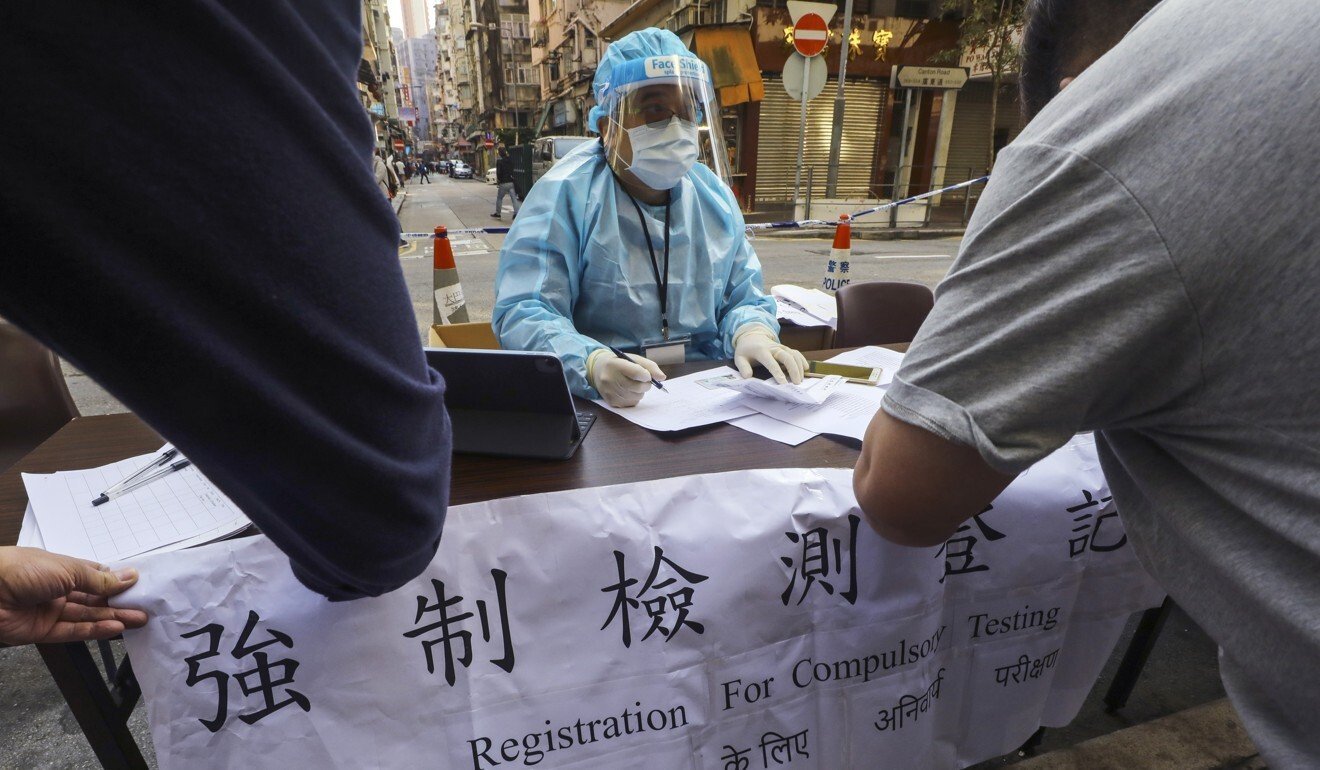 A medical worker in protective gear registers Yau Tsim Mong residents for mandatory Covid-19 testing on Monday.

"Of course I'm worried living here," she said. "The environment is messy, and anyone can access our building. We don't know if they carry the virus or not."

The emergence of a confirmed case in the building, coupled with a new outbreak in the populated district, had made her more concerned than ever. She made sure that she took precautionary measures, including going out less often, taking regular coronavirus tests, and cleaning and disinfecting her home.

Hong Kong recorded 107 new coronavirus cases on Monday – almost double Sunday's tally of 55 – marking the first return to triple-digit figures since December 19.

Health authorities said the rebound was partly driven by the outbreak in Yau Tsim Mong, a district home to many tenement buildings, whose residents often live in subdivided flats. Some of the infected residents have been linked to two construction sites that have also seen outbreaks.

Authorities last week issued mandatory testing orders to residents of 22 old buildings bordered by Nathan Road, Jordan Road, Canton Road, Ferry Street and Kansu Street, with each of those blocks reporting at least one confirmed case. The number of blocks in that area subject to the testing order had increased to 37 by Monday.

According to official figures, more than 7,100 residents have undergone tests as of Sunday.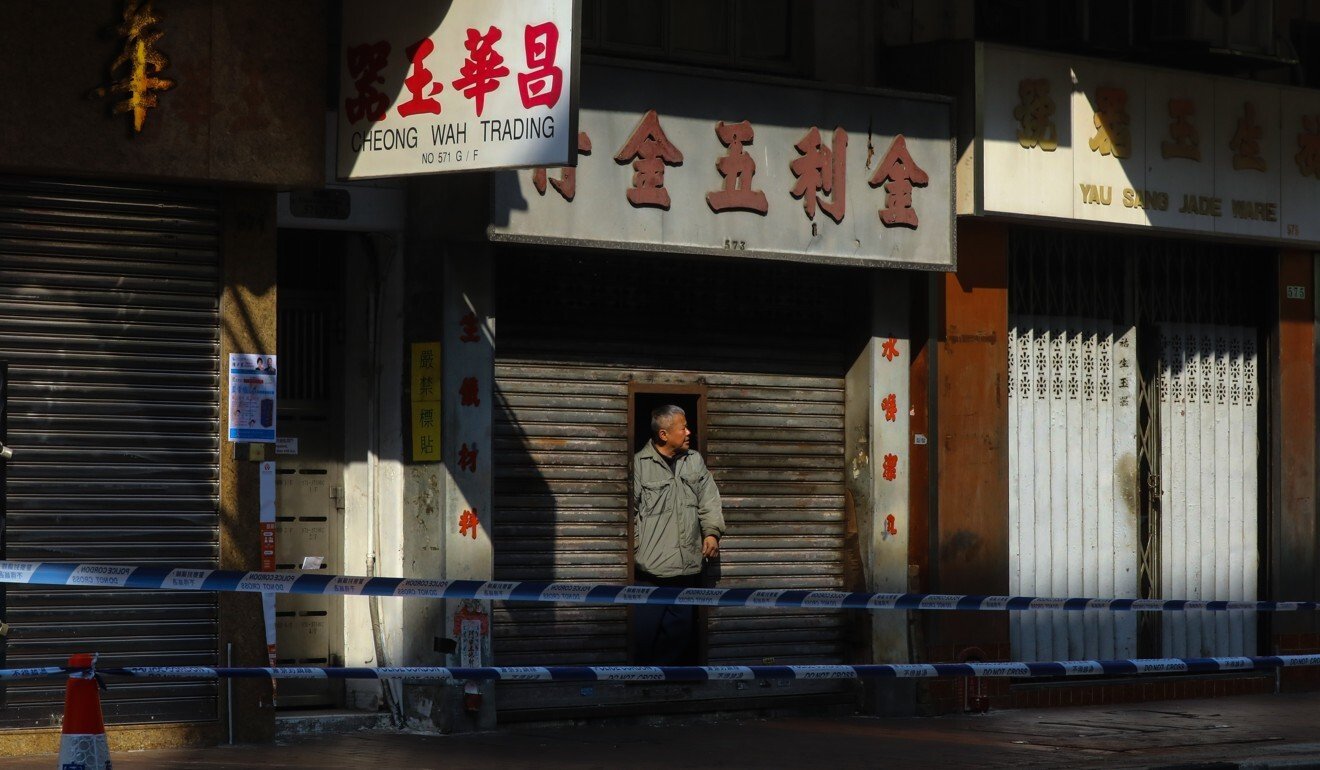 Many businesses in the district have been closed in recent days.

The area's usually bustling streets are quieter and emptier, with some restaurants closed due to infection concerns and some storefronts standing vacant after being forced out of business. A roasted goose restaurant next to Vico Mansion was closed on Monday, with a notice on its iron gate saying it would suspend operations for three days because of the outbreak.

A clerk, who also asked to be identified by only his surname, Ng, took a coronavirus test last Friday after learning that he and his neighbours in Block A of United Mansion on Shanghai Street were also subject to the compulsory testing.

Ng, 51 and living alone, said he had already been taking a Covid-19 test of his own volition, at HK$540 a go, every two to three weeks to keep himself safe. Apart from the regular tests, he also cleaned and disinfected his home, and washed his clothes every day. To avoid contact with others, he started using the stairs instead of taking lifts.

"I'm taking all necessary protective measures to keep myself safe, and the negative results of tests make me feel a bit relieved," he said.

Ng said his building, like many in the area, was home to a large number of residents belonging to ethnic minority groups, mainly ones of South Asian descent.

Health authorities revealed on Monday that a quarter of the 661 local cases recorded across the city since January 4 involved members of ethnic minority groups, predominantly Nepalese and Indian residents, many of whom lived in Yau Tsim Mong. Failure to observe social-distancing rules among members of the South Asian community, they claimed, was contributing to the spread of the disease.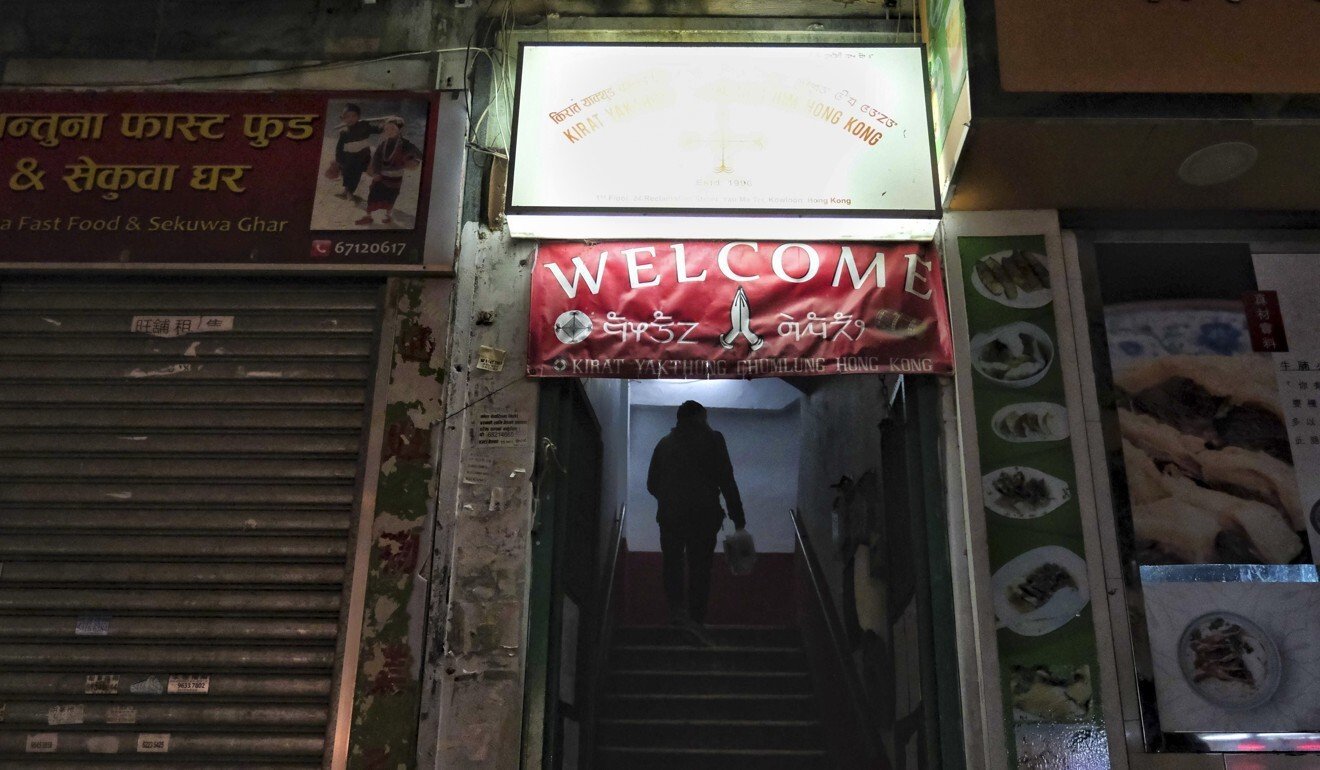 An entrance to 26 Reclamation Street, which has seen several coronavirus infections.

Advocates for the city's ethnic minority groups, however, have accused officials of negatively stereotyping certain populations, urging them to instead focus on the community members' socioeconomic status and crowded living conditions, rather than perceived cultural differences.

The Home Affairs Department has arranged for staff who speak Nepali, Urdu and other languages to conduct home visits and explain relevant arrangements, and has distributed information in multiple languages in the area.

A poster bearing mandatory testing information in Chinese, English and Nepali, including the list of buildings and the testing locations, was seen at the main entrance to Vico Mansion.

Nepalese Hongkonger Limbu Dronaparsad, 41, moved into Vico Mansion about two months ago. The construction worker, who has lived in Hong Kong for more than 20 years, said he took the coronavirus test on Saturday as soon as he learned about the order and received his negative result on Sunday.

"I live alone. As long as I get tested and take necessary measures, I'm not worried," he said.