Most Hongkongers have chosen the Octopus digital payment platform to store their HK$5,000 consumption vouchers from the government, with spending centred on groceries, personal care products and cosmetics.

On Wednesday, officials revealed for the first time that 70 per cent of 6.3 million qualified residents chose Octopus for the e-vouchers, while 20 per cent opted for AlipayHK, with other users spread between Tap & Go and WeChat Pay HK.

The four platforms were the mandated payment service providers for the government's HK$36 billion consumption voucher scheme, aimed at boosting the local economy amid the Covid-19 pandemic.

Following the first instalment worth HK$2,000 on August 1 across all the platforms, Octopus users will receive the second batch, also of the same amount, on Friday or National Day, while recipients on AlipayHK, Tap & Go, and WeChat Pay HK will see their accounts topped up with HK$3,000.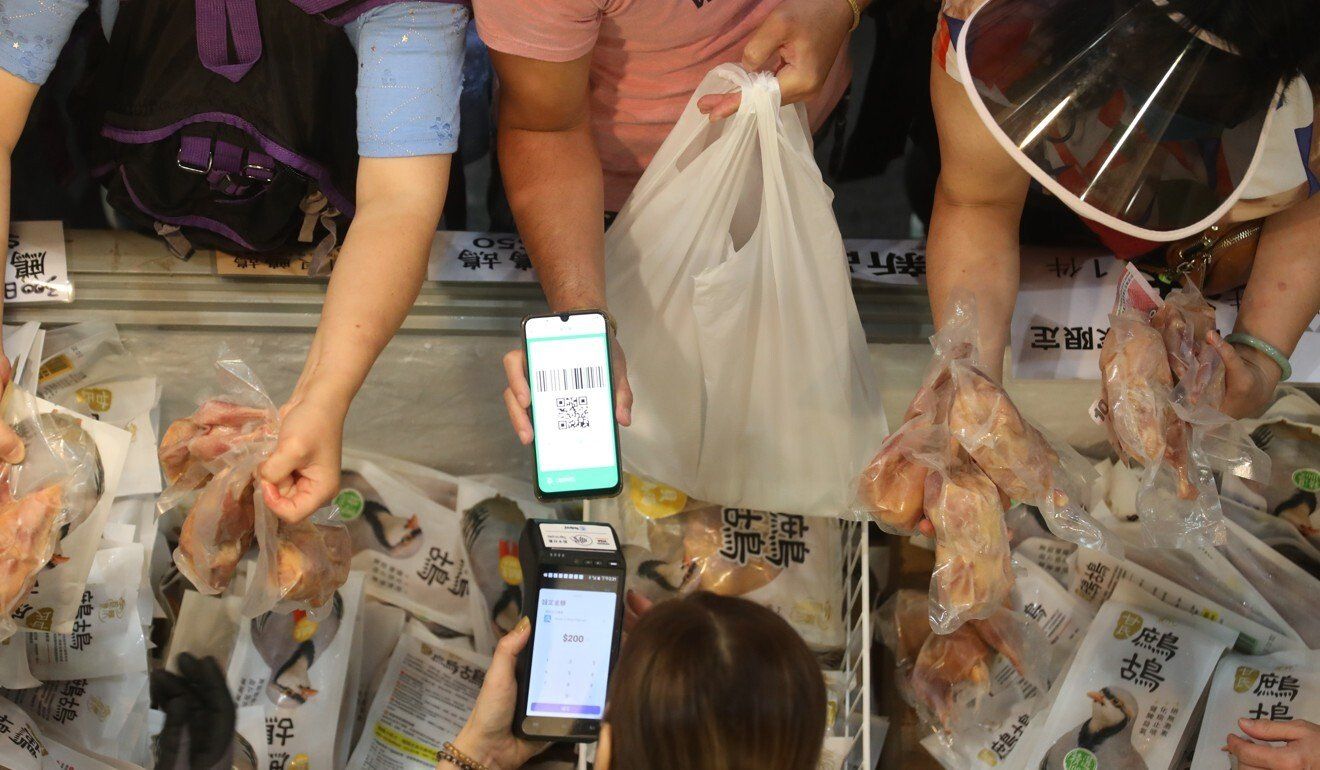 Buyers using their e-vouchers to purchase meat at a market.

Octopus users will receive their remaining HK$1,000 credit in December.

The operators said most consumers had used up the first instalment.

Rita Li Yuk-yi, Octopus sales and marketing director, said more than 70 per cent of users had already spent their first HK$2,000 distributed through the cards in the first month of the scheme.

Li added that the company partnered with 150 merchants to offer further e-coupons if users installed the mobile phone app version of the stored-value cards.

"As of September 19, there were already 4 million downloads of the app," Li said. "Consumers mainly spent their vouchers at supermarkets, personal care product stores, restaurants and electronics outlets."

As much as 70 per cent of applicants chose Octopus cards to receive their e-vouchers, and its average daily retail transaction value doubled between August 1 and September 19. The number of transactions made through the city's most widely used stored-value system also more than doubled in the same period.

The spokesman added that up to 20 per cent of applicants opted for AlipayHK, which saw a 160 per cent growth in transactions of HK$1,000 or above in August, buoyed by the launch of the e-vouchers.

AlipayHK, owned and operated by Ant Group, said transactions in the electronic appliance category surged tenfold in August from July. Ant Group is the affiliate of e-commerce giant Alibaba Group Holding, which owns the South China Morning Post.

AlipayHK said the transaction value of cosmetics and jewellery increased by 6.2 times, while the number of transactions jumped 5.9 times.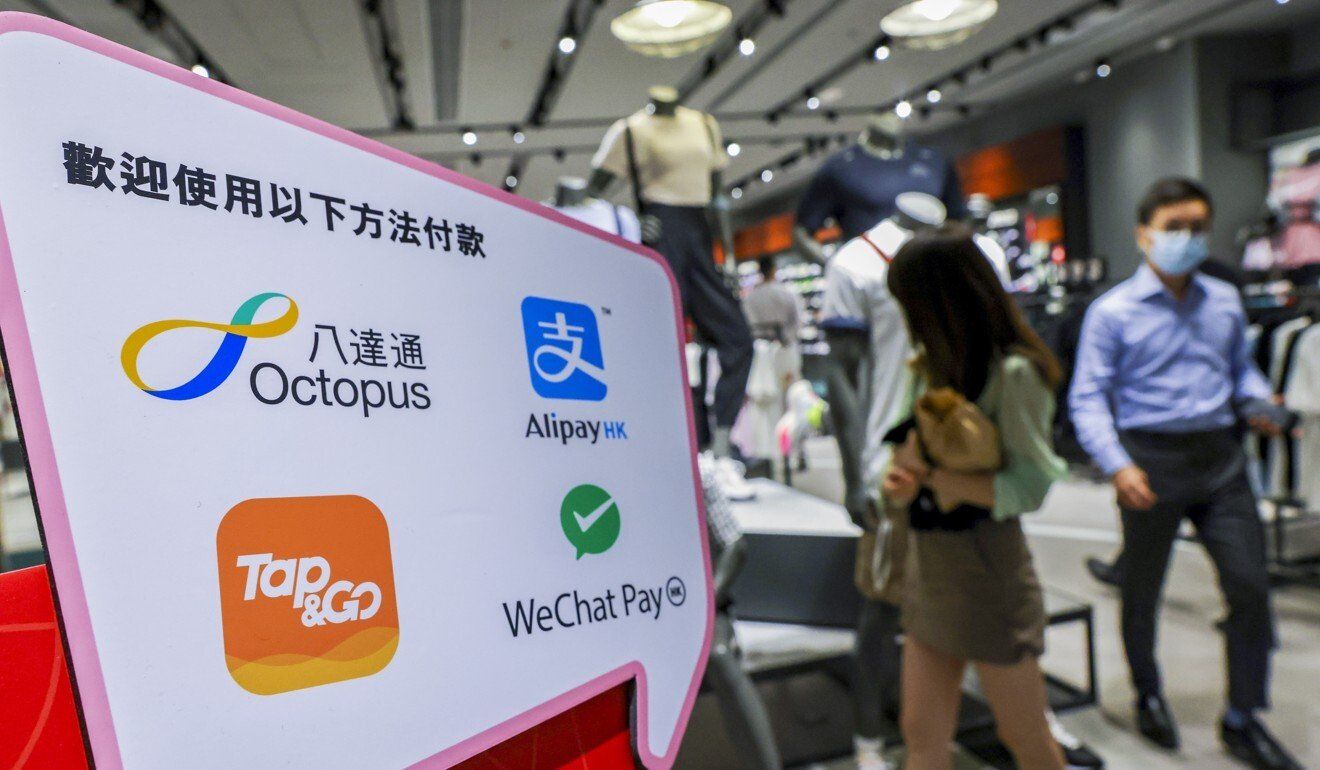 A sign showing the four payment platform operators under the e-voucher scheme.

Services for fitness, beauty and entertainment purposes tripled in transaction value, and the number of transactions grew more than 2.2 times.

WeChat Pay HK recorded the highest number of transactions in the e-commerce segment in August because of the scheme's roll-out. Merchants of beauty and apparel products, small and medium enterprises and restaurants also recorded significant growth.

The number of active merchant operators on the Tencent-backed digital payment platform had also more than doubled in August compared with the entire first half of this year.

Mobile wallet Tap & Go, part of Richard Li Tzar-kai's telecoms giant PCCW, did not immediately respond to comment on its retail sales performance since the vouchers were distributed. Users on the platform faced multiple glitches and long wait times when opting to register using Tap&Go during the launch of the scheme.

Local use of electronic payment systems has continued to surge because of the roll-out of the consumption voucher scheme, while merchants benefiting from the policy have also ramped up discounts ahead of the National Day long weekend to lure consumers.

Property developer Sino Group will give out HK$50 coupons if consumers use their Octopus cards to make purchases at selected stores in eight of its shopping malls between October 1 and November 14.

The group's asset management director, Bella Chhoa Peck Lim said mall traffic and turnover for the National Day holiday period were projected to increase by 20 and 30 per cent respectively from a year ago.

A total of 223 merchants accepting WeChat Pay HK have put up nearly 500 different types of discounts. Shoppers using the consumption vouchers via WeChat Pay HK can get additional coupons at health and beauty product chain Manning's, e-commerce platform HKTVmall and also the online store of sports apparel brand Nike.

Hong Kong is still emerging from a retail slump that has dragged on for two years, deepened by months of anti-government protests that pummelled mainland tourist numbers, followed by the pandemic.