Hong Kong has no plans to further tighten Covid-19 rules for aircrews despite concern over three infections involving cargo pilots exempted from quarantine, the city's leader has suggested, stressing the need to balance pandemic measures with economic activity.

Chief Executive Carrie Lam Cheng Yuet-ngor on Tuesday said action had already been taken to quarantine more than 100 aircrew members, confirming an earlier Post report. She insisted that Cathay Pacific's new and stricter self-isolation rules for staff – devised with government input – were sufficient for guarding against the coronavirus.

But health experts raised concerns that some of the new measures designed to reduce Covid-19 transmission risks – such as workers self-isolating at home for at least three days – could still pose problems.

Lam, warning of potential disruption to imports, told her weekly press briefing: "If there are a couple more of these incidents we will run out of cargo pilots."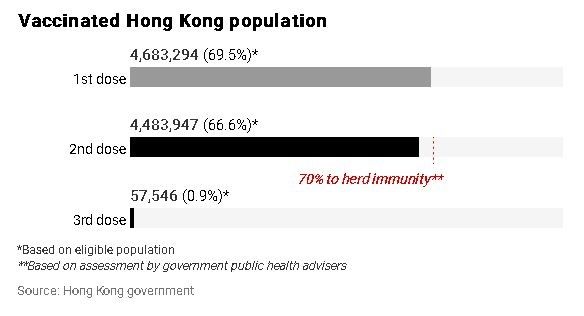 She said exemptions allowing aircrew to forego mandatory quarantine did not threaten Hong Kong's chances of reopening the border with mainland China, the government's top priority even at the expense of cancelling similar privileges for foreign businesses and most diplomatic staff.

"At the moment that has no impact [on talks for reopening the border]. We're still in negotiations with mainland authorities," Lam said.

Confirming that 130 cargo and passenger pilots had been ordered to serve 21 days of quarantine, she said: "It has a huge impact on our supply of goods and we have to find a way to ensure we can prevent imported cases while maintaining the operation of Hong Kong as a whole."

Asked if cargo pilots could be subject to 14 days of isolation, she defended not instigating a quarantine arrangement. "We cannot put in place a specific arrangement to do anything. As you can see, our catering [sector] is doing well, but without any supply of goods and necessities, I don't know how it can survive," she said.

Government pandemic adviser Professor David Hui Shu-cheong later conceded that quarantining cargo crews would exacerbate manpower issues at Cathay.

"The government is trying to allow Cathay to survive in whatever way it can," Hui said. "If [the government] insists on hotel quarantine, seven or 14 days, then that will create manpower problems."

Cathay said it was "actively reviewing" its aircrew resources and arrangements. "We are trying our best to maintain our cargo network as much as we can," a spokeswoman said.

She added the company was fully committed to keeping services running and ensuring the flow of goods and people "despite the challenging circumstances presented by the pandemic".

Hong Kong health authorities confirmed one new Covid-19 case on Tuesday, involving an arrival from India. That increased the tally of confirmed infections to 12,388, with 213 related deaths. Fewer than 10 people tested preliminary-positive.

Investigations into two "Delta Plus" cases among hotel guests who had stayed in the north wing of the Four Points by Sheraton Hong Kong Tung Chung, found that 13 environmental samples collected in the patients' rooms tested positive for the coronavirus. In all, 72 samples, including from common areas of the 15th floor where the patients had stayed, were collected.

In a separate development, a source said the government was considering offering the Sinovac Covid-19 vaccine to those aged 12 to 17 first, after an advisory panel on Monday recommended extending coverage of the jab to children as young as three years old.

Confirmation that the three infected cargo pilots were carrying the more transmissible Delta variant sparked lockdowns of several buildings for mandatory testing this month. It later emerged the pilots had spent layovers at the Hyatt Regency Mainz, a hotel near the German financial hub of Frankfurt.

The genetic sequence of the viral sample of the third pilot – a confirmed case on Sunday – was "almost identical" to those of the other two, the Centre for Health Protection said.

"It showed that the three cases are very likely to have acquired the infection during their stay in the hotel in Germany," it said on Tuesday.

The government on Sunday ordered all aircrew who had been to Frankfurt since November 1 to be quarantined for 21 days.

The airline announced on Monday that all aircrew returning to the city could only leave their homes for a maximum of two hours a day and for specific purposes for the first three days.

Valid reasons for going out are limited to purchasing "food and essential daily necessities", exercising alone, seeking medical attention and taking a Covid-19 test.

Lam said Cathay's policy was the "result of a discussion" between the Housing and Transport Bureau and the carrier, adding: "This is not something being handled solely by the airline."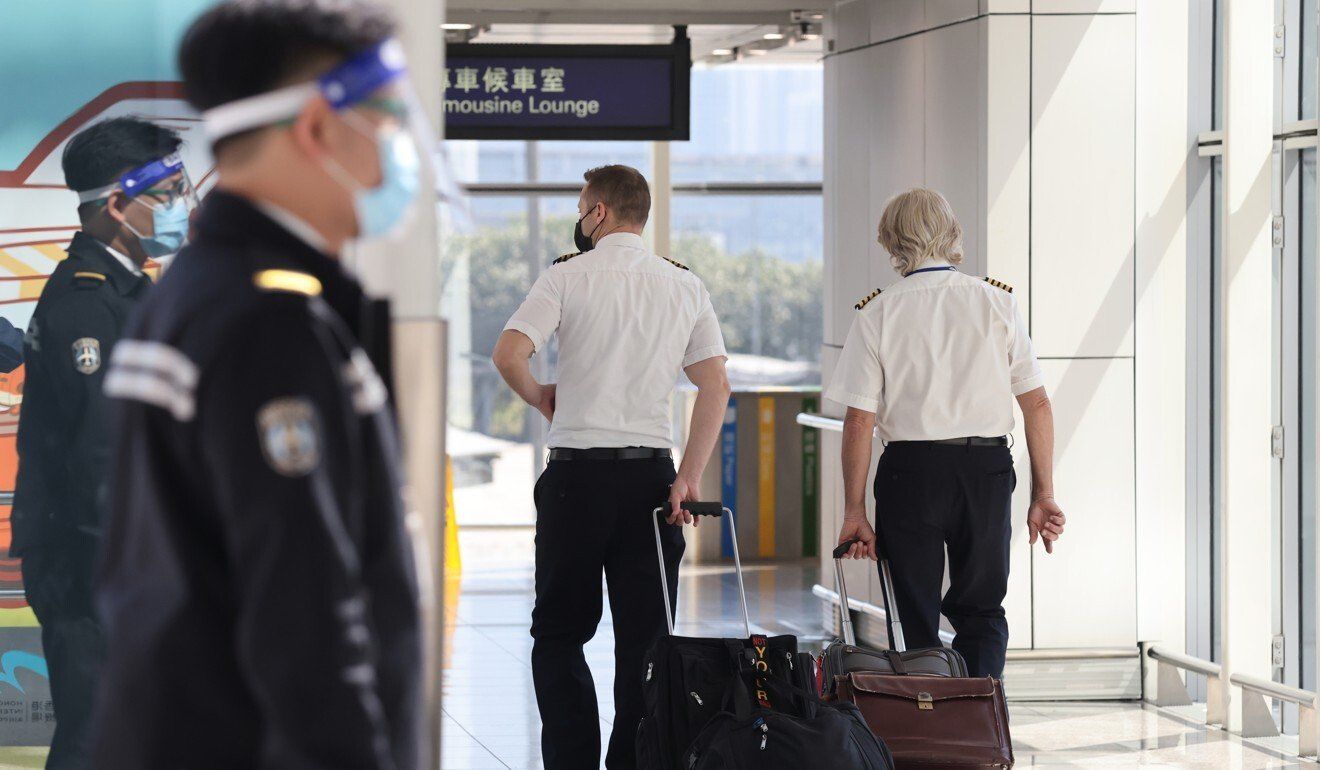 Cathay recently announced stricter new self-isolation rules for some aircrew returning to the city.

The Post revealed on Monday night that the airline was drafting emergency contingency plans to base pilots in Dubai, Anchorage or elsewhere on both US coasts for up to four months at a time.

The scheme, which may start in January, is seen as an attempt to work around the city's stringent pandemic measures that are destabilising the airline's flight operations.

Health experts expressed concern that homes might not be the best environment to prevent transmission risks from overseas arrivals under the new self-isolation rules.

"Are their homes suitable for quarantine? Will there be a large group of people living together and no en-suite facilities [for the aircrew]? There could be risks to family members, too," Hui said.

Respiratory medicine expert Dr Leung Chi-chiu noted many countries were experiencing a resurgence of cases with the Delta variant prevalent and winter approaching – and warned the risk from returning crews was increasing.

"Hong Kong does not support home quarantine as the environment is too dense," he said. "Family members could also be easily infected and bring the virus into the community."

Cathay staff have taken about 170,000 Covid-19 tests this year with only a handful of infections uncovered.

The Hong Kong Air Pilots Association said in a tweet: "Hong Kong's pilots and cabin crew are facing a very challenging situation ... these 3 cases have resulted in many crew being sent to quarantine, and more strict restrictions being placed on all aircrew."

Hui said the government should consider measures to ensure aircrew members complied with the rule about not going out for more than two hours.

"Should there be something like an electronic bracelet?" he said, referring to the device introduced last year to monitor people undergoing quarantine but no longer used.

Meanwhile, Lam said a quarantine exemption for Jamie Dimon, CEO of US investment bank JPMorgan Chase, was granted for economic reasons. He arrived in Hong Kong for a short visit this week.

Lam said such exemptions were now granted on an individual basis with stringent limits applied, as opposed to groups receiving them in the past. "After all, it is a huge bank and it has important businesses in Hong Kong," she said.