The NHS is braced for more strikes by staff after health unions pulled out of the independent pay review process.
The announcement by 14 health unions that they would no longer work with the NHS Pay Review Body came as ambulance crews in England and Wales walked out for the second time this winter.

The unions had been due to make a submission about the 2023-24 pay award.

But they refused to do so given the continuing dispute over this year's, upping the pressure on ministers.

One of the unions, the Chartered Society of Physiotherapy (CSP), also announced it would be taking its first strike action of winter later this month.

Sources at the GMB said fresh ambulance strikes were likely to be announced next week.

Nurses will strike for two days next week.

Sara Gorton, who chairs the 14-strong NHS group of unions, said: "The NHS staffing crisis is so acute only prompt action on pay - both for this and the next financial year - can start to turn things around.

"The public knows ambulance response times are worsening and hospital waiting lists growing because the NHS no longer has the necessary staff to meet demand nor provide safe patient care.

"Ministers must seize the initiative, get everyone around the table and negotiate a way to the best deal for staff, patients and services."

'This dispute is not just about pay'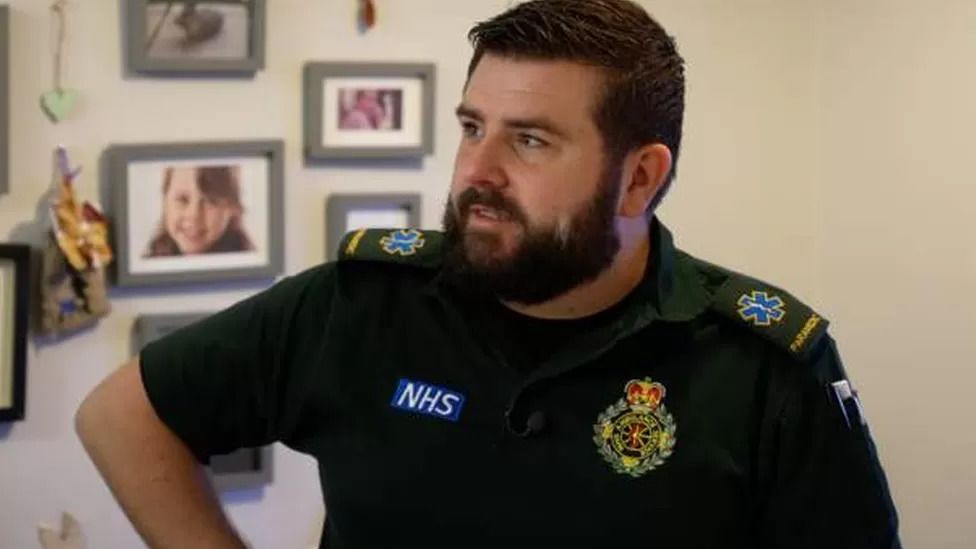 Paramedics taking part in Wednesday's strikes have insisted the dispute is not just about pay.

Lewis Stoner, from Devon, who has worked for the ambulance services for 10 years, says the current pressures make it "so hard" to provide the services patients need.

Even when the highest priority calls come in, "we've no-one to send", he says.

"It feels like the pressure just grows and grows," Mr Stoner adds.

Meanwhile, Vimal Mistry, an East Midlands Ambulance Service paramedic for seven years, says things have "just got worse" since the Covid pandemic.

"People can't get appointments anymore so they put off going to the doctor and when it gets worse they come to us," he says.

He and colleagues are also struggling with the cost of living, Mr Mistry say.

"I'm now having to think about how much heating I have on in the house - I have it on for two hours a day now."

Talks were held with Health Secretary Steve Barclay on Monday but no agreements reached.

The discussions centred on what could be done for staff in 2023-24.

But now, the unions have made clear they will not discuss next year until their demands are met this year.

NHS staff received an average rise of 4.75% this year - with all guaranteed at least an extra £1,400.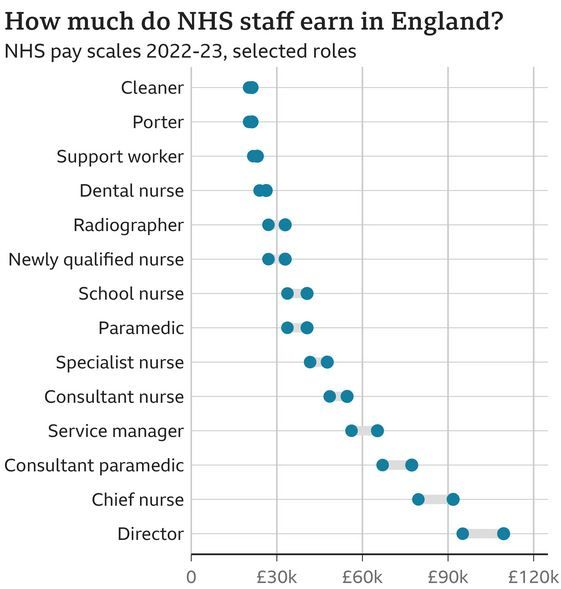 This was in line with the recommendations of the independent pay-review process. But unions say the process took too long - by the time the pay award was made, six months after their submission, inflation had risen sharply.

A Department of Health and Social Care spokesman defended the pay-review system, pointing out it considered a range of evidence from trade unions, the NHS and government.

He said the health secretary wanted an "honest conversation" with unions about what was affordable.

Claire Sullivan, of the CSP, said its action, on 26 January and 9 February, in England and Wales, was an "absolute last resort".

"NHS staff not only deserve better pay but also desperately need it during this cost-of-living crisis," she said. And there would be further strike dates without an improved offer.

'Kept working'

Ahead of ambulance staff striking on Wednesday, ministers had warned they were concerned about the impact on patients.

But Andy Prendergast, of the GMB, one of the two unions involved, said three-quarters of ambulance staff had kept working, to ensure patients remained safe, which was "unprecedented" for a strike.

NHS Providers, which represents health managers and also raised the alarm about the impact of the walkout, said it was "too early" to have a clear picture of how much disruption had been caused.

Interim chief executive Saffron Cordery said demand had reduced, as during the strike on 21 December .

"We know that there will be disruption but the scale of it is hard to see at the moment," she added.

Your device may not support this visualisation