The mental health of Hong Kong's residents has come under the spotlight with thousands quarantining in tiny spaces amid the fourth wave of the coronavirus pandemic, but experts have said simple activities such as drawing or even rearranging furniture could ease the stress.

A group of professors from the University of Hong Kong (HKU) have compiled a "14-day Wellcation" guidebook to provide mental health support for those in isolation.

The booklet, consisting of practical tips, daily readings, and personal reflection questions, was put together after they collected information from people who went through the 14-day isolation process, said Professor Paul Yip Siu-fai, director of the Centre for Suicide Research and Prevention at HKU.

"We're not just dealing with a public health crisis, but putting people under quarantine also causes a lot of mental stress and we need to address this oversight," Yip said.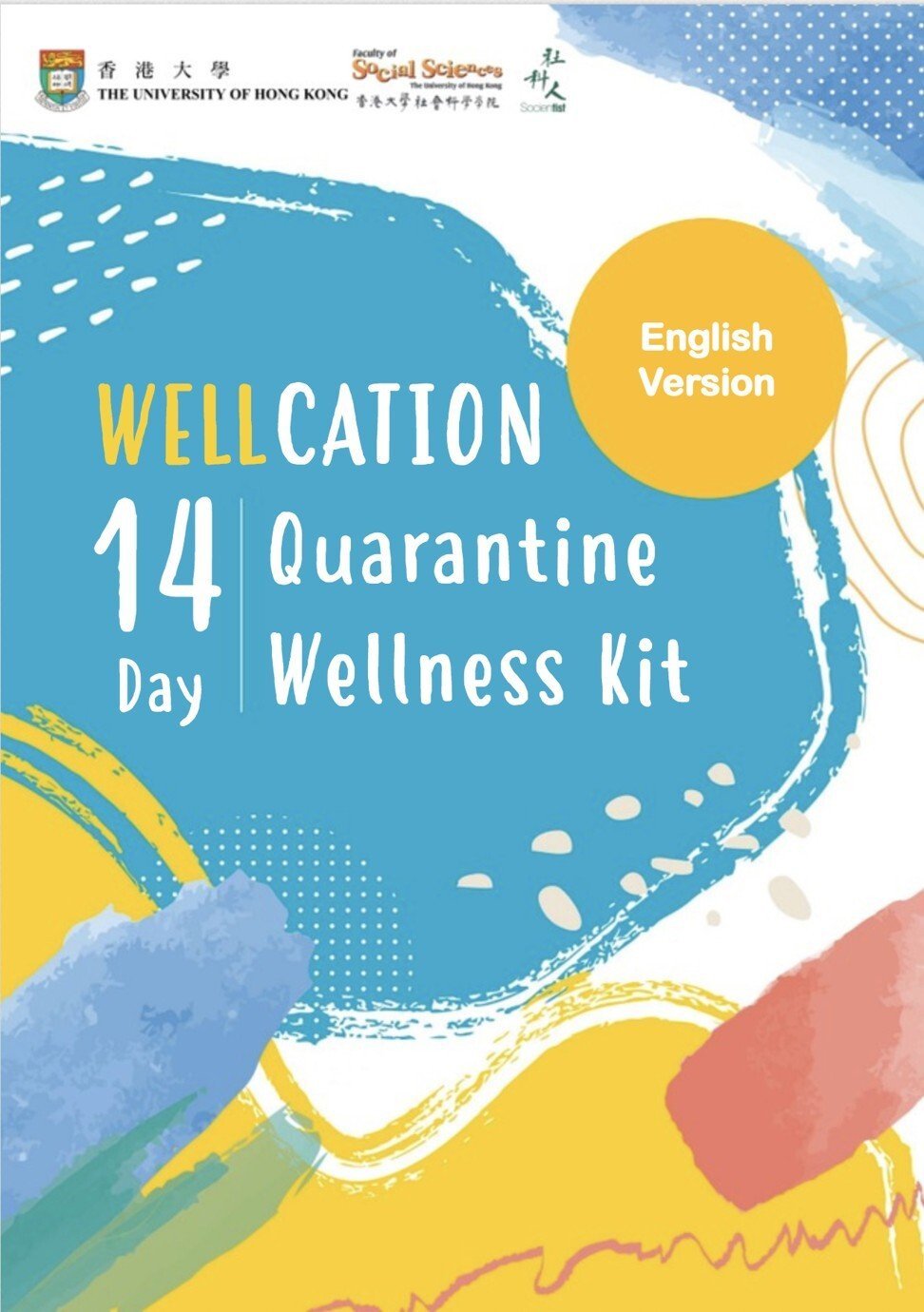 A group of professors from the University of Hong Kong have produced a guidebook to provide mental health support for those in isolation.

While stuck in the same room for two weeks, the guidebook recommends people make their space feel as much like home as possible. Suggestions include creating an area for a quick YouTube workout, while setting up a little work-from-home corner could also boost productivity.

Daily readings on kindness, the love of learning, and spirituality also aim to help those in isolation achieve a more relaxed frame of mind.

A surge of overseas students and families returning to the city over the Christmas period, with more to come during the new year holidays, has left thousands of people largely isolated over the festive season.

In the midst of a fourth wave of coronavirus infections, Hong Kong recorded another 74 new cases on Sunday, after confirming 109 infections the day before. The city's official tally now stands at 8,152 cases, with 129 related deaths.

Travellers returning to Hong Kong from overseas have to quarantine in one of 36 designated hotels, while people deemed close contacts of confirmed Covid-19 cases, or those living on estates with growing clusters of infections, have been sent to government-run quarantine camps.

According to the Department of Health, more than 568,000 people entering Hong Kong from mainland China, Macau, Taiwan, and other overseas locations, had been quarantined this year, as of December 19.

But Yip said there had been hardly any effort made to provide mental health assistance to those in quarantine.

"Whenever we hear about the government's rules, it's always about sending people to quarantine and stopping social engagements," he said. "There's never enough attention paid to [giving] emotional support to those in quarantine."

Edward Pinkney, who helped draft the English version of the guidebook, said staying in touch with family members and colleagues had been an important outlet for him after quarantining when he returned to Hong Kong from Britain last month.

"We hope that they will say how they're feeling day to day, and then we can use that to learn and improve the support we provide in the quarantine facilities," he said.

He also encouraged people in quarantine to use the book as a mental wellness exercise and to keep track of their mood while in isolation.

One of those interviewed for the guidebook, a doctoral student who only gave her name as Michelle, said she had experienced ups and downs while quarantining alone at home.

Having returned to Hong Kong in September, she said there were days when she would binge-watch Netflix, or nibble on snacks endlessly, which left her feeling unproductive.

"During the 14 days I had a lot of time for self-reflection, so I worked on setting a routine and developing a positive mindset," she said, adding she documented her two weeks on social media as a way to help process her thoughts.

Yip said the mental health guidebook had been well-received by the Department of Health and several of the designated hotels, and hoped facilities would distribute the booklet to help people get through the fortnight on their own.