Emergency crews were called to the two-storey properties in the town's Corrie Drive just before 20:00 on Thursday.

Local reports suggested a stray rocket had landed on the roof and the two properties caught fire. It is understood two families were affected.

The attacks were among several incidents across the country which Police Scotland branded "disgraceful and deplorable".

Emergency crews were attacked while properties and vehicles were also targeted.

The fire in Motherwell was not being treated as deliberate and there were no reports of anyone being injured.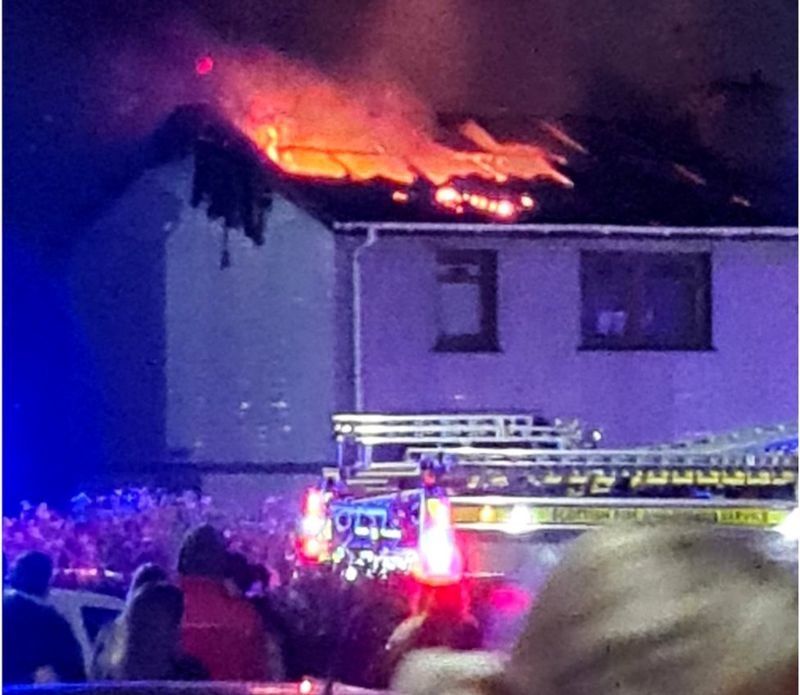 The fire in Motherwell's Corrie Drive is not being treated as deliberate
Two families have had to leave their homes after extensive damage to the properties

The local community has begun collecting for the families involved.

A relative of one of the house owners told the BBC: "They are absolutely devastated and lost everything. At this point they are just trying to rebuild their lives."

In Greenock, bottles and fireworks were thrown when police were called to a gathering of about 200 youths.

Officers also attended several incidents in Edinburgh and Glasgow.



Attacking firefighters 'reprehensible'

The Scottish Fire and Rescue Service said it received nearly 1,200 calls from the public on Thursday night, with 12 incidents of crews being attacked or having missiles thrown at them.

At her daily media briefing, First Minister Nicola Sturgeon said it was an "extremely difficult night" for the emergency services.

She added: "Anybody who was involved in any of these incidents should be deeply ashamed of themselves.

"There is no excuse, any time, anywhere, in any circumstances, to attack emergency workers and attacking firefighters on bonfire night is particularly reprehensible. I condemn that behaviour."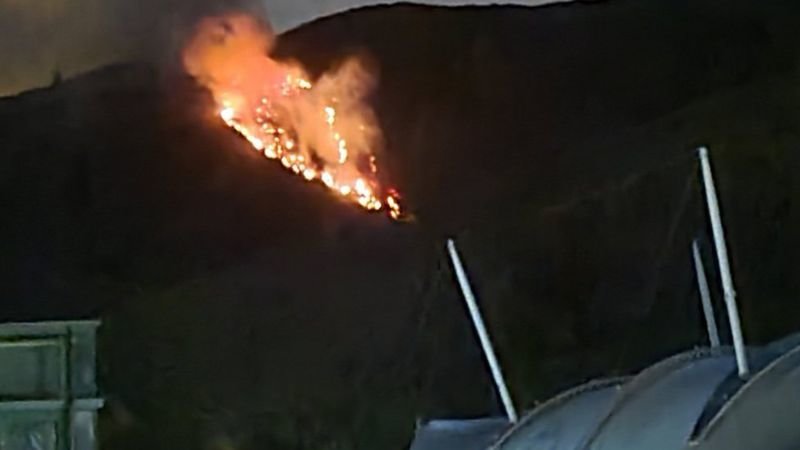 The fire service received more than 30 calls after 40 square metres of gorse were set alight on Arthur's Seat

Assistant Chief Constable Tim Mairs said it is "disgraceful and deplorable" that officers were attacked in the course of their duties.

"I am disappointed at the level of disorder and anti-social behaviour seen last night," he said.

"A minority of people's behaviour has once again put lives at risk.

"It also places intense pressure on the emergency services and impacts severely on local communities."

He also vowed that Operation Moonbeam would continue to target the culprits, mostly young people, who were behind the disorder.

Assistant Chief Constable Mairs added: "To be absolutely clear, such actions are dangerous and cause harm to the public and emergency service workers.

"We will not tolerate such acts and you may not have been arrested last night but rest assured, officers are carrying out follow-up investigations to identify those involved and responsible."



Riot gear

In Greenock, riot police were called to an illegal bonfire party in Auchmead Road, Larkfield, at about 20:00.

About 200 people were involved in the disturbance where bottles and fireworks were thrown at police officers.

Photos posted on social media showed police in riot gear breaking up the gathering, which was not allowed due to current Covid regulations.

A force spokeswoman said there were no reports of injuries but a number of police vehicles were damaged.



A 15-year old boy was arrested and charged and will be the subject of a report to the procurator fiscal.

During the incident, a local priest at a nearby church was told by police to stay indoors for his own safety.

St Andrew's Church posted a message on Facebook which said: "Hundreds have gathered for fireworks and are using the church wall as a public toilet.

"Fr Danny has tried to keep them out but has just been advised by the police, for his own safety, to stay inside."

Scottish Fire and Rescue said no firefighters were hurt in the incident.

It was one of 1,193 calls which control room staff took between 15:30 and 23:30 on Thursday and one of 500 bonfire-related call-outs.

The service said there were 12 reported attacks on crews, however no injuries have been reported.



Gorse fire

In Edinburgh, the service said it had received 32 calls reporting a blaze on Arthur's Seat just before midnight.

Three appliances were sent to the scene where about 40sq m of gorse were on fire.

Fire crews said they handed the incident over to park rangers in the early hours and left the scene, with no reports of any casualties.

In the city's Hay Avenue officers had fireworks and bricks thrown at them by a large group of youths. A police vehicle was also damaged in the incident.

Separately, a 16-year-old youth was arrested in Pennywell Place following reports of anti-social behaviour.

Meanwhile in Glasgow, officers came under attack in Dale Street by youths launching fireworks at them.

In Glenisla Street, a policeman was struck on the head with a firework and treated at the scene before continuing his shift.

And in Kendoon Avenue a man was arrested after a police car windscreen was smashed as officers responded to reports of a vehicle fire.
A stray firework landed on the roof of the homes in Corrie Drive in Motherwell