More local tertiary institutions are set to make Covid-19 vaccination a condition to live on campus, with the Hong Kong University of Science and Technology (HKUST) and Polytechnic University going a step further and requiring all students and staff to get the jabs or be tested regularly.

The University of Hong Kong (HKU) and Lingnan University also announced new vaccination requirements for students and staff living in dormitories, with those who decline facing regular screening.

Chinese University last week became the first local tertiary institution to announce that students who had not been vaccinated would need to undergo regular coronavirus testing or be ineligible to apply for a dormitory room.

In an email sent by HKUST management on Friday morning, the university said vaccination would be "encouraged" for all members of the campus.

"In order to return to the ideals of our community and resume normal teaching and learning and other campus activities this fall, we encourage all students, faculty, staff, and contractors working on campus to get vaccinated by the fall term," the university's 16 senior management members, including president Wei Shyy, said in an email.

"If anyone cannot be vaccinated for medical reasons, regular Covid-19 testing with results submitted to the university for confirmation will be required."

The university added that those who could not afford testing would be given financial assistance. Details of testing and reporting requirements would be announced later, it said, adding it also planned to coordinate with the government to arrange on-site vaccination services.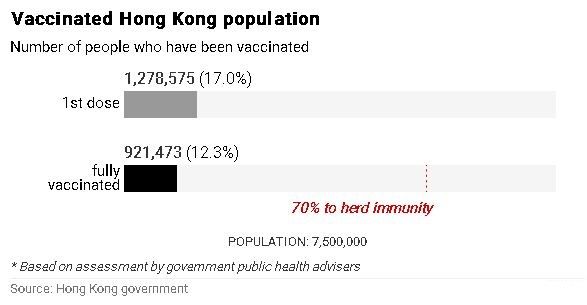 Located at Clear Water Bay, HKUST has about 16,000 undergraduate and postgraduate students, and about 700 teaching staff.

Its student union, which opposes the new requirements, said management had made the decision without officially consulting student representatives.

"There is no real option. We will have to either get vaccinated or undergo virus tests regularly … In other words, the university is basically forcing us to get jabbed," Donald Mak Ka-chun, the union's spokesman, said.

Mak added that if unvaccinated students were asked to pay for their own Covid-19 screening – which costs HK$240 (US$31) at the government's community testing centres – it could pose a financial burden.

Polytechnic University, following HKUST's announcement, also said that staff and students were "strongly encouraged" to get jabbed before the new academic year begins in late August, or they would be required to submit virus test results every week and pay by themselves.

PolyU, with about 26,000 students and 1,100 academic staff, also said those who could not take the vaccine because of health reasons would need to be screened every seven days, but they may do that free-of-charge at the university's health service centre on its Hung Hom campus.

HKU, the city's oldest university, said that from late August all residents of student halls, colleges and residencies would be required either to be vaccinated, or to undergo virus screening on a weekly basis and pay for the tests themselves.

A spokeswoman for the university, which has 13 residential halls for undergraduate students as well as several other residence buildings, said the decision had been taken because "interaction and close contact in dormitories are constant and unavoidable".

"The university believes that residence-based activities can be resumed at maximum capacity if all or the vast majority of residents have been vaccinated," she said.

Lingnan University, which "strongly encourages" staff and students to get vaccinated or take virus tests before returning to the campus, also rolled out similar requirements for dormitories, saying residents would need to be fully inoculated or face regular screening.

Other institutions, including Baptist and Education universities said they were reviewing their Covid-19 preventive measures on campus regularly according to the latest situation, while City University said it "encourages faculty, students and staff to get jabbed according to their personal needs".

Despite Hong Kong's mass vaccination programme starting in late February, the take-up rate has been slow, with many who have yet to take the jabs citing mistrust in the government and fears over side-effects as some of the reasons behind their decision.

As of Friday, 1.22 million people, or 16.4 per cent of the city's population, had already received their first dose. A total of 853,900 people, or 11.4 per cent of the population, had been given their second shot.