Respiratory medicine specialist Xiao Guanhua thought his 36th birthday two years ago was unforgettable, as he found himself battling a mysterious, fast-spreading disease in Wuhan, in China's Hubei province.

He turned 38 on March 11 in Hong Kong, while he was with a team of mainland Chinese doctors and nurses helping with the city's raging fifth wave of Covid-19 infections.

"It's very memorable," said the doctor from Guangzhou, capital of neighbouring Guangdong province. "In Wuhan, we were fighting a largely unknown foe. Two years on, we've got to know the virus rather well, but the fifth wave hit Hong Kong really hard."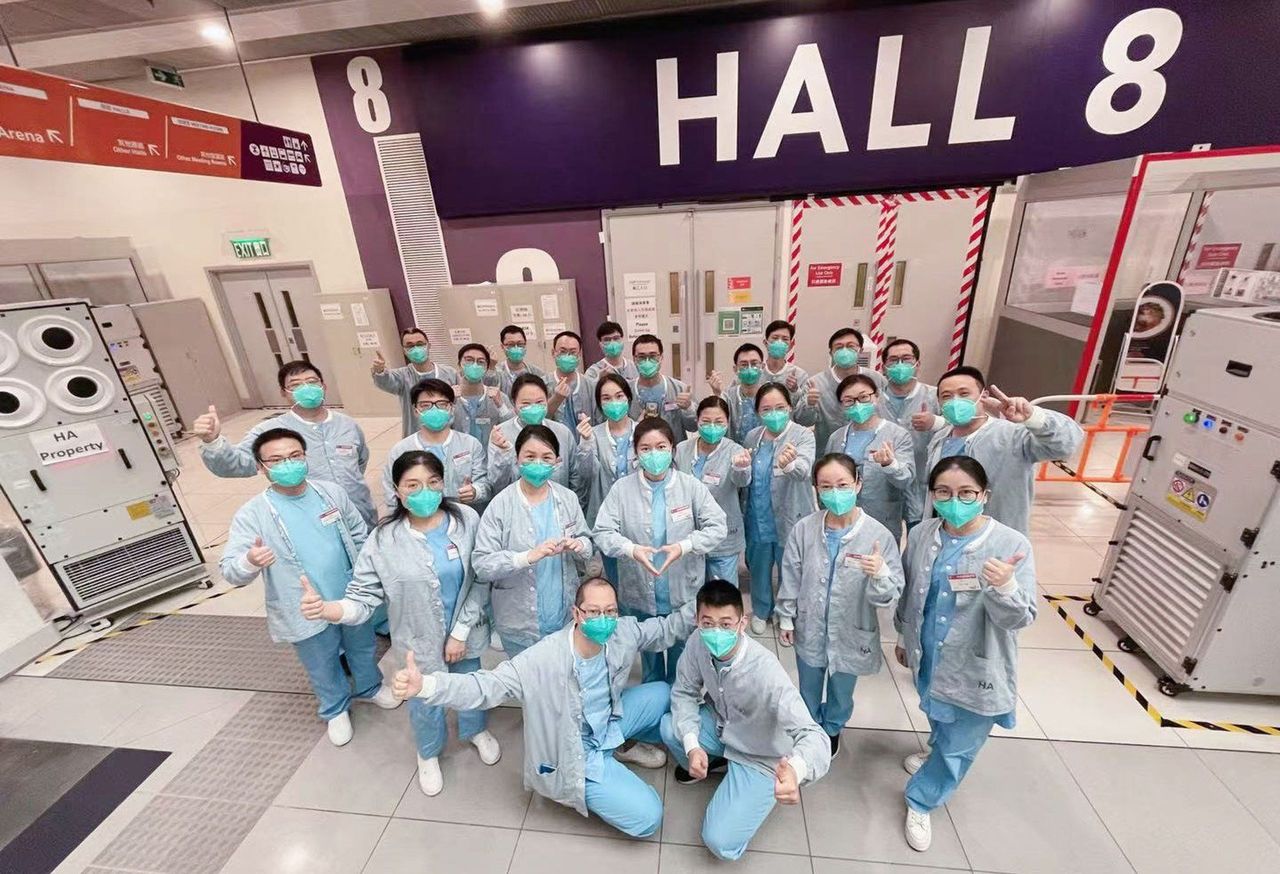 Members of the mainland Chinese medical contingent at the AsiaWorld-Expo temporary treatment facility.

Xiao is part of a 391-strong Guangdong contingent who came to Hong Kong, including 78 doctors and 290 nurses from a spectrum of disciplines ranging from respiratory medicine to cardiology and intensive care.

They arrived in three batches from March 7 as Covid-19 cases were shooting up and have been working at the AsiaWorld-Expo temporary treatment facility. At its worst, Hong Kong recorded 58,757 infections and 291 related deaths on March 9.

Xiao said he did not hesitate to step forward when the central government called for volunteers to help in Hong Kong, even though he had just become the father of a baby girl, now almost six months old.

He said he could see that Hongkongers were going through a tough time.

"In the past, Hong Kong people also extended a helping hand to the mainland in times of natural disaster," he said.

"My family has given me their staunch support. My wife, who is also a doctor, and I are accustomed to having to make some sacrifices in our profession."

Xiao, from Nanfang Hospital in Guangzhou, was among the first to arrive on March 7, and reported for duty at the makeshift treatment centre at AsiaWorld Expo after a week of familiarisation with local practices and treatment protocols.

He said the mainland team worked alongside their Hong Kong counterparts seven days a week, monitoring patients, especially the elderly. At the peak, he cared for 93 patients a day in an area that could hold 96.

The AsiaWorld-Expo on Lantau Island, near the airport, was designated to take in Covid-19 patients with milder symptoms and elderly patients requiring closer care.

"One episode that struck me was when a woman over 90 years old suddenly had a cardiac arrest and members of both the Hong Kong and mainland teams rushed to her bed to perform CPR, before transferring her to hospital for more intensive care," Xiao said.

He was pleased about the way everyone helped. "That showed the collaborative spirit of the medical team," Xiao said.

Another member of the mainland team, Li Guiying, 30, a traditional Chinese medicine nurse from Foshan Hospital, said some patients felt lonely in the unfamiliar environment and needed reassurance.

"I remember vividly a 103-year-old grandma who asked like a child when she could go home. I held her hand as I fed her and comforted her," she said.

Like Xiao, Li volunteered to serve in Hong Kong. She said she felt "heartbroken" seeing images of patients lying outside overwhelmed city hospitals in the fifth wave of infections.

The mainlanders had to observe a closed-loop work protocol, which meant minimising interaction with others, and even among themselves when not at work.

They had to travel by special coaches to and from their hotel each day, stay in separate rooms and eat pre-packed meals alone. None of the team members became infected.

"I've got used to it, and spend my spare time reading or listening to music," Li said. "I do video calls with my three-year-old son at night. At first, he kept asking when I would go home, but now he has stopped asking."

The fifth wave of infections has waned and the government has said the mainland volunteers would finish their work and start leaving in stages.

Dr Larry Lee Lap-yip, a chief manager with the Hospital Authority which runs Hong Kong's public hospitals, said the mainlanders came when help was needed most and their presence was greatly appreciated.

"We had to take care of 250 completely bed-bound patients with no ability to take care of themselves and we were already exhausted," he told a local television programme on Saturday. "Their arrival at that critical time was like a shot in the arm for us."

Although Xiao and Li's stint in Hong Kong was coming to an end, they might not be done just yet with helping in the pandemic.

Asked if they would go to Shanghai, in lockdown with surging Covid-19 numbers, both said they would, if there was a call for volunteers.

"If we are needed, I will go again," Xiao said.