Limited lockdowns are likely to be reimposed across Hong Kong after the Lunar New Year holiday, and the health minister urged the public to show restraint over the festival so some businesses could reopen next week, as the city recorded 24 new Covid-19 cases on Friday.

Health authorities previously said they intended to relax social-distancing measures after the holiday, on February 18, provided the daily caseload remained stable, allowing restaurants to offer dine-in service until 10pm and seat four people per table, while gyms, cinemas and other premises could reopen.

Secretary for Food and Health Professor Sophia Chan Siu-chee provided more details in the regular coronavirus press conference on Friday over the criteria for relaxing measures.

"There are a few indicators, whether there is a surge of the number of confirmed cases, or an emergence of a lot of untraceable cases or clusters. We will also look into the reproduction rate [of the virus], which currently it's around 0.6, and below 1 [is considered stable]," she said, without setting a strict threshold number.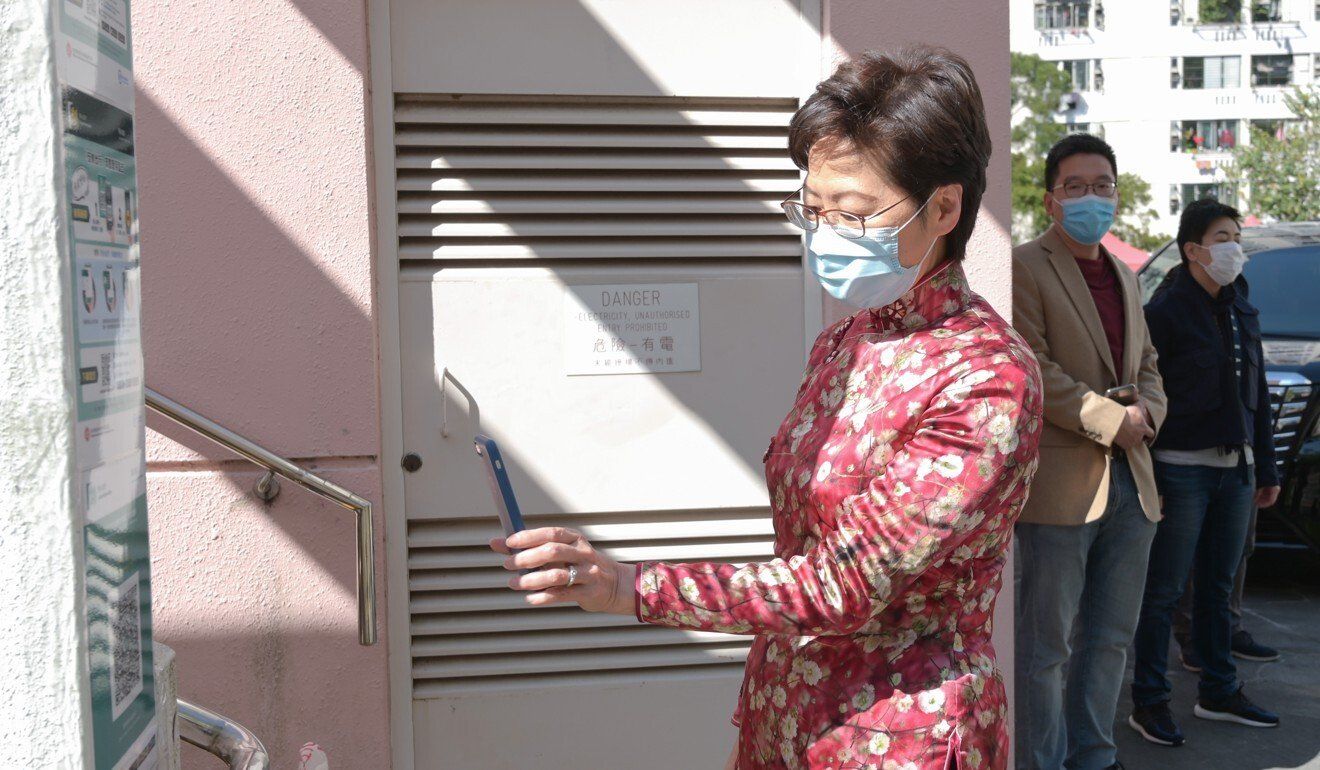 Chief Executive Carrie Lam scans the QR code for the 'Leave Home Safe' app at the testing centre at Lai King Community Hall.

Chan was referring to the effective reproduction number for the coronavirus which shows the average number of people infected by one patient, and is calculated by the University of Hong Kong's real-time dashboard of local cases in the city.

"If there are no major changes in the situation, we hope to allow reopening of some premises on February 18," she added.

But that easing will come with new preventive measures for venue operators, including regularly testing employees and requiring customers to either scan the government's "Leave Home Safe" risk-exposure app or leave their personal details.

Chan repeatedly urged the public to minimise social contact during the holiday, and said the government considered lockdowns a "way of mandatory testing".

"The authorities will continue to assess the risks of different places or buildings and see if there is a need to impose lockdown after evaluation," she said.

Earlier on Friday morning, the city's leader Carrie Lam Cheng Yuet-ngor, along with Chan, visited five community testing centres, in Sai Ying Pun, Tsuen Wan, Lai King, Ma On Shan and Wong Tai Sin.

The chief executive thanked staff members of the private testing agencies, and government employees who manage the venues, for working during the holiday period.

Lam called on the general public to take Covid-19 tests, regardless of whether they were subject to compulsory testing or fell within a target group.

"Although the local epidemic situation has gradually eased, we cannot let up on testing," Lam said. "All 19 community testing centres will continue to operate during the holidays.

"While the government is gearing up for the vaccination programme, virus testing is still crucial in the fight against the disease."

Since January 23, the government has deployed 12,000 officers to lock down 26 areas for mandatory virus tests, at a cost of HK$6 million (US$733,922). Overall 20 confirmed cases, or 0.08% of the 25,000 tested people, and 60 close contacts were identified.

Lam earlier promised that the government would suspend its controversial "ambush-style" lockdown operations over the holiday.

"We are closely monitoring the situation every day, and our community testing centres will remain open during the holiday," Chan said. "People should minimise gatherings and activities without masks, which will increase the risk of infection. We hope everyone could cooperate."

Nine of Friday's cases were untraceable, while six were imported, involving one arrival from the Philippines, one from India, two from the United Arab Emirates and two from Indonesia. About 10 people tested preliminary-positive.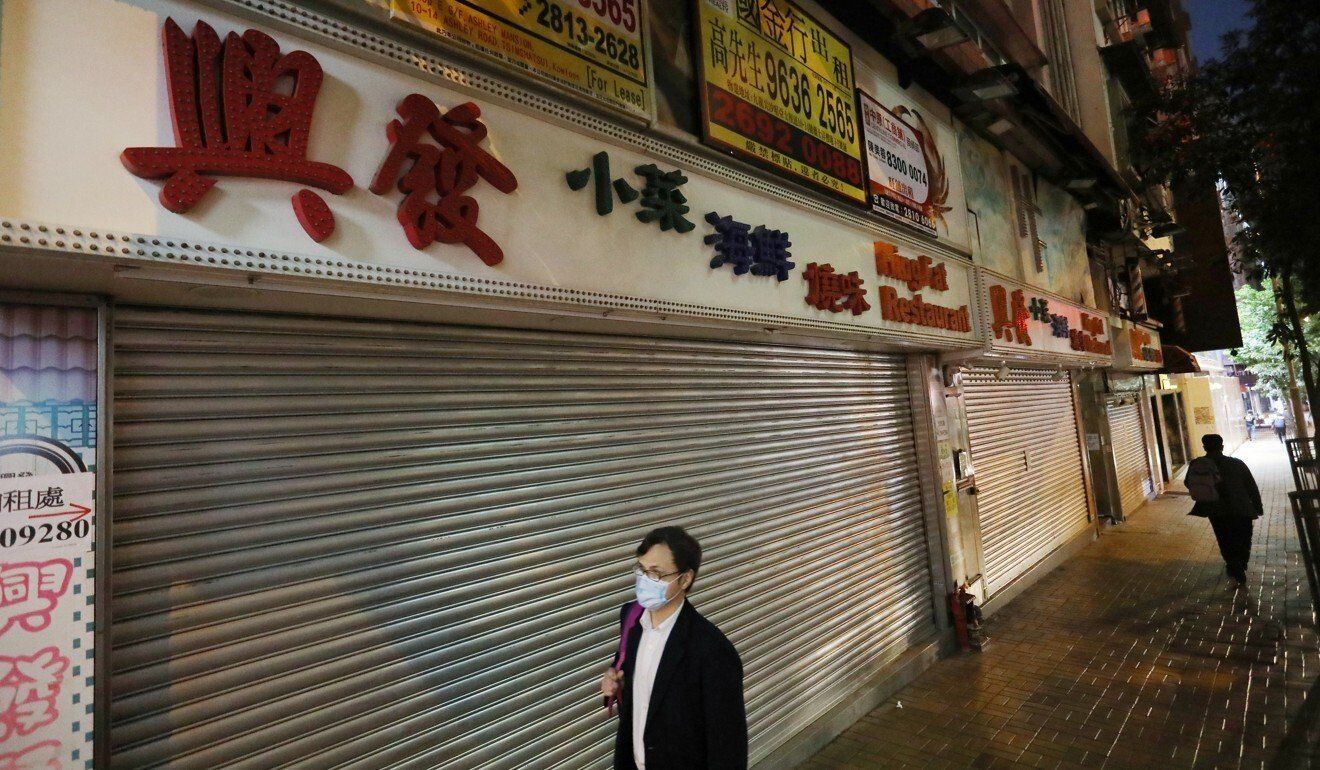 Numerous restaurants in the city have been forced to close entirely amid the struggles created by the Covid-19 pandemic.

The city's infection tally stands at 10,755, while the number of related fatalities rose to 192 after an 85-year-old man with chronic diseases died on Friday morning at Yan Chai Hospital.

Among the latest infections were three engineers that worked for different companies. One worked at a construction site in Ho Man Tin, and some colleagues and workers have to be quarantined, while the site concerned will be closed for 14 days.

Another engineer had visited a Wan Chai construction site, but the health authorities were still investigating whether he had any close contacts.

Elsewhere, residents of 12 buildings scattered around the city must undergo testing after cases were uncovered.

Separately, some of the city's hardest-hit industries have appealed for more government aid to weather the effects of the pandemic.

Bars and pubs have been excluded from the planned reopening of certain venues, and Ben Leung Lap-yan, charter president of the Licensed Bar and Club Association of Hong Kong, said the nightlife sector was usually last to reopen, even though hundreds of bar owners had dipped into their own pockets to step up disinfection and ventilation.

"Many bar operators have installed the [government's] Leave Home Safe QR code to help with contact-tracing if needed," Leung said. "Bar staff are a targeted group for testing anyway, so the industry is willing to comply with screening so we could reopen."

Bars have been ordered to close for more than 180 days and counting amid the pandemic, while nightclubs have shut for more than 200 days, and karaoke lounges for more than 190 days, according to figures from the industry association.

"We really hope that if there's no rebound in cases after easing social-distancing rules for restaurants, the bar industry can reopen by late February," Leung said. "Getting through more than 100 days without any revenue has really screwed a lot of nightlife businesses."

Restaurants in Hong Kong have struggled to simply survive during the coronavirus.

Yeung Wai-sing, chairman of the Association for Hong Kong Catering Services Management, told local radio it had been a struggle for restaurants simply to survive over the past year and the festive season had not brought any boost to their businesses.

The biggest blow came in the form of social-distancing rules put in place in early December that eliminated restaurant dine-in services after 6pm and capped the number of guests per table at two.

"Normally, December and the period before the Lunar New Year is the golden time for the industry. We make around HK$16.8 billion (US$2.2 billion) in that one month," Yeung said, adding the cancellation and postponement of wedding banquets had also taken a toll.

His new year's wish list for the sector included another round of wage subsidies, relaxed social-distancing rules that would allow six or more people per table, and the long-awaited reopening of borders, which would bring an influx of tourists.

Tong Kim-sang, general secretary of the Travel Industry (Outbound) Tour Escort and Tour Guide Union, said his sector had been ground to a complete halt, earning essentially zero income.

"Lots of tour guides have been forced to look for part-time jobs, but it's been challenging for them, because employers feel they will return to the industry once travel resumes," he said.

Arrivals in Hong Kong plunged nearly 94 per cent year on year in 2020 to just 3.57 million, a 36-year low for the city. Under current rules, non-residents arriving by plane are barred entirely from entering the city in most cases, while Hongkongers and those with work visas arriving from overseas are subject to 21 days of compulsory quarantine in designated hotels.

Tong said local tours were well received but do not generate that much revenue.

"It's just another job for a tour guide to earn a basic HK$400 to HK$500 salary. Besides, Hongkongers know how to go to a lot of places by themselves now. It's not like before, when transport was more inconvenient," he said.