Hong Kong health authorities continued to carry out "ambush-style" lockdowns on Thursday evening, with residents of a Yau Ma Tei neighbourhood and a Mong Kok building ordered to undergo mandatory testing, as the city confirmed 22 new coronavirus infections.

People living in buildings at 7A-27A Pitt Street, 2-50 Tung On Street, 833-889 Canton Road and 10-16 Dundas Street would have to be screened by 2am on Friday, with the lockdown scheduled to end by 7am.

Mandarin Court on Shanghai Street in Mong Kok was also placed under lockdown at 8pm, with the operation also expected to finish by 7am.

A government spokesman said residents would have to remain in their homes until test results were released.

Chief Secretary Matthew Cheung Kin-chung and health minster Professor Sophia Chan Siu-chee arrived to inspect the lockdown area in Yau Ma Tei at around 10pm.

Earlier, a top health official urged the city's residents to replace traditional cross-family gatherings and festive activities with video conferencing during the coming Lunar New Year.

Despite a general downward trend after a recent rebound in daily caseloads, Undersecretary for Food and Health Dr Chui Tak-yi said infection levels were still going "up and down", with 685 cases recorded in the past fortnight, 37 per cent of which were untraceable and 33 per cent asymptomatic.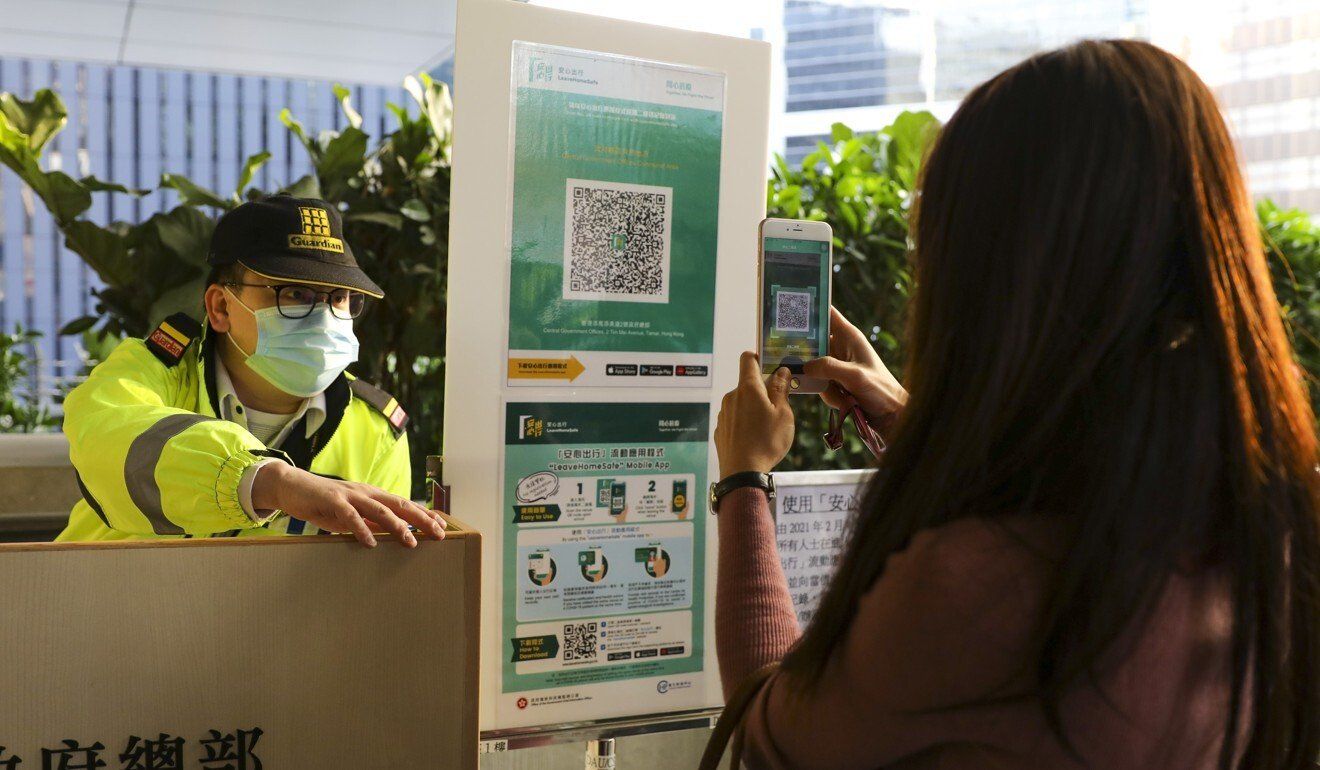 Civil servants began offering proof they had used the government's coronavirus-focused 'Leave Home Safe' app on Thursday. Sam Tsang

"In the last two weeks, daily cases still remained at double digits. This shows there are still transmission chains in the community," Chui said.

"In the face of the epidemic, we urge residents, for yourself and others, to avoid cross-family mixing and consider using phone and video conferencing to celebrate and give blessings to each other.

"If you really need to meet, you should minimise interaction time, and wear masks at all times as well as avoid food and drinks."

Among the 22 new cases, three were imported, while 10 were untraceable. The city's infection tally stood at 10,552. More than 30 people tested preliminary-positive for the virus.

A 67-year-old patient, who had been allowed to leave isolation after showing a positive antibody response, died on Thursday morning after his condition deteriorated, bringing the coronavirus-related death toll to 186.

A virus-hit construction site at the airport third runway project reported one more confirmed infection on Thursday, taking the cluster size to 22 cases. A preliminary-positive case was also linked to the cluster, pending confirmation.

Earlier it was revealed that a lockdown of three housing blocks on the previous night resulted in just one preliminary-positive test.

The patient – one of 487 residents screened in Tower One of Goodview Garden in Tuen Mun – was sent to the community treatment facility at AsiaWorld-Expo, health authorities said in the morning.

About 2,500 people were subject to the mandatory coronavirus testing that began on Wednesday night and also included buildings in To Kwa Wan and Chai Wan.

Residents living in the three housing blocks were allowed to leave for work after 6am provided they had negative test results, and the last of the lockdowns had been completed as of 11am.

Of the 1,830 people screened in Chai Wan, none tested positive, while there was no answer at 38 flats when government workers came knocking. Three people living in the block were slapped with HK$5,000 (US$645) fines in the morning when it was discovered they had avoided testing.

The building in To Kwa Wan, where 241 people were tested, also yielded no positive results.

Among the 14 lockdown operations conducted since January 23, at least 14 confirmed infections have been uncovered among the more than 14,000 people tested.

On Wednesday, a resident from an overnight lockdown operation in Jordan was sent to hospital after showing an unclear test result for Covid-19. It was not immediately clear what subsequent testing had revealed.

Meanwhile, most Hong Kong civil servants appeared to be following the government's "advice" to use a Covid-19 exposure notification app before going to work on Thursday morning, even though some doubted its effectiveness and said they felt they were being forced to use it.

A day earlier, the government had "strongly encouraged" its 180,000 civil servants to begin using its "Leave Home Safe" app to record the time and date they entered Tamar headquarters and the Tai Po government offices on Thursday.

The programme will be expanded to include the Harbour Building in Sheung Wan as well as the Mong Kok and Tuen Mun government offices from February 16.

"I already installed it before coming to work. The government said it advised us to do so, but it's not like we have a choice with the security guards standing outside checking on us," a 30-year-old civil servant, surnamed Chan, said before entering the Tamar headquarters.

"But I won't use the app other than when I come to work."

Others questioned its effectiveness, saying they already have to swipe their staff ID before entering the headquarters anyway.

Several civil servants were seen telling guards they did not have a smartphone and were subsequently allowed in after producing their staff ID.

"I don't know what this is for," another civil servant said.

In its Wednesday memo, the government said the new app would help facilitate epidemiological investigations and better protect employees.

First launched in November, the app is designed to notify users if a Covid-19 patient has visited the same venue at a similar time. But it does not have a contact-tracing function.

So far, only 400,000 Hongkongers have downloaded the app, about 5 per cent of the city's population.

On Thursday, security guards stood at the entrance asking everyone entering to show them their phones to ensure they had scanned the QR code already. Those who had not were asked by the guards to do so.