From tackling housing and youth development to reconnecting the city to China and the world, the chief executive crammed a lot into his first six months on the job. His early successes will pave the way for achieving more long-term goals like economic integration and growth.
Six months into his office, Hong Kong Chief Executive John Lee Ka-chiu has lived up to his promise of leading the government in a "result-oriented" and "solution-driven" manner.

After battling seemingly intractable challenges on multiple fronts, Lee has surpassed expectations, and won quiet respect and acceptance, thanks to his practical and down-to-earth work style.

On taking over, Lee's most pressing task was returning Hong Kong to normalcy after more than two years of one of the world's toughest anti-Covid-19 regimes. This Lee has achieved by striking a balance between protecting lives and safeguarding livelihoods.

Hong Kong took a giant step forward when Lee announced that quarantine requirements would be lifted from September 26. Hong Kong moved to "0+3", that is, zero days of quarantine plus three days of medical surveillance, until December 14.

On his return from his maiden duty visit to Beijing, Lee lifted all inbound Covid-19 control measures for international visitors with effect from December 29. Working in tandem with China's lifting of compulsory quarantine requirements for international visitors from January 8, Lee announced on January 5 the resumption of travel arrangements with mainland China and Macau from the same date.

Now that China is reopening to the world and mainland Chinese are expected to return to the city, Lee's government is bracing for another set of challenges: ensuring orderly people movements and protecting the public health system from being overwhelmed by a possible spike in infections.

Another pressing problem faced by Lee is Hong Kong's brain drain. The government reported that the city suffered a net outflow of 140,000 people between the second quarter of 2020 and the second quarter of 2022, with the majority being young adults aged 25-39.

To make good on Lee's pledge to "grab" global talent, the government implemented a slew of measures to facilitate the entry of skilled professionals in a wide range of sectors. These measures include the simplification of immigration procedures for hiring professionals and managerial talent, the implementation of the Talent Pass Scheme, the setting up of an office for attracting strategic enterprises, and an online platform for a new one-stop Talent Service Unit.

In accordance with Lee's objectives in his inaugural policy address, bureau directors rushed through a flurry of initiatives before the end of the year. Blueprints for youth development, innovation and technology and primary health care, and a new scheme for building "light public housing", were announced in quick succession. The Lee administration cannot be faulted for a lack of determination to get things done.

Now the hard part follows. The biggest challenges lie not only in the timely and cost-effective implementation of the new initiatives, but in meeting the more daunting requirements imposed by paramount leader Xi Jinping in his address to Hong Kong on July 1, 2022.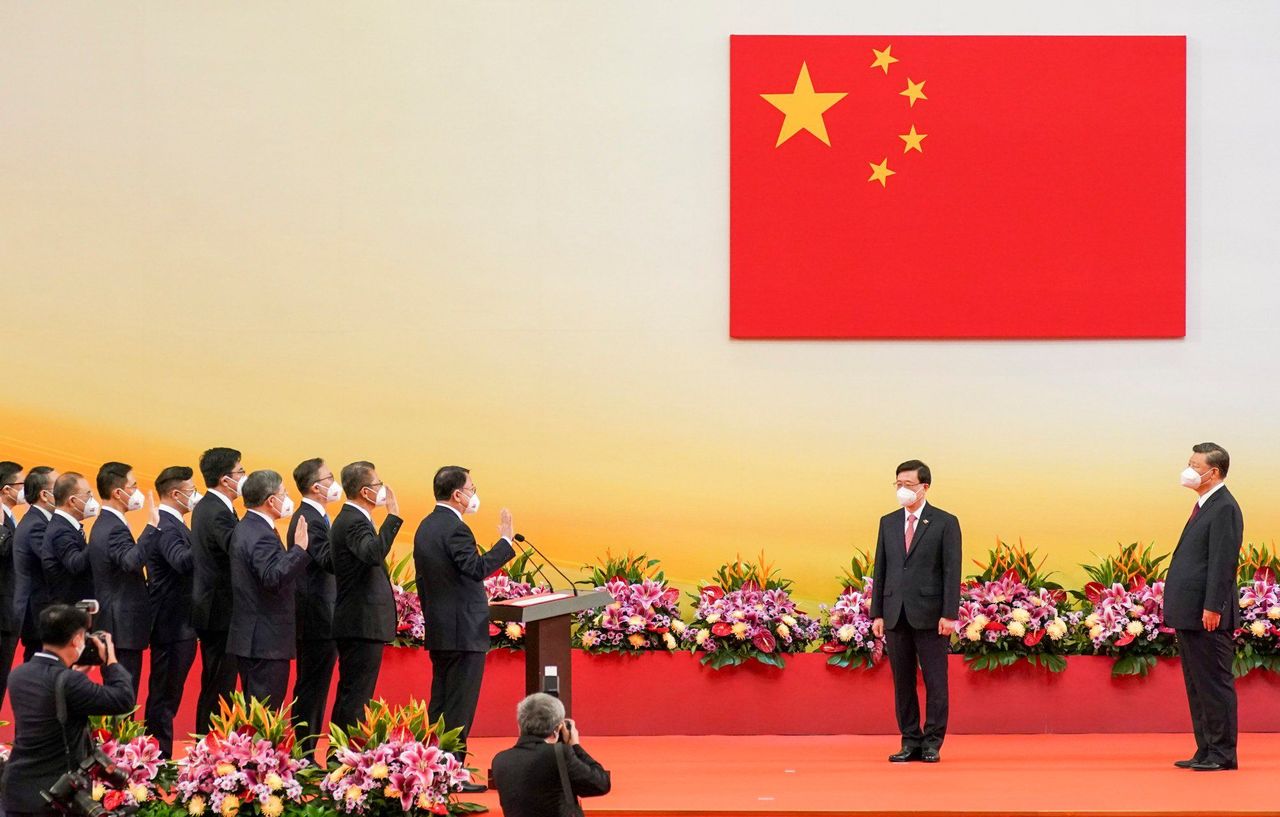 President Xi Jinping (right), joined by Chief Executive John Lee Ka-chiu (centre), officiates at the swearing-in ceremony for Hong Kong's new government cabinet members, on July 1, 2022.
Xi laid out four "musts", and another four hopes. These expectations for Hong Kong effectively call for greater political integration and economic transformation to align with the country's pursuit of higher quality, technology-driven growth.
In implementing these longer-term changes, Lee contends with the same conundrum as his predecessors: how to maintain Hong Kong's unique advantages in the face of the mainland's clarion call for greater political and economic integration.
These advantages lie not just in Hong Kong's separate economic, financial, legal and judicial systems, but also in its unique culture and way of life, its openness and commitment to transparency and a clean, rules-based society. Hong Kong could, as many have cautioned, become "just another Chinese city" if these attributes are not fortified going forward.
Hong Kong can be justly proud that, in spite of persistent smear campaigns by the Western media, Hong Kong maintains a high standard of protection of human rights and freedoms – higher, in fact, than many Western democracies.
Hong Kong people's freedom of expression remains intact, as different individuals and media outlets continue to voice different perspectives on a wide range of issues.
A high level of transparency and clean government remain the hallmarks of the Hong Kong government.
After the turmoil of 2019 and the
Covid
-induced isolation of the past three years, a reset of the tone and modus operandi of the city is overdue. Hong Kong must remain open to the world and reconnect with the mainland.
At the same time, the national security law and the recent interpretation by the National People's Congress Standing Committee of articles 14 and 47 of the national security law have ensured that Hong Kong's openness does not segue into national security risks.
It is pleasing to note from Commissioner of Police Raymond Siu Chak-yee's recent remarks, as quoted by legislator Tik Chi-yuen, that a decision will be taken soon on the handling of 6,000 persons arrested during the 2019 protests. Hopefully, together with the conclusion of the trial of various serious national security cases, closure of the trauma inflicted by the violent 2019 protests will come about sooner rather than later.
The nation's top leaders have reminded Hong Kong time and again to maintain its fighting spirit – to fight for self-renewal and unity and against hostile forces. The chief executive has a twin duty to do that as well as promote togetherness and harmony.
So far, Lee has proved to be a better unifying figure and communicator than his predecessor, but greater tests lie ahead.