More than 95 per cent of some 230 Hong Kong schools polled have reported cases of students withdrawing over the past few months, with most furthering their studies in mainland China or overseas.

Last year's social unrest and the ongoing Covid-19 pandemic were cited as major reasons for the withdrawals, and 70 per cent of school heads worried more students would leave if the health crisis continued, according to the city's second-largest teachers' union, the Hong Kong Federation of Education Workers, which conducted the survey.

Classes at Hong Kong's schools have been suspended for nearly half a year since the coronavirus pandemic erupted in early February, only briefly resuming for one month before the summer break.

Most schools started the new academic year earlier this month with online lessons, while face-to-face classes are expected to resume in two phases from September 23 – though not for most of the 27,000 students who live across the border on the mainland, whose travel is still subject to quarantine rules.

Among the 231 kindergartens, primary and secondary schools surveyed from September 14 to 16, some 97 per cent, or 223 institutions, said there were students who withdrew from their schools between February and September.

Among them were 20 schools that reported 21 to 50 students withdrawing during the period, while 11 schools said more than 51 pupils withdrew.

On the reasons for withdrawal, 127 schools said students who left would pursue their studies on the mainland, while 74 said departing pupils would study overseas.

Of the 96 schools with cross-border students, 64 said some of the pupils had already withdrawn.

The schools surveyed included private and subsidised kindergartens, public schools and government-subsidised institutions that occupy a middle ground between public and private.

Federation chairman Wong Kam-leung said he believed many of the students withdrew because they were stranded on the mainland or overseas during the pandemic, while some might have left over parents' concerns about the city's political stability following last year's protests.

"After the social unrest happened last year … some schools were already facing the problem of student withdrawals. Even traditional elite schools are encountering a similar problem," he said.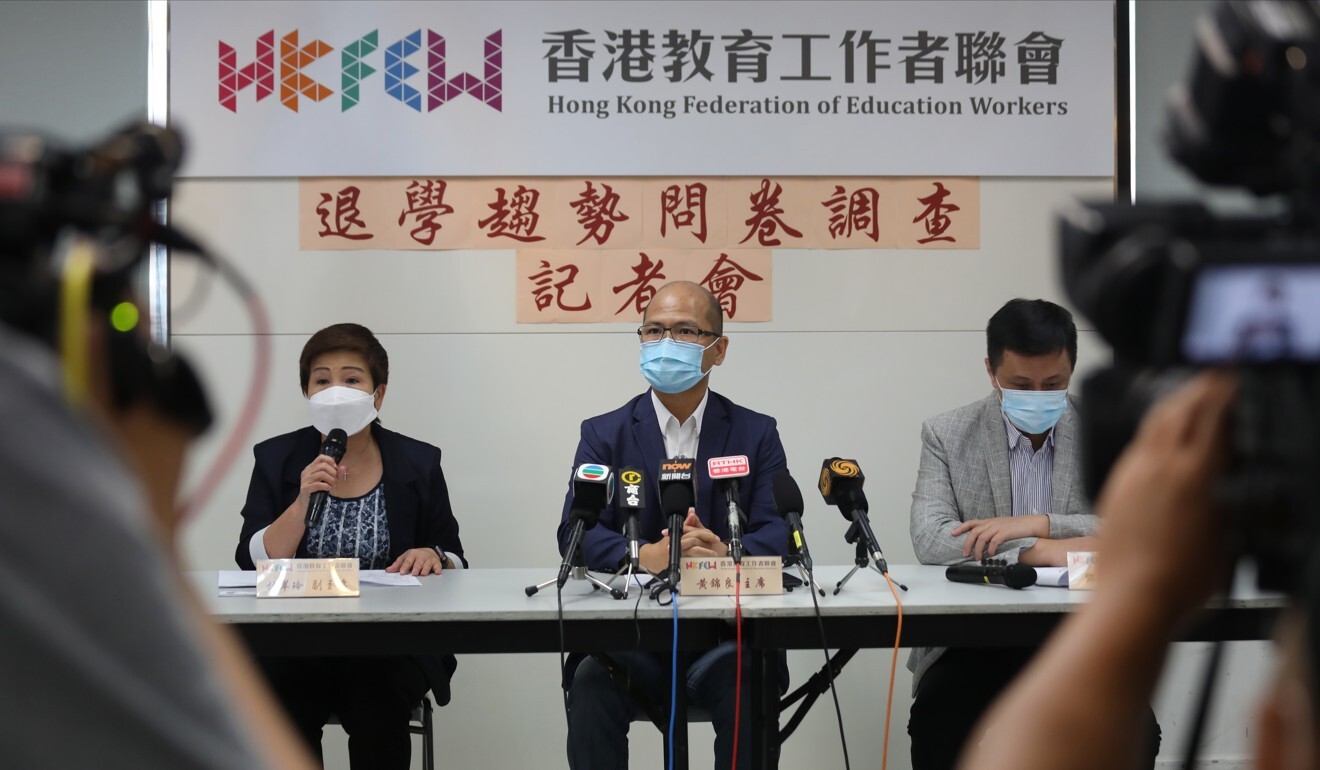 (From left) Vice-chairwoman of the Hong Kong Federation of Education Workers Nancy Lam, chairman Wong Kam-leung, and vice-chairman Lawrence Tang meet the press on Thursday.

Wong said for the dozens of schools with a significant number of withdrawals, operations could be affected the next academic year.

"For schools that see more than 50 pupils withdrawing in particular, there could be a reduction in the number of classes, which in turn could affect the stability of teaching posts. This could be a worrying situation for the education sector as a whole," Wong added.

Federation vice-chairman and secondary school principal Lawrence Tang Fei said the situation might lead to a trend of "musical chairs", with more students switching among schools.

"As elite schools may see students withdrawing for reasons like moving overseas, students from other local schools may then fill up the vacancies, which means we may be seeing a shift across the entire sector," Tang said.

Ninety-four respondents in the survey reported pupils switching to other local schools.

Dion Chen, chairman of the Hong Kong Direct Subsidy Scheme Schools Council, which represents 71 semi-private primary and secondary schools, told the Post that he had noticed a "slight increase" in student withdrawals this year, although the total number of students leaving was not big.

He added that since direct subsidy schools usually had a waiting list of pupils for admission, the impact on enrolment for them would not be significant.

But Chen said it remained to be seen whether the situation might worsen.

"The impact of the pandemic should already have surfaced … But there is still a chance more pupils might leave Hong Kong and move elsewhere, which we will continue to monitor."