This is the sixth instalment of a 15-part series looking back at the effects of the coronavirus outbreak one year after it first emerged in the Chinese city of Wuhan. Here, Robert Delaney looks at how, when Covid-19 emerged, the few American health specialists remaining in China were relegated to the embassy in Beijing, largely unaware of the new contagion. Please support us on our mission to bring you quality journalism.

Dr Jennifer Huang Bouey views the decade of US-China scientific collaboration between the Sars epidemic of 2002-03 and the final years of president Barack Obama's administration as "a golden age".

Cooperative efforts in those years helped control the spread of HIV in China, end the Ebola epidemic that threatened to spread beyond West Africa, and stamp out a bird flu virus in China called H7N9 by leveraging a surveillance system modelled on what the US Centres for Disease Control and Prevention had in place, as well as a vaccine developed domestically, which aided in the development of others elsewhere.

"You had the [US CDC] specialists sitting within the China CDC offices, just like they're all colleagues, walking from office to office, talking about epidemics," said the epidemiologist and Rand Corporation policy researcher, recalling her time in Beijing as a US government-funded scientist working on HIV prevention.

"That level of trust among scientists is often most helpful in the investigation about a phenomenon or thinking about a treatment or vaccine, or some of the strategies to fight emerging challenges," she said.

But the golden age of cooperation ended abruptly, and with it went an effective node of scientific partnership that might have at least slowed the spread of what was then called the novel coronavirus.

By the time the biggest pandemic in more than a century emerged in central China's major transit hub of Wuhan, the few US health specialists remaining in China after bilateral mistrust began building were relegated to the American embassy in Beijing, largely unaware of the new contagion that was filling hospital wards in the metropolis 1,000 kilometres (621 miles) to the south.

While Washington's intelligence community began warning the White House about Chinese espionage in 2011, the 2015 hack of the Office of Personnel Management (OPM), which delivered information on millions of federal workers to Beijing's intelligence units, prompted the Obama administration to begin drawing down the number of public health officials working directly with Chinese counterparts, said James Lewis, a former Foreign Service officer in the US State and Commerce departments.

"You had two different forces and the balance between them changed," said Lewis, who now leads the technology programme at the Centre for Strategic and International Studies (CSIS), a Washington-based think tank. "One was the desire for the scientific community to be able to work with their Chinese colleagues; the other was the desire of the national security community to trim back Chinese access.

"When the politics changed, the fact that the scientists were having a good time wasn't enough to keep things going."

The 40 or so representatives of the US CDC, Food and Drug Administration (FDA) and National Institutes of Health (NIH) working in China fell to just 10 by the time a comprehensive agreement on science and technology, signed in 1979 by Chinese leader Deng Xiaoping and US president Jimmy Carter, quietly lapsed in 2017.

That accord, which was renewed regularly, gave Chinese scientists the authority to share information with their US counterparts, said Jimmy Kolker, assistant secretary for global affairs at the US Department of Health and Human Services (HHS) during the Obama administration.

Beyond the value of having American experts on the ground in China as the outbreak was occurring and the information that might have made it back to US agencies, the severing of contacts also interrupted the supply of personal protective equipment that was in such short supply as the first wave of infections hit Seattle, New York, Los Angeles and other American cities in March.

"We reacted to Covid by sending everyone from China home, and in particular we sent home the NIH and FDA staff in China, and the FDA staff was particularly valuable for both medical and non-medical supplies," Kolker said.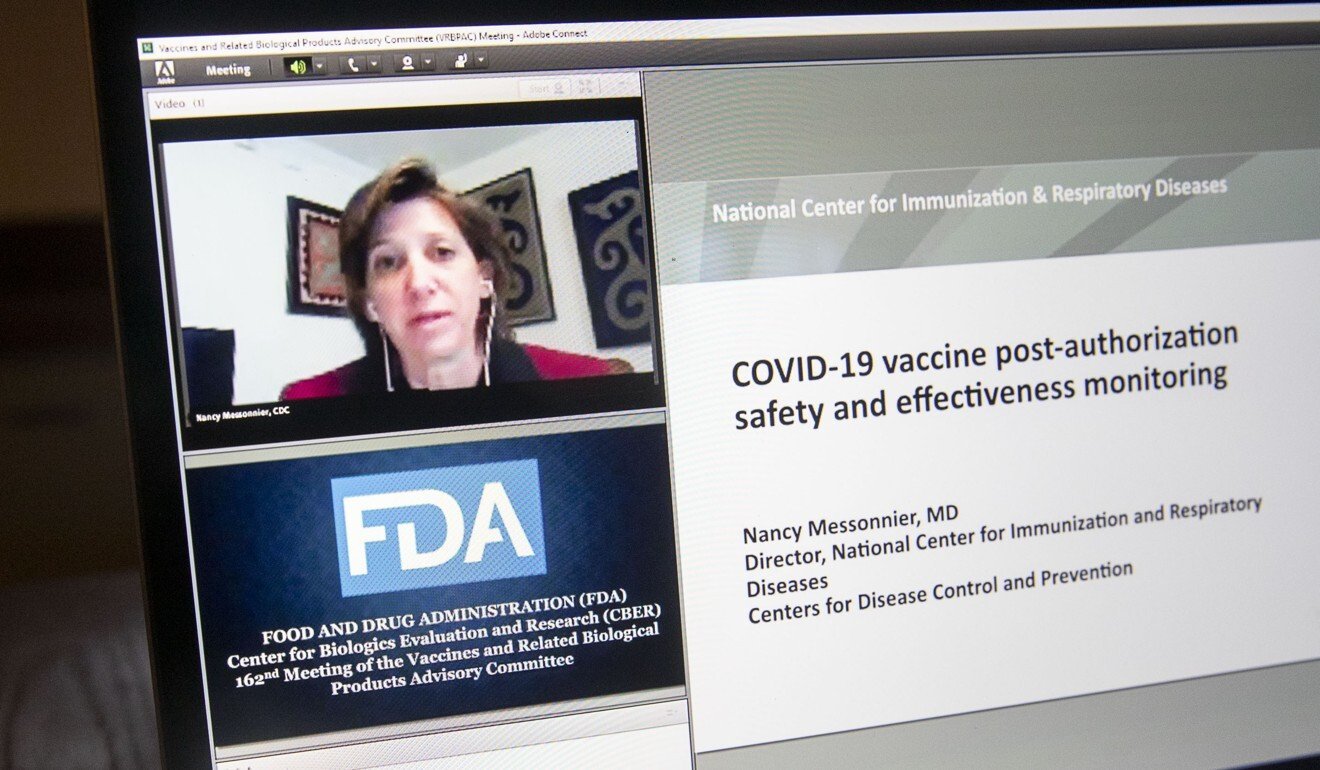 Dr Nancy Messonnier, director of National Centre for Immunisation and Respiratory Diseases, appears during a virtual public meeting of the US Food and Drug Administration on December 10.

About a year before Donald Trump became president in January 2017, the State Department reported about how the agreement improved the sourcing of these critical products.

The FDA "collaborated through strategic engagement with Chinese regulators of food and medical products, outreach to Chinese firms that export FDA-regulated products to the United States … enabling the FDA to enhance safety of imported food and medical products from China through better information sharing and access to production facilities", the State Department said in a congressionally mandated annual report issued in 2016.

It continued: "HHS has worked with China to establish commitments and collaborations with China to build capacity to prevent, detect and respond to global infectious disease threats and achieve successes such as joint efforts to respond to the Ebola outbreak in West Africa."

While the highly contagious nature of Sars2 made it unlikely that US and Chinese epidemiologists working together in China would have halted the coronavirus the way they did H7N9, "it certainly wouldn't have been harmful to have had additional early attention and additional expertise", Kolker said.

Huang Bouey agreed.

"I thought Covid would be an opportunity to walk back some of the confrontation," she said. "Having a common enemy should create an opportunity to work together, but the opposite happened."

However, while the missteps began in China, Covid-19's rapid spread through the US had little to do with Beijing's initial reluctance to acknowledge the contagion's virulence or a break between US and Chinese scientists.

As reported by Washington Post associate editor Bob Woodward in his book Rage, Trump, seeking to downplay the coronavirus threat, rejected the advice of advisers in January to make urgent preparations for a public health crisis as deadly as 1918's influenza pandemic.

The only precaution Trump took was to block non-American and non-US resident travellers arriving by air from China, even though infected passengers were arriving from other regions, including southern Europe, which was quickly becoming the pandemic's new epicentre.

In a harbinger, Trump put Vice-President Mike Pence in charge of a newly established White House Coronavirus Task Force, which essentially neutered the CDC in guiding the public health response, soon after Nancy Messonnier, director of the agency's National Centre for Immunisation and Respiratory Diseases, said in a press conference that Americans must "prepare for the expectation that this might be bad".

Around the same time, the US CDC insisted on developing its own diagnostic Covid-19 tests instead of using those approved by the World Health Organization (WHO). The FDA dragged its feet on approving qualified medical centres' use of tests they had designed themselves. A reliable CDC-made test was not available until March, when the disease was spreading quickly.

Within days, the pandemic's epicentre shifted to New York City, where intensive care wards began filling and daily deaths related to Covid-19 climbed into the thousands. Health care workers struggled with shortages of personal protective equipment. By late March, refrigerated trucks appeared on the city's streets, filled with bodies that morgues didn't have room to accommodate.

US caseloads began to decline in April after most states shut schools and non-essential businesses, but Trump and many state governors aligned with the president bristled at warnings from public health officials, including the NIH's Dr Anthony Fauci, that closures would need more time to stamp out the contagion.

While Trump and his allies insisted that the pandemic was under control, "the scientists were told to be quiet and the politicians were spinning the message in a way that was neither clear nor effective", Kolker said. "The scientists weren't allowed to actually release the data or talk directly to the public so that people could analyse their data and maybe draw better conclusions."

With a rallying cry that underscored Trump's concern about the damage that the lockdowns were inflicting on the economy and labour market, he and his supporters insisted that "the cure cannot be worse than the problem itself".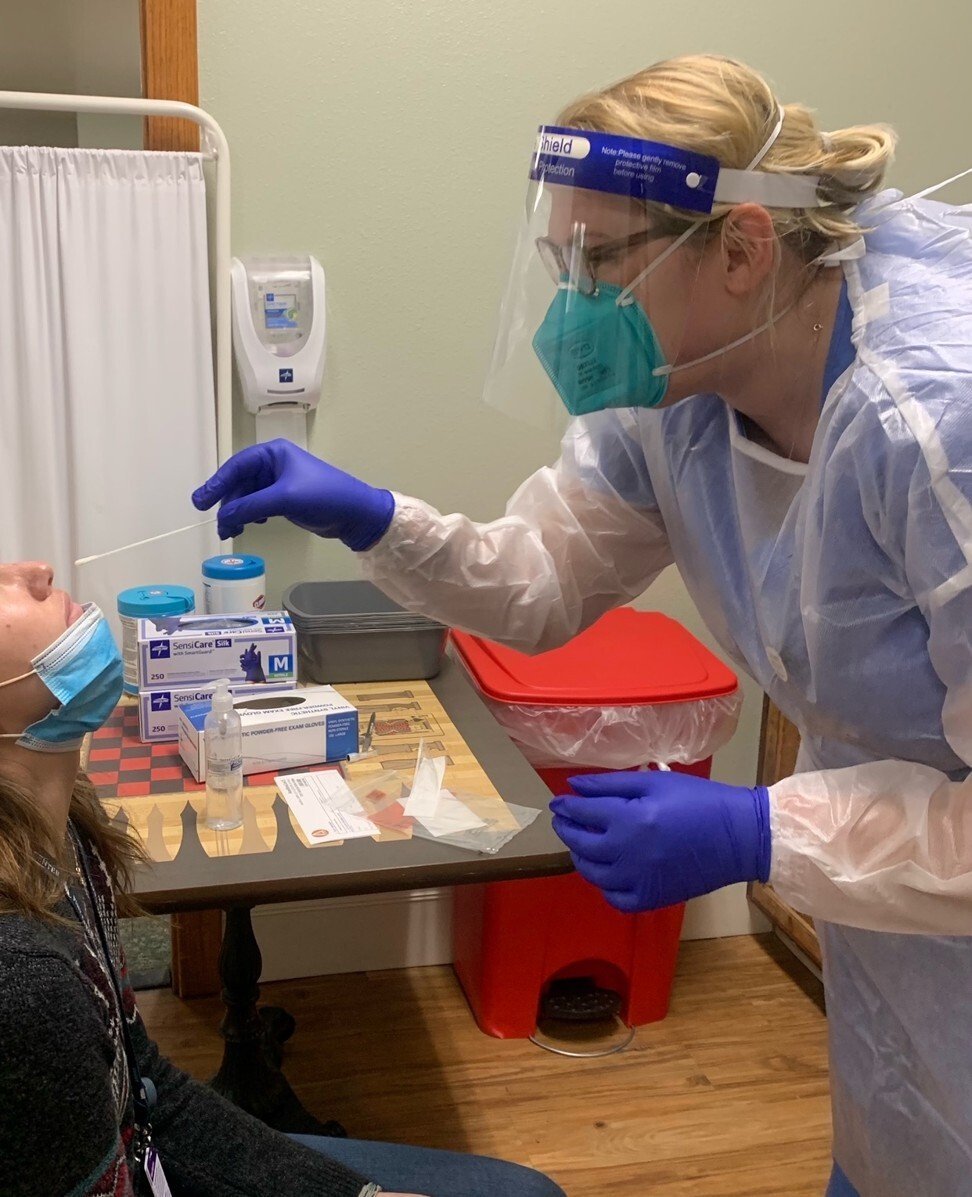 Kate Zaiger, assistant director of nursing at Plum Healthcare Group in Sacramento, California, administers a Covid-19 test.

With the general election just months away, the stand-off divided America between the mostly Republican camp that eschewed public health guidance including face masks and those – mostly Democrats, including Trump's challenger, Joe Biden – who respected Fauci's advice.

"It wasn't a knowledge deficit that drove US policy on Covid; it was a political decision," Lewis said.

Right-wing media commentators continued to push coronavirus denial, even after Trump and dozens of others who attended White House events tested positive for Covid-19.

The US political discourse around the coronavirus helped keep cases surging after many other countries, including those near the original epicentre of China, got their outbreak under control, said Kate Zaiger, assistant director of nursing at Plum Healthcare Group in Sacramento, California.

"Our ICU capacity is at 90 per cent, and we even have patients there that are saying: 'I don't know how this happened, this isn't Covid, it has to be something else because Covid isn't real,' and they're saying this because it's been politicised," Zaiger said.

Despite all of the public health resources at Washington's disposal, the US has reported more than 301,000 Covid-19 deaths and emerged as one of the worst-hit countries on several key metrics.

The extent to which Trump sowed distrust of Fauci and other public health experts has even prompted appointees of the president to speak up.

"There's a whole fringe of the population that listens to the president very carefully, and therefore he has an important role," Moncef Slaoui, head of the multi-agency Covid-19 vaccine effort called Operation Warp Speed, said on CNN on December 15. "I know he has been very supportive of the vaccine development, so I hope he will be, of course, as supportive of its usage."

Trump has garnered praise for one aspect of his handling of the pandemic.

US officials and analysts on both sides of the ideological divide credit him for the vaccine initiative, which awarded Moderna US$955 million to speed up its clinical trials and another US$1.5 billion to manufacture and deliver 100 million vaccine doses. On Friday, Moderna's became the second vaccine to be approved for emergency use, and shipments across the country began soon afterward.

On December 11, Pfizer gained the first FDA emergency-use approval for its vaccine, which it developed with Germany's BioNTech, though it didn't take federal money to do so. Pfizer had agreed in July to an advance-purchase deal that will pay it US$1.95 billion when 100 million doses are delivered in the US.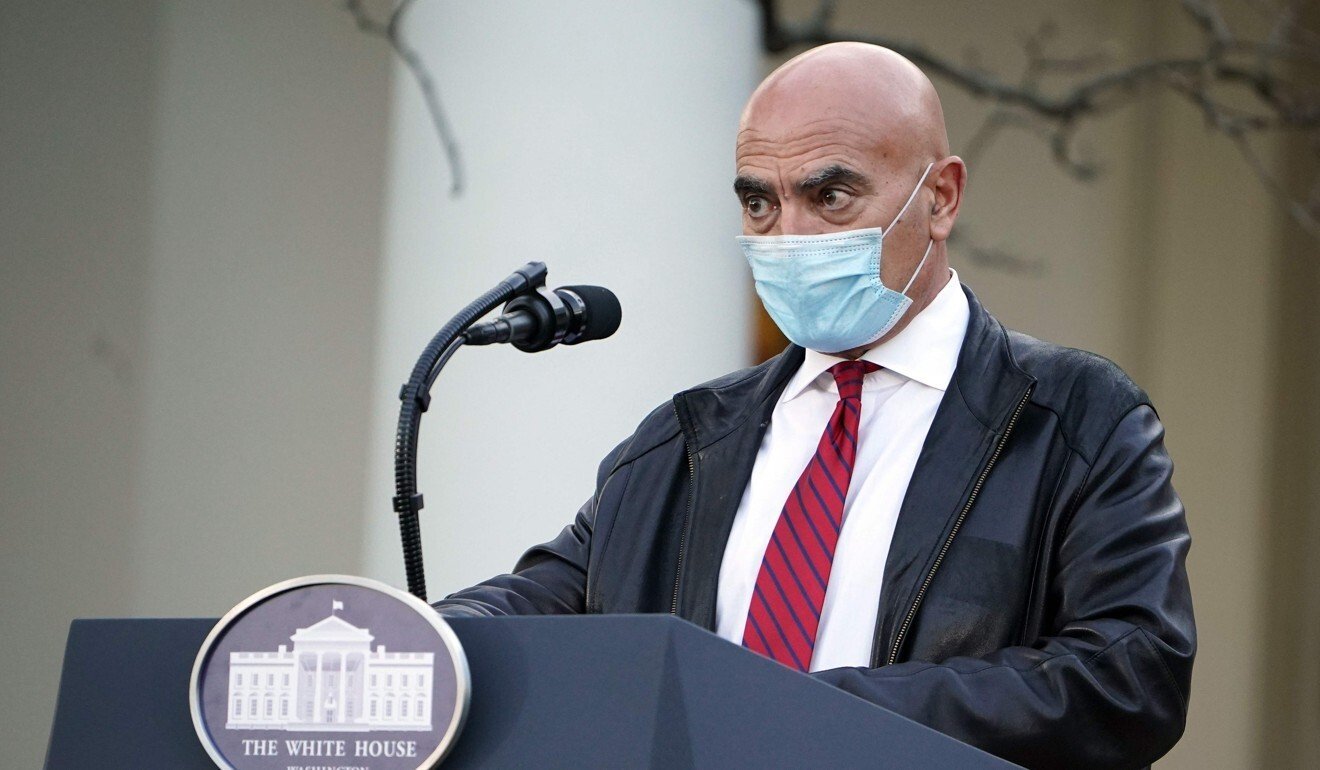 Dr Moncef Slaoui delivers an update on Operation Warp Speed on November 13.

"The biggest obstacle in creating a vaccine is not getting an effective vaccine. It's the funding, and with [the Trump administration] just pouring money into it, we were able to push it through at warp speed," said Zaiger.

Huang Bouey sees more light at the end of the tunnel with the incoming Biden administration, which she says will be more likely than Trump to restart dialogue on public health and pandemic preparedness.

"I really hope that there will be more collaboration between US CDC and China," she said. "We have to think about how to prepare to rebuild trust, at least in some areas, even if it's going to be much more complicated."

In the meantime, Zaiger and health care providers throughout the US will continue to battle Covid-19 and resistance to public health guidance until vaccinations turn the tide. As for the patients still in coronavirus denial, she has a tried and true approach.

"Keep them comfortable," she said. "They're going to be intubated at that point anyway, so they won't be able to argue with me."