Daily coronavirus infections rose for the third day in a row in Hong Kong on Sunday, with 20 cases recorded, as senior officials hinted at the possibility of reopening the city's borders if enough people were vaccinated.

The rising caseloads, from a low of eight cases on Thursday, followed a warning by top epidemiologist Professor Gabriel Leung, who said the reproductive rate of the virus – the number of people an infected person could pass Covid-19 on to – had risen for four consecutive days to 0.67.

"For some of the cases with an unknown origin, we can't be sure if they are related to Lunar New Year. But some patients have had gatherings over that period," said Dr Chuang Shuk-kwan, head of the Centre for Health Protection's communicable disease branch. "It's difficult to say if there is … a rebound. We still have to observe."

All but one of Sunday's cases were locally transmitted, with six of them untraceable. This took the overall local tally to 10,868, of whom 197 have died. More than 10 people tested preliminary-positive for the virus.

Four of the local cases related to the infection cluster at Caritas Lok Yi School, a special needs institution that has a total of five infections so far. The latest patients involved a student, a staff member, and two family members of students.

The staff member also worked at Hong Chi Pinehill School in Tai Po from the 13th to 15th of this month.

Describing the cluster as an outbreak, Chuang said some in the special educational facilities could not wear masks properly for a long time, and more than 80 students and staff from the two facilities would have to be quarantined.

Two members of staff also tested preliminary-positive, pending confirmation.

Sunday's untraceable cases also included the driver of a red minibus, number plate MB4143, who drove along Castle Peak Road between places such as Tsuen Wan, Kwun Tong and Jordan.

Urging passengers who had travelled along that route to come forward for testing if they had symptoms, Chuang said transmission could take place through the exchange of cash on the bus.

Earlier on Sunday, Secretary for Food and Health Professor Sophia Chan Siu-chee urged the public not to delay receiving the jab and get it done as early as possible to pave the way for the city's return to normality.

"For the good of yourself, your family and even the whole of society, I hope as many people can get vaccinated as possible so the overall benefit to the city is bigger," she told a radio programme.

"This way we can create better conditions for returning to normal life, economic recovery, travelling and reopening the border," she added.

Hong Kong received its first 1 million doses of the Sinovac vaccine last Friday, with the city's mass immunisation drive set to start this week. The BioNTech vaccines, co-developed by firms in Germany and the United States, will arrive in Hong Kong by the end of the month.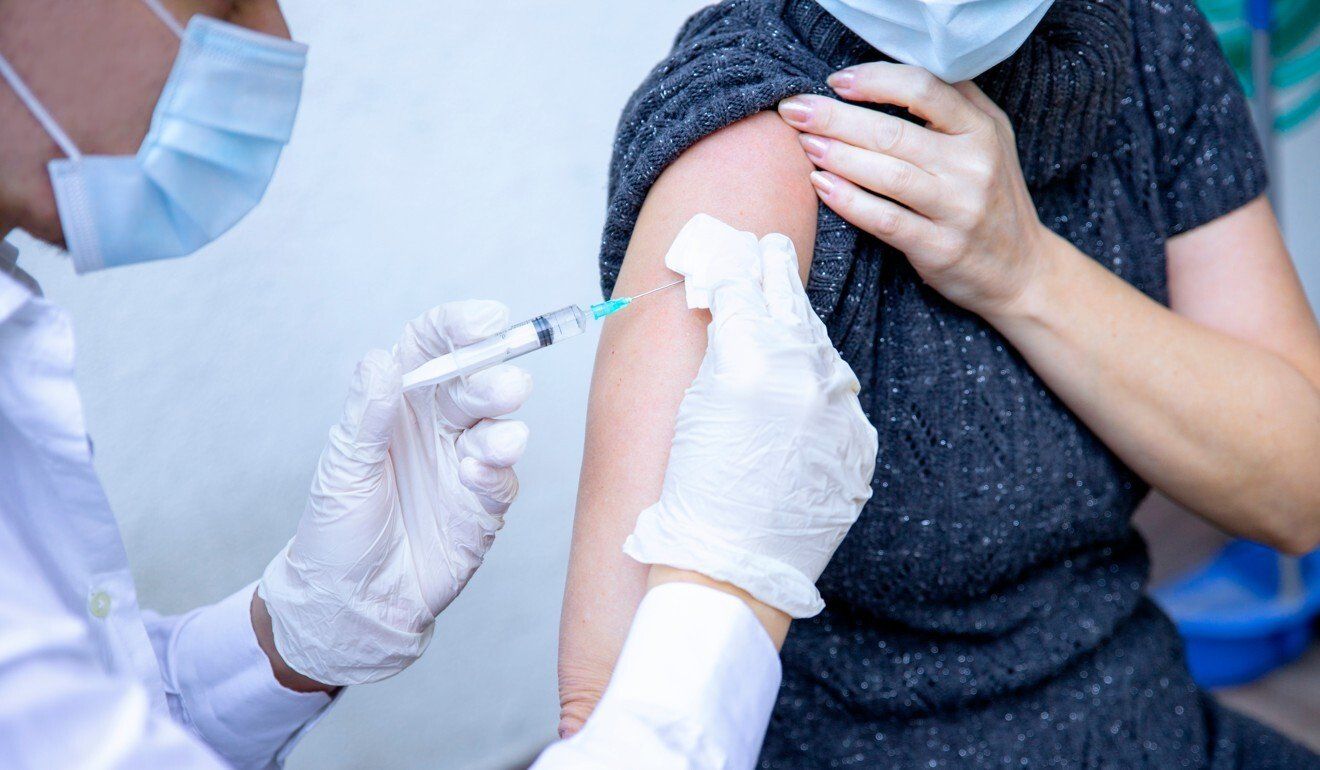 Hong Kong officials have repeatedly urged the public to get vaccinated.

Officials have repeatedly urged the public to get vaccinated amid doubts surrounding the mainland-produced Sinovac jab, which has an overall efficacy rate of about 62.3 per cent. By comparison, the BioNTech vaccine efficacy rate is about 95 per cent.

Leung, dean of the University of Hong Kong's faculty of medicine who advised the government on the pandemic and Covid-19 vaccines, sought to reassure the public that both jabs were "very safe".

Citing overseas data, he said the odds of having anaphylaxis or extreme hypersensitivity reactions such as a swollen face and mouth, and difficulty breathing, after being given the Sinovac and BioNTech jabs, were one and 4.7 in a million people respectively.

Leung said those with a history of strong reactions to drugs and medication should seek medical advice before taking the BioNTech shot.

The epidemiologist said the community inoculation centre run by his faculty would give the BioNTech shot, and he would take that vaccine as well.

Chief Secretary Matthew Cheung Kin-chung wrote in his Sunday blog that the Sinovac jabs would not only "strengthen Hong Kong's effort to control the coronavirus, but also help with the city's economic recovery and the return to normal life, as well as resume travel between the mainland and Hong Kong".

Calling the jabs a "shot in the arm" for Hong Kong, Cheung also urged residents to get the shots as early as they could.

Lawmaker and Executive Council member Jeffrey Lam Kin-fung said the local business community was pinning its hopes on the vaccination to help the economy and revive travel between mainland and Hong Kong.

"I have also suggested to the central government that Hongkongers who have been vaccinated should be allowed to enter China exempt from quarantine," said Lam, who is also a member of the National Committee of the Chinese People's Political Consultative Conference.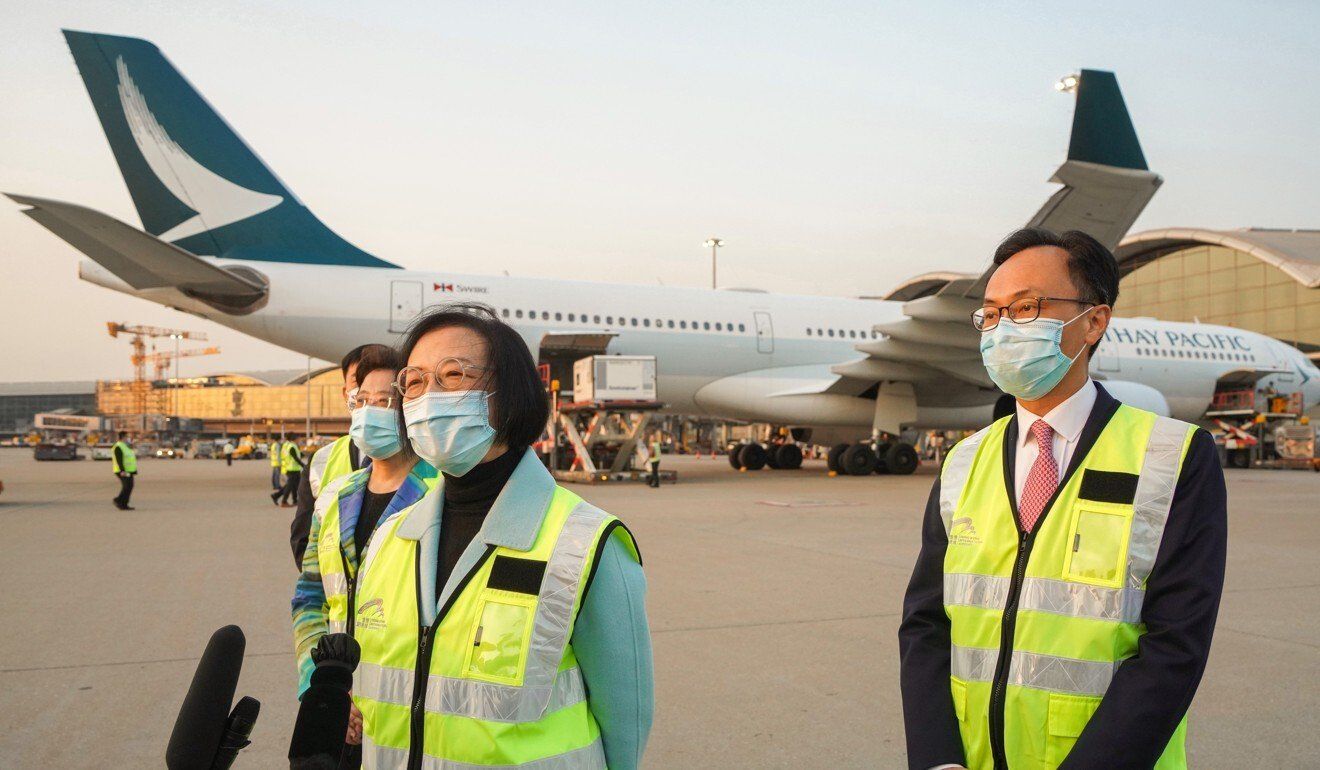 Containers carrying the Sinovac Biotech vaccines are unloaded from a Cathay Pacific flight at Hong Kong International Airport.

Meanwhile, Hong Kong and Singapore have resumed talks over a previously postponed travel bubble, which would have allowed residents from both places to travel between the cities without having to undergo quarantine.

On Sunday, lawmaker for the travel industry Yiu Si-wing said vaccinations might not be a prerequisite for the travel bubble as the shots were not widely available in either city yet.

But he said authorities could consider exempting those who had been immunised from having to undergo testing upon arrival.

He added Singaporeans travelling to Hong Kong might also be required to download the government's risk-exposure app while in the city.