Hong Kong's latest offering of inflation-linked bonds has been subscribed 3.9 times, attracting HK$38.9 billion (US$5 billion) in funds from investors enticed by their 2 per cent guaranteed return rate.

The strong response, which follows the suspension of Ant Group's highly-anticipated blockbuster initial public offering this week, makes the current batch
the third most popular in history. The bonds attracted HK$49.8 billion in overall principal value in 2012 and HK$39.6 billion in 2013.

The sale might offer some consolation to many investors who missed out on the expected windfall from Ant's IPO, after Chinese regulators halted the fintech giant's debut late on Tuesday. Local retail investors had poured in HK$1.3 trillion in bids for the Hong Kong leg of its dual listing.

About 460,000 people have subscribed for the current batch of iBonds, according to preliminary data from distributors, a Hong Kong government spokeswoman said. The subscription amount is 3.9 times the target amount of HK$10 billion and 73 per cent higher than the value recorded in 2016, she said.

"Because the value amount of subscriptions exceeded the target amount, it's predicted that the final issuance amount will rise to a maximum of HK$15 billion," the spokeswoman said, adding that the final result will be announced on November 12.


Past iBond subscriptions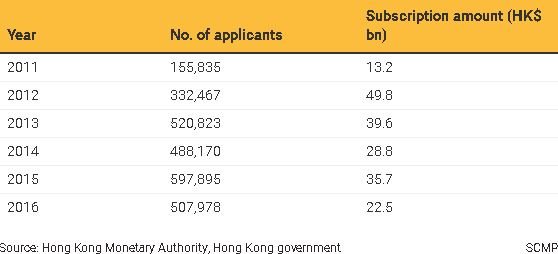 The increase in issuance will represent a 50 per cent hike over the HK$10 billion worth of bonds issued during each of the previous six instalments between 2011 and 2016.

Ant Group took orders from Hong Kong investors from October 27 to noon local time on October 30. Investors could bid for the inflation bonds from October 23 through 2pm on November 5. Ant announced the IPO suspension on late November 3.

Compared with bank deposits, the iBonds offer more attractive returns to investors seeking a low-risk investment instrument. Previous iBonds have paid out interest between 1.02 per cent and 6.08 per cent, superior than the 12-month deposit rate of about 0.15 per cent between 2011 and 2016.

The amount of subscriptions is, in fact, related to the iBonds' track record, said Alan Li, portfolio manager at Atta Capital. "People are comparing them with fixed deposits. The 2 per cent or above return is more attractive … it's regarded as another form of the government handing out money."


Past iBonds' performance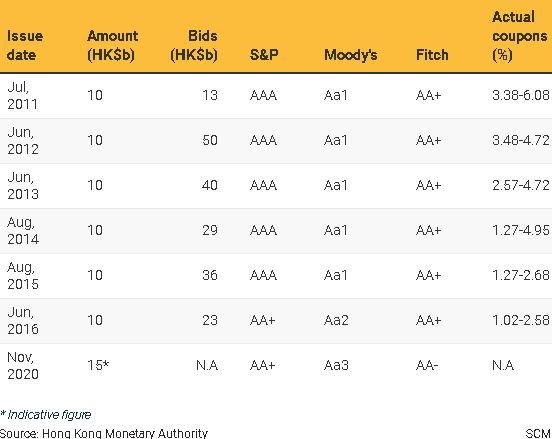 The guaranteed 2 per cent rate is appealing in a low-interest-rate environment globally, which is a result of huge liquidity injections by central banks in response to the Covid-19 pandemic. The Federal Reserve, for example, signalled it is likely to keep interest rates at near-zero levels through 2023, until the US economy reaches full employment again.

Interestingly, because of the increased issuance, the sale will allow the city to absorb more than a fifth of the HK$71 billion in cash it handed out to permanent residents under an economic stimulus package in July.

Subscriptions through electronic channels had soared, according to a number of banks and security distributors. They comprised 70 per cent of the total subscriptions at Bank of China (Hong Kong), 75 per cent at HSBC and 78 per cent at CMB Wing Lung Bank. BOCHK said on Thursday that overall subscriptions had reached a record high in terms of value, doubling since 2016.
Eroding spending power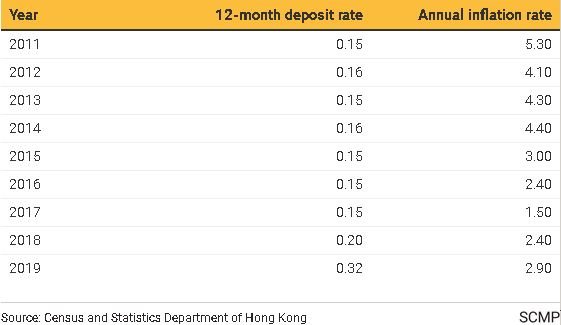 Bank of East Asia said total subscriptions had recorded decent growth compared with previous batches. "The subscription amount increased significantly through electronic channels – the performance was better than expected," it added.

"HSBC has seen a robust response to the latest iBond subscriptions," a spokesperson said. "The total value of subscriptions has almost doubled from 2016, along with a higher number of applications."

The average subscription value was HK$100,000 at CMB Wing Lung, which said the subscription value had also risen 1.8 times since 2016, while the number of subscribers was up 30 per cent.

Hong Kong's official forecast for average inflation between 2021 and 2024 is 2.5 per cent. Its benchmark, the Hang Seng Index, has, meanwhile, declined by about 8.9 per cent this year.