Financial Secretary Paul Chan tells forum that blueprint will map out direction for I&T growth for next five to 10 years.
A blueprint mapping out Hong Kong's innovation and technology development for the next five to 10 years will be unveiled before the end of December, the city's finance chief has revealed, while acknowledging more talent was needed to power growth in the area.

Financial Secretary Paul Chan Mo-po on Tuesday said the government would strive to create an "overarching ecosystem" for the I&T industry, promote collaboration among stakeholders such as the government, academia, research and development sectors, and make it easier to turn the results of groundbreaking studies into profits.

"We are working on a strategic plan or a road map that will set out the directions and objectives of Hong Kong's I&T development in the coming five to 10 years. We plan to roll it out within six months of this new government," he told a forum on regional innovation organised by the Our Hong Kong Foundation, a think tank founded by former city leader Tung Chee-hwa.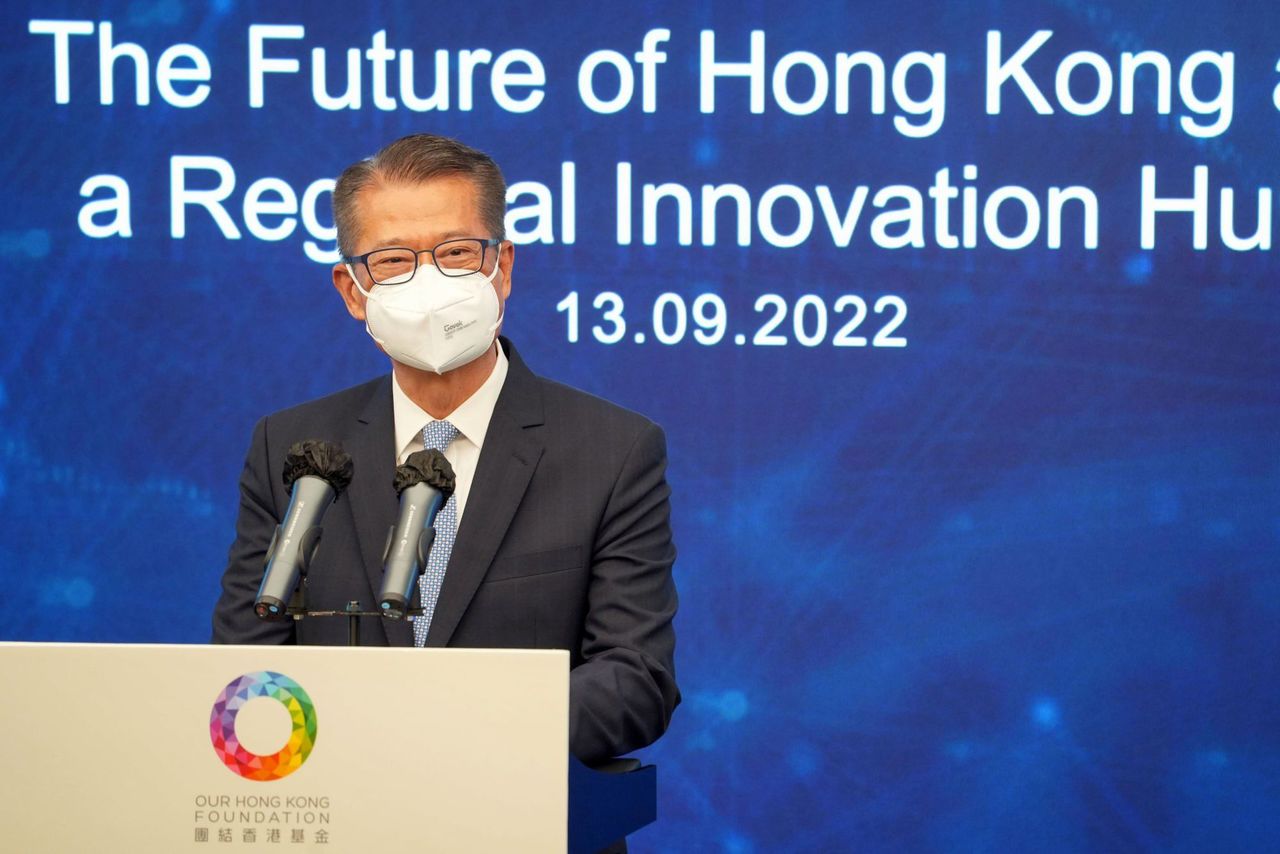 Financial Secretary Paul Chan delivers a speech at the forum.

Chan said the city's I&T development was on the right track, pointing to plans for the Northern Metropolis housing project along the border that would include a hi-tech cluster, the Hong Kong-Shenzhen Innovation and Technology Park and ongoing collaboration with neighbouring cities in the Greater Bay Area, Beijing's plan to unite southern cities into an economic powerhouse.

But the financial secretary admitted the city needed to attract more skilled professionals, whom he called the "most valuable asset for I&T". Hong Kong has been struggling to reverse a worsening brain drain that has sapped talent from a number of sectors, fuelled in part by the government's tough Covid-19 policies.

"Over the past month or two, in consultation sessions for the chief executive's policy address, we have fully heard the need for Hong Kong to attract more talents and strategic enterprises to come here to help power our whole I&T sector," he said, assuring that relevant measures would be rolled out to achieve the goal.

Chief Executive John Lee Ka-chiu will deliver his maiden policy address on October 19 and is under pressure to lay down steps to improve the economy, increase housing supply and better integrate Hong Kong into the national development plan.

During his visit to mark the anniversary of the handover on July 1, Chinese President Xi Jinping called on the new administration to turn the city into an international I&T hub, among other items on a to-do list drawn up for the chief executive.

At a separate event on Tuesday, Lee said his government was coming up with measures to bolster the momentum of development and revitalise growth.

"The government will promote the development of Hong Kong into an international innovation and technology centre, aim at the world's technological frontiers and give full play to its leading role in innovation and technology," Lee said.

Chan told the forum audience that the number of start-ups in the city had grown from about 1,000 in 2014 to more than 4,000 now, even as the pandemic undermined business and made collaboration difficult. Venture capital investment rose from HK$1.24 billion (US$157 million) to nearly HK$42 billion during the same time, while the number of people employed in the I&T sector rose by 30 per cent to more than 45,000.

Forum panellist Simon Loong Pui-chi, founder and CEO of WeLab, a fintech company based in Hong Kong, said ending quarantine for travellers would help attract professionals to the city.

Hong Kong currently has a "3+4" policy, which requires arrivals to spend three days in hotel quarantine and four more monitoring their health at home.

"Of course, I agree that opening up borders without quarantine is essential," Loong said. "But in between, while we're waiting for it, I think we need to be really good at doing transaction deals or chatting with talents virtually. We cannot wait for [quarantine-free travel] to happen, we need to take control of the situation."

Panellist George Lam, former chairman of Cyberport and co-chairman of Hong Kong Aerospace Technology Group, said the government was headed in the right direction by relaxing the quarantine rules from seven days of hotel isolation to the current "3+4" policy.

"We need a bit of patience with the government," Lam said.