Source who attended high-level meeting with city leader John Lee says government set to announce decision on Friday.
Hong Kong is expected to relax quarantine rules for travellers next week at the earliest after the city's leader was told in a meeting that more than 80 per cent of arrivals infected with Covid-19 tested positive on the fourth or fifth night of their week in isolation, the Post has learned.

But Chief Executive John Lee Ka-chiu had yet to decide whether the city should replace its hotel quarantine rule with a "4+3" or "5+2" plan, referring to varying number of days the isolation period could be served at home, said a government source who attended the meeting on Wednesday.

A final decision was likely to be announced on Friday and the relevant changes implemented next week, the insider said, adding it would take time to coordinate the changes with hotel staff and airport authorities.

Lee convened the meeting with government experts under a new, high-level command structure, and the health and innovation ministers attended the talks.

The government source said data presented at the meeting showed 80-90 per cent of infected arrivals tested positive on the fourth or fifth day of quarantine.

While the insider said he personally felt either combination of days would work, he quoted Lee as saying the numbers were "easy to ease but hard to be tightened".

Officials also hoped to ensure a smooth implementation of the policy change together with a new colour-coded health system linked to the "Leave Home Safe" app people must use to show their vaccination status to enter some public venues. The new system will identify infected people with a red QR code, barring them from public places, and those subjected to quarantine with a yellow one, greatly restricting their movements.

The source added Lee was also told in a meeting that the colour codes were ready to be rolled out.

Lee revamped the government's Covid-19 pandemic command structure last week, creating a Command and Coordination Group to be led by him and 13 task forces under it.

Health officials confirmed 4,547 coronavirus infections on Wednesday, including 226 imported ones, as well as four more deaths related to the virus. The city's Covid-19 tally stands at 1,362,664 cases, with 9,517 deaths.

Undersecretary for Labour and Welfare Ho Kai-ming was also among the newly infected, authorities announced. He did not have any recent travel history and last went to work on Tuesday.

Health authorities said the average proportion of cases of Omicron subvariants among local infections in the past week had reached 5.7 per cent for BA.2.12.1 and 4.8 per cent for BA.4 and BA.5.

Dr Chuang Shuk-kwan from the Centre for Health Protection said the proportion of these subvariants had risen to more than 7 per cent in the past two days.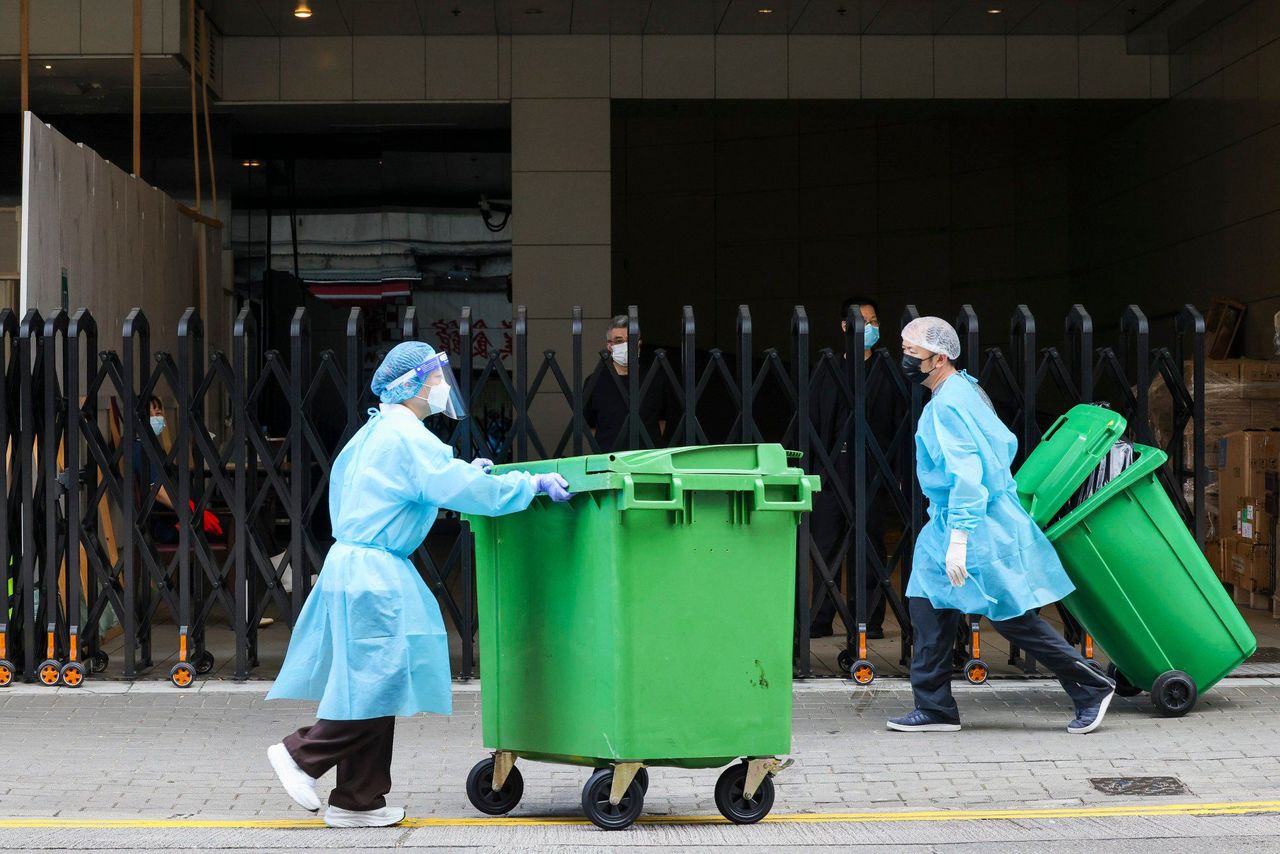 Workers with personal protective equipment (PPE) pushing rubbish bins outside the Marriott Hong Kong, one of the city's designated quarantine hotels.

About 360 hospital beds from private hospitals were earlier offered to the Hospital Authority as an effort to relieve strain on the healthcare system. Hospital Authority Chief Manager Dr Lau Ka-hin reported that 40 to 50 patients, mostly non-Covid-19 ones, had been transferred to private hospitals.

In his latest comments in an interview with pro-Beijing newspaper Ta Kung Pao, health minister Lo Chung-mau said the government's thinking was to "gradually extend" the yellow code to include close contacts who shared a residence with Covid-19 patients.

Meanwhile, William Chui Chun-ming, president of the Society of Hospital Pharmacists of Hong Kong advised against diluting the adult dosage of the German-made BioNTech Covid-19 vaccine for use on babies and toddlers, in response to a suggestion a day earlier by government health panels.

Authorities on Tuesday gave the green light for lowering the age threshold for vaccination to children as young as six months, with the Chinese-produced Sinovac jab available at normal doses from Thursday. Negotiations are under way for the BioNTech formula for younger children.

While the Sinovac vaccine has no variation in dosage across age groups, BioNTech jabs come in three tiers – an adult vaccine, a children's one for those aged between five and 11, and a toddler version for those from six months to four years old.

He added that while children's vaccines could be provided by extracting a smaller dose from the adult solution, any slight measurement error could influence effectiveness and side effects.

Chui urged the government to procure the BioNTech vaccine for toddlers in its exact formula and if that were unavailable, the dosage for those aged five and above as that would be easier to dilute to the right amount.

Chuang said the government was still in the process of procuring the BioNTech formula for children aged between six months and five years old.

Dr Patrick Ip, clinical associate professor in paediatrics and adolescent medicine at the University of Hong Kong, similarly called for authorities to provide the BioNTech toddler jab. He, however, assured the public also that the Sinovac vaccine was safe for younger children.