Thousands of Hongkongers flocked to Wong Tai Sin Temple on Friday for the first day of the Lunar New Year, though this year's search for blessings and good fortune came amid new crowd and infection control measures demanded by the coronavirus pandemic.

Many worshippers told the Post their wish for the Year of the Ox was simply good health and an end to the pandemic, while some said they planned to follow health authorities' advice in reducing the size of their celebrations and family gatherings this year to a small circle.

For contact-tracing purposes, visitors entering the temple – one of the city's largest – were asked to register using the government's contact-tracing "Leave Home Safe" app, their Octopus cards or manually with the help of temple volunteers.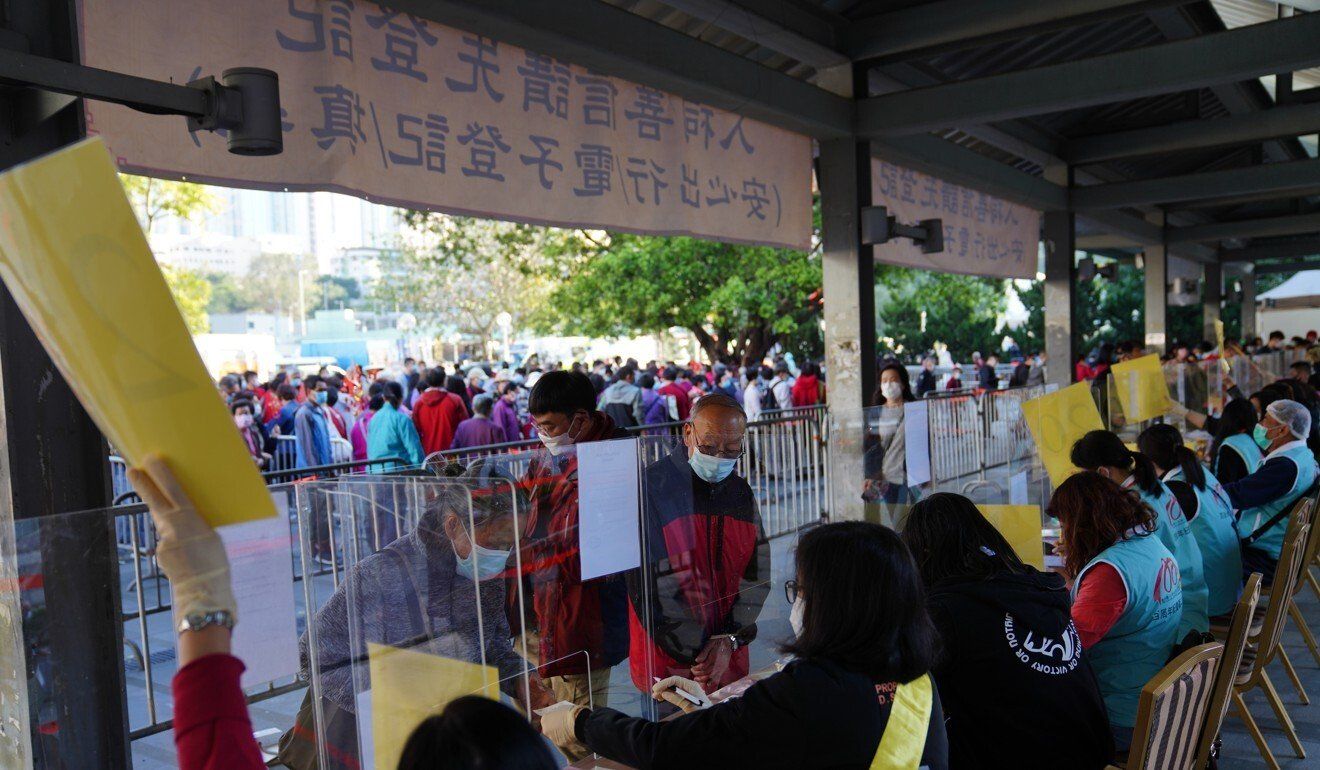 Worshippers registered for contact-tracing via a new government app, their Octopus cards or manually with volunteers at Wong Tai Sin Temple on Friday.

Worshippers were also required to have their temperatures screened and wear masks inside, while a one-way route was implemented so temple management could better track the number of visitors.

When the crowd inside reached 1,000, an alarm sounded and no one else was allowed to enter until the numbers had thinned.

Some worshippers arrived as much as an hour early to queue up and register their details before the temple opened to the public at 7.30am. Most on hand said the new procedures had gone smoothly, even with a number of people opting to manually register their details instead of using the app.

Worshipper William Wong, an accountant in his 30s, said he had prayed for the pandemic to pass soon and also for a promotion. He said while he and his wife typically paid a visit to Wong Tai Sin on New Year's Day, the holiday would be different in other ways.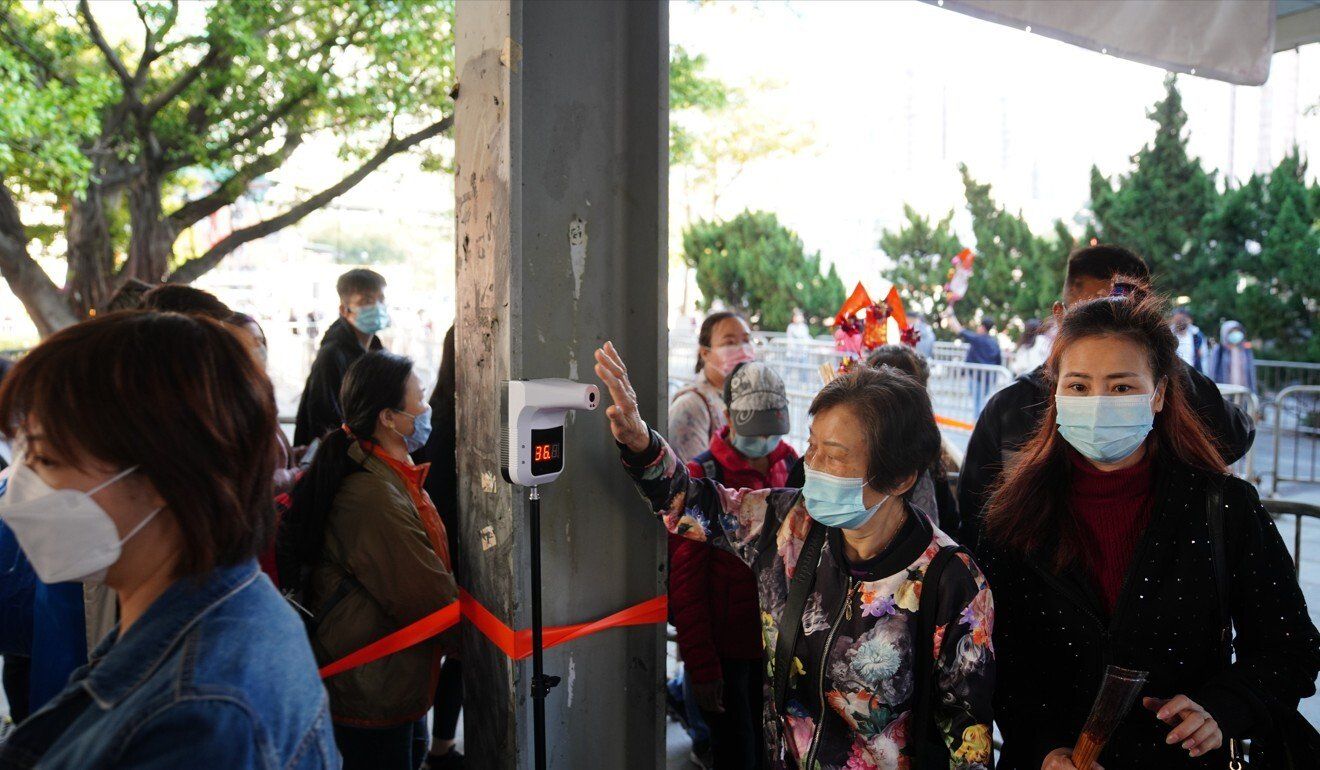 A worshipper checks her temperature before entering Wong Tai Sin Temple on the first day of the Lunar New Year.

"We don't plan to visit relatives for greetings this year, as some of them have asked us not to go. We may visit The Peak today as a family of five," said Wong, who has a one-year-old child. "Last year, we probably visited four or five relatives' homes."

Another worshipper, Fennie Mak, said her family planned to stay mostly at home during the Lunar New Year holiday, enjoying activities such as mahjong. Her brother and sister might also pay a visit, as she lives with her mother, who is in her 70s.

"We had a family reunion dinner on New Year's Eve that was limited to less than 10 people in the core family group," Mak said. "But we will be mostly staying home today, probably without visiting others for greetings."

For Form Four student Matthew Mak, his wish was to return to school and see improvements in his academic performance. "I hope that can happen as soon as possible, so that I won't need to stay at home for so long," the 16-year-old said.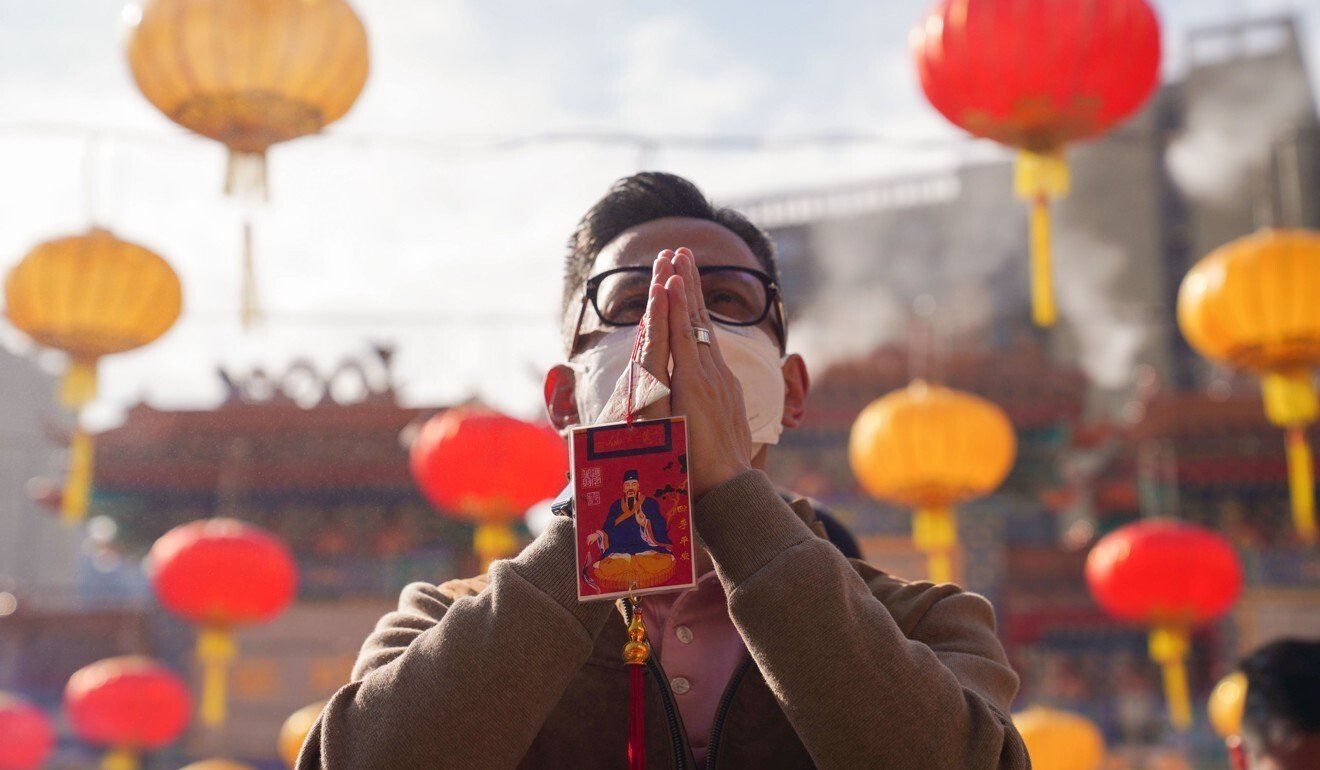 Prayers for health, business and academic success, and a swift end to the coronavirus pandemic were among those uttered Friday at Wong Tai Sin Temple.

In-person classes at Hong Kong schools were suspended in early December, with only small groups of students allowed to return for tests or lessons beginning last month. Schools will be allowed to bring back up to one-third of pupils in mid-February after the holidays are over.

University students Elise Ip and Bonnie So, both in their 20s, said they had prayed for the stock market to thrive and the pandemic to end during their New Year's journey to the temple.

"Hopefully we no longer need to wear masks," Ip said. "I also really hope to be able to travel outside Hong Kong again."

Both Ip and So said they spent the night before visiting a Lunar New Year market in Kowloon and playing board games with friends at their university dormitory, staying up all night before arriving at the temple at about 9am.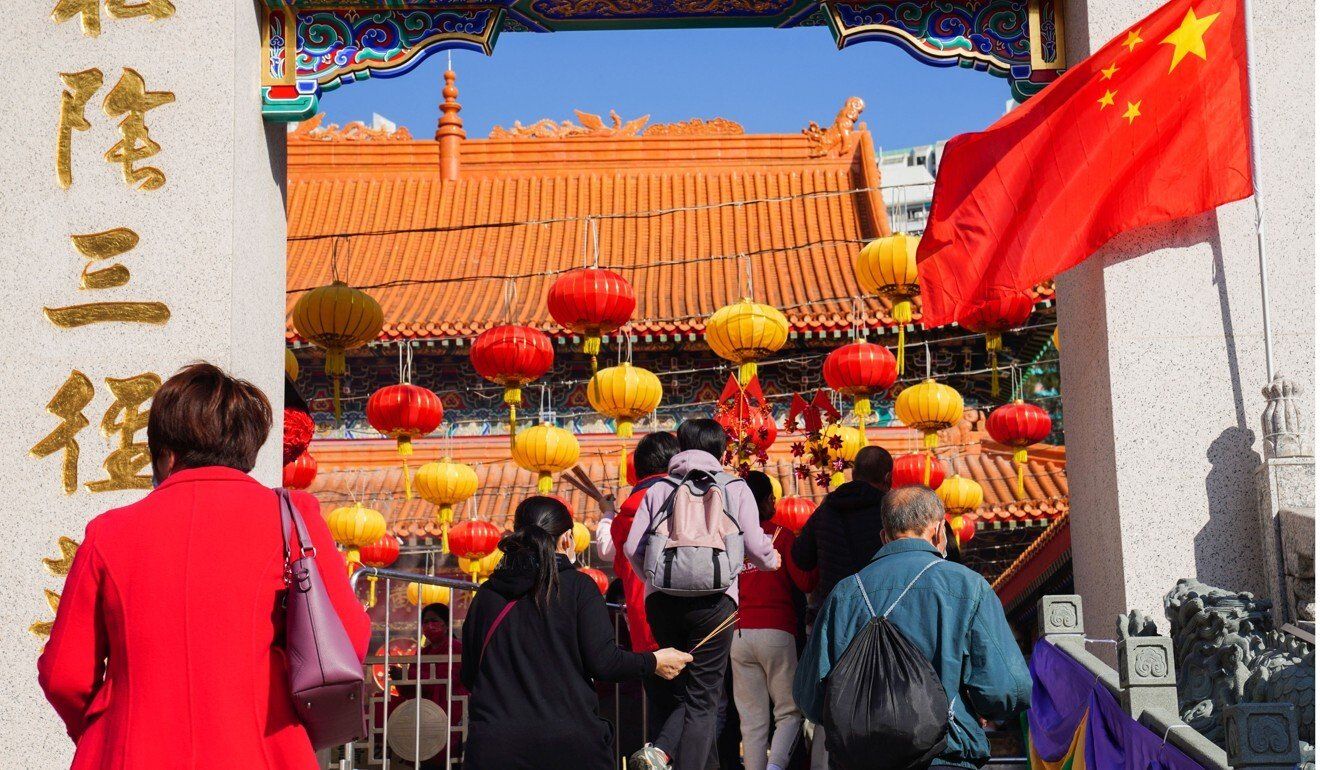 Management at Wong Tai Sin Temple created a one-way route for visitors on Friday to better track and manage crowds inside.

Police commissioner Chris Tang Ping-keung was among those who paid a brief visit outside the temple in the morning, meeting with officers stationed there.

The Taoist temple, operated by Sik Sik Yuen, this year for the first time in its 99-year history scrapped the annual tradition of burning the inaugural incense stick at the stroke of midnight on Lunar New Year's Day, an act that typically attracted tens of thousands of worshippers. Instead, it was replaced by a smaller ritual conducted by temple leaders and broadcast live online.

On Saturday, another annual ritual, the drawing of fortune sticks at the Che Kung Temple in Sha Tin, would also be closed to the public due to the pandemic, according to the Chinese Temples Committee.

The traditional dance of Qilin, a mythical hoofed creature, has also been cancelled to minimise contagion risk, while visitors will be asked to use the government contact-tracing app.