The Philippines' top diplomat in Hong Kong has urged the city's government not to force domestic workers to get vaccinated, arguing that if the new rules apply for them, then all foreign workers should be made to get inoculated.

Consul General Raly Tejada made his comments the day after the Hong Kong authorities announced plans to require all 370,000 domestic workers to get vaccinated before their contracts can be renewed. Those applying for work visas from overseas will also need to get vaccinated first, with details to be made public later.

The Hong Kong government has also ordered all helpers in the city to get tested before May 9, after two domestic workers were found to be infected with mutated strains.

"My consulate has been supportive of Hong Kong's free and voluntary vaccination programme and has actively campaigned for this," Tejada said. "However, our nationals need not be forced to take the vaccine since I believe that they are capable of doing the right thing.

"If vaccination becomes a provision to work in Hong Kong, then its application should be non-discriminatory and therefore must not only include [foreign domestic workers], but other non-resident workers who are similarly situated so that there is no feeling of being singled out."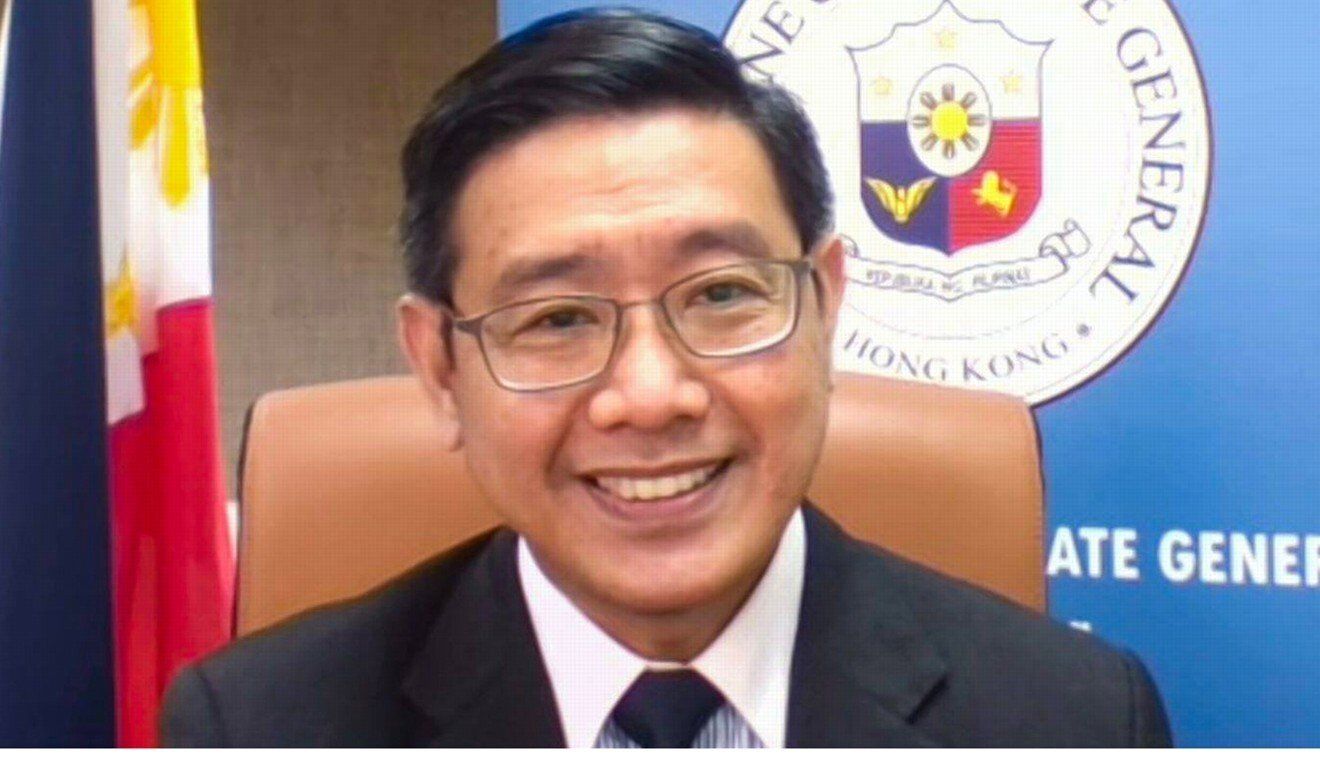 Philippine Consul General Raly Tejada in Hong Kong.

The top diplomat said his office was not "directly consulted" on the new measures.

"It would have been better if concerned consulates like the Philippines, Indonesia and other countries … were consulted on this matter as it involves the substantive rights of our nationals," he added.

Tejada said vaccination was currently not a contractual obligation for any non-resident workers in any sectors.

Hours before the top diplomat made his remarks, Hong Kong's health minister, Professor Sophia Chan Siu-chee, said officials did not intend to "label any specific groups". She hoped the public understood that the measures were simply aimed at reducing the risk of infections in the city.

"Any further outbreak would be detrimental to the current situation in Hong Kong," Chan said. "In order to protect the health and safety of people in Hong Kong, I think the prevention and control measures including compulsory testing, including quarantines and additional number of tests coupled with the stringent border control measures are really something we have to move ahead with."

On who should be held responsible if helpers fell ill after getting the jabs, Chan said the Labour Department would clarify that in due course.

A source has said domestic workers will be asked to get vaccinated before they enter Hong Kong in the future, although officials have not yet announced any details.

Asked about this on Saturday, the minister said if some workers really could not get their jabs before flying to the city, the authorities would look into vaccinating them after they arrived.

Sringatin, chairwoman of the Indonesian Migrant Workers' Union, said a major problem was that the Indonesian government has not given priority vaccinations to the migrant workers before they leave the country. The Hong Kong government must also not ask the workers to pay for the jabs, she added.

Dolores Balladares, chairwoman of the United Filipinos in Hong Kong migrant rights group, accused the government of creating the perception that the city's helpers were coronavirus carriers.

Balladares said she had already heard of locals refusing to share tables with helpers, following Friday's announcements.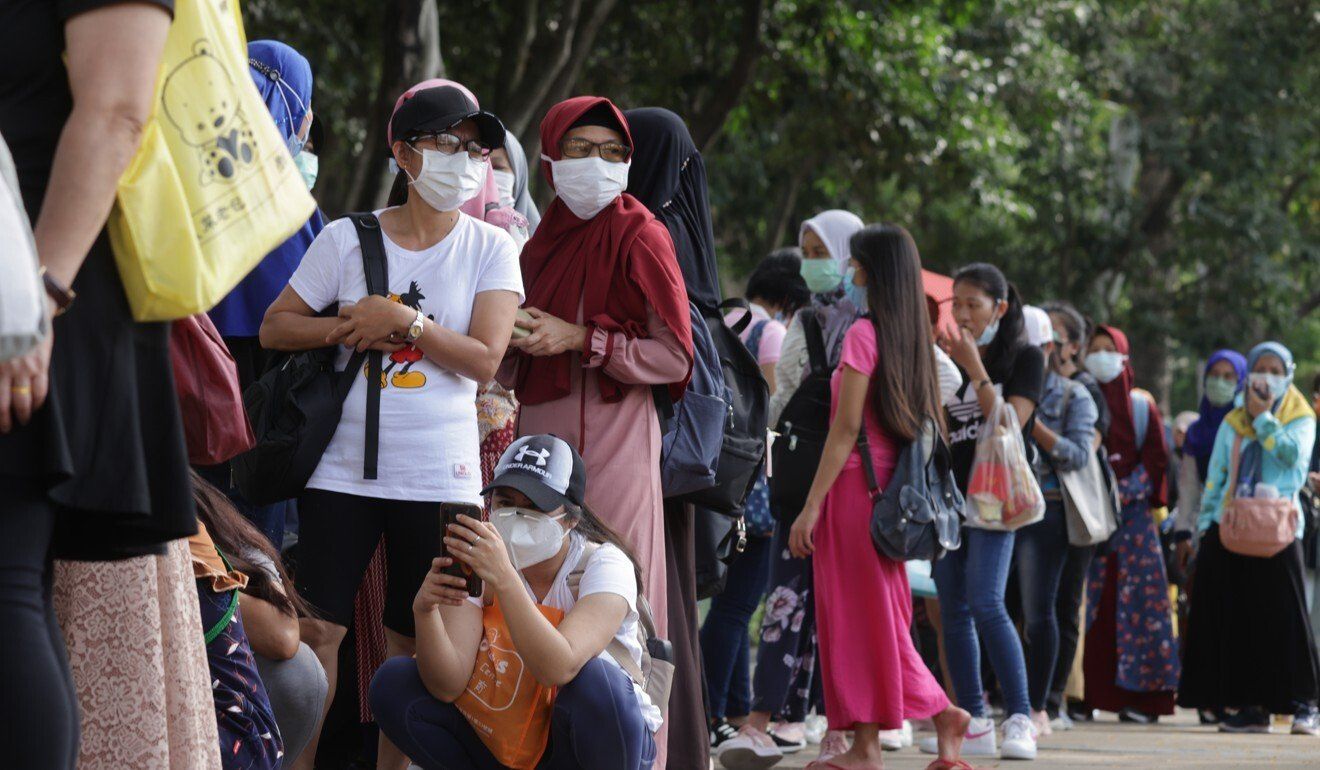 Domestic helpers queue up for Covid-19 tests service at Causeway Bay.

"The government has unfairly blamed the workers for the spread of the virus," she said. "How come the government didn't test every [gym member] when there were clusters?"

Betty Yung Ma Shan-yee, chairwoman of the Hong Kong Employers of Overseas Domestic Helpers Association, said some helpers may not want to get the jabs if they were old or have chronic illnesses.

"If the government must require these people to get vaccinated, then it must arrange body checks for them first to see if they are fit to do so," she said.

Employers were concerned they could be held responsible if their helpers fell ill after getting inoculated, she added. In those cases, Yung said, the government must make clear if getting ill in that instance would be classified as a work injury, and require employers to pay compensation.

Cheung Kit-man, chairman of the Hong Kong Employment Agencies Association, said that while some helpers were not willing to get vaccinated because of concerns over the potential side effects, he believed most would eventually do so to keep their jobs.