Hong Kong should stick close to the economic development model laid out by President Xi Jinping, the city's financial chief has said, amid forecasts that US policy towards China will remain the same no matter who becomes the next American leader.

Financial Secretary Paul Chan Mo-po noted the Chinese economy recovered at the fastest pace in the world amid the Covid-19 pandemic, adding it was important the city seize on the opportunities provided by the Greater Bay Area plan to benefit from the country's domestic market-focused "internal circulation" strategy.

With the US presidential election looming on Tuesday, Chan told a Saturday radio programme it was uncertain if the election results would change the country's diplomatic and economic policies.

"But there is one point that seems to be quite clear. When we talk to various business friends and think tanks, they all share with us that they feel no matter who is elected as the next US president, the general direction on China policy will not change," he said.

"That means the complex and unfavourable environment will continue … If [the Hong Kong economy] faces obstacles [in its exchange] with Europe and the US, then it's very natural that we have to stay closer to the economic development on the mainland."

In May, as the country's bilateral ties with the US deteriorated, Xi introduced a new economic strategy that relied more on domestic sectors. The strategy focuses on internal circulation – a domestic production and consumption cycle supported by innovation. Trade with other countries and regions, or external circulation, meanwhile, is regarded as secondary for economic growth.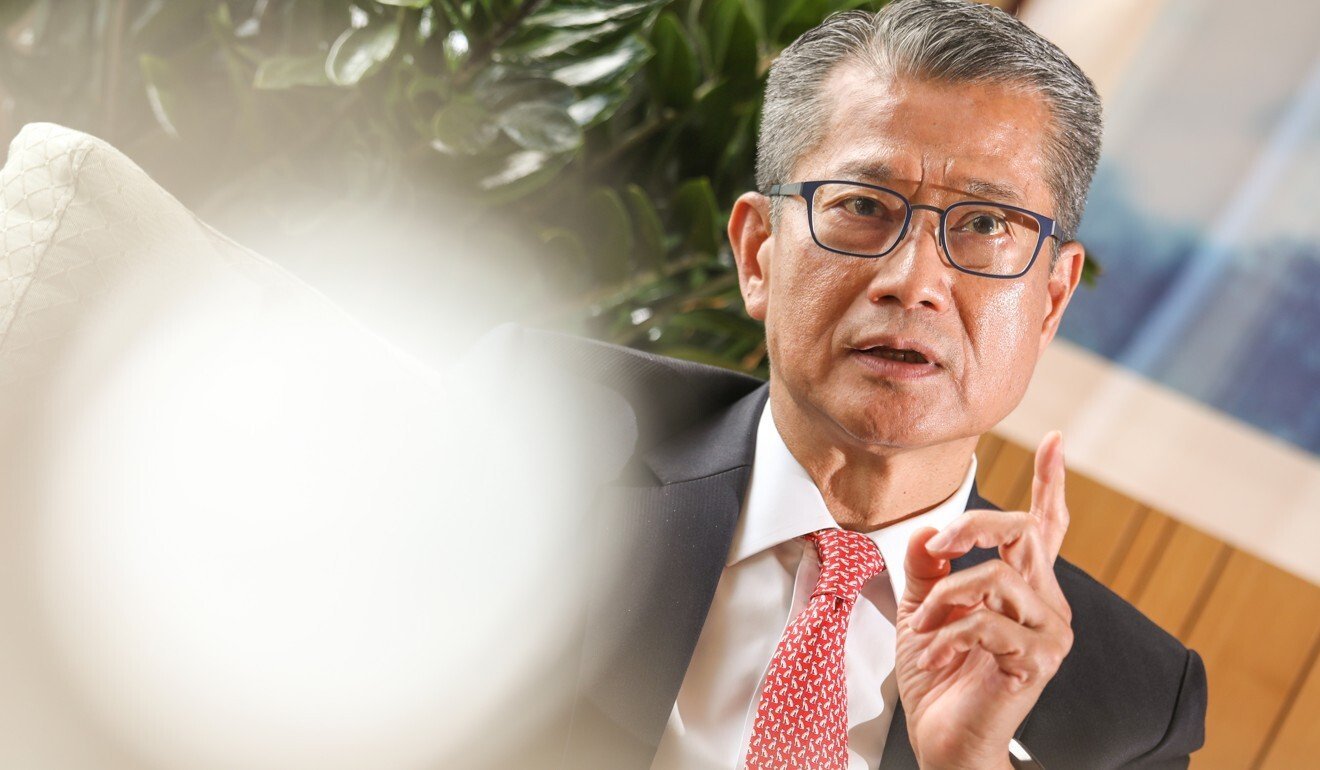 Financial Secretary Paul Chan says Hong Kong can cooperate with mainland cities in areas such as medicine and artificial intelligence.

Chan said believed the strategy would focus on innovation, self-strengthening and technological autonomy.

He noted the city had strengths in such areas as medicine and artificial intelligence, and could cooperate with other cities such as Shenzhen and Dongguan on these, adding that Hong Kong's high-end service industry was also good.

"The Greater Bay Area is an entry point for us to hook onto the mainland's internal circulation," he said, referring to Beijing's blueprint to link Hong Kong, Macau and nine Guangdong province cities into an integrated economic and business hub.

The important thing in the near-term was to strive to ease border restrictions as soon as possible, he added.

Chan said Hong Kong authorities were working with their Shenzhen counterparts to build an innovation and technology park in Lok Ma Chau Loop, while hoping that the land for building facilities there would be ready as early as 2022.

On Friday, official provisional data showed Hong Kong's economy shrank by 3.4 per cent for the third quarter year-on-year. While an improvement from the 9.1 per cent and 9 per cent declines registered in the first and second quarters, respectively, it was also competing against the significantly lower bar of a 2019 third quarter plagued by the explosion of social unrest.

"Hong Kong's economy is consolidating itself at a low ebb," Chan said.

But he said the city's recovery would depend on its pandemic situation, while improvements in consumption activities and the mainland's economic situation were other key factors.