Less than one-tenth of private family doctors in Hong Kong have obtained oral Covid-19 pills from the government, officials have revealed, with the overall number of patients prescribed the medications by such practitioners in the single-digits.

The data was publicly revealed on Saturday, a day after Dr Owen Tsang Tak-yin, chairman of the Hospital Authority's infectious disease task force, said private medical clinics had reported only prescribing molnupiravir and Paxlovid to a small number of patients.

Tsang did not provide the exact figure but said it was in the single-digit range.

However, private practitioners have attributed the low number of prescriptions to the recent decline in coronavirus cases.

"No new Covid-19 cases came for consultation. As we have passed the peak of the epidemic, the chance of seeing Covid-19 patients is also smaller," said Dr Lam Wing-wo, a private practitioner who runs his own clinic.

Lam, who obtained 15 courses of oral Covid-19 drugs from the government last week, said he had not yet prescribed any of the medications to his patients.

As of Friday, about 250 of the city's 3,000 to 4,000 private family doctors had obtained the pills from health authorities since the medications were made available to the private clinics on April 11, according to the Centre for Health Protection.

"They will have to consider if their clinics have sufficient space, good ventilation and well-protected medical staff. If they meet these criteria, the doctors will also have to join the Electronic Health Record Sharing System in order to get Covid-19 oral pills," said Dr Gabriel Choi Kin, the president of the Hong Kong Medical Association.

According to the official website for the record sharing system, about 3,889 private clinics are currently listed as participants in the initiative.

The association president said speeding up the distribution of the pills would not be necessary as coronavirus cases continued to decline. Choi added that enlisting private doctors' help to vaccinate residents would be a more effective way of combating Covid-19.

"The government should encourage more doctors to participate in the vaccination scheme and provide them with more vaccines to help them do their job," he said.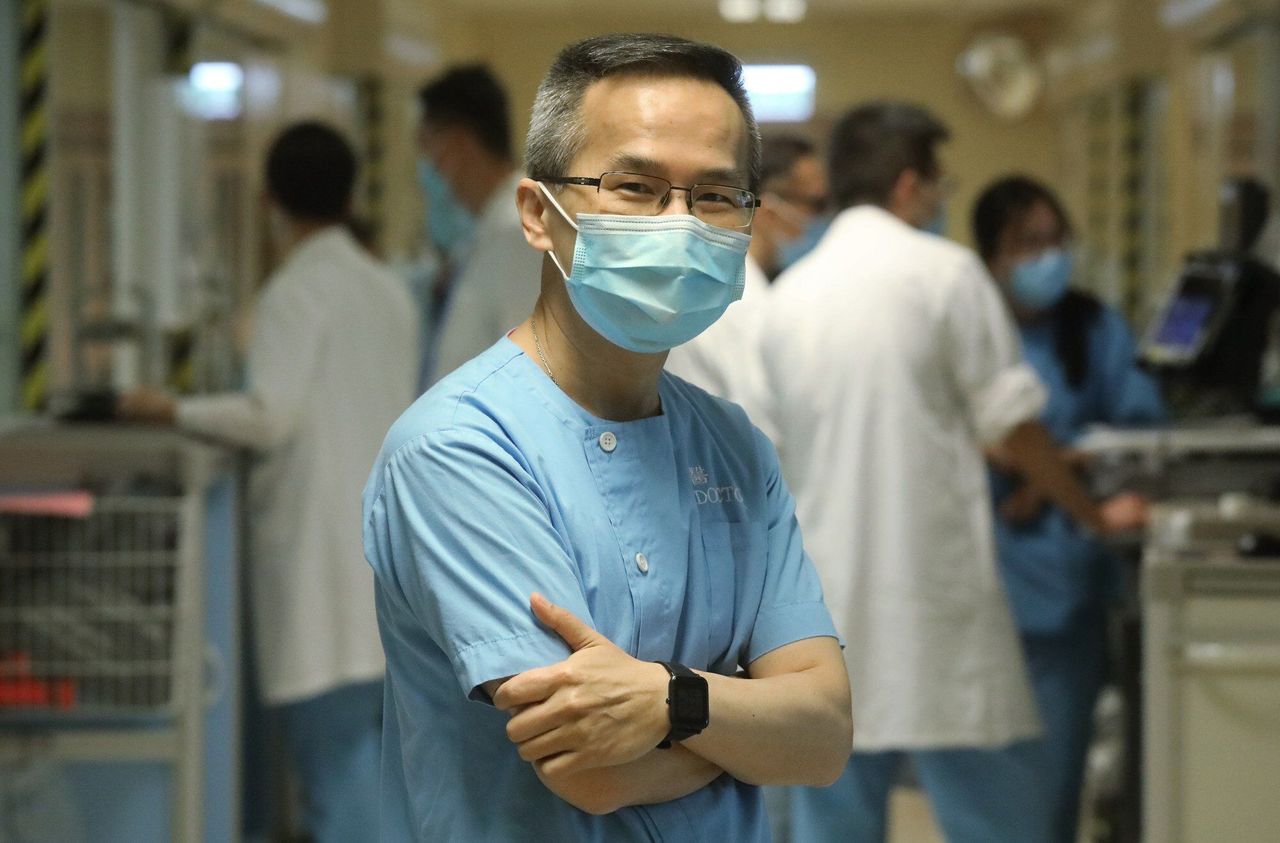 Dr Owen Tsang, chairman of the Hospital Authority's infectious disease task force.

With the number of infections falling, Dr Henry Yeung Chiu-fat, the convenor of a coronavirus task force under the Hong Kong Chinese Medical Association, said he had only prescribed Covid-19 oral pills to one elderly patient since collecting the medications more than a week ago.

Many patients visiting Yeung's clinic consisted of those experiencing long-term symptoms after recovering from the virus, instead of recent cases, he said.

However, Lam and Yeung both said the current arrangements allowing private doctors to obtain the Covid-19 oral drugs should still be maintained.

"Now there are sufficient medications and so we are on standby mode. We don't know when there will be patients [in need]," Lam said, noting the arrangement would allow private doctors to treat patients if cases surged or if there was a new coronavirus wave.

Yeung said private doctors often had closer relationships with their patients and could offer residents a more convenient way of accessing medical help.

"[Designated government clinics] are usually not familiar with those patients. It could also be difficult for people to book sessions at those clinics too," he said.

Lam said he was already making plans to separate patients with Covid-19 from those with other conditions at his clinic.

A possible approach would be requiring coronavirus patients to make appointments in advance and separate their consultation sessions from other visitors, he said.

The private practitioner said Covid-19 patients would also be asked to wear two masks and wait outside the clinic if their condition allowed.

A second option would be conducting remote appointments for certain cases, such as those with mild symptoms, residents deemed high-risk or people who had been previous patients at the clinic, Lam said.

On Friday, Tsang said the use of molnupiravir and Paxlovid had reduced the percentage of Covid-related deaths in the city by 43 per cent and 79 per cent, respectively.

According to recent data from Princess Margaret Hospital and North Lantau Hospital Hong Kong Infection Control Centre, the fatality rate among patients taking molnupiravir was 4.6 per cent, compared to 8 per cent of those who did not receive the medication.

The two hospitals also reported a fatality rate of 1.2 per cent among patients treated with Paxlovid, with the figure reaching 5.9 per cent for cases who did not take the drug.

However, Tsang noted that some coronavirus patients had waited too long before consulting doctors to receive the medication.

Between March 18 and April 14, 60 per cent of Covid-19 patients were deemed unfit to receive either of the medications as more than five days had passed since they first began exhibiting symptoms or their medical condition was too serious.

At designated clinics under three Hospital Authority clusters, the figure was even higher, with 65 per cent of patients unable to be prescribed the medications because their symptoms had lasted too long.