Chief executive warns media workers that no one is above the law and everyone needs to fulfil their civic responsibility.
Hong Kong's leader has urged journalists to stay away from "camouflaged media" and bad apples in the industry that have carried out illegal acts while reminding them to tell the city's stories well.

While stressing press freedom was protected under the Basic Law, the city's mini-constitution, Chief Executive John Lee Ka-chiu said "no one is above the law".

"Journalists are responsible for reporting the truth in an objective, fair and impartial manner," Lee said at a reception organised by the city's news industry on Thursday ahead of National Day on October 1.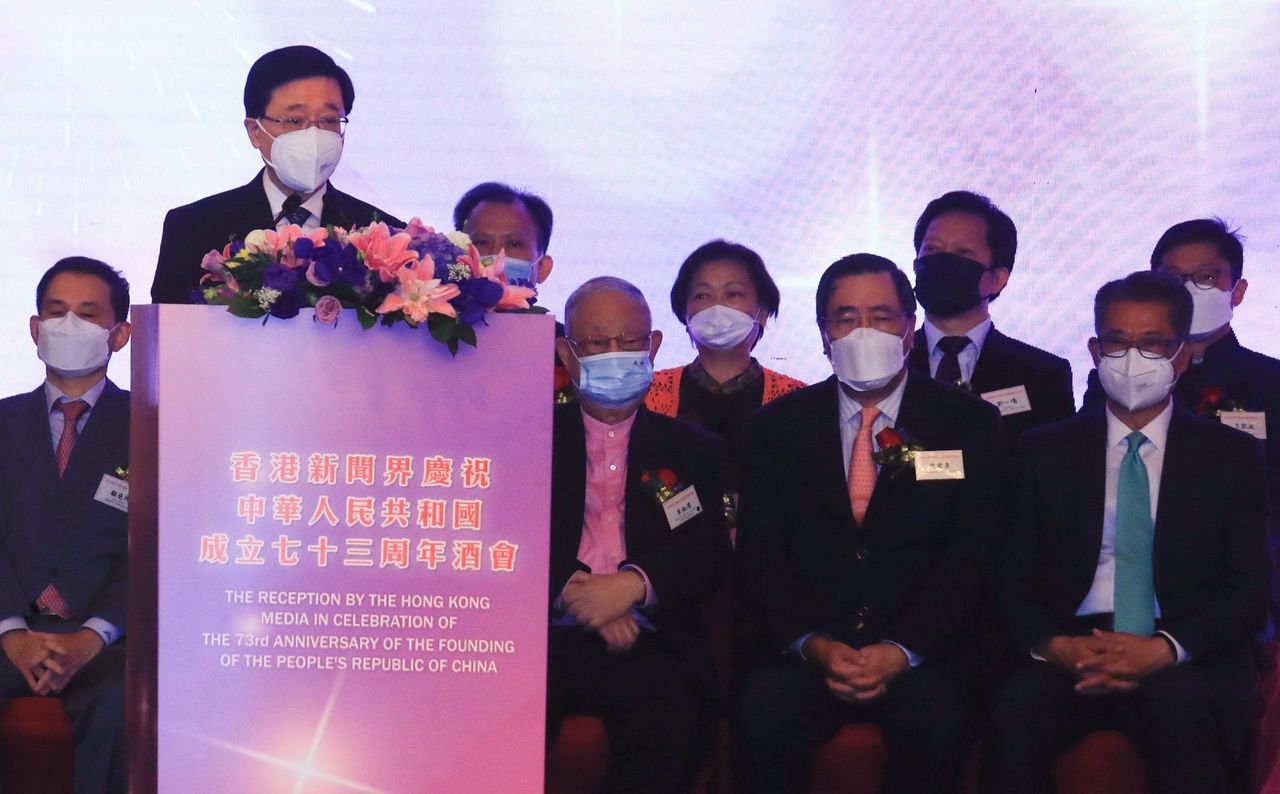 Hong Kong Chief Executive John Lee attends a reception organised by the city's news industry on Thursday ahead of National Day on October 1.

"But journalists are also Hong Kong residents. Everyone is equal before the law of Hong Kong and no one has privileges. Everyone needs to fulfil our civic responsibility in accordance with the law."

Lee said he believed the journalists at the reception all "love the country and Hong Kong" and they hoped to improve people's livelihoods through their objective reporting and commentaries, but he warned them to be aware of those who broke the law.

"I hope that all members of the press will be able to distinguish right from wrong and stay away from these camouflaged media organisations and bad apples who undermine press freedom," he said, referring to groups which did illegal things in the name of journalism.

Lee also urged media workers to use their strength to "tell the Hong Kong stories well". The city leader had repeatedly vowed to reform the government's publicity approach to a bold, proactive one in "speaking up against smearing by foreign forces" and "telling stories of Hong Kong and China well".

"[The industry should] unite and tell the world the latest developments and correct information of Hong Kong," he said.

Lee said telling Hong Kong's success stories could record the city's outstanding achievements over the years while encouraging the next generation to carry on the tradition and forge ahead.

The annual reception - organised by the Hong Kong Media Preparatory Committee for the Celebration of National Day and led by pro-Beijing news organisations, including Ta Kung Pao – was held at the Grand Hyatt hotel in Wan Chai. It was attended by Lu Xinning, deputy director of Beijing's Liaison Office in Hong Kong and Li Jiangzhou, deputy director of Beijing's national security office in the city.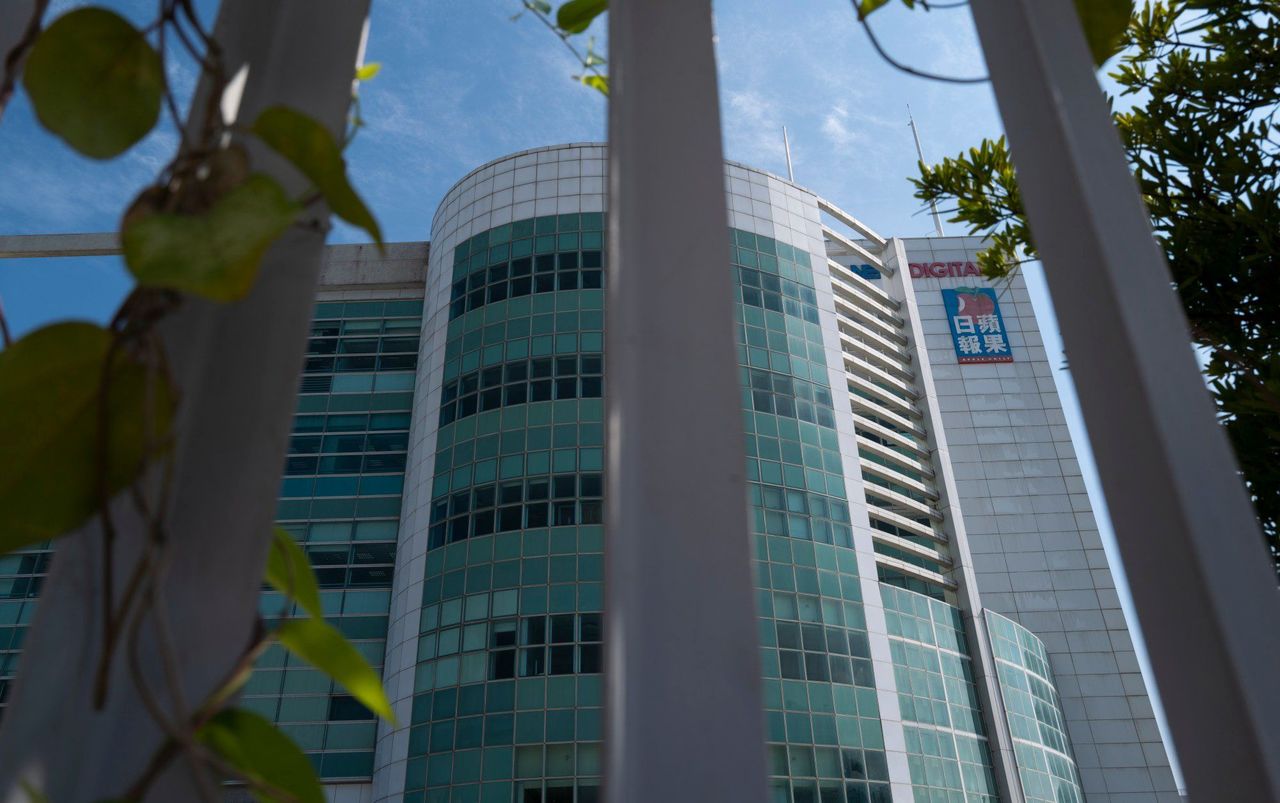 The Apple Daily Building at Tseung Kwan O stands empty after the newspaper was closed down.

The city's press freedom ranking has plunged to a record low this year, falling more than 60 places to 148th among 180 locations after the national security law was imposed by Beijing in 2020.

In June last year, Apple Daily, founded by now-jailed media tycoon Jimmy Lai Chee-ying, ceased operation after police charged him and a number of senior executives and editors under the national security law.

Stand News ceased operation months later after officers arrested seven people linked to the online news portal and charged the former and incumbent editors with publishing seditious materials.

Within four days of the crackdown, online news platform Citizen News decided to shut down "to ensure the safety of its staff". All three were hugely popular with opposition supporters.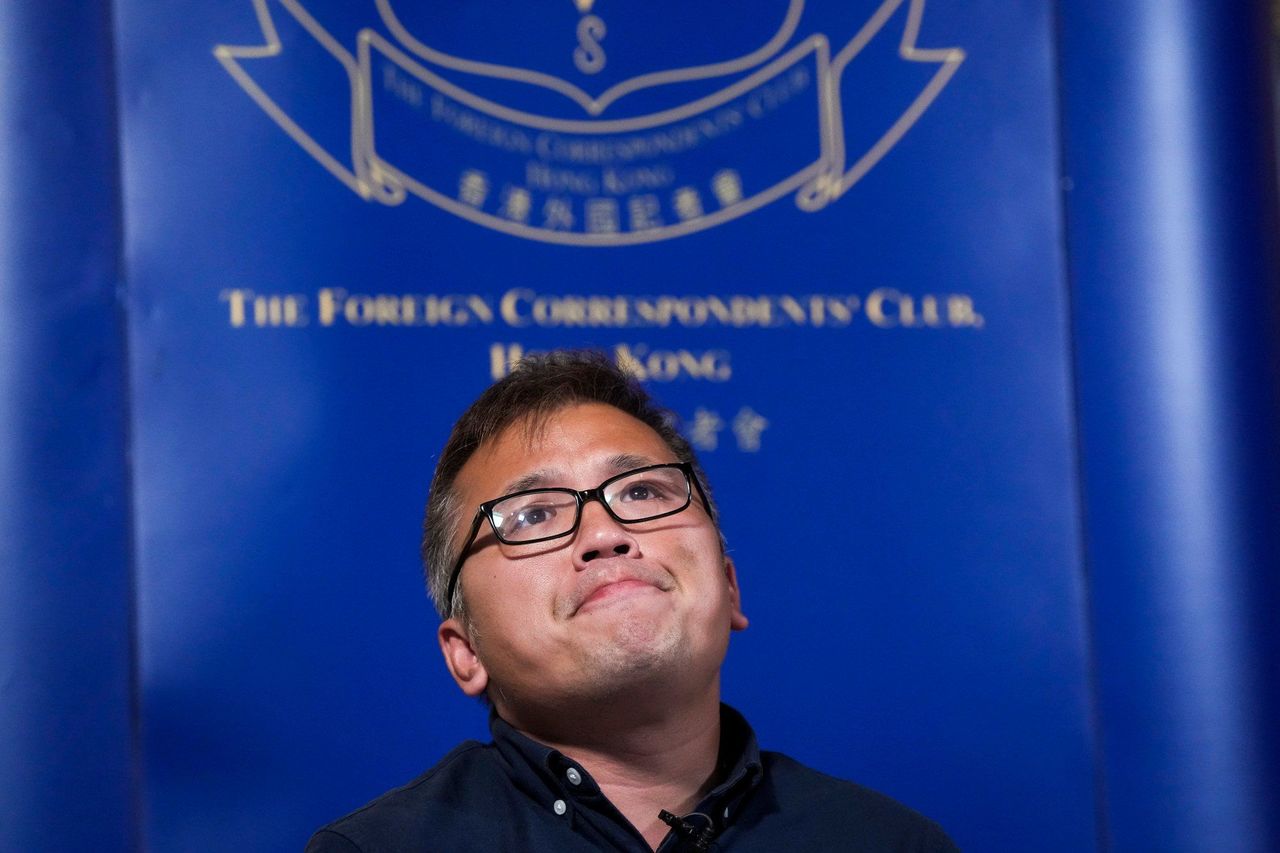 Chairman of the Hong Kong Journalists Association Ronson Chan.

Separately, Ronson Chan Ron-sing, head of the Hong Kong Journalists Association, was charged with obstruction of a police officer on Monday. He was arrested while he was on his way to a reporting assignment earlier this month.

In response to Lee's speech, Chan said he did not think that there were any "camouflaged media organisations" in Hong Kong, adding Lee should name the news outlets in question to back his statement.

"Making such a serious accusation without naming the organisations is not a responsible practice," he said.

Chan also urged the government to provide more channels and details for local media to "tell the Hong Kong stories well" as they could not access some of the government's events. He cited the lack of local media invited to cover the stories behind the mainland China medical support team in Hong Kong during the fifth wave of Covid-19 as an example.