The sole candidate in Hong Kong's leadership election has unveiled a manifesto laying out his plans for the city over the next five years, with a focus on tackling chronic housing problems, strengthening governance and building a caring society, while maintaining competitiveness.

Three weeks after announcing his election bid with the promise of a "result-oriented" approach to leadership, John Lee Ka-chiu detailed how he would go about it before an audience of district and grass-roots representatives on Friday.

"I want to improve governance ability, enhance government execution ability, unite all walks of life, jointly solve social problems, and at the same time have a solid foundation, so that we can move forward without worries," Lee said.

The 64-year-old former career policeman-turned-top bureaucrat broke down his vision into four tenets: strengthening governance capability and tackling pressing livelihood issues; streamlining procedures and providing more housing and better living; enhancing overall competitiveness and pursuing sustainable development; and building a caring and inclusive society as well as enhancing upward mobility for the youth.

Some of the proposals he unveiled could be seen as addressing the shortcomings of outgoing Chief Executive Carrie Lam Cheng Yuet-ngor's administration, observers noted.

Underscoring his determination to tackle the lack of affordable housing, Lee proposed to set up two new task forces, one focusing on speeding up the construction of public housing and the other dedicated to developing private land. Both would be headed by a secretary-level official.

The Task Force on Public Housing Projects will propose, within the first 100 days of the new administration, ways to speed up the design and construction of public housing, according to Lee's manifesto.

He set no hard targets, but stressed the goal was to increase the overall supply over the next five years.

The task force will also suggest how to implement a new public flat allocation scheme Lee floated on Friday to shorten the time each housing project becomes available by a year. Public housing applicants will be allowed to move into their flats earlier, even before supporting facilities and infrastructure are completed.

"I will let them move in to give those public housing applicants a choice," he said.

A Steering Committee on Land and Housing Supply will coordinate all policy bureaus and departments, from transport and environment to social welfare and land administration, to come up with policies aimed at unlocking the potential of private land.

Lee proposed a new pilot scheme to tackle intergenerational poverty, focusing on offering mentorship and training to 1,000 junior secondary school students living in subdivided flats, the tiniest housing for many of the city's underprivileged.

The scheme, which will last for two to three years and rely on the support of non-governmental organisations and private corporations, was inspired by Lee's recent visit to a single-parent family during his campaign, he said.

Drawing lessons from the fifth wave of Covid-19 infections that at one stage overwhelmed the city's healthcare system, Lee proposed a new "mobilisation protocol". It would require government departments to send staff members to an emergency response unit in the event of a crisis.

A command centre, to be led by a senior official, would take over in case of a serious emergency, said the former No 2 official, who took a leading role in the government's pandemic crisis management efforts.

Drawing also from his experience, Lee pledged to strengthen community networks by setting up local services and care groups in all 18 districts, to ensure there would be enough manpower to handle emergencies.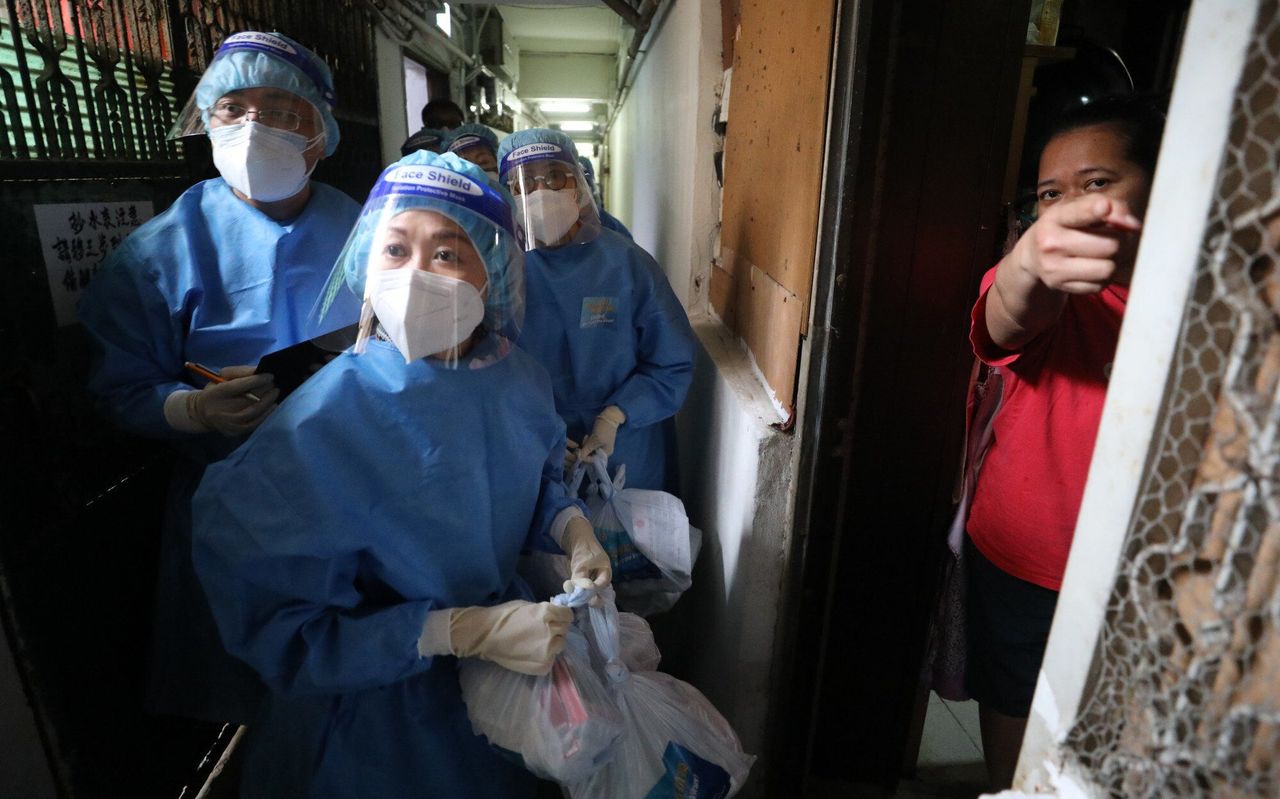 Chief executive candidate John Lee has pledged to create district-level community organisations to boost the supply of manpower during emergencies.

Preemptively addressing what critics later decried as a lack of details in his manifesto, Lee started his speech by saying: "Although there are areas I have not included, that doesn't mean I don't care."

"I will use other opportunities to explain to you my thinking and work," he added.

It took Lee 35 minutes to finish reading out his 27-page manifesto in Chinese. No English and sign-language interpretations were provided, but a 44-page manifesto in English was uploaded onto the website of his campaign office.

Lee did not take questions from journalists while he was on stage. Instead, his campaign chief, pro-Beijing heavyweight Tam Yiu-chung, fired questions at Lee on behalf of his "friends".

The former security chief later took reporters' questions outside a hall at the Convention and Exhibition Centre in Wan Chai, where he launched his manifesto.

Lee's proposals drew wide support from pro-establishment figures, with the head of the Hong Kong Island Women's Association giving him a score of "100".

But Tik Chi-yuen, the city's sole lawmaker from outside the pro-establishment camp, said he was disappointed by the lack of new ideas in Lee's manifesto.

"Most of the policies were inherited from the previous administration, with nothing groundbreaking," he said.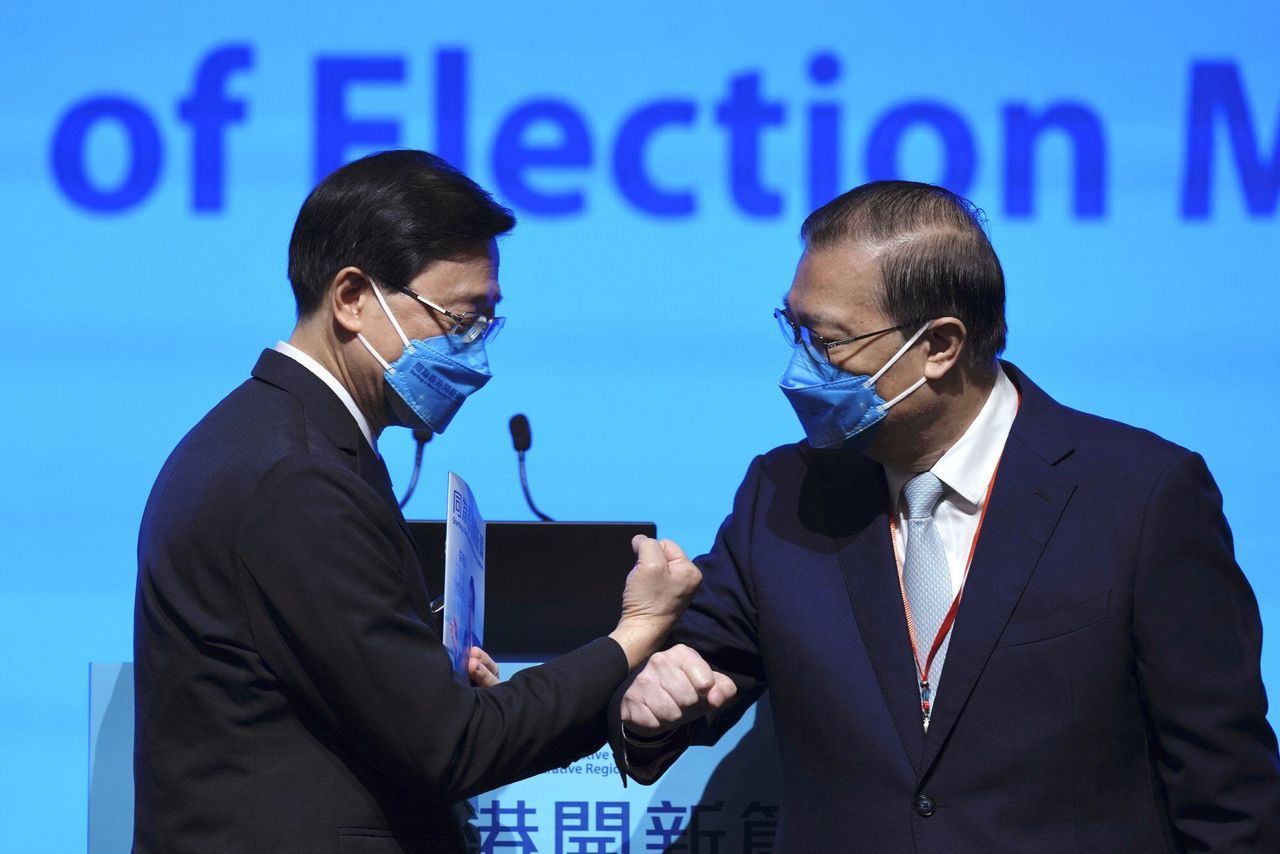 Lee bumps wrists with supporter Tam Yiu-chung, Hong Kong's representative to the Standing, at Lee's campaign on Friday. Tam, a pro-Beijing heavyweight, was the only person to ask Lee questions at the event.

Opposition Democratic Party chairman Lo Kin-hei said Lee had failed to address the basic issues at stake.

"The current administration has done badly in public consultation work, leaving the public often feeling excluded and detached, but Lee's platform did not address these concerns," he said.

Political commentator Lau Siu-kai, from the semi-official Chinese Association of Hong Kong and Macau Studies think tank, said the lack of details was "understandable", given the limited time Lee had to draft it.

"Putting emphasis on enhancing the administration's governance capabilities would be the highlight of his platform, also an area previous city leaders did not attach huge importance to," Lau said.

Lee said he would pick up and continue with two major policies he would inherit from his predecessor's administration: the Northern Metropolis project along the mainland border that could provide hundreds of thousands of homes; and the Lantau Tomorrow Vision to create a new metropolis on man-made islands in waters off Lantau Island.

But Lee did not say whether he would adopt the current administration's plan to restructure the government by splitting bureaus or setting up new ones, or creating deputy positions for the chief secretary and financial secretary.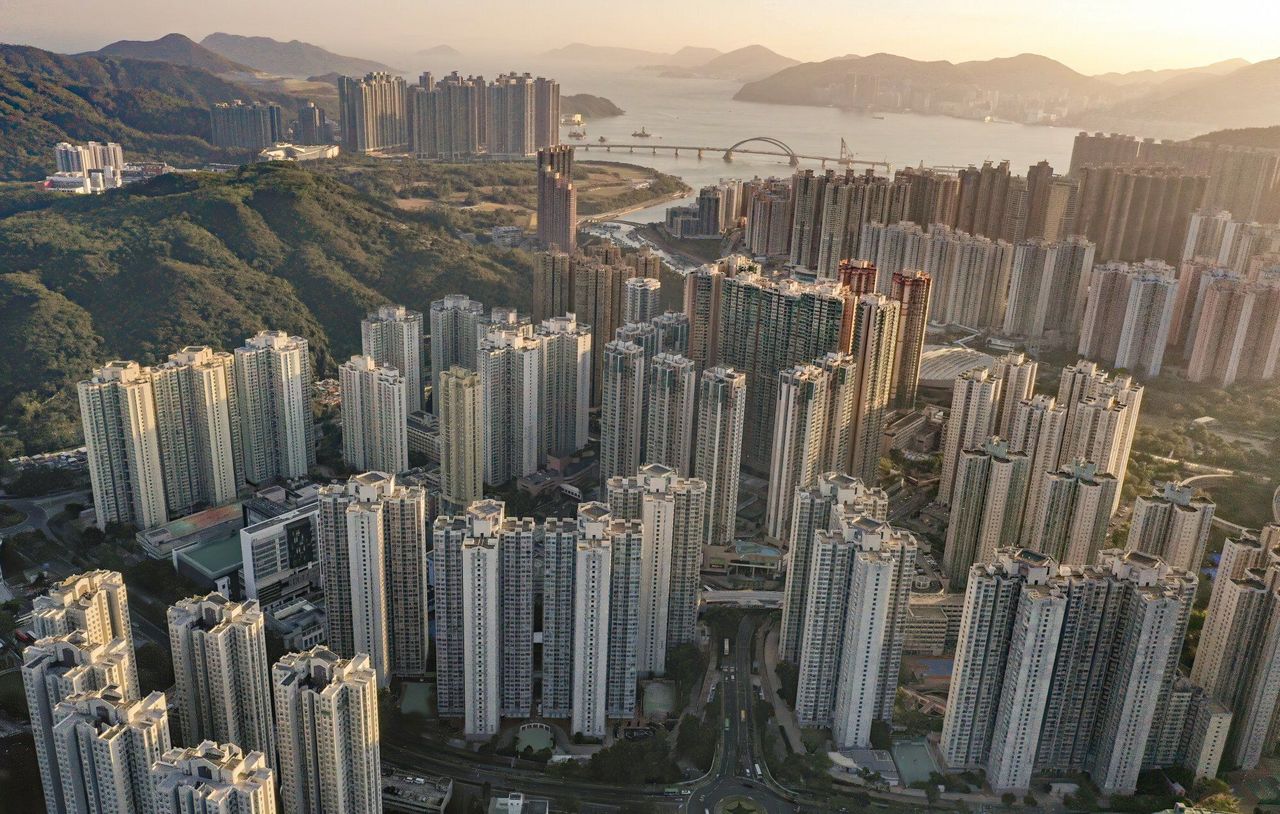 Lee's manifesto also details plans to allow public housing applicants to move into their flats earlier.

Lee had been expected to announce the reinstatement of a top official think tank to gauge public sentiment, but there was no mention of it.

While he did not dwell on politically charged topics, Lee said he would fulfil the constitutional responsibility to introduce the city's own national security legislation under Article 23 of the Basic Law "in due course".

The bill would complement the national security law already imposed on the city by Beijing following the anti-government protest chaos of 2019.

He said little about healing a divided city, which the next leader will inherit, but instead stressed he would cultivate a sense of national identity and create a "love China, love Hong Kong generation". He promised to fight for Hong Kong youth to be given job internships in mainland China.

Lee said he would also work on popularising STEAM – or science, technology, engineering, arts and mathematics – education for students, as well as nursing and elderly care education to create "a caring society where the youth can have a dream".

He pledged to step up training for teachers, a group seen as a factor that triggered the 2019 protests, and raise their professionalism.

Lee said he would strengthen Hong Kong's reputation as a global offshore renminbi business centre to boost internationalisation of the national currency, and seize new opportunities to take the city's economy to a "new level".

He did not discuss his approach to the pandemic directly in his manifesto but answered reporters' questions about it later, noting the trend of people moving out of Hong Kong but attributing it to natural developments as well as Covid-19.

Lee promised a new Covid-19 strategy to allow lower-risk businesses "to be treated separately from those which may have higher risks".