Hong Kong's health minister warned on Friday that the dreaded fourth wave of Covid-19 had arrived and could spiral out of control without a tough response, as the city reported an alarming surge of more than 60 new confirmed and preliminary cases.

Secretary for Food and Health Professor Sophia Chan Siu-chee said the city had "probably entered" the fourth wave of the pandemic, and the government might have to significantly tighten recently eased social-distancing measures, including temporarily shutting down some leisure and sports facilities, if the health crisis worsened.

At the same time, a worrying surge of upper respiratory tract infections – with 439 outbreaks mostly in kindergartens and primary schools affecting more 4,000 people in the past few weeks – prompted the government to announce a two-week suspension of junior classes at primary schools.
Hong Kong third wave
Tracking the spread of local Covid-19 cases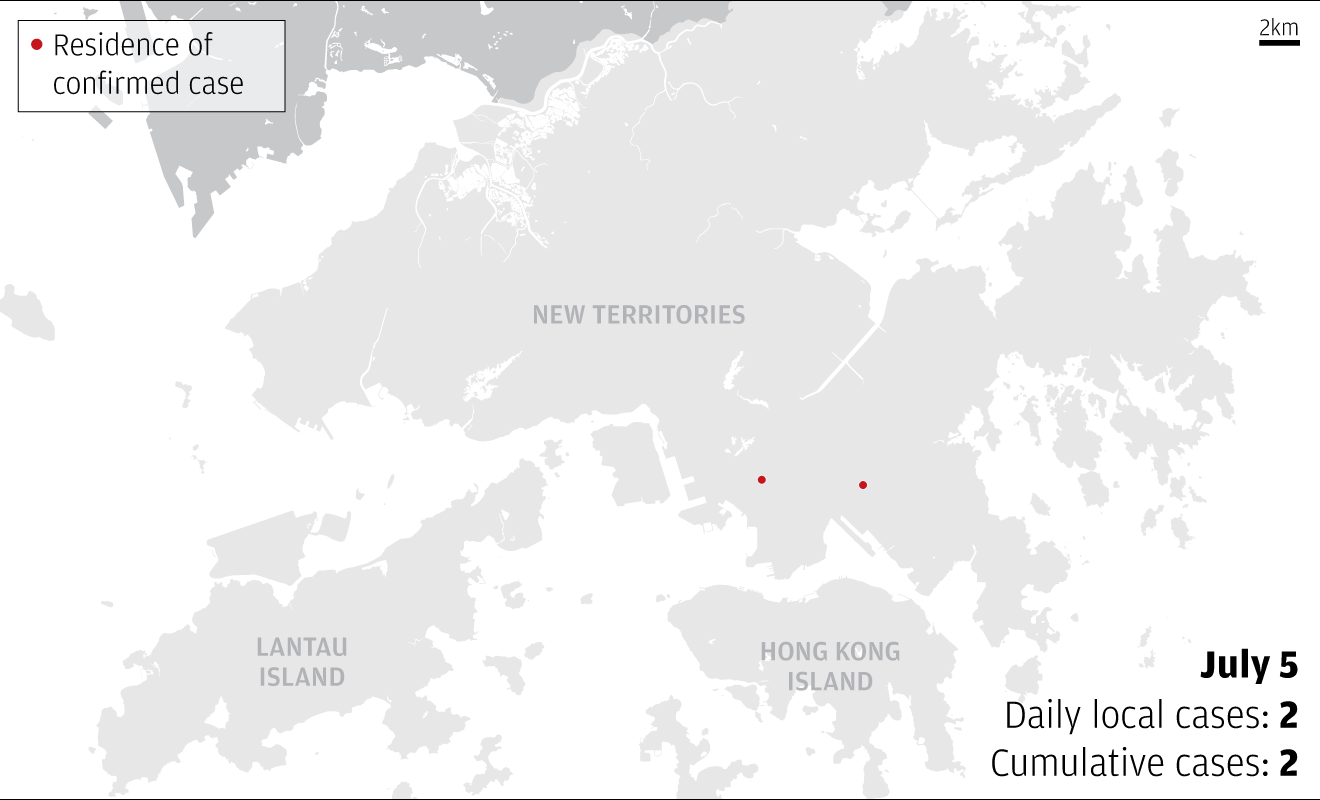 But officials were short on details and progress on new pandemic-control measures, and did not give the implementation date for previously announced plans to crack down on hotel staycations and roll out mandatory testing.

The health minister would only reveal that those displaying symptoms of the virus, staff at elderly nursing homes and taxi drivers would be the first targets of compulsory screening.

"According to the experts and also the information from the Centre for Health Protection, we have probably entered into a new wave of cases," Chan said. "All Hong Kong residents should seriously guard against the virus and reduce unnecessary social gatherings … If we don't stand our guard, the fourth wave will spiral out of control."

The 26 latest confirmed local cases are the most the city has recorded in about three months. Twenty-one were locally transmitted, of which nine were untraceable. Health authorities said more than 40 people had also tested preliminary positive.

A worrying cluster has emerged at dance studios, where dozens of people often gather daily to exercise and take lessons. Nine people who attended the Starlight Dance Club in Wan Chai are among the newly infected, taking the total at that establishment to 10, while at least seven visitors have tested preliminary positive.

Several instructors who taught at the venue also spent time at Heavenly Dance in Sheung Wan and Dance Culture in Causeway Bay.

Another confirmed carrier held a birthday celebration involving about 100 people and ball dancing at The Palladium International Dance Club in Tsim Sha Tsui.

Experts have warned that the close physical contact involved in such activities pose a serious health risk, but the venues until now have received little official attention.

Chan said she was unable to confirm whether dance studios were among the 14 types of entertainment and sports covered by special pandemic rules, such as requiring patrons wear masks.

The latest number of cases is more than double the 12 recorded on Thursday, and infectious disease experts had previously called for a major tightening of social-distancing rules in the event of an "exponential" rise in the number of carriers.

The city's official tally stands at 5,517 confirmed cases, with 108 related deaths.

The spike in cases comes just two days before Hong Kong is set to launch its air travel bubble with Singapore, one of the first such schemes in the world. Travellers will not be required to undergo quarantine on either side but must present a negative Covid-19 test before departure.

But the arrangement will be suspended for two weeks if the number of untraceable local infections in either city exceeds five on a rolling seven-day average. The latest nine untraceable cases take the number to 15, or an average of 2.14 for the period.

The decision to halt face-to-face primary school classes came after health authorities suspended kindergarten lessons for two weeks last Saturday, in a bid to prevent outbreaks of upper respiratory infections among preschoolers.

In the latest move, pupils in Primary One to Primary Three will stay at home for two weeks, beginning on Monday. The closure of kindergartens and special childcare centres has also been extended to December 6.

Separately, Air India flights have been banned for the fifth time since August for carrying too many Covid-19 infected passengers, the Department for Health said.

The national carrier's New Delhi-Hong Kong route was halted for two weeks from November 20 to December 3. Health officers found that three passengers each on two of Air India's previous flights to Hong Kong on November 10 and 18 were infected, breaching regulations on health controls for cross-border travel.

University of Hong Kong Professor Yuen Kwok-yung, a top infectious disease expert advising the government on the pandemic, said the city's borders were not "watertight" and called on authorities to consider extending the quarantine period for arrivals from high-risk places to 21 days.

"The 14-day quarantine can only stop 95 to 97.5 per cent of confirmed cases because some people's incubation period can be as long as 21 days, and there could be fake negative test results," Yuen said.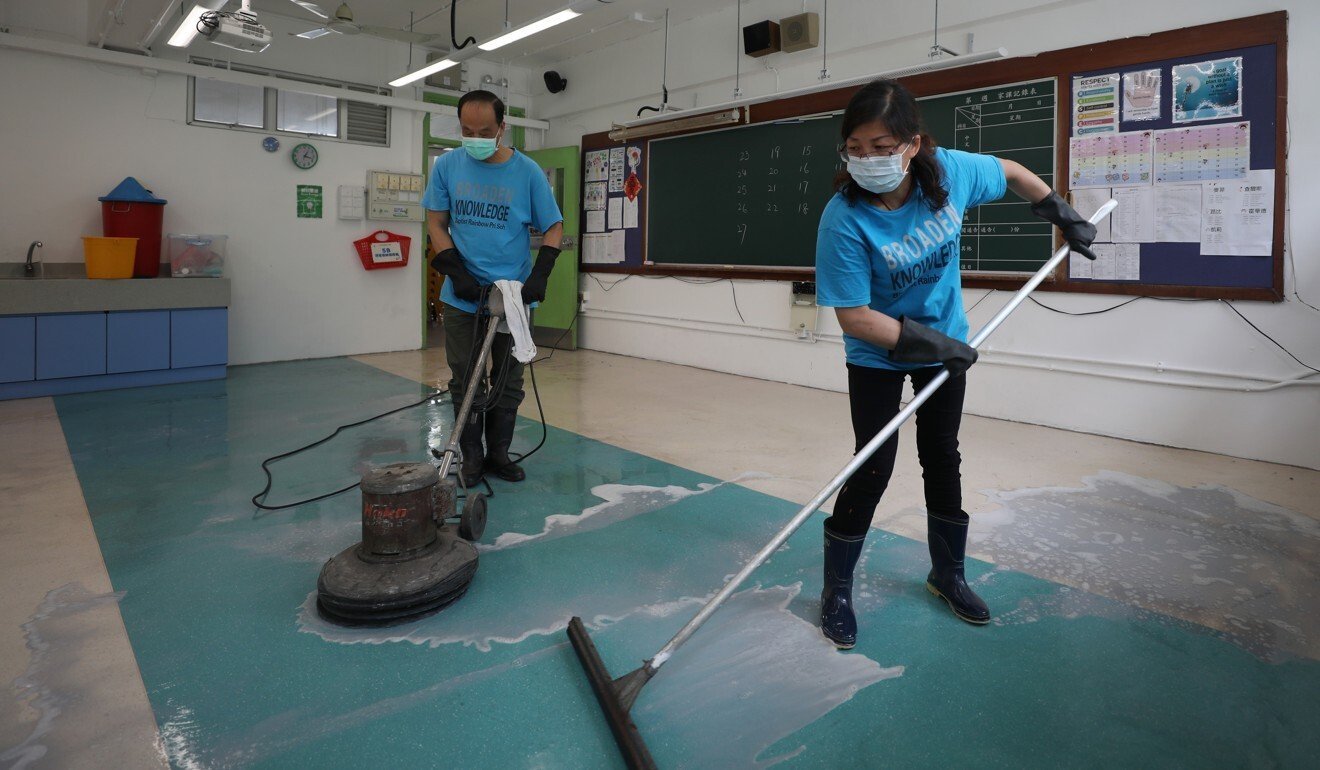 Workers clean a classroom at Baptist Rainbow Primary School in Wong Tai Sin.

Travellers could spend the first 14 days in a hotel and the remaining time at their homes for the final seven, with an additional test on the 20th day.

"Christmas holidays are coming, a lot of students will be returning from Britain, the United States and Europe," he said. Chan said the government would consider his suggestion.

Government adviser Professor Gabriel Leung, dean of the University of Hong Kong' medical school, expressed concern over the sharp rise in the number of infections, likening the current situation to "flames everywhere".

Leung repeated his call for weekly testing of residents and staff at home for the elderly and people with disabilities.

"If we are not doing it today, we would feel ashamed when we face those who could easily develop serious health risks if they contracted Covid-19," he said. "This is something we cannot postpone any further."

He also called for the distribution and collection of Covid-19 testing kits in every MTR station and fuel filling stations frequently visited by taxi drivers.