Chief executive and other experts remain cautious saying effects from increased social mixing and decreased testing would take time to emerge.
Hong Kong's daily coronavirus caseloads have continued to fall, even as families gathered to celebrate the Mid-Autumn Festival over the long weekend, while a health expert has suggested the latest surge in Covid-19 infections may have peaked.

But city leader John Lee Ka-chiu and several other experts remained cautious on Tuesday, arguing Hong Kong was still in a "critical week" as the consequences of greater social mixing and decreased testing over the holiday would take time to emerge.

Lee said the government could not "turn a blind eye" to two facts: hospitals had already cut 30 per cent of services to deal with Covid-19 infections and high-risk groups continued to be at risk because their vaccination rate was unsatisfactory.

"People should not just think that Covid is a normal flu, because if you look at our figures we have lost 9,000 lives just because of Omicron when every year we lost about 300 lives because of flu," he said.

On Tuesday, health officials reported 7,218 coronavirus infections, including 151 imported ones, and 10 more related deaths, taking the city's overall tally to 1,667,130, with 9,820 related fatalities.

Hospital Authority chief executive Dr Tony Ko Pat-sing is among those who tested positive for Covid-19 and was now being isolated. He last went to work on Monday and had no travel history, the authority said.

The number of new cases has fallen every day since Thursday, when 11,091 were logged. Dr Albert Au Ka-wing of the Centre for Health Protection described the trend as a "slight decrease" but remarked the situation remained "serious".

"The current number of positive cases is hovering around 7,000 to 8,000, which is relatively high compared to May, when only 200 to 300 infections were recorded per day," he said. "The public might be less inclined to undergo testing during the holiday, resulting in the current decline [in cases]."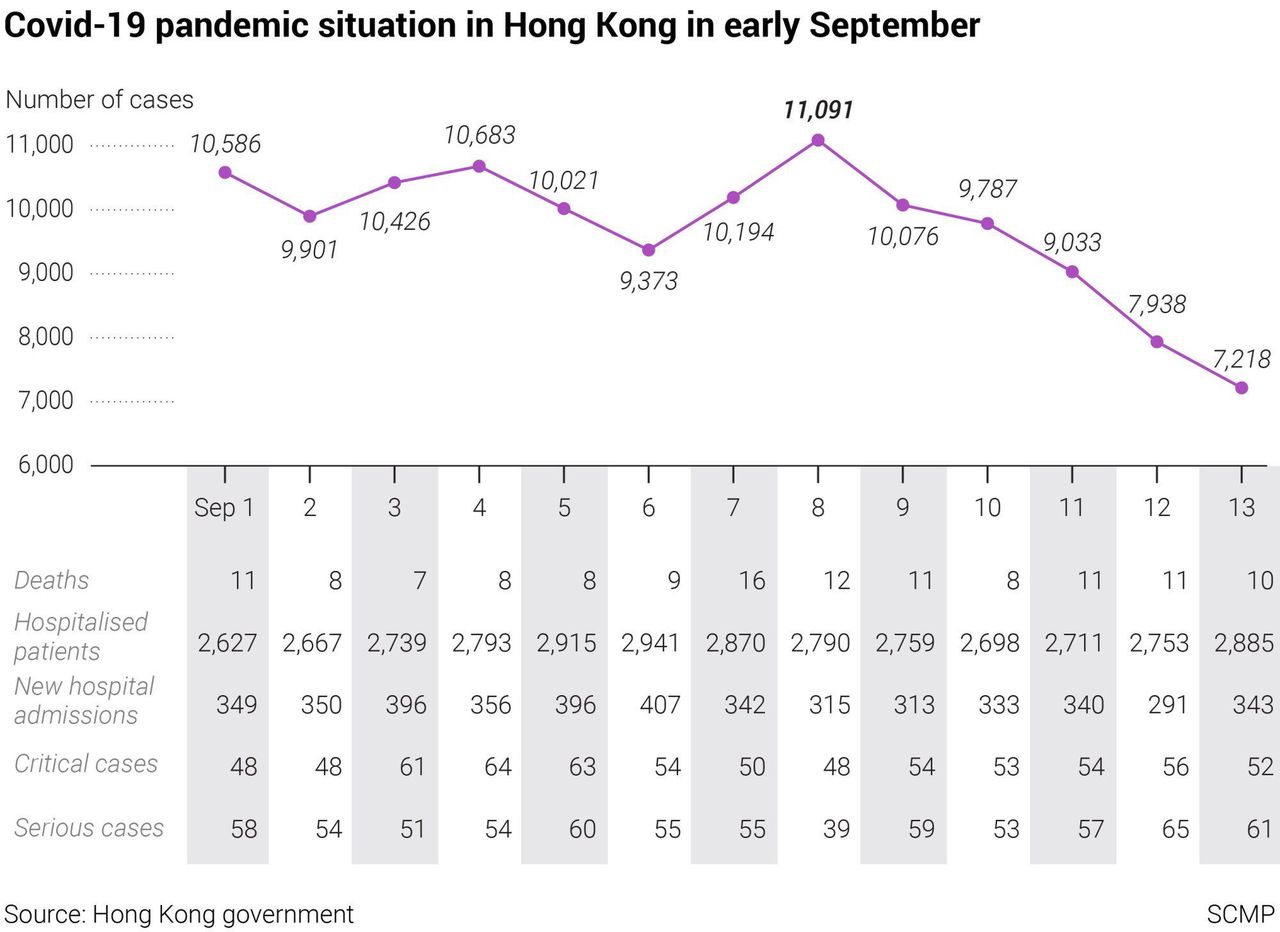 But other key indicators were also a source for optimism. Au noted the reproductive rate of the virus, which estimates the number of people each patient could infect, had decreased slightly from 1.3 in mid-August to 1.12.

Sewage samples tests also showed a reduced presence of Covid-19, falling to below 500,000 virus copies per litre in the past three days, Au noted. The figure had risen to between 500,000 and 600,000 earlier this month, when the number of new infections exceeded the 10,000 mark for the first time since March.

But Au said two more weeks of monitoring would be needed before health authorities could make any judgment on the pandemic trend, citing possible effects of the family gatherings during the Mid-Autumn Festival.

But respiratory medicine specialist Dr Leung Chi-chiu said he believed the daily number of cases peaked last week.

"The rapid drop in the last few days is partly due to the decrease in testing during the traditional holiday," he said. "This wave has been largely driven from Omicron subvariants BA.4 or BA.5, but their increase has been slowed to about 14 per cent in the past week, which meant the virus was spreading slower than expected."

Government pandemic expert Professor David Hui Shu-cheong and Dr Joseph Tsang Kay-yan, chairman of the Medical Association's advisory committee on communicable diseases, were more cautious on Tuesday, with both estimating infections could once again climb as people returned to work or studies.

"The holiday effect may take a few days to surface as cross-family gatherings have taken place over the weekend, when daily testing for schoolchildren has stopped," Hui said. "Looking at the daily caseloads, however, it does appear that the numbers are falling, which is due to the hybrid immunity Hongkongers have acquired from past infections during the fifth wave in February and high three-dose vaccination coverage."

Since September 1, the number of Covid-19 patients in hospital on any given day has ranged from 2,600 to 2,900, with 100 of those in serious or critical condition.

The Hospital Authority said the condition of a 10-year-old boy with epilepsy, who became critically ill after being infected, had improved to serious. He could now breathe on his own and had regained consciousness at Princess Margaret Hospital in Kwai Chung.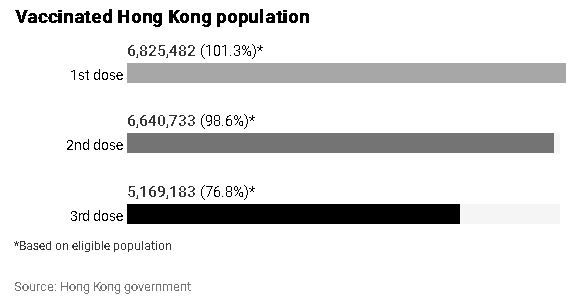 Almost three-quarters of eligible residents have received three doses of a coronavirus vaccine, while those who had taken their first and second jabs reached 93.7 and 91.2 per cent, respectively.

Professor Lau Yu-lung, a fellow government adviser, on Sunday predicted the current surge would peak within three to seven days.

Meanwhile, the government said on Tuesday it had sent out letters inviting hotels to take part in the next cycle of the government's quarantine scheme, which will begin on November 1 until February next year, and it has included clauses allowing quarantine hotel guests to stay in their original hotel for isolation after being diagnosed, as a new self-paid service.

Currently, these confirmed patients have to be sent to other hotels or government-run isolation facilities in Penny's Bay or Kai Tak.