Hong Kong businesses struggling to survive the fourth wave of the coronavirus are expecting to take a severe hit over the Christmas and New Year holiday season after the government extended social-distancing rules until January 6.

The catering industry is bracing for an estimated 80 per cent plunge in revenue compared to the traditional take in December during a normal year.

The businesses, from restaurants to bars and party rooms, are demanding immediate financial assistance from the government, fearing that many establishments will have no choice but shut for good.

"It will be a very, very severe hit to the food and beverage sector," said Simon Wong Kit-lung, who runs almost 40 restaurants under the LH Group.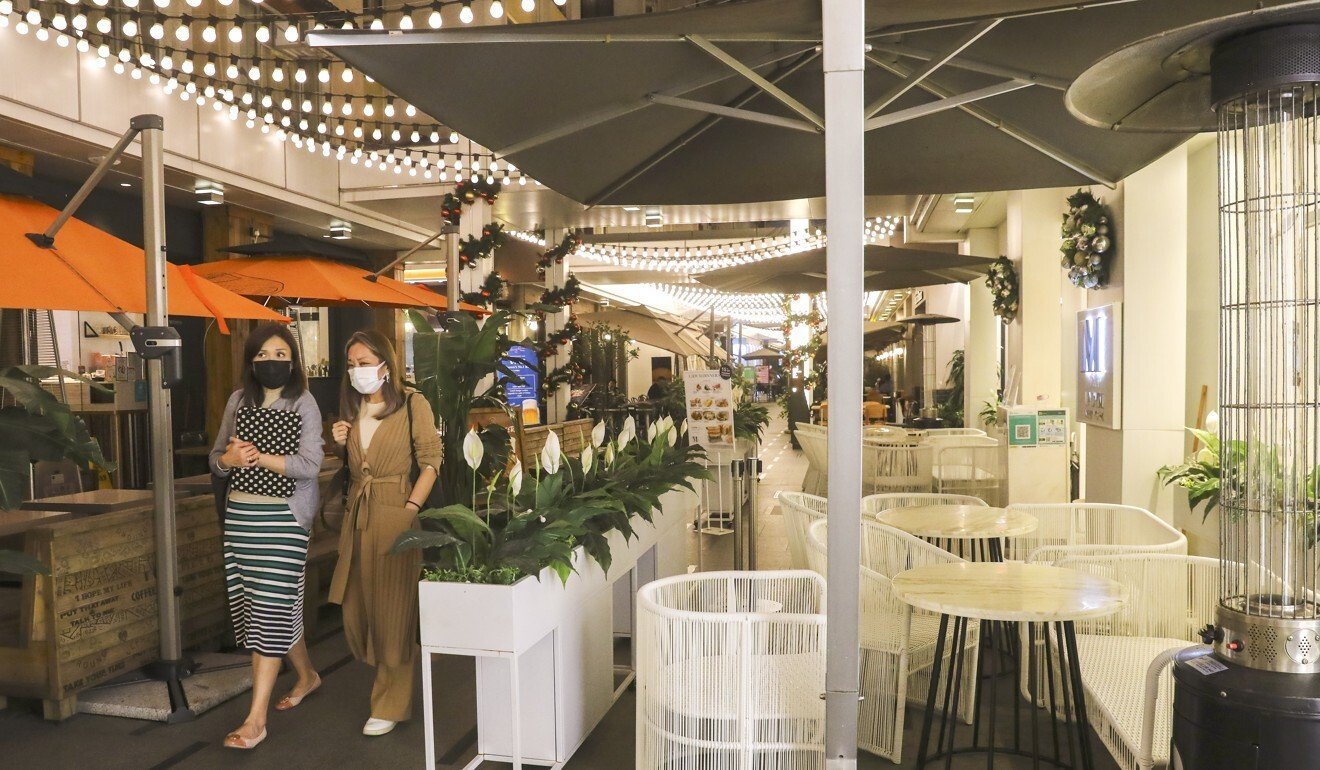 Restaurants have been banned from offering dine-in service after 6pm.

Secretary for Food and Health Professor Sophia Chan Siu-chee said on Monday that all social-distancing rules would be extended until January 6. The rules included a ban on dine-in service from 6pm, a two-person limit per restaurant table, and that restaurants can only operate at 50 per cent capacity. Other businesses such as bars, party rooms and fitness centres must remain closed.

Chan warned that many Hongkongers continued to go out to shopping centres and other places last weekend, despite calls from the authorities to stay home.

Hours after the announcement, health authorities said Hong Kong recorded 85 new coronavirus infections, 27 of them local transmissions that were untraceable. The new cases pushed the city's Covid-19 tally to 8,237, with 131 related deaths.

Wong said the extension was expected, as the pandemic still showed no signs of easing. He expected the catering sector to suffer a 70 to 80 per cent drop in revenue for December compared to two years ago, before social unrest hit economic growth.

"To be honest, the amount of business we can do right now is only marginal, especially since restaurants have to close by 6pm," he said.

The legislature on Monday passed a package of HK$6.4 billion (US$826 million) in Covid-19 relief funding for industries suffering from social-distancing restrictions, marking the fourth round of handouts.

Simon Wong Ka-wo, president of the Hong Kong Federation of Restaurants and Related Trades, said businesses urgently needed the subsidies and urged the government to disburse the HK$3.4 billion allocated to some 17,000 catering operators as soon as possible.

Wong estimated the catering sector could suffer a HK$8 billion decline in revenue for December as the tightened restrictions covered the peak season, compared to the HK$11 billion generated the year before.

"Business is down in the doldrums and in urgent need of a lifeline."

He stressed that Chinese-style restaurants suffered the most this month, as they could not serve traditional round-table winter solstice dinners. Some larger chains and hotels introduced takeaway poon choi, a communal vegetable and meat dish typically served during the holiday, but Wong said such gimmicks were "not very popular".

Manuel Palacio, co-founder and CEO of Pirata Group, said the chain of restaurants has launched a small selection of festive takeout menus, and would also offer all-day brunches from 11am until 6pm for the Christmas season.

"We did expect the extension and we believe it is the right thing to do to protect us all in Hong Kong over the long term," Palacio said.

Wing Chin Chun-wing, vice-president of the Hong Kong Bar & Club Association, estimated that the industry would lose out on HK$4.5 billion if venues have to shut in December and the rest of January.

"Closing bars in January again is highly likely because the new variant of the coronavirus is much more contagious," Chin said, referring to a mutated coronavirus strain that was discovered in Britain.

"It's expected the government will extend these measures into next month."

Chin also warned that with bars shut over the peak season, youngsters might visit unlicensed venues, which would result in an even higher risk of infection.

Cat Hou Chui-shan, chairwoman of the Bartenders and Mixologists Union, said that several bar owners were counting on the latest relief funding to survive the next month and would assess whether to close down for good. Bartenders on unpaid leave or in part-time positions had also shifted to food delivery to make ends meet, Hou said.

"We're very frustrated with the government because they're taking way too long to put an end to the coronavirus pandemic," she said. "They keep closing venues but there have been so many loopholes that were not the fault of the bars or catering industry."

Brian Chui Wai-ho, co-founder of party room booking platform ReUbird, said that large party venues, those measuring between 2,000 sq ft and 3,000 sq ft, had to close down because they could no longer afford to pay rent.

"I would say the entire offline event industry and also the venue industry has been impacted by the pandemic by leaps and bounds, probably suffering a 70 to 80 per cent decline," Chui said.

Chui added the online booking platform, which had 350 venue partners before the pandemic, stopped taking reservations for party rooms and has been focusing on coordinating orders for celebration cakes, balloons and decorations instead.