Hongkongers experienced the joy of sitting down to an evening meal in a restaurant for the first time in more than two months on Thursday, but the industry remained cautious about the future as the Covid-19 crisis forced new contact-tracing measures on businesses.

The first night of eating out since the lifting of the 6pm curfew on dine-in services was not the gold rush of customers that restaurateurs hoped for, although many were optimistic for a weekend surge.

Some businesses opted to stay closed on Thursday night as operators and patrons shared unease over the privacy implications of customers registering their visits to establishments using the government's risk-exposure app, "Leave Home Safe".

Taking effect on Thursday, the first relaxation of the tough Covid-19 rules introduced at the start of the city's fourth wave of infections in November brought a four-hour extension of restaurant dine-in services, to 10pm. The number of people allowed to a table has also increased from two to four, but restaurants must remain at half capacity.

Knutsford Terrace, a street in Tsim Sha Tsui famed for its bars, pubs and restaurants, was busy with customers enjoying after-work drinks on Thursday night, with many taking advantage of the relaxed rule on seating.

"It's just normal [the number of customers]. We are not that busy yet. But we cannot say because it's just Thursday," said Jeff Erson Sariego, manager of The Blind Pig, a restaurant and bar on the terrace. "We will see more people on Friday and Saturday. We are optimistic about that."

The Blind Pig expects the loosening of the rules to deliver a 30 per cent boost in revenue for the restaurant. On the first evening, the establishment only had a handful of advanced bookings, but projected 70 walk-in customers through the night.

"It's time for us to catch up after the time that the restaurants are not busy. So I think that it is the time that we can make money to compensate for the loss," Sariego added.

Across the harbour in the neighbourhood of Tin Hau, the Post observed that streets were much quieter with most restaurants having barely any customers to serve.

Only seven customers, in groups of up to three, were dining at an Indian restaurant in the area at about 7pm.

Kitty, a staff member at the restaurant, said they were still leaving some of their tables empty as part of social-distancing measures.

"We cannot say [how much business will improve] in one night or two ... It might take a couple of days, it depends if people are still afraid," said the woman in her 30s. "Hopefully it won't be that bad during the weekends. Let's hope for the best."

The restaurant, however, is embracing the "Leave Home Safe" app, but will not force its customers to use the app, with the regulations offering an alternative for people to provide contact details instead for contact-tracing purposes.

Under the new Covid-19 rules, restaurant patrons across Hong Kong must either download the government risk-exposure app and scan the QR code logging their movements on arrival, or leave their personal information with staff.

The app records the places a user has visited and stores them on their phone for 31 days. They will receive an alert if a confirmed Covid-19 case is identified at any of the venues they have been to.

Over at Tin Hau Dessert, Yeung, a 70-year-old employee, said some customers had expressed frustration over the app. The shop displays the QR code at its entrance, but does not force customers to scan it.

"It's government mandated so it's quite troublesome," she said. "Some customers who were unwilling to use the app have tried to write their own information on their own piece of paper, then ask us to throw them away afterwards."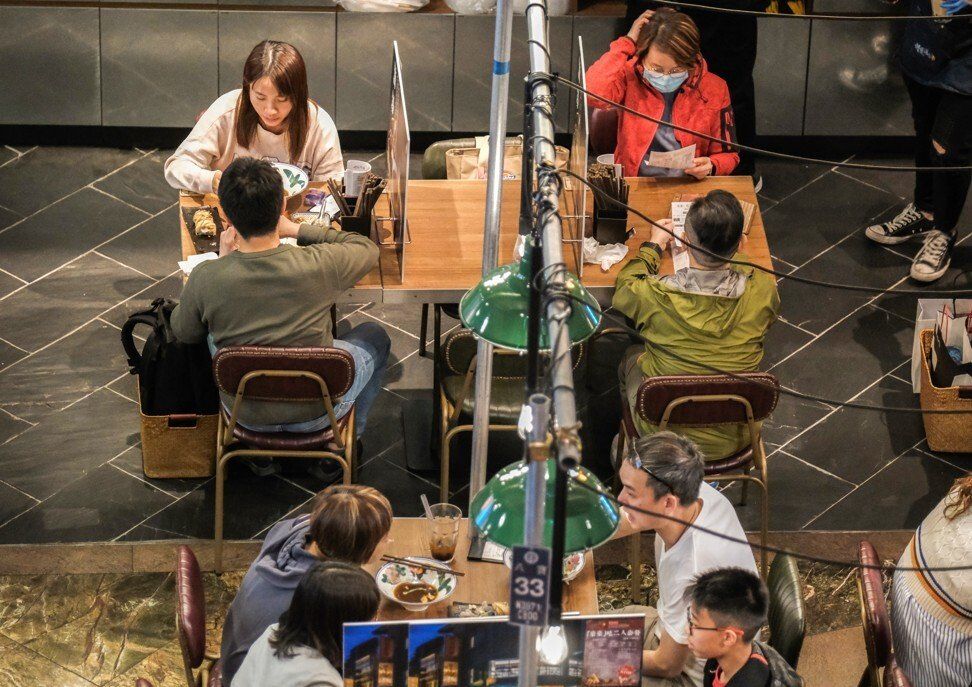 Customers on Thursday night capitalised on the eased Covid-19 curbs on restaurants.

Yeung said the business – which typically opens from midday to 3am – was still suffering from the impact of Covid-19 restrictions, but added at least the extended hours offered slight relief.

Among the dozens of residents seen picking up takeaway food in Tin Hau was a tutor in her 30s surnamed Chan, who raised fears of what would happen to her private information if she ate in.

"It's best not to dine in as there are privacy concerns even when I write down my contact information manually. I also don't trust the app and don't intend to download it if possible," she said.

But Keith Wong, a 25-year-old freelancer who was dining in a Taiwanese noodle shop on King's Road in Tin Hau, did not mind scanning the QR code after being reminded to do so by an employee.

"I feel it's safer because it can make sure I'm not going somewhere where there's Covid-19," he said. "It feels convenient. I can eat out and not bring food back home, especially after work."

Jasmine Chan, 23, also felt relaxed about the new rules as she waited for her friend to join her for dinner in Knutsford Terrace, adding she was happy at the opportunity to finally be sociable at night.

"I think it's safe to leave my personal details with the restaurant. This is because at least I can be notified when there is a case there," she said.

Brother's Court in Mong Kok, serving up typically local cha chaan teng-style food, chose to shut before 6pm, the dining-in deadline for restaurants choosing not to comply with the latest measures.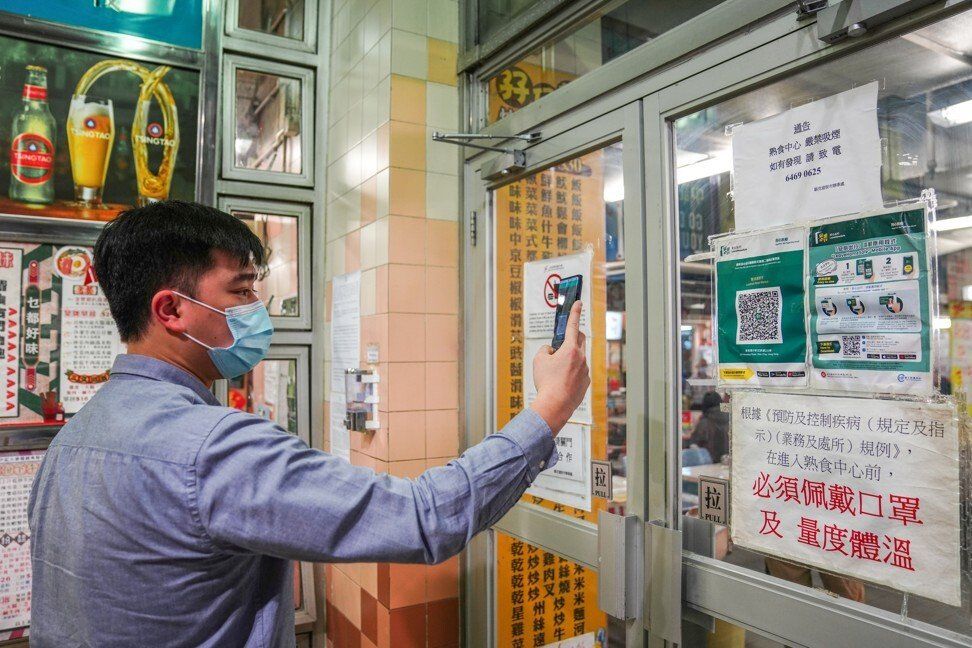 A restaurant customer scans the QR code of a government app that is designed to alert users if they are at risk of Covid-19.

Declaring he did not have confidence in the new requirements, restaurant owner Pang said: "I am worried that a customer's personal information will be leaked."

Pang, who would only give his surname, estimated his eatery would suffer a five-figure loss as a result of the decision not to open later. "Protecting our patrons' personal information is more important. We want to get our dignity and freedom back, I think it's worth it."

Fast-food chain MOS Burger was the largest operator known to maintain the status quo and remain open after 6pm only for takeaways across its 29 stores.

Brian Tam, the owner of the Japanese-Western Explorer Fusion Restaurant in Shek Mun, said he was happy to an extent at reopening in the evenings after being shut for two months.

However, the 39-year-old executive chef rankled at the QR code requirement forced upon customers.

Of nine tables each seating up to four people that the Post observed at the eatery between 6pm and 7pm, only one person opted to scan the QR code. The remainder instead gave out their contact information on a piece of paper.

"I feel happy but in my restaurant we don't want the QR code. We're happy taking contact details. Our guests are happier writing down their contact details rather than using the QR code," Tam explained.

The restaurant said it harboured little expectation that restarting evening dine-in services would revive its fortunes, with the diner prepared for customers opting for takeaways instead amid the pandemic.

Restaurant industry leaders previously expressed concern over the implementation of the new requirement, predicting it could trigger disputes between customers and frontline staff.

Earlier on Thursday, the app was at the centre of an assault against a McDonald's worker.