All overseas arrivals into Hong Kong will have to quarantine in designated hotels for 21 days, starting from Friday – up from the current 14 days – as city authorities further tightened control measures in their bid to contain the fourth wave of coronavirus infections.

The only travellers exempted are those coming in from China, Macau and Taiwan, who will continue having to serve home quarantine for 14 days.

With a new variant of the virus reported to have surfaced in South Africa, Hong Kong authorities are also banning those who have stayed in that country for more than two hours within 21 days of boarding flights to the city.

In a statement late on Thursday, the government said that even though the incubation period for the coronavirus was 14 days, experts believed a small number of infected people could present symptoms after a longer time frame.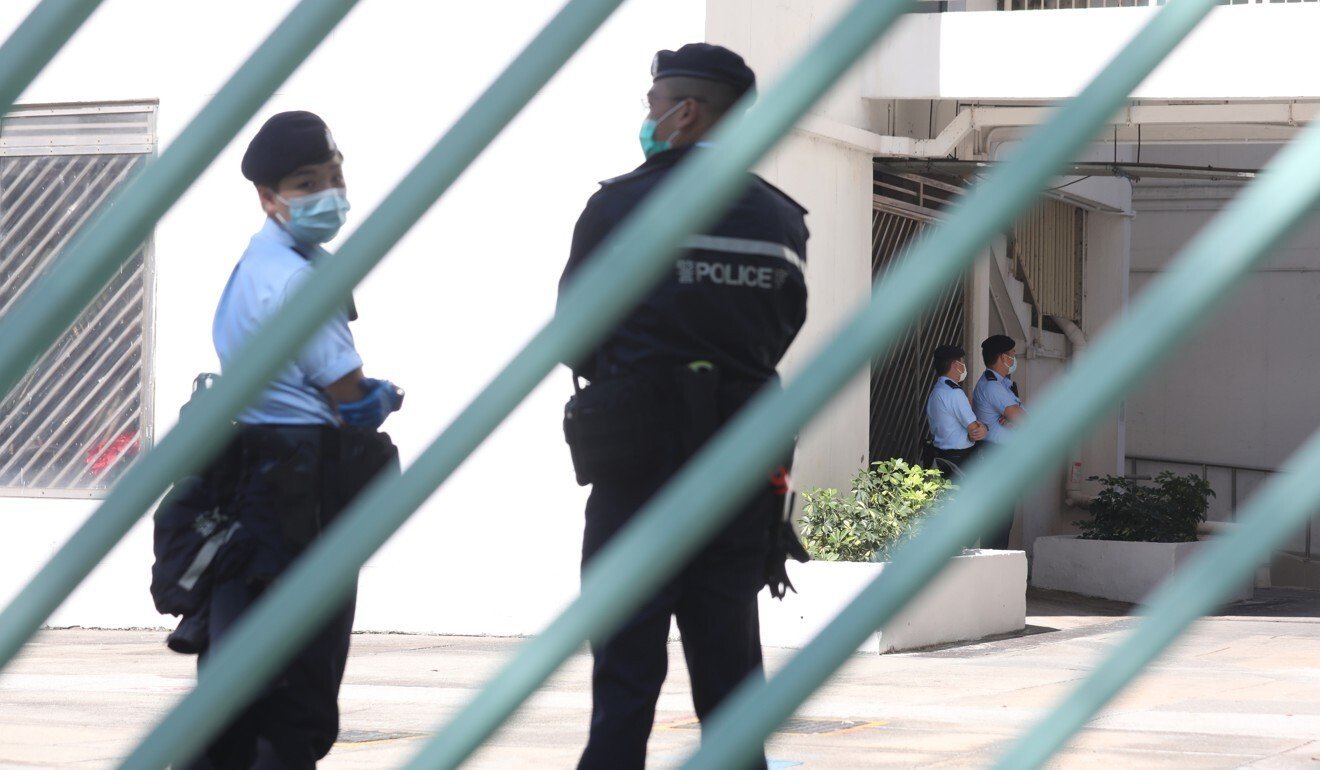 Residents of an infected block at a Sha Tin estate were greeted by an unexpected Covid-19 checkpoint on Christmas Eve morning.

"[The new measures are] required to ensure that even if the incubation period of the virus exceeds 14 days in a very rare case, it will not become a fish that slips through the net," a government spokesman said.

The new 21-day mandatory hotel quarantine period for arrivals from places other than Greater China matches the restrictions earlier placed on passengers from Britain, although flights from that country are currently banned from Hong Kong in a bid to shut out a more infectious strain of the virus.

Earlier on Thursday, health officials warned that family and social gatherings over the festive season could trigger more Covid-19 clusters, citing how related cases were surfacing just days after the winter solstice celebrations, as Hong Kong recorded two more deaths and 71 virus cases.

The latest caseload included 61 locally transmitted infections, of which 30 were untraceable. The remaining 10 were imported.

Around 50 preliminary-positive cases were also recorded but awaited confirmation.

The death toll reached 135, while the tally of confirmed cases stood at 8,424.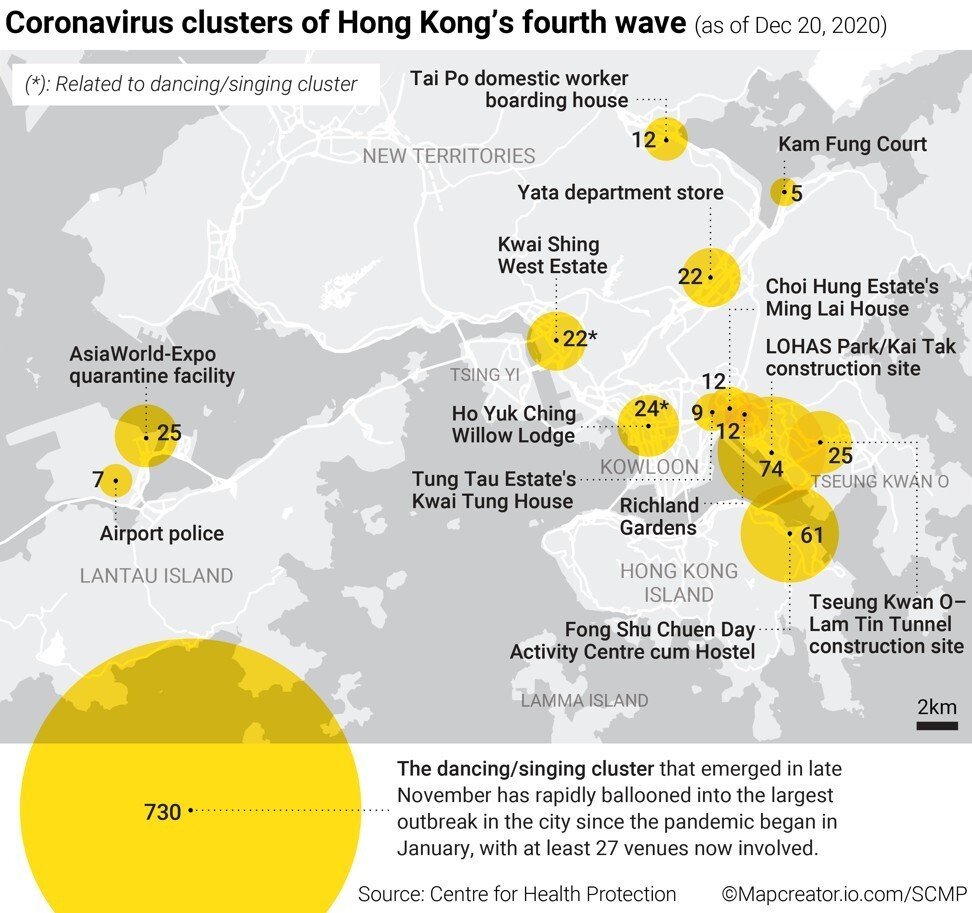 Health officials appealed to people to avoid large gatherings just hours after authorities set up a surprise checkpoint at a virus-hit housing estate – a first since the pandemic began – ordering residents to show proof they had been screened for Covid-19.

Following the winter solstice on Monday, "quite a number of cases" in family clusters had emerged because of celebratory gatherings, Dr Chuang Shuk-kwan, head of the Centre for Health Protection's communicable disease branch, revealed.

"If you're unaware you're a silent carrier and you gather in crowded places, for example, attending dinners, what used to be normal social activity would need extra caution," Chuang said.

"You can avoid larger-scale gatherings. Even for the untraceable cases, you can limit the transmission risk. One case can infect eight to 10 people. You can imagine the pandemic will continue. For super-spreaders, then the situation would only get worse."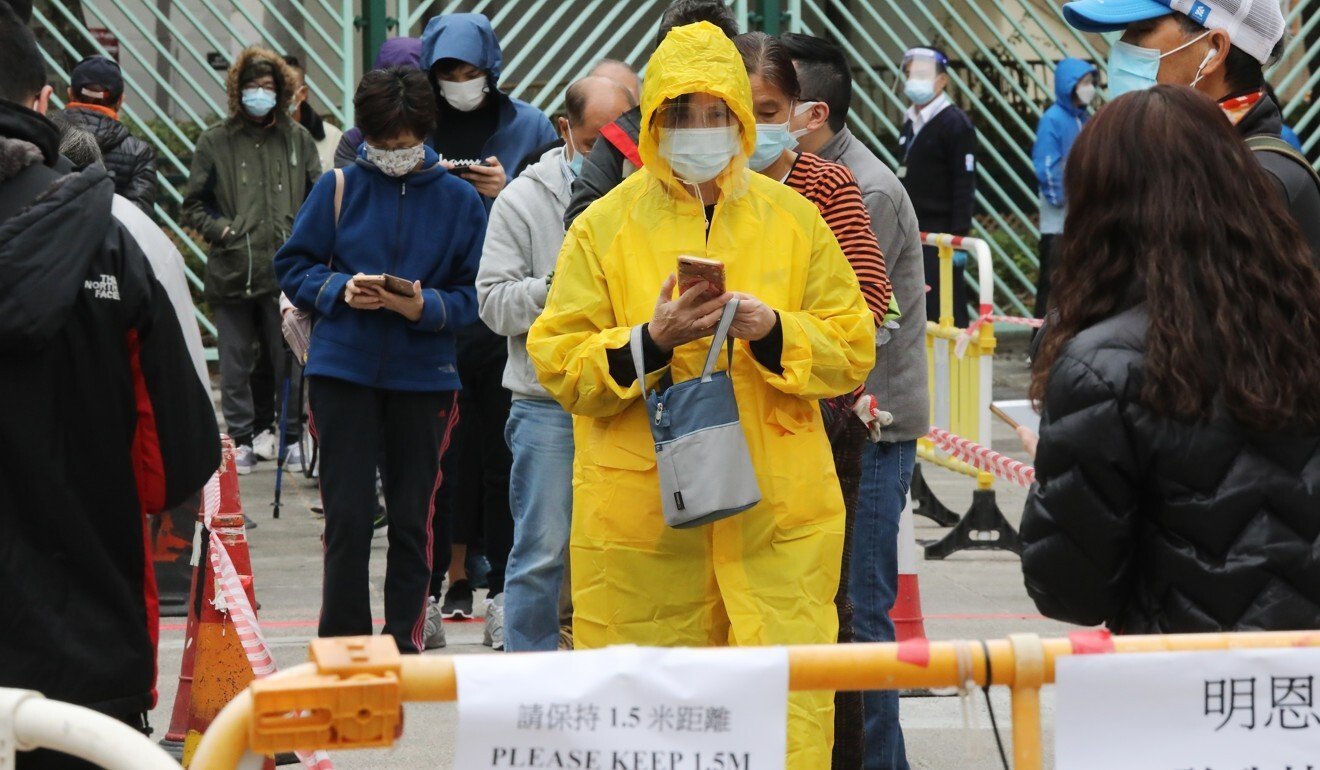 Authorities set up a cordon at the Ming Yan Lau block of Sha Tin's Jat Min Chuen estate.

Earlier, the city's leader, Chief Executive Carrie Lam Cheng Yuet-ngor, visited the Ming Yan Lau block of Sha Tin's Jat Min Chuen estate after authorities set up a cordon and asked residents of the building to show proof they had been tested for the virus under government arrangements or be screened on the spot.

Door-to-door checks in the building were also carried out.

Five confirmed cases had previously been linked to the estate, prompting authorities to issue a compulsory quarantine order for residents living on the 32nd floor of the block on December 16. A mandatory testing notice was issued to the rest of the people living there between December 17 and 21.

Secretary for Home Affairs Caspar Tsui Ying-wai said the checkpoint was set up without advance notice because there were concerns residents who did not get tested would flee, posing a risk of infection if they were asymptomatic.

"We hope to ensure that people who should get screened are tested," Tsui said. "In that way, we can check that there are no more silent carriers [in the community]."

The government can issue compulsory testing orders to those who have been linked to infections at specific locations or to high-risk groups, such as residents and staff of homes for the elderly.

Health authorities ordered residents of Fu Yan House at Fu Shan Estate in Diamond Hill to undergo mandatory testing after another infection was found there.

Specimen bottles will also be distributed at Wing Shui House in Sha Tin's Lek Yuen Estate, which recorded cases at three different flats.

Compulsory testing orders have been issued at seven other housing estates: Kwai Tung House of Tung Tau (II) Estate in Wong Tai Sin, Yat Lai House of Yau Lai Estate in Kwun Tong, Shek Wing House of Shek Lei (II) Estate in Kwai Tsing, Block A of Ming Wah Dai Ha in Shau Kei Wan, Ping Shing House of Ping Tin Estate in Lam Tin, King Tsui Court in Chai Wan and Block 6 of Richland Gardens in Kowloon Bay.

A dog wearing a protective mask is seen outside a coronavirus testing centre near Jat Min Chuen Estate in Sha Tin.

One of the latest fatalities was a 92-year-old man who died at Princess Margaret Hospital on Wednesday evening. The other was an 86-year-old woman linked to the dancing and singing cluster who died at Pamela Youde Nethersole Eastern Hospital in the early hours of Thursday. Both suffered from chronic illnesses.

Health authorities were investigating the case of a 95-year-old man who tested preliminary-positive after two weeks in hospital.

The patient tested negative for Covid-19 when admitted to Queen Elizabeth Hospital on December 9 and was transferred to Buddhist Hospital four days later. He was tested again after developing a fever.

The patient is now being treated at Queen Elizabeth Hospital.

Nine patients in the same ward were quarantined. Six remained in hospital, while the Centre for Health Protection was tracking down three who had already been discharged.

Dr Lau Ka-hin, a chief manager at the Hospital Authority, said source tracing was being undertaken to find out where the patient contracted the disease.

"Although the Covid-19 test upon admission was negative, there is still a chance the patient had been infected before admission. However, there is also a chance the patient got infected during his stay at [the hospitals]," he said.

Lau also said the authority was worried that compassionate visits could bring the virus into public hospitals. Hospitals have been told to tighten approval requirements for such visits, capping them at a maximum of 30 minutes and banning the feeding of patients.

Separately, a woman who previously absconded from a quarantine centre in Penny's Bay on Lantau Island while seeking medical help reappeared at North Lantau Hospital, health officials confirmed.

In another development, a Covid-19 patient who fled from Queen Elizabeth Hospital last Friday and was captured two days later was brought to Kowloon City Court to face a charge of exposing others to infection.

Li Wan-keung, 63, was granted cash bail of HK$500 after the court heard he tested negative for the virus on Wednesday. Prosecutors said he feared the jabs and treatment so he allegedly ran away. Li was not required to make a plea. He must appear in court again on February 5.

The government has secured a total of 22.5 million shots of Covid-19 vaccine, of which 7.5 million doses from supplier Sinovac Biotech had been expected to arrive next month.

But Professor David Hui Shu-cheong, a member of the government's pandemic response task force, told a radio programme the Sinovac shots could arrive by February instead.

His comments followed reports that the jab's phase 3 clinical trial results in Brazil were found to be more than 50 per cent effective, but the full trial data was withheld at the Chinese company's request.