Hong Kong authorities have ordered the closure of entertainment venues such as bars and nightclubs again to curb an alarming surge of Covid-19 cases, but they will allow dance studios to continue operating despite at least 187 infections so far among patrons, staff and their contacts at similar "super-spreader" venues.

Officials confirmed 80 more cases on Tuesday, 54 of them linked to the dance cluster, which has become the largest outbreak since the public health crisis began in January.

They also reported more than 50 new preliminary positive cases, to be confirmed the next day, as the fourth wave of the pandemic continued to spread.

Health authorities announced more measures to tackle the surge, including requiring some venues to display a QR code connected to a government Covid-19 risk-exposure notification app, capping the number of people attending banquets to 40 at a time, and distributing test sample bottles at post offices and MTR stations.


"There have been several days with multiple cases of untraceable sources, and almost one-third of infected people were asymptomatic," Secretary for Food and Health Professor Sophia Chan Siu-chee said. "This shows there are various transmission chains in the community."

Chief Executive Carrie Lam Cheng Yuet-ngor said even stricter social-distancing measures were possible, given that Hong Kong's fourth wave of the pandemic was of a magnitude that had not been seen before.

"If our experts and our evidence – whether local or international – clearly show that there are more effective means to do this, or if we need to adjust our measures, then of course we will," she said.

After resuming business in mid-September following the last shutdown, bars, pubs, nightclubs and bath houses will close again from Thursday. Banquet halls will be limited to serving a maximum of 10 tables, with no more than four people at each.

The closure of party rooms, which began on Sunday, will continue, as will a ban on dancing or live performances at restaurants and catering outlets.

An existing ban on gatherings of more than four people and a mandatory requirement to wear masks in public will remain in place. All these measures will stay in effect until December 2 at least.

The government also announced a measure targeting cases arising from staycations at hotels. No more than four people will be allowed in one room, but if the unit has two rooms, the maximum capacity will be eight. Bookings of units with more than one room for the purposes of a wedding ceremony is capped at 20 people.

A new rule was also introduced targeting live performances. If a performer is not able to wear a mask during an event with a live audience, the individual must obtain a negative result from a government-recognised Covid-19 test within 72 hours of the show.

Despite the widening crackdown on social activities, dance studios or schools, which account for about half of the 21 venues tied to the cluster, can continue to operate at least for now.

Asked repeatedly whether the government would extend the shutdown order to include the premises, or ban dancing at outdoor venues, Chan only said people "should not engage in any high-risk activities".

"The government mainly targets indoor activities where people will gather or have close contact," she said.

A government source explained that dance studios came in different forms. Dedicated schools were regulated like fitness centres, with patrons required to wear masks most of the time and groups limited to four people.

Among the 69 new local infections, 54 were linked to the cluster, pushing the total to 187. The government has ordered all patrons who visited any of the venues since the start of the month to undergo testing. As of Monday, about 2,800 people tied to the outbreak had been screened, with 50 identified as preliminary positive, Chan said.

Dr Chuang Shuk-kwan, head of the communicable disease branch of the Centre for Health Protection, said carriers had also visited town halls in Sheung Shui and Sha Tin for dancing.

"They are more likely to have worn masks on these occasions," Chuang said, adding some individuals had also visited Lung Hang Estate Community Centre for singing sessions.

Professor David Hui Shu-cheong from Chinese University, a government adviser on the pandemic, said loopholes in the regulations on dance activities remained.

"The government should set up laws banning private dance lessons … and monitor studios to prohibit dance sessions during this period," he said.

Hui called for banning all forms of the activity, even for children, when the number of cases was expanding so rapidly.

"You don't know who is an asymptomatic carrier," he said. "As dancing is a strenuous exercise, even with masks, droplets can be spread through gaps in the edges of face coverings."

About 10,000 venues have already joined the government's "Leave Home Safe" mobile app programme, and the latest expansion makes it mandatory for all eateries and scheduled premises, such as gyms, cinemas and mahjong parlours, to display the QR code.

The newly covered locations would receive instructions on Thursday on how to apply for their unique code by December 2, Chan said. It must be in use within two working days of receipt.

Non-compliance with the order constitutes an offence punishable by a fine of up to HK$50,000 (US$6,450) and six months in prison.

Launched last Monday, the app allows users to record places they visit and be notified if a confirmed carrier had also recently been there.

Mandatory tests will also soon be required for high-risk groups, including staff at elderly or disabled care homes, taxi drivers and those found to display respiratory symptoms when visiting doctors.

Lam earlier said residents could soon pick up test sample bottles at major MTR stations and more than 120 post offices, while five more testing centres could be ready by the end of the week.

"We continue in a vigilant manner to fight the epidemic," Lam said. "We will step up testing on a mandatory and targeted group basis."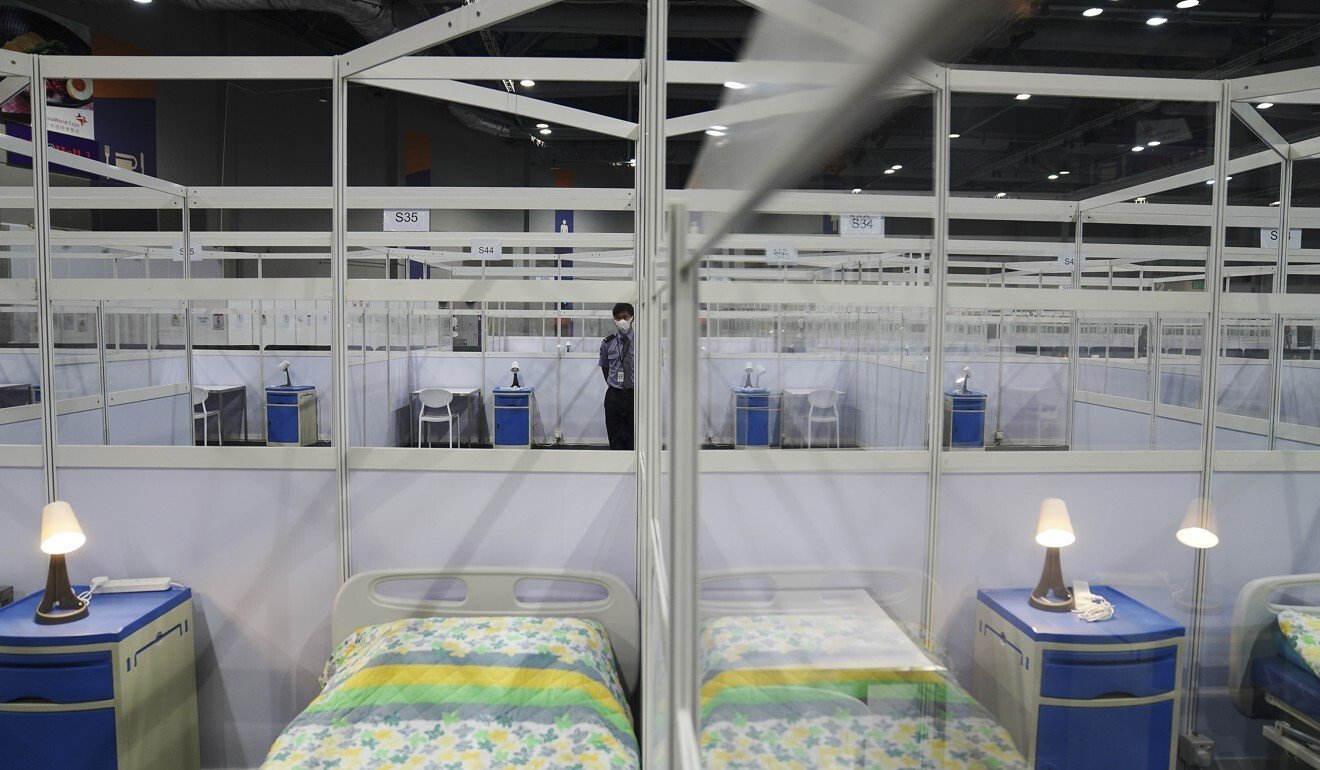 The inside of a temporary community treatment facility for Covid-19 patients at AsiaWorld-Expo in Chek Lap Kok.

The city's tally of confirmed cases stands at 5,781, with 108 related deaths.

Ten local cases were untraceable, scattered in districts all over the city, such as Sha Tin, Tseung Kwan O, Tung Chung and Shau Kei Wan. One involved a staff member at Victoria Harbour Roasted Goose Seafood Restaurant in Tai Wai and an outsourced airport worker.

Of the 11 imported cases, the arrivals were from Ukraine, Turkey, Pakistan, Russia, Britain, Nepal and the Philippines.

Chuang said that among the more than 50 preliminary infections, one was a 15-year-old student from Kiangsu-Chekiang College in North Point. The school was advised to suspend in-person classes for 14 days and have all students undergo virus testing.

Chan noted that with many young Hongkongers studying overseas expected to return home soon for the holidays, authorities were working on a list of designated hotels in which to quarantine them.

"Discussions with representatives from the hotel sector are still under way," she said. "We are especially concerned if [the students] come home from high-risk countries."