As Hong Kong fights its fourth wave of Covid-19 infections, NGO Christian Action has teamed up with a local company to help vulnerable residents living in subdivided units by spraying their flats with disinfectant.

"A lot of our clients get sick easily, because they live in very mouldy, cramped units that are overcrowded. We know there is a risk," social worker Jeffrey Andrews says of the project, which is helping a broad swath of city residents – from migrant domestic workers and asylum seekers to young couples and new arrivals from mainland China.

Tough social-distancing measures have followed the surge in infections that began late last month, and the government has called on people to stay home as much as possible. But for many, that is not an option.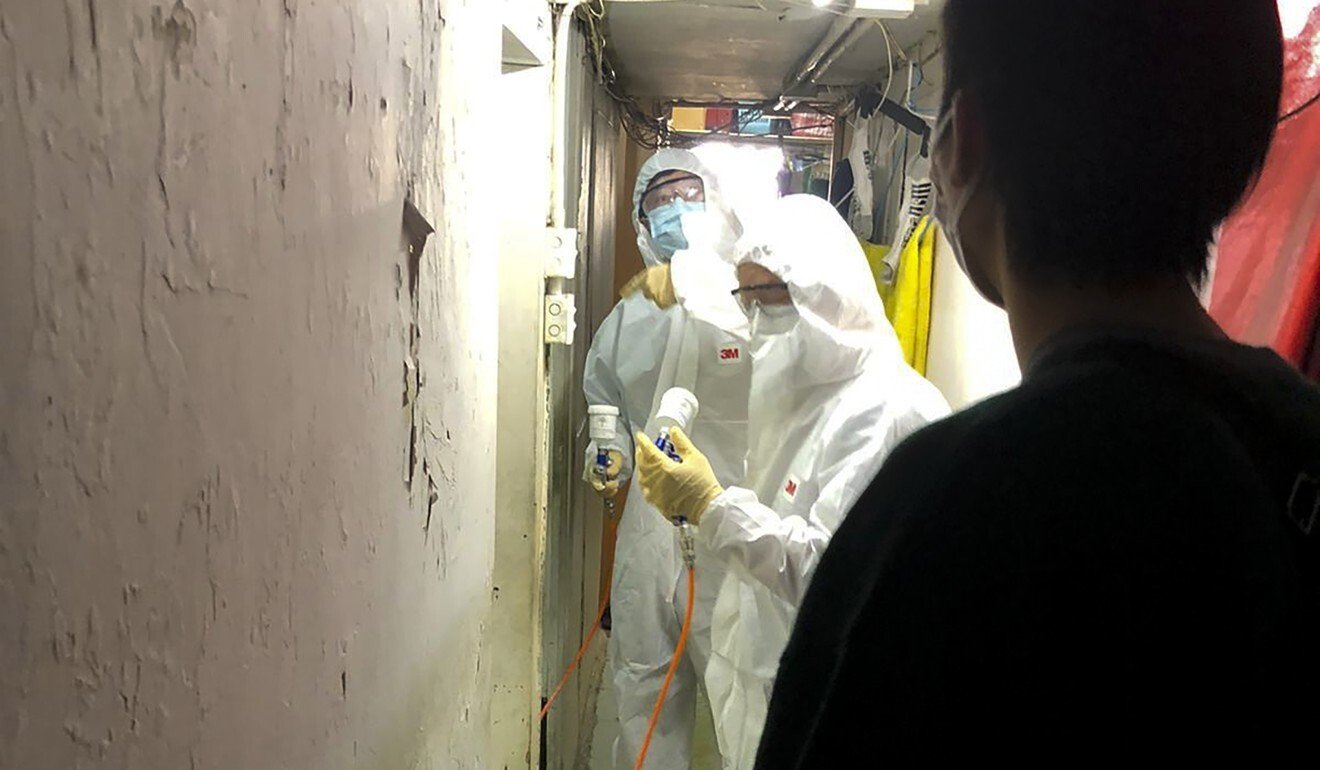 While some residents were sceptical at first, the disinfection project has been widely embraced.

Tania Sim, from the Christian Action Centre for Migrant Domestic Workers, one of the NGO's many outreach efforts, says domestic helpers feel especially vulnerable right now, after a cluster involving workers in boarding houses emerged. Last month, their own office was sprayed, as well as shelters housing migrant workers.

"They are still required to go to the market, and encounter lots of people there. They are afraid that they will get more easily affected," says the 50-year-old Indonesian, who has lived in Hong Kong for 19 years.

Carol Lee Wing-chong, who runs a centre in Mong Kok serving around 300 families, says the fourth wave has sparked fear among those living in close quarters. A typical family of four can live in a unit no bigger than 80 sq ft.

"Our single parents have to work during the pandemic. For example, they are cleaners, security guards or construction workers," says Lee, a senior manager for the city's Social Services Department, who also works for Christian Action.

The NGO has teamed up with Aloes Tree – a Hong Kong firm launched amid the pandemic – with the aim of spraying hundreds of subdivided units. The company deploys photocatalyst technology, which disinfects by coating surfaces and using light to kill germs and viruses. It is used at Hong Kong International Airport, among other places.

Andrews was present when a team of two came to disinfect a unit in Yau Ma Tei at the beginning of December. Twenty people lived in the 800 sq ft flat, which had one shared toilet. The process lasted around 30 minutes.

"At first, residents were surprised to see people in hazmat suits show up at their door, and sceptical it would work. After some explaining, the response has been positive," he says.

The project has disinfected 12 subdivided flats, with 15 more to come in the weeks ahead. For homes or organisations such as churches, who pay to have their premises disinfected, the company will match it by spraying a subdivided unit for free.

Carla is one of about 210,000 people living in one of the city's thousands of subdivided flats. Her tiny room in Yau Ma Tei was one of those disinfected.

Half of the 16 people living in the 11 room, 800 sq ft space were asylum seekers, with the rest Hong Kong residents, including the elderly. Carol, who is Sinhalese and fled Sri Lanka's civil war 13 years ago, is still waiting for an appeal on her refugee status. The unit has no hot water, a shared kitchen and one toilet.

"Everybody is scared of the virus," she says, adding people did feel better when the area was sprayed.

Carol says she wears a mask when she leaves her flat and uses a tissue so as not to touch surfaces when she is outside.

"I am even scared to sit on seats on the bus."

But it is hard to stay inside all the time, because it is so cramped.

"I am doing the best I can to protect myself, but what else can I do? Nothing."